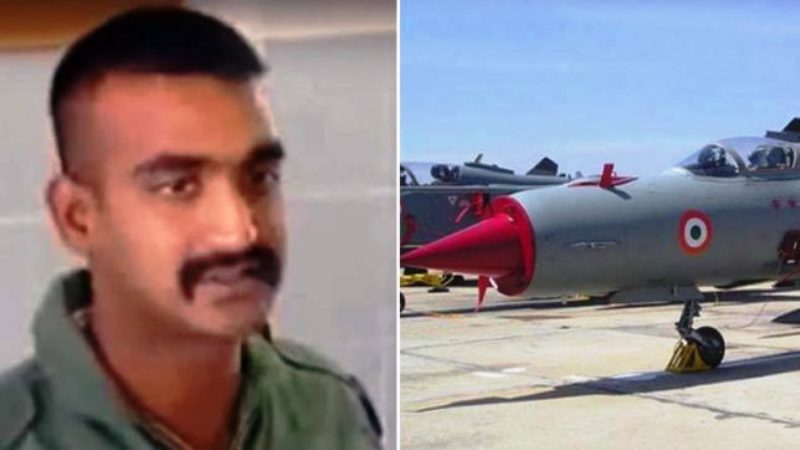 Abhinandan Varthaman is an Indian Air Force personnel. On 27 February 2019, his name started doing rounds in the media after he was caught by Pakistan Army. Pakistan shared a video of a person wearing a flight suit. In the video, the person was heard saying that he was Wing Commander Abhinandan. He was blindfolded in the video and gave out his service number. In the video, he said-
My name is Wing Commander Abhinandan. My service number is 27981. I'm a flying pilot. My religion is Hindu."
He is here in Pakistan under arrest 😂. #PakistanArmyZindabad pic.twitter.com/94kzVLv175

— Kafil Aslam (@kafilaslam) February 27, 2019
In the video, Abhinandan Varthaman was seen tied from behind and he was also bleeding from the nose.
In another video, he was seen beaten up by a mob in Pakistan.
Seen here is IAF Wing Commander Abhinandan Varthaman, after his capture by Pakistan. Please notice that there is no blood on his face & people are beating him up. It's clear that he had no injuries on his face when he was captured #Abhinandan #IndianAirForce #IndiaStrikesPakistan pic.twitter.com/eTRHNyniCE

— Rishabh Rant (@RishabhRant) February 27, 2019
Major General Asif Ghafoor, the spokesperson of Pakistan armed forces, confirmed about the capture of the Indian Wing Commander Abhinandan Varthaman. He said-
Two Indian pilots were taken into custody and they are being treated well: one is injured and is being provided proper medical care."
Later, the Indian Government also confirmed that an Indian Air Force (IAF) pilot was gone missing in action and acknowledged that Pakistan had claimed that the pilot was in their captivity.
According to sources, Abhinandan Varthaman is from Tambaram, a residential area in the southern part of Chennai while his ancestral background is from Kancheepuram, Tamil Nadu. Abhinandan Varthaman is a MiG 21 Bison Pilot. He was born on 21 June 1983 (age 40 years; as of 2023). Reportedly, he was commissioned into the Indian Air Force on 19 June 2004.
In another video, Abhinandan Varthaman was seen praising the Pakistani Army. In the same video, he revealed that he is a married person. He is married to Tanvi Marwaha, who has served the Indian Air Force as a Squadron leader for 15 years. The Service Number of Tanvi Marwaha is 28800.
Tanvi Marwaha has also done the Armed Forces Executive Course from IIm Ahmedabad. At present, Tanvi Marwaha is working as the DGM of Reliance Jio in Bengaluru.
Abhinandan has a son named Tavish.
Abhinandan's father, Simhakutty Varthaman is a retired Air Marshal of the Indian Air Force. Simhakutty has also served as the Air Officer Commanding-in-Cheif in the Eastern Air Command. His service number is 13606. Abhinandan's mother's name is Shobha, who is a doctor.
The Air Marshal, a resident of Chennai, is a recipient of the Param Vishisht Seva Medal, Ati Vishisht Seva Medal, and Vishisht Seva Medal. Abhinandan's father, Simhakutty, also worked as the advisor in Mani Ratnam's film- Kaatru Veliyidai (2017). Set in the backdrop of the 1999 Kargil War, the film narrates the story of an Indian military pilot who is kept as a prisoner of war at a jail in Rawalpindi, Pakistan. Coincidently, a similar incident happened to his son, Abhinandan Varthaman, on 27 February 2019, when he was captured by the Pakistan Army.
The whole incident took place against the backdrop of the 2019 Pulwama Attack. In the attack, a convoy of vehicles carrying Indian security personnel on the Jammu Srinagar National Highway was attacked by a vehicle-borne suicide bomber at Lethpora (near Awantipora) in the Pulwama district, Jammu and Kashmir, India; resulting in the deaths of 40 Central Reserve Police Force (CRPF) personnel and the attacker.
The attacker was later identified as Adil Ahmad Dar, a local from Indian-administered Kashmir, and a member of Jaish-e-Mohammed. A Pakistan-based Islamist militant group Jaish-e-Mohammed took responsibility for the attack.
In retaliation for the Pulwama Attack, twelve Mirage 2000 jets of the Indian Air Force crossed the Line of Control and dropped bombs into the Balakot region of Pakistan on 26 February 2019. India claimed that it attacked a training camp of Jaish-e-Mohammed, which was operating from Balakot, and killed a large number of terrorists.
The conflict between India and Pakistan escalated on 27 February 2019 after the Pakistan Air Force violated Indian airspace in Jammu and Kashmir's Poonch and Nowshera sectors. While Indian officials said that a Pakistani Air Force F-16 fighter jet was shot down in Jammu, Pakistan had claimed to have shot down two IAF aircraft and arrested two pilots.
In a press conference, Major General Asif Ghafoor, the director general (DG) of Inter-Services Public Relations (ISPR), said,
Two aircrafts of the Indian Air Force infringed on the Line of Control and entered Pakistan. The Pakistan Air Force was ready. They took it on, there was engagement, and in the end, both Indian aircrafts were shot down. Out of that, the wreckage of one fell on our side, and the wreckage of the second fell on theirs."
Following the capture of Wing Commander Abhinandan Varthaman, a number of tweets and posts on other social media platforms started pouring into India; praying for his safe return to the soil of India.
On 28 February 2019, in his speech in Pakistan's Parliament, Imran Khan said that Pakistan would release Abhinandan on 1 March 2019.
On 1 March 2019, Abhinandan returned to India via Wagah Border. In August 2019, he was honoured with Vir Chakra, the third-highest gallantry award in India.
In November 2019, his mannequin was displayed in a war museum in Pakistan.
Here's a glimpse of Abhinandan Varthaman's stint at the Indian Air Force: