Jagrati Awasthi is an All India Rank 2 holder in the Union Public Service Commission Civil Services Examination (2020). The first rank holder was Shubham Kumar from Bihar, India.
Wiki/Biography
Jagrati Awasthi was born in the year 1997 (age 24 years; as of 2021) in Bhopal, India. She attended a local school in Bhopal for primary and Maharishi Vidya Mandir, Bhopal for secondary education. She pursued a Bachelor of Technology in Electrical Engineering at Maulana Azad National Institute of Technology (MANIT), Bhopal. [1]DNA India Since childhood, Jagrati was a dedicated student, who invariably topped her classes.
Physical Appearance
Height (approx.): 5′ 4″
Eye Colour: Black
Hair Colour: Black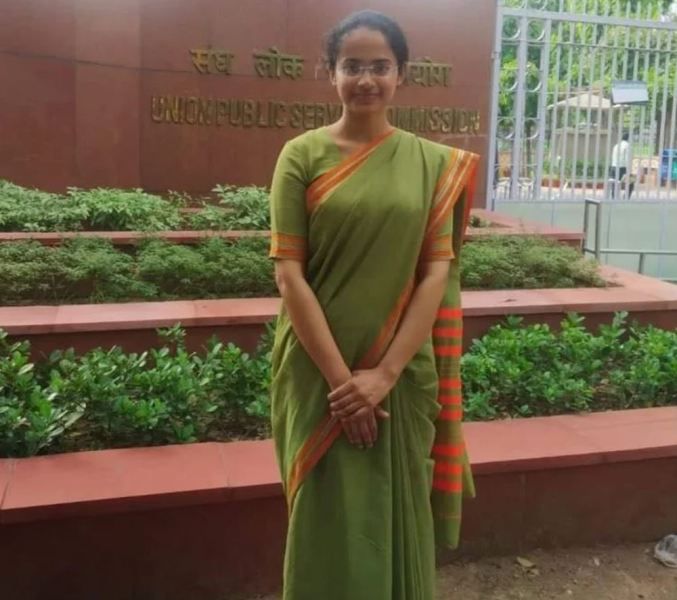 Family
Parents & Siblings
Jagrati Awasthi was born in a middle-class family in Bhopal, India. Her father, SC Awasthi, is a homoeopathy doctor by profession, while her mother, Madhulata Awasthi, was a school teacher who left her job to help Jagrati with her civil services examination preparations. Jagrati Awasthi's brother Suyash Awasthi is a second-year MBBS student. According to Jagrati, Suyash was her backbone while preparing for the UPSC examination and helped her with almost each and every problem she faced during that period.
Category
Jagrati Awasthi belongs to General Category. [2]UPSC
Civil Sevices Exam Preparations
Jagrati Awasthi was an extraordinary student since childhood who used to top in every exam. Apart from studying, she actively participated in various social activities including debate competitions and public speaking events. After doing engineering from Maulana Azad National Institute of Technology, Jagrati appeared for the Graduate Aptitude Test in Engineering examination in 2016 and cleared it in the first attempt, securing the all India ranking (Air) of 41. Thereafter, she was employed as a technical officer at Bharat Heavy Electricals Limited (BHEL). Jagrati, while working there, made her first attempt to qualify the Union Public Service Commission Civil Services Examination, but was unable to do so because of the busy schedule she was going through. Later, she decided to fulfil her childhood dream of becoming an IAS officer and quit her job to dedicate her full time to the UPSC examination. When asked why she decided to quit a prestigious job at BHEL, she said,
From childhood, we used to hear that collector is a big thing. Did not know about the exam, but gradually came to know that there is a civil services exam. Since I come from a middle-class family, there is always the idea of ​​being financially stable. It was always in my mind that if I do not do anything, then there will be a burden on the parents. So I worked for two years and saved. When the job settled down, I thought about what interests me. I enjoy meeting and talking to people. So Civil Services is one such platform where the opportunity to do so will continue to be available."
Soon after quitting her job in Bhopal, Jagrati Awasthi moved to Delhi to take professional coaching. But COVID-19 arrived as a hurdle in her way, and she moved back to Bhopal, India. Not letting herself down with the impact of the pandemic, Jagrati Awasthi started taking online classes. During an interview, she explained her preparation strategy as,
After failing for the first time, first of all, I did an analysis about where I fell short. After this I realized that the syllabus was not completed in the first time, there was no practice, no revision was done. The second time, I gave one month only to understand the nature of the questions, understand the syllabus thoroughly. Practised the questions again and again and did the revision. During this, there was a Covid infection, but still, I stood firm."
She further added,
In the second attempt, I was feeling scared before the pre-exam. I started giving one mock test daily two months before the exam. In this way, I practised the exam 60 times. So I didn't have any problem. I believe that those who want to do UPSC, should first read the subject thoroughly, and when the pre is close, then increase the practice through mock tests."
After doing preparations for more than one year, Jagrati Awasthi appeared for the second time for the Union Public Service Commission Civil Services Examination in 2020 with sociology as an optional subject. She cleared both prelim and main examination in one go and scored a total of 1052 marks (878 in the written test and 176 in the personality test), resulting in a total of 51.95%. Jagrati achieved an AIR 2. She was also the female topper of the Union Public Service Commission Civil Services Examination in 2020.
Jagrati Awasthi aims to work  as an IAS officer for rural development and concentrate on children and women welfare. After becoming the female topper of the UPSC examination 2020, Jagrati was flooded with phone calls, and she had several interviews with media persons. During an interview with a media house, Jagrati Awasthi dedicated her success to her parents and brother, she said,
My parents didn't watch TV for the past four years as firstly my parents wanted my brother to clear NEET and later for my studies. Even they used to talk over the phone outside the house and hardly used to share any personal news. My mother was a school teacher but she left her job for helping us in studies. When I was not selected in my first attempt, I was a little depressed but my mother said don't curse your luck but do more hard work. She was right, I finally got success."
Favourites
Politician: Lal Bahadur Shastri
Character of history: Subhash Chandra Bose
Facts/Trivia
Jagrati Awasthi's mother, Madhulata Awasthi, left her job to help Jagrati in her preparations for her examinations. Madhulata Awasthi during an interview revealed,


In 2016, Jagrati promised me that if I would leave my job and support her full time, she would surely get a rank in GATE (Graduate Aptitude Test in Engineering). I asked her to give that to me in writing; she signed the note and got 51st rank. Giving up the offers for IOCL and ONGC, for which she got first options, she joined BHEL in Bhopal as a technical officer to be with her brother Suyash who was then preparing for NEET (medical entrance test)."
Jagrati Awasthi worked as a technical officer at Bharat Heavy Electricals Limited (BHEL) for almost two years, i.e., from 2017 to 2019.
Her roll number for the Union Public Service Commission Civil Services Examination was 0415262.
Chief Minister Shivraj Singh Chouhan and MP Congress chief of Madhya Pradesh and ex-CM Kamal Nath took to Twitter  to congratulate Jagrati Awasthi on her success in the UPSC CSE examination. Minister of Urban Development and Housing and in-charge of Bhopal district Bhupendra Singh went to meet and congratulate Kumari Jagriti Awasthi for achieving this success.