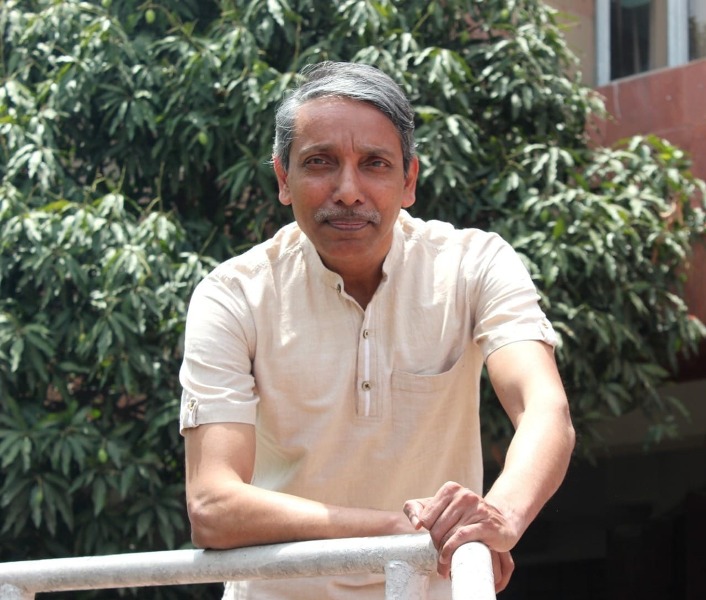 Mamidala Jagadesh Kumar is an Indian academician and administrator who was appointed as the vice-chancellor of Jawaharlal Nehru University (JNU) in January 2016. He is also an accomplished author. On 4 February 2022, Mamidala Jagadesh Kumar was appointed as the chairman of the University Grants Commission of India (UGC).
Wiki/Biography
Mamidala Jagadesh Kumar was born in 1962 (age 60 years; as of 2022) in Mamidala, Nalgonda District, Telangana. He did MS(EE) and PhD(EE) degrees from the Department of Electrical Engineering, Indian Institute of Technology, Madras. In 1994, Mamidala Jagadesh Kumar completed post-doctoral research at the Department of Electrical and Computer Engineering, University of Waterloo, Waterloo, Ontario, Canada. [1]M Jagadesh Kumar Blog
Physical Appearance
Hair Colour: Salt and Pepper
Eye Colour: Black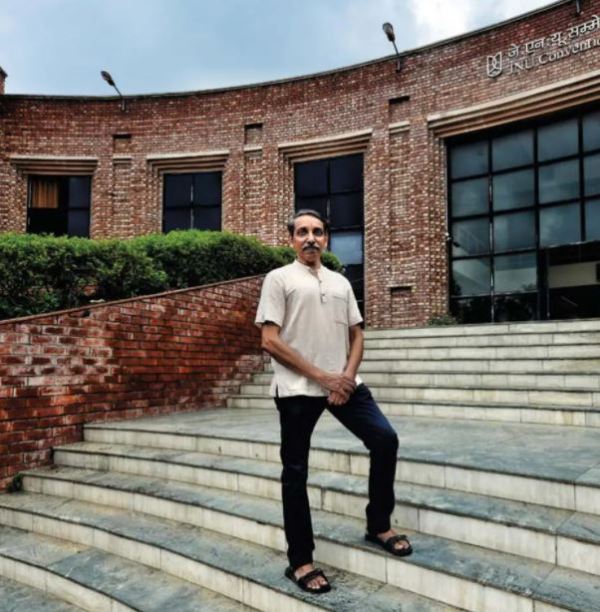 Family
Parents & Siblings
His father's name is M. Ranga Rao, and he is a former primary school teacher. His mother's name is Jayaprada Devi. He has two sisters named Sunita and Gita.
Wife & Children
Mamidala Jagadesh Kumar got married to Lakshmi in 1990. Lakshmi is an MBA in Marketing and a homemaker.
The couple has two sons named Saketh and Karthik. Saketh works at TNO – The Netherlands Organisation for Applied Scientific Research.
Karthik is a Master's degree holder in Nanoelectronics.
Career
After completing his doctoral degree, Mamidala Jagadesh Kumar started teaching in the Department of Electrical Engineering at IIT Delhi. During his tenure at IIT Delhi, he was appointed as the NXP (Philips) Chair Professor at IIT Delhi. This position was established by Philips Semiconductors, Netherlands (now NXP Semiconductors India Pvt Ltd). Mamidala Jagadesh Kumar was appointed as the Chairman of the Electronics Group in the Department of Electrical Engineering at IIT Delhi, and he served the position from 2001 to 2006. He was appointed as the coordinator of the VLSI Design, Tools and Technology interdisciplinary program of IIT Delhi from September 2009 to September 2011. During his tenure at IIT Delhi, Mamidala Jagadesh Kumar held two important positions at the Nanoelectronics department – Chief Investigator of the Nano-scale Research Facility (NRF) and Chief Investigator of the Center of Excellence for Nanodevices and Systems and served in areas such as Nanoelectronic Devices, Nanoscale Device modelling and simulation, Innovative Device Design and Power semiconductor devices. The Government of India and the Ministry of Human Resource Development aided this program at IIT Delhi. The Faculty Appraisal Committee of IIT Delhi rated the teaching skills of Mamidala Jagadesh Kumar as outstanding. During his tenure at IIT Delhi, he was on the editorial board of Scientific Reports, which is an online and open access research publication. The Institute of Electrical and Electronics Engineers (IEEE), USA appointed him as the editor of its journal titled Electron Devices Society, and he served the publication from 2006 to 2015. He was appointed as the Editor-in-Chief of IETE Technical Review during his tenure at IIT Delhi. Mamidala Jagadesh Kumar is a member of the Indian National Academy of Engineering, The National Academy of Sciences, India, and the Institution of Electronics and Telecommunication Engineers, India. In 2007 and 2008, he held the position of vice-chairman of the Joint Entrance Examination (JEE) at IIT Delhi. Mamidala Jagadesh Kumar was appointed as the organising Chairman of the All India Joint Management Entrance Test (JMET) in 2011. In 2012, the Graduate Aptitude Test in Engineering (GATE) was organised under his supervision in 860 centres in 170 cities and towns of India. He often delivers lectures on the topics related to Nanoelectronics in global conferences and workshops as he is considered an august lecturer in IEEE Electron Devices Society (Nanoelectronics). During his tenure as a professor, Mamidala Jagadesh Kumar was appointed as the executive committee of the National Assessment and Accreditation Council (NAAC) and Governing Body of National Council of Science Museums (NCSM), Ministry of Culture, Government of India. The organisation established by the government of India named the Indian National Space Promotion and Authorization Center (IN-SPACe) appointed him as its board member. On 24 June 2016, Mamidala Jagadesh Kumar was appointed as a member of the University Grants Commission (UGC) and served the position till 23 June 2019. From 14 January 2016 to 2 February 2017, he served as the chairman of UGC and during the same time, he was also a part of the Telecom Regulatory Authority of India (TRAI). The Univerity Grants Commission appointed Mamidala Jagadesh Kumar as its Chairman on 4 February 2022. He was appointed to serve the position for five years. The official statement of his appointment was issued by a senior official of the Ministry of Education at a media conference. [2]The Tribune He said,
The Central government has appointed M Jagadesh Kumar as UGC Chairman for a period of five years or till he attains the age of 65 years, whichever is the earliest."
Literary Works
Apart from being a distinguished university professor, Jagadesh Kumar also co-authored various books in India and internationally with his undergraduate and M.Tech students. The three books titled 'Fundamentals of Tunnel Field-Effect Transistors that was published in November 2016, Tunnel Field-effect Transistors (TFET): Modelling and Simulation published in November 2016, and Junctionless Field-Effect Transistors: Design, Modeling and Simulation released in February 2019' are co-authored by Jagadesh Kumar.
Controversies
In 2016, soon after Mamidala Jagadesh Kumar became the Vice-Chancellor, the Jawaharlal Nehru University attracted controversy when a group of students were booked and arrested by the Delhi police when they protested in the University campus for the hanging of Afzal Guru who was the main convict of the Parliament attack. [3]

The Indian Express
Saitya Brata Das, who is an associate professor at the Centre for English Studies (CES) in Jawaharlal Nehru University (JNU), put allegations on Mamidala Jagadesh Kumar in June 2017 that Jagadesh Kumar halted the promotion of Das as he belonged to a low caste group. Das revealed in a press conference that discrimination among the low caste group employees had always been prevalent on the JNU campus. [4]

Caravan Magazine Saitya stated,


Caste discrimination against faculty members belonging to Scheduled Castes and Scheduled Tribes had always existed at JNU, in "subtle" forms. The manifestation of this discrimination, especially from the administration, became "blatant" after Jagadesh took over as the university's vice-chancellor, in January 2016."
Najeeb Ahmed, an M.Sc. student of JNU, disappeared from the university after he had a clash with the students of RSS-affiliated ABVP in October 2017 when Mamidala Jagadesh Kumar was the vice-chancellor of JNU and this incident put him into controversies. [5]

The Indian Express
Awards, Honours, Achievements
2006: He earned the 29th IETE Ram Lal Wadhwa Gold Medal for distinguished contribution in the field of Semiconductor device design and modelling
2007: Mamidala Jagadesh Kumar was awarded the ISA-VSI TechnoMentor award and two lakh rupees by the India Electronics & Semiconductor Association.
2008: He was awarded the IBM Faculty award in recognition of professional achievements
2013: He received the Excellence in Teaching (in large class category) from IIT Delhi
Facts/Trivia
Mamidala Jagadesh Kumar completed his doctoral research and studies under the guidance of renowned Indian professor K.N.Bhat at IIT Madras.
Mamidala Jagadesh Kumar is a fitness fanatic. He daily practices Shito-Ryu Karate and often goes to a gym. Both of his sons are associated with renowned Indian musical bands and are trained guitarists. They are the gold medalists in the Delhi state Karate championship competitions.
In December 2019, during his tenure as the vice-chancellor of the Jawaharlal Nehru University, the fees of the hostel hiked without any prior intimation to the students which resulted in the protests and campaigns against Mamidala Jagadesh Kumar. His car was attacked by some angered students at the university campus.
On 4 February 2022, Mamidala Jagadesh Kumar stated in a press conference that his priority would be to implement the National Education Policy in the country soon after being appointed as the chairman of the University Grants Commission. [7]

Tribune India He said,


It is definitely going to be challenging. My priority will be to ensure the implementation of the National Education Policy. The sooner it is implemented, the better it will be for us. I will be meeting the vice-chancellors of universities across the country regarding the implementation of NEP. The NEP has several aspects like the multidisciplinary courses so we will work on those aspects."