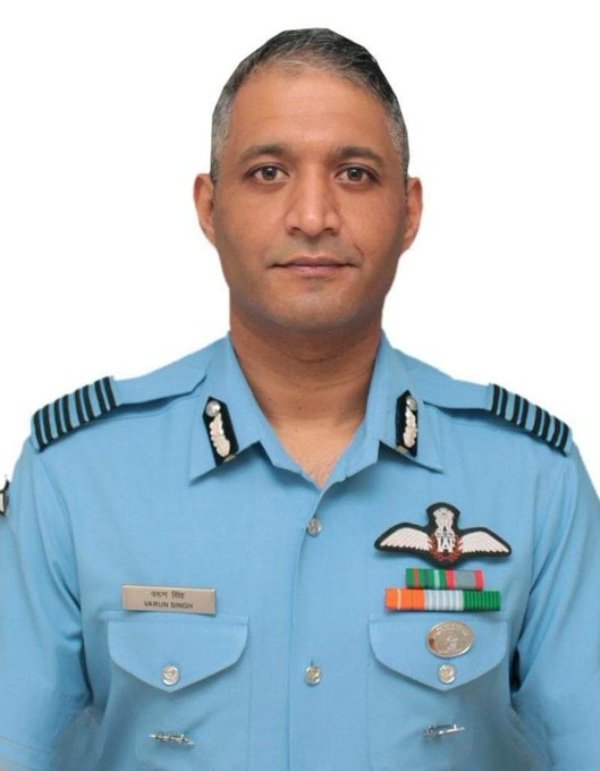 Group Captain Varun Singh was a Group Captain in the Indian Air Force, and he served as the directing staff of the Defence Services Staff College (DSSC) in Wellington, Tamil Nadu. He was the recipient of the country's third-highest gallantry medal, Shaurya Chakra. Varun was the lone survivor in the fatal helicopter crash of 8 December 2021 that killed CDS Bipin Rawat, Bipin's wife Madhulika Rawat, and 11 others who were on board. Varun died on 15 December 2021 at Bengaluru Military Hospital, where he was being treated for severe burns.
Wiki/Biography
Group Captain Varun Singh (age not known) was born in Kanholi village, Rudrapur tehsil, in the Deoria district of Uttar Pradesh. He completed his 12th standard from the Chandi Mandir School in Chandigarh.
Physical Appearance
Hair Colour: Salt and Pepper
Eye Colour: Black
Family
Parents & Siblings
His father, K. P. Singh, is a retired Colonel in the Indian Army and belonged to the regiment of Army Air Defence (AAD). His mother's name is Uma Singh. Varun's younger brother, Tanuj Singh, serves in the Indian Navy as a Lieutenant Commander. His uncle, Akhilesh Pratap Singh, is a Congress leader in Uttar Pradesh.
Wife & Children
Varun was married and had two children, a son and a daughter.
Career
Singh joined the Indian Defence Services after clearing the NDA exam in 2004. He served the Indian Air Force with the service number 27987 F(P). He was a test pilot with the Light Combat Aircraft (LCA) Squadron in IAF in Bengaluru. On 19 June 2017, Varun was appointed to the Wing Commander, and he was recently promoted to Group Captain of IAF following which he started working in directing staff of the Defence Services Staff College (DSSC) in Wellington, Tamil Nadu. [1]India Today
Award, Honour
On 15 August 2021, President Ram Nath Kovind conferred Varun Singh with the Shaurya Chakra. Varun was then the Wing Commander with the Tejas fighter squadron of the IAF. He was honoured for his presence of mind and courage in controlling his Light Combat Aircraft (LCA) Tejas fighter during a mid-air emergency that occurred on 12 October 2020 during Singh's sortie. According to IAF, the aircraft had developed a system failure due to major technical issues when Varun was flying it at around 10,000 feet. It resulted in a total loss of control and the aircraft started its descent before Singh managed to regain control over and safely landed his Tejas fighter. [2]The Indian Express Ministry of Defence revealed in an official statement that the cockpit pressurisation failed at high altitudes. It read: [3]The Quint
He [Varun Singh] correctly identified the failure and initiated a descent to lower altitude for landing. While descending, the Flight Control System failed and led to total loss of control of the aircraft. This was an unprecedented catastrophic failure that had never occurred… Despite being in extreme physical and mental stress in an extreme life-threatening situation, he maintained exemplary composure and regained control of the aircraft, thereby exhibiting exceptional flying skill."
Death
On 15 December 2021, Varun Singh, the lone survivor of the aircraft crash that killed CDS Bipin Rawat and 12 more, died at Bengaluru Military Hospital, where he was on life support and was being treated for severe burns. [4]NDTV
Facts/Trivia
Group Captain Singh wrote a letter to students of his school, dated 18 September 2021, in which he revealed that he was passionate about aeroplanes and aviation since he was a kid. Varun also wrote in the letter that he was an average student who couldn't score first division in the 12th standard, and he added: [5]

The Hindu


I was a very average student who barely scored first division in 12 class. Even though I was made the Discipline Prefect in 12th I was equally average even in sports and other co-curricular activities. But I had a passion for airplanes and aviation."
In the letter, he also talked about him being honoured with the gallantry award. Singh wrote:


I credit this prestigious award [Shaurya Chakra] to all those I have been associated with over the years in school, NDA and thereafter the Air Force, as I firmly believe that my actions that day were a result of the grooming and mentoring by my teachers. instructors and peers over the years."
On 8 December 2021, the Group Captain was accompanying the Chief of Defence Staff General Bipin Rawat and his wife as a liaison officer on the IAF Mi-17V5 helicopter from Delhi to Sulur when their chopper met with a fatal crash near Coonoor in Tamil Nadu, killing CDS Rawat, his wife, and 11 other personnel who were also on board. Reportedly, Varun Singh suffered 80-85 per cent burns and was immediately admitted to the military hospital in Wellington where he is put on life support and is reportedly battling for life. According to his father, Singh was later shifted to Bengaluru. Reports also stated that the Gp Captain was conscious before being taken to the hospital and asked to speak to his wife. [6]

Business Standard His family was in Mumbai when they received the news of Varun's accident. [7]

India Today
Several ministers tweeted to express their grief on the fatal incident and wished for the speedy recovery of Varun Singh including the Union Defence Minister Rajnath Singh.