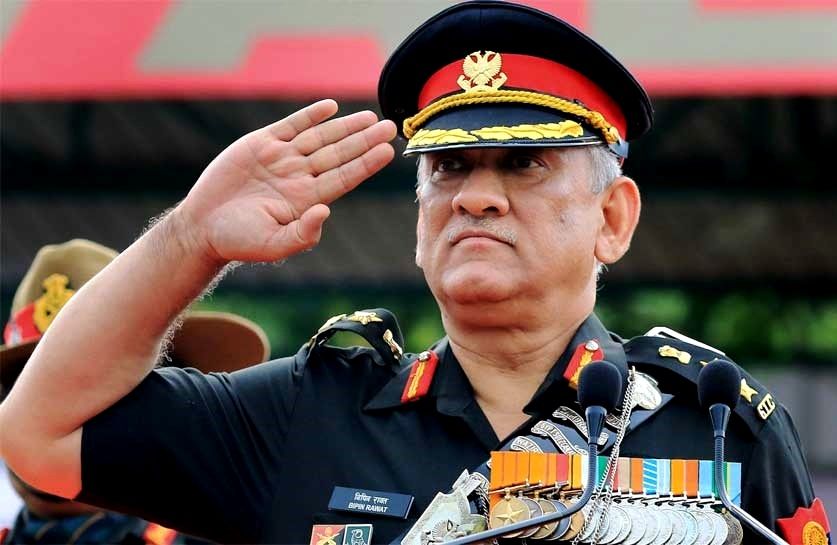 Bipin Rawat was a four-star General of the Indian Army. He served as the 27th Chief of Army Staff (COAS) and the first Chief of Defence Staff (CDS) of India. He was killed in a chopper crash on 8 December 2021.
Wiki/Biography
Bipin Rawat was born on Sunday, 16 March 1958 (age 63 years; at the time of death) in Saina Village, Lansdowne, Pauri, Garhwal district, Uttar Pradesh (now in Uttarakhand). His zodiac sign is Pisces. He did his schooling at Cambrian Hall in Dehradun, Uttarakhand, and St. Edward's School in Shimla, Himachal Pradesh. Subsequently, he joined the National Defence Academy in Khadakwasla, Pune. Rawat then graduated (first in the order of merit) from the Indian Military Academy in Dehradun and was awarded the 'Sword of Honour.' He also held a graduate degree from Defence Services Staff College (DSSC) in Wellington, Tamil Nadu.
Rawat pursued the Higher Command Course at the United States Army Command and General Staff College at Fort Leavenworth, Kansas, in 1997. Rawat then obtained an MPhil. in Defence Studies from the University of Madras. He also held a few diplomas in Management and computer science from the University of Madras. In 2011, Bipin received an honorary doctorate from Chaudhary Charan Singh University, Meerut, for his research on military media strategic studies. [1]pib.gov.in He received a Doctorate of Philosophy (Ph.D) in Military Media Strategic Studies from Chaudhary Charan Singh University, Meerut, in 2011. [2]The Times of India
Physical Appearance
Height (approx.): 5′ 8″
Eye Colour: Dark Brown
Hair Colour: Grey
Family
Bipin Rawat was born into a family with an army background. His family had been serving the Indian army for ages. He was the third generation of his family to join the Indian Army.
Parents & Siblings
Rawat's father, Lakshman Singh Rawat, was a retired Lt. General of the Deputy Chief of the Army Staff (retired in 1988). He was from Sainj village of the Pauri Garhwal district and was commissioned into 11 Gorkha Rifles in 1951. His mother was the daughter of Kishan Singh Parmar, a politician and an ex-MLA from Uttarkashi in Uttrakhand.
Wife & Children
Bipin Rawat got married to Madhulika Raje Singh, a scion of an erstwhile princely family, on 14 April 1986. Madhulika was the daughter of Kunwar Mrigendra Singh, who was once a Riyasatdar of the pargana of Sohagpur Riyasat in Shahdol district. As of 2021, she was appointed as the President of the Army Women Welfare Association (AWWA). Madhulika was also killed in a chopper crash near Coonoor in Tamil Nadu along with Bipin Rawat.
They had two daughters named Kritika Rawat and Tarini Rawat.
Other Relatives
Rawat's paternal uncle, Bharat Singh Rawat, was deployed in the Indian Army as a Havaldar (non-commissioned officer). He had one more uncle named Harinandan who was also in the Indian Army.
In one of his interviews, Bipin's uncle, Bharat Singh Rawat, while describing Bipin, said,
A very smart boy right from childhood. Bipin has managed to get where he is only through sheer hard work and honesty. We were very sure that he would achieve great success, and he has proved us right."
Religion
Bipin Rawat followed Hinduism, and he belonged to a Kshatriya (Rajput) Family [3]India.com.
Career
On 16 December 1978, Bipin Rawat was commissioned into the 5th battalion of the 11 Gorkha Rifles (same battalion as his father). When he was promoted as a Colonel, he commanded the "5th battalion 11 Gorkha Rifles" in the Eastern sector along the LOC at Kibithoo, Arunachal Pradesh. When he was promoted to the rank of "Brigadier," he commanded the "5 Sector of the Rashtriya Rifles" in Sopore, Jammu and Kashmir. As a Brigadier, he had also commanded a multinational Brigade in "Chapter VII mission" in the Democratic Republic of the Congo in Central Africa, where he was awarded the "Force Commander's Commendation" twice.
When Rawat was promoted as a Major General, he took over as the General Officer Commanding (GOC) of the 19th Infantry Division in Uri, J&K. As the Lieutenant General, he commanded the "III Corps," headquartered in Dimapur, Nagaland, before taking over the Southern Army in Pune. He also held several staff appointments such as the instructional tenure at the Indian Military Academy (Dehradun), logistics staff officer of a Re-organised Army Plains Infantry Division (RAPID) in central India, Colonel Military Secretary, and many more.
One of the highlights of his career was the 2015 cross-border operation in Myanmar, where the Indian Army successfully countered the NSCN-K insurgents. In 2016, he was also involved in the planning of a surgical strike. On 1 January 2016, he was promoted to the Army Commander grade, and he took charge as the General Officer Commanding-in-Chief (GOC-in-C) Southern Command. On 1 September 2016, he was appointed as the Vice Chief of Army Staff (VCOS). On 17 December 2016, Rawat was appointed as the Chief of Army Staff by the Government of India. He became the 27th Chief of Army Staff, and he assumed office on 31 December 2016, after General Dalbir Singh Suhag's retirement.
On 30 December 2019, a day before his retirement from service, the Government of India announced that Bipin Rawat will be appointed as the country's first Chief of Defence Staff (CDS). His service was extended without retirement, and he assumed office on 1 January 2020. He served the rank until his death on 8 December 2021.
Significant Ranks Held
In the Indian Army
Second Lieutenant (16 December 1978)
Lieutenant (16 December 1980)
Lieutenant Colonel (1 June 1998)
Brigadier (1 October 2007)
Major General (20 October 2011)
Lieutenant General (1 June 2014)
General (COAS) (1 January 2017)
In the Indian Armed Forces (tri-service)
General (CDS) (31 December 2019)
Controversies
Bipin once landed into a controversy for meeting the RSS chief, Mohan Bhagwat, in uniform, in full public view in Nagpur. He later defended himself by saying that there was nothing wrong in paying respect to elders. [4]

The Telegraph India
During his tenure as Army chief, Rawat was very hostile towards Kashmiri civilians and in one of the clashes between the civilians and the security forces in 2017, Rawat said, "I wish these people, instead of throwing stones at us, were firing weapons at us. Then I would have been happy. Then I could do what I (want to do)." His statement was severely criticised in the media. [5]

The Telegraph India
In 2017, he was criticized when he awarded the "Chief of Army Staff's Commendation Card" to Major Leetul Gogoi for his sustained efforts in counter-insurgency operations. He was criticized on this decision as in 2017, Gogoi had tied a Kashmiri citizen in front of his jeep to prevent stone-pelters from attacking his convoy. Several human rights activists, politicians, and journalists had voiced their opinion against the incident. [6]

The Telegraph India
In December 2018, Rawat's statement invited criticism when he warned soldiers who falsely claimed that they were disabled, to earn extra money through the "disability pension." He said that people who are truly disabled will be taken care of medically and financially, but those who falsely claim this pension should mend their ways or there'll be serious consequences. [7]

Hindustan Times
Once, during an interview with a news channel, he opposed the idea of women in combat roles. He said that women could complain of men peeping into their tents while they were changing, so we will have to provide a sheet around her. He faced major backlash for his comments from many factions of society. [8]

Hindustan Times
On 26 December 2019, he publicly condemned the protests against CAA and NRC. His comments drew criticism from the opposition parties and many senior Indian Army personnel; as the Army never comments or meddles in political affairs. [9]

Hindustan Times
Medals
Param Vishisht Seva Medal
High Altitude Service Medal
50th Anniversary of Independence Medal
30 Years Long Service Medal
20 Years Long Service Medal
9 Years Long Service Medal
Award
Padma Vibhushan (Civil Service) in 2022
Signature
Salary
As of 2021, Bipin Rawat was receiving Rs. 250,000 a month and some other allowances as the Chief of Defence Staff. [10]The 7th Pay Commission of India
Death
On 8 December 2021, when Bipin Rawat was en route to Defence Services Staff College, Wellington (Nilgiri Hills), where he had to address the faculty and student officers of the Staff Course, he was killed in a chopper crash near Coonoor in Tamil Nadu along with his wife, Madhulika, and 11 more who were travelling in an IAF Mi 17 V5 helicopter.
Cremation
On 10 December 2021, he was cremated at the Brar Square crematorium at Delhi cantonment with full military honours. The body of his wife, Madhulika, was also laid on the same pyre.
Facts/Trivia
He liked playing football and reading books.
He had more than ten years of experience in high-altitude warfare and in conducting counter-insurgency operations.
He was also an honorary General of the Nepalese Army.
When Rawat was named as the Chief of Army Staff (COAS), he superseded two of his senior officers, Lt. General Praveen Bakshi and Lt. General PM Hariz. The Government of India had broken its protocol of appointing the most senior ranking officer as the COAS.
He was the third officer from the Gorkha Brigade to be appointed as the COAS after Field Marshall Sam Manekshaw and General Dalbir Singh Suhag.
After being appointed as India's first Chief of Defence Staff (CDS), General Manoj Mukund Naravane was appointed as India's 28th Chief of Army Staff (COAS).
Over the course of his 43 years of service, Bipin Rawat was known for his valour and laudable service with the UYSM, AVSM, YSM, SM, VSM, and COAS. Rawat was also a member of the United Nations Peacekeeping Force and received the Force Commander's Commendation twice during his tenure with the United Nations.
In 2021, Bipin referred to the Indian Air Force as a 'supporting arm' of the Indian defence network and infrastructure. Air Chief Marshal R.K.S. Bhadauria got offended with his statement and in response said that the Indian Air Force served a bigger role than just being a supporting arm.
In September 2021, while addressing an event on behalf of the CDS at the India International Centre in New Delhi, General Rawat talked about the theory of clash of civilisations with regards to the western civilisation and China's growing relations with countries like Iran and Turkey. The next day, India's Minister of External Affairs S. Jaishankar conveyed to his Chinese counterpart that India did not subscribe to any clash of civilisations theory.
After the death of Bipin Rawat, there were rumours on WhatsApp that some college hostels in Tamil Nadu and Kerala had celebrated Rawat's death. After the rumours went viral, Ali Akbar, a filmmaker from Kerala said that he was upset over Muslims celebrating the death of General Rawat on the internet and was willing to convert to Hinduism.
Rawat had penned down a number of articles on national security and leadership that were published in various publications.
He was the first military officer to don three hats simultaneously- he was the Chairman Chiefs of Staff Committee, the Secretary Department of Military Affairs, and Chief of Defence Staff.
An uncanny coincidence about the Indian Army is that prior to Rawat the last Army Chief to die while serving the office was General Bipin Chandra Joshi, in 1994. Both of them not only had the same first name but also belonged to the same place, i.e., Uttarakhand.
Rawat often took inputs (when he was appearing for the Service Selection Board; SSB) from his old acquaintance, Lt Col Onkar Singh Dikrit. Bipin knew Onkar since his younger days as he was a senior of his father in 2/11 Gorkha Rifles.
Bipin was very attached to his hometown in Uttarkhand. He made sure to visit his native village after a fixed duration, even when he was busy. He even wanted to buy a house in the village and expressed it to his uncle, Bharat Singh Rawat, who later showed him a plot to build a desired house.
On 10 September 2022, a garrison in Arunachal's Kibithu military camp was named after General Bipin Rawat. While announcing 'Gen Bipin Rawat military garrison' in Kibithu, Arunachal Chief Minister Pema Khandu said that the government had sanctioned Rs 10 crore to the garrison to make it one of the best garrisons in the country, considering its strategic location on the banks of the Lohit Valley in the Rest of Arunachal Pradesh (RALP) close to the LAC. [11]

The Hindu