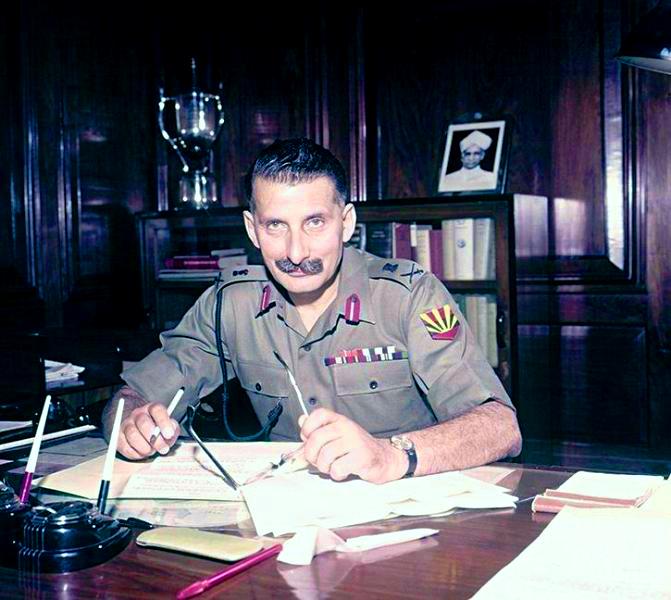 Sam Manekshaw was an Indian Army Officer who was the first Army Chief to be promoted to the rank of Field Marshal.
Wiki/Biography
Sam Manekshaw was born on Friday, 3 April 1914 (age 94 years; at the time of death) in Amritsar, Punjab. His zodiac sign is Aries. He did his schooling from the Sherwood College, Nanital. He pursued graduation from the Hindu Sabha College, Amritsar. He then attended the Indian Military Academy in Dehradun. Sam wanted to go to London to study medicine. He wanted to become a gynaecologist, but, his father did not allow him to go to London. He was miffed by this decision, and he gave the entrance exam for the Indian Military Academy (IMA); as an act of rebellion against him. He was selected and he was sixth on the merit list. In 1932, he joined IMA Dehradun in the first-ever batch of IMA.
Physical Appearance
Height (approx.): 5′ 9″
Eye Colour: Dark Brown
Family
Sam Manekshaw used to follow the Zoroastrianism Religion[1]The Times of India. His father, Hormusji Manekshaw, was an army doctor. His mother, Hilla, was a homemaker. He was his parent's fifth child. He had 3 brothers- Fali (Elder; Engineer), Jan (Elder; Engineer), and Jemi (Younger; Medical officer of the Royal Indian Air Force). Sam had two elder sisters, Sila and Sheroo, and both of them were teachers.
Sam met his wife Siloo Bode in 1937, and he got married to her on 22 April 1939. They had two daughters, Sherry and Maja.
Career
Sam was selected in the first batch of the Indian Military Academy after it was formed. It was a batch of 40 students, and they were called the Pioneers. He attempted the entrance exam, and he was sixth on the merit list. His military training began on 1 October 1932, and he graduated as a second lieutenant on 1 February 1935. He was commissioned in the 2nd battalion of the Royal Scots, in Lahore. It was customary at that time for Indian soldiers to be commissioned into a British unit, before being sent to an Indian unit. On 1 May 1938, he was appointed as the quartermaster of his battalion, and in October 1938, he qualified as the Higher Standard Army Interpreter in the Pashto language.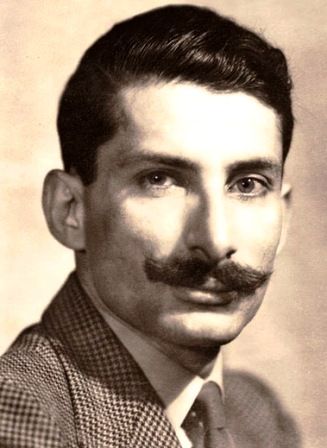 During World War 2, Sam was appointed as an acting Captian and Major, due to lack of officers. He was fighting in Burma in the 1942 campaign in the Sittang river. He had been appreciated for bravery in battle. During an attack to capture a hill, half of his battalion was killed, but, still, his battalion was successful in capturing the hill. They advanced further, but then, Sam was shot by a light machine gun. Seven bullets had pierced his stomach, and he was taken back to the camps immediately by Orderly Sher Singh. After the attack, when Sam was brought back to the camp, Major General David Cowan pinned his own Military Cross onto Sam's chest and stated- "A dead person cannot be awarded the Military Cross."
He was taken to the surgeon, but, the surgeon refused to treat him, saying that his condition is very bad, and he would not survive. When Sam regained consciousness, the doctor asked him what happened, to which Sam replied that he was kicked by a mule. Amazed at Sam's sense of humour at a time when 7 bullets had pierced his stomach, the doctor treated him saying that a person who can joke at such a time can go through any surgery. Sam survived, even after half of his liver had been blown off, a significant amount of his intestines had to be removed, and then removing seven bullets from his kidneys, liver, and lungs.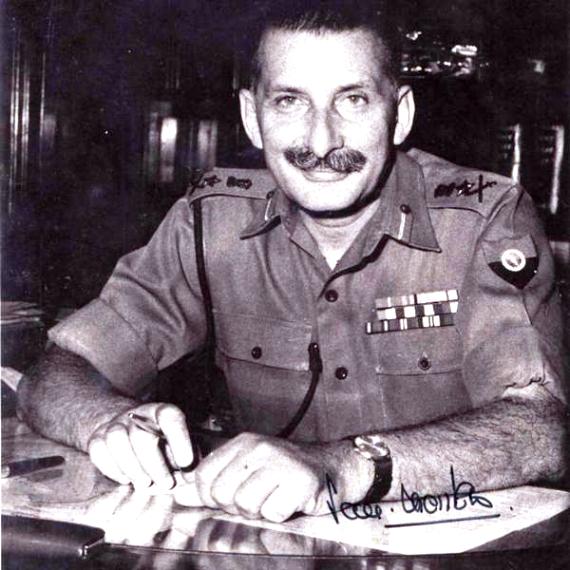 He recovered from his wounds in 1943. After the partition of India in 1947, Sam Manekshaw was reassigned to the 8th Gorkha Regiment. He displayed his administrative skills as General Staff Officer, and at the end of 1947, he was transferred to the 5th Gorkha Regiment. During the coming years, he handled many disputes and insurgencies around India. On 4 February 1952, he was appointed as a Colonel and in April, he was appointed as the Commander of the 167th Infantry Brigade.
In 1961, when Brij Mohan Kaul was appointed as the Chief of General Staff (CGS). Many senior officers of the Army including Manekshaw were not happy with this appointment as it was against the recommendation of the former CGS, and he was also close to politicians like Jawaharlal Nehru and Krishna Menon. Sam also made derogatory remarks about political interference in the Army. Menon sent informers to see whether Sam did make those comments. After it was confirmed, he set up a court inquiry against Sam. Reportedly, Sam was very close to being dismissed from duty, but, the presiding officer exonerated him of all the charges. Meanwhile, the Sino-Indian war started, but, because of the court proceedings, Sam could not join the war initially. The Indian Army could not hold up against the Chinese, and Menon and Kaul were held responsible for this; following which they were sacked. Nehru asked Sam to take charge of the IV Corps. Nehru also apologised to Manekshaw for the court inquiry, and Sam was appointed as the acting Lieutenant General.
After that, Sam was appointed as the Army Commander. He travelled throughout India on many postings and effectively responded to many insurgencies. After preventing the insurgency of Nagaland, he was honoured with the Padma Bhushan in 1968. On 8 June 1969, Sam Manekshaw was appointed as the 8th Chief of Army Staff. He effectively converted the Indian Army into an efficient instrument of war.
In April 1971, during the East and West Pakistan conflict, India decided to help East Pakistan get total autonomy. Indira Gandhi once called Sam to ask whether the Indian Army is ready to attack, but Sam declined, stating- "The Army would lose if it is sent right now, and they need a few months." Indira agreed to this and in December 1971, the Indian Army attacked and won the war in just 13 days. On the eve of the war, Indira Gandhi had asked Sam that if he was ready, and Sam replied by saying- "I'm always ready, Sweetie!".
After the war, Bangladesh was formed. Indira Gandhi had decided to promote Sam to the rank of Field Marshal and also make him the Chief of Defense Staff (CDS). However, she received a lot of resistance from other members of her cabinet; as they were worried that the Government would lose its influence over the army if Sam was included in the cabinet. Hence, the decision was postponed. In June 1972, when Sam was about to retire, he was given an extension of 6 months by the Government. On 1 January 1973, Sam Manekshaw was promoted to become the first person in independent India to be promoted to the rank of Field Marshal. He was formally commissioned as the Field Marshal on 3 January 1973 at the Rashtrapati Bhawan.
In 1972, he was also awarded the Padma Vibhushan for his exemplary service to the nation. The post of Field Marshal is for a lifetime and he never retires, the Field Marshal is on the payroll of the Indian Army until death. The Field Marshal has to be in the Field Marshal's uniform at all the government functions and events and can be called upon for strategic inputs and advise at any point of time. After his retirement, Manekshaw served on the board of many companies as an independent director and also as the Chairman in some cases.
Death
After his retirement, Sam, along with his wife Siloo, had settled in Coonoor, a small town next to Wellington Cantonment in Tamil Nadu. In June 2008, Sam was admitted to the hospital; as he was suffering from pneumonia. His condition was getting worse and he had developed many complications. On 27 June 2008, at 12:30 am, Sam Manekshaw passed away after developing acute bronchopneumonia, a form of pneumonia. Even on the day of his death, when someone had asked him how he was feeling, he said- "I'm Ok." He was admitted to the military hospital in Tamil Nadu.
As Sam was Parsi, he was buried. He was buried in Ooty, Tamil Nadu next to his wife's grave. He was buried with all military honours.
Controversies
Even though a Field Marshal stays on the payroll of the Indian Army for a lifetime, it was reported that he was not given his due allowances and entitlements. In 2007, former President of India APJ Abdul Kalam met Sam in Wellington and handed him with a cheque of 1.30 Crores INR; as arrears for the payment of over 30 years.
After Sam Manekshaw's burial, several people raised the issue that he was not given the proper treatment he was entitled to. There was no VIP representation during his burial, the President of India, the Prime Minister, or any of the Joint Chiefs were not present. People demanded that he should have been given a burial in the capitol, given his stature and contributions towards India. There was no national day of mourning, nor was the flag of India flown at half-mast.
Awards, Honours, and Achievements
Military Cross (1942)
Burma Gallantry Award (1944)
9 Years Long Service Medal (1944)
1939-1945 Star (1945)
Burma Star (1945)
War Medal (1945)
India Service Medal (1945)
General Service Medal (1947)
20 Years Long Service Medal (1955)
Padma Bhushan (1968)
Poorvi Star (1971)
Paschimi Star (1971)
Padma Vibhushan  (1972)
Sangram Medal (1972)
Car Collection
Sam Manekshaw owned a Sunbeam Rapier, which he had bought in 1957 for 16,000 INR. He also owns a Maruti 800.
Facts
Sam was the first Indian Army officer to be commissioned to the rank of Field Marshal. He is also the only officer who was promoted to the rank of Field Marshal while being on active duty. The only other Field Marshal of India, KM Cariappa, was promoted to the rank of Field Marshal 33 years after he had retired.
As a special retirement farewell to Sam, the Gorkha Regiment dressed up as women and honoured him with a special sendoff.
He was credited with his efficient style of working and great strategising. He had a good rapport with everyone in the Army. His motto was to always "Fight to Win."
He always used to resist political pressure and influence on the Army. Once during a pay commission meeting, the members suggested a reduction in the allowance for soldiers' uniform. Sam simply stated- "Now gentlemen, you tell me, who would obey my orders if I was dressed in a crumpled dhoti and kurta". Reportedly this statement ended the discussion on that particular issue.
He was a dog lover, and he used to own a dog during his younger days.
On 11 September 2008, when Narendra Modi was the Chief Minister of Gujarat, he named a flyover in Ahmedabad after him.
On 16 December 2008, the former President of India, Pratibha Patil, released a stamp in honour of Sam Manekshaw. In the stamp, Manekshaw is seen in his Field Marshal uniform.
On 27 October 2009, a statue of Sam Manekshaw was unveiled near the headquarters of the Pune Cantonment. The Commanding-in-Chief of the Pune Cantonment said that they were planning to unveil the statue on Vijay Diwas, but, they rescheduled it to Infantry Day as Sam Manekshaw was an infantryman.
On 3 April 2014, General Bikram Singh, the former Chief of Army Staff, unveiled a statue of Sam Manekshaw in the Manekshaw Auditorium of the Delhi Cantonment. He unveiled it on the 100th birth anniversary of Field Marshal Sam Manekshaw and during his speech, he credited him for- "Creating a country on the globe in just 13 days, in the form of Bangladesh in 1971."

On 27 June 2019, film director Meghna Gulzar and Bollywood actor Vicky Kaushal announced that they'll be making a film about Sam Manekshaw. Vicky Kaushal also posted a picture on Instagram, portraying his look in the film.