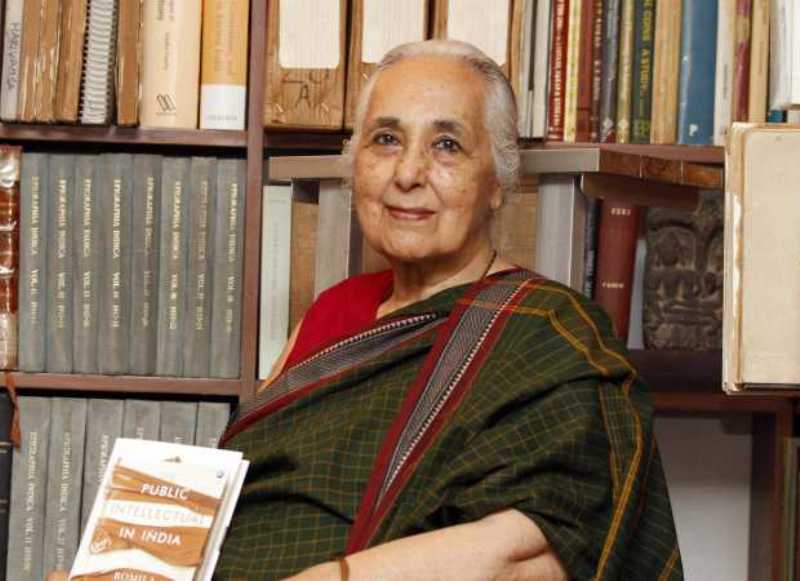 Romila Thapar is an Indian historian, professor, and author. Romila is known for writing books about Indian History and is one of the pre-eminent names amongst the Indian historians.
Wiki/Biography
Romila Thapar was born on Monday, 30 November 1931 (age 87 years; as in 2018) in the Lucknow City of United Provinces in British India. Her zodiac sign is Saggitarius. She went to St. Mary's School in Pune and had attended schools in various cities in India, which she changed in accordance with her father's postings. She completed her intermediate schooling from Nowrosjee Wadia College in Pune. She did BA in Literature from Panjab University in Chandigarh and attended the Miranda House in the University of Delhi. After completing her studies in Delhi, she wanted to go to London for further studies. Her father told her that he can either pay for her dowry or send her to London and asked her to choose between the two. Romila chose to study. Romila, recollecting her father's words, says-
I have the money, which I have kept aside for you, but it is only enough for either a dowry or a degree from London University, so you must choose."
Romila attained her second bachelor's honours degree and a doctorate in Indian History under A. L. Basham from the School of Oriental and African Studies (SOAS), the University of London in 1958.
Physical Appearance
Height (approx): 5′ 3″
Eye Colour: Black
Hair Colour: Grey
Family, Caste & Husband
Her father, Daya Ram Thapar was the Director-General of the Indian Armed Forces Medical Services. Her mother's name is Kaushalya. She has two elder siblings; a brother named Romesh Thapar (Journalist) and a sister named Bimla Thapar.
Her cousin, Karan Thapar is a Journalist.
Career
After spending a few years in England, she decided to return to India and joined in as a reader in the Ancient Indian History at Kurukshetra University in 1961. In 1963, she joined Delhi University, where she held the same position. She worked at Delhi University until 1970 and then moved to Jawaharlal Nehru University (JNU), New Delhi. There, she served as a professor of Ancient Indian History till 1991. She is the Professor Emerita at the JNU.
Major Works
Aśoka and the Decline of the Mauryas
Ancient Indian Social History: Some Interpretations
Recent Perspectives of Early Indian History
A History of India: Volume One
Early India: From the Origins to AD 1300
Controversies
In 2019, Romila, along with 12 Professor Emeritus, were asked to submit their CVs to the Jawaharlal Nehru University Administration for a review of their positions (as Professor Emeritus). Reportedly, the university was seeking to review the positions of all its emeritus professors who had turned 75 years before 31 March 2019. The JNU administration's decision drew a lot of criticism from various quarters. In September 2019, in response to the order issued by the University, Romila refused to submit her CV to the administration and wrote a letter explaining the meaning of her status instead.
In 2003, an online petition, which bore more than 2000 signatures, ensued against Romila's appointment to the Library of Congress's Kluge Chair. The opposition was based on the ground that she was a 'Marxist and anti-Hindu" and that it was 'a waste of US money' to support a leftist.
Romila was criticised for not accepting the Padma Bhushan by the Government of India twice; first in 1992 and then in 2005.
Awards & Honours
A Member of the American Philosophical Society in 2019
Keynote Address at the 14th World Sanskrit Conference at Kyoto in 2009
A Foreign Honorary Member of the American Academy of Arts and Sciences in 2009
Co-winner with Peter Brown of the Kluge Prize (a US$1 million prize) for the Study of Humanity for 2008
General President of the Indian History Congress in 1983
Honorary Doctorate & Fellowships
Jawaharlal Nehru Fellowship from 1976
Honorary Fellowship from Lady Margaret Hall, Oxford in 1986
Honorary Fellowship SOAS from the University of London in 1992
Honorary Doctorate of Humane Letters from the University of Chicago in 1993
Honorary D.Litt. from the Peradeniya University in 1992
Honorary Doctorate in Social Science from Edinburgh University in 2004
Honorary D.Litt. from the University of Oxford in 1997
Honorary D.Litt. from the University of Calcutta in 1997
Honorary Doctorate from Brown University (USA) in 2010
Address
23 B Road, Maharani Bagh, New Delhi 110065
Favourite Things
Subject: Botany, Ancient History
Historian: Eric Hobsbawm, A. L. Basham
Sports: Horse Riding, Swimming
Facts
She likes to read and write.
She has a specialization in Ancient India.
Her paternal grandfather was a school teacher, and he was also appointed to do reviews of the vernacular press for the British Administration.
Romila's maternal grandfather was a legal practitioner. He insisted all of his five daughters to complete their graduation and Romila's mother was one of them.
When her mother, Kaushalya was travelling from Rangoon to Lahore, she was pregnant with Romila. She thought of stopping over at her sister's home in Lucknow. It was by a chance that Romila was born in Lucknow.
Soon after her birth, Romila continued the journey with her mother to live at the Thal Fort in the North-West Frontier Province (now Khyber Pakhtunkhwa, Pakistan), where her father had been transferred from Lahore.
Romila spent her childhood in three different places, as her father, being an army officer, was frequently transferred.
Romila stayed with her parents while her other elder siblings grew up in boarding school.
She enjoyed horse riding and swimming in her childhood.
During her school days at St Mary's School in Pune, Romila used to attend prayer meetings of Mahatma Gandhi along with her friends in the evening at Dr Mehta's Nature Cure Clinic, near Wadia College in Pune. Recollecting the time, Romila told that she paid the mandatory amount of Rs. 5 (a princely amount in those days) to ask for Gandhi's autograph on one occasion. As she was leaving, Gandhi held the sleeve of her Kurta and asked-


Yeh, resham hai? (is this silk?)" he asked and she replied, "Jee haan (yes)!" "Resham kabhi nahi paheno. Khadi pehena karo! (Never wear silk. wear Khadi !) "
Reportedly, it was her father who had fostered her affection towards the study of the past. When her father visited a museum in Madras (now Chennai), he brought back many books on history, being impressed by Chola Bronze icons preserved in the museum. It was reading and discussions between father and daughter about the subject that triggered Romila in studying History.
When she went to London for her further studies, the lifestyle there changed her perspective towards society.
After she graduated from London University in 1955, her tutor A.L Basham (well-known for his book, "The Wonder that was India") counselled her to apply for a scholarship in the London University to pursue PhD. After hesitating for some time, Romila finally applied.
Romila has penned down many chapters of the NCERT history books.
Romila Thapar is often criticized for being a Marxist and Anti-Hindu by a section of people. In 2016, Romila, along with other historians and writers, joined the protest in JNU row, condemning the sedition case against the then JNUSU president Kanhaiya Kumar.
In spite of being honoured with many titles and awards, she refused to accept Padma Bhushan twice (first in 1992 and then in 2005). The reason she gives for refusing them is that the awards were not really state awards but government awards and therefore she preferred to stay away from it.
She is a bibliophile (a person who has an immense love for books) and can often be spotted buying books from the nearby booksellers.