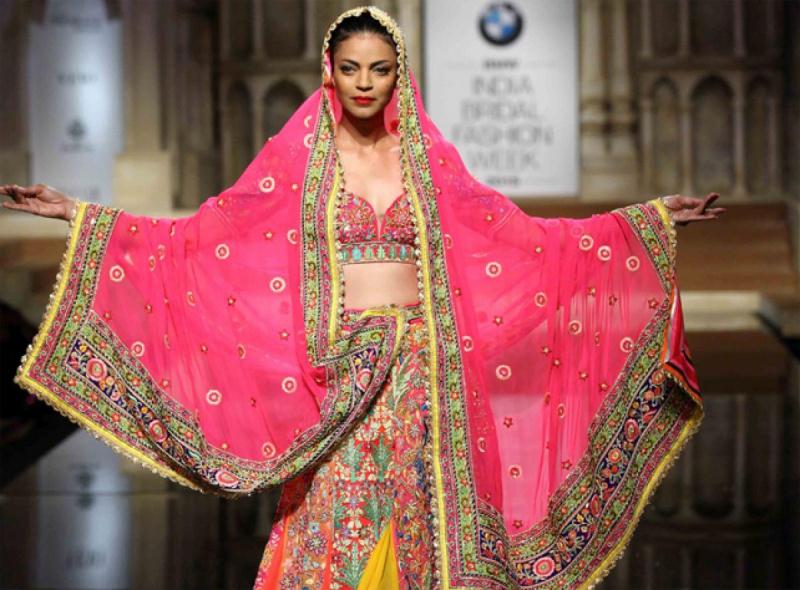 Nayanika Chattejee is an Indian model. She started modeling in the 1988 and ruled the Indian fashion industry for three decades, she is the model who changed the fashion industry, broke the stereotype of fair models and came out victorious. She retired from cotoure shows in 2008, though, it was certainly not her last fashion show. She quoted to Hindustan Times,
I just don't want to do regular runway [anymore]. There will be on-and-off appearances that I'll do for the designers I like."
She is also often called 'Naomi Campbell' of India. She is quite amazing in her profsession and has been favoured by top Indian designer of India like Sabhyasachi, Tarun Tahiliani etc
Her modelling journey began when a fashion choreographer spotted her and asked her to do a show for The Trident, Oberoi Hotels. Pierre Cardin liked her so much in the show that he made her a job offer in Paris, since her parents did not see modelling as a safe profession, they refused to let her go to Paris but her pictures made headlines in newspapers and she started getting shoots and shows regularly. She even starred in a bollywood film once called Fashion in 2008.
Wiki/Biography
Nyanika was born in the late 1960's. She was born in Kolkata but her family shifted to Mumbai as her dad got a goverment job there so, she did her schooling and gradutated from Mumbai. She studied ceramics in National Institute of Design. She also ventured to Pondicherry and did studio pottery. After shifting to Mumbai for good, with time she started getting more and more shoots with better and better opportunities and then decided to pursue modelling as a full time job.
Physical Appearance
Height (approx.): 5′ 11″
Weight (approx.): 55 kg
Hair Colour: Black
Eye Colour: Black
Figure Measurements (approx.): Waist: 26 Inches   Hips: 34 Inches
Family
Nayanika belongs to a Bengali Brahmin family of Kolkata.
Parents & Siblings
Nayanika has a British mother and Kashmiri father. Her father passed away a few years ago and she wrote a open letter to her father, showing the immense love between the father-daughter duo.
Dear Dad,

"Gold" is what you always called me. I was your precious little girl. However, little as I was then, and little did I know, just how precious you were to me. Ask any girl and she will always say that her daddy is strongest. That's the inexplicable, unconditional love between fathers and daughters.

I remember the endless hugs, countless kisses, the never-ending walks fiercely clutching your big, loving hand…first to school and then right through college, marriage and life at large. You were the sounding board to all my woes especially against my mother! When I was a little older, I even got embarrassed at your over-protectiveness, enthusiasm and blatant show of affection, especially when I was among friends. But nothing would deter you, not even the late-night vigils during my partying phase; all the consoling after heartbreaks; and the support for all my decisions even if they were wrong.

I love the sea. You introduced me to it…riding wave after wave as I clutched on to your back, forming a life-long pattern of riding each and every wave of life. So no matter where you are, like the waves that never cease, I will love you forever and always

Your daughter,

Nayanika"
Husband & Children
Nayanika tied the knot with long term boyfriend Gurinder Singh on  January 4th, 2001. Gurinder Singh, who was once a model and now develops farmhouses, together they welcomed a baby daughter in 2003 whose name is Kiara Nyantara Singh.
In a mother daughter interview Kiara pointed out that Nayanika is not a typical mother who beats her child with chappals. The interview concluded that she is more of a friend to her daughter than a mother.
Kiara Nayantara Singh, 14, says her mother, supermodel Nayanika Chatterjee, is not a "typical Indian mother who beats her daughter with chappals!" "But I could!" laughs Nayanika. [2]The Telegraph Online
Caste
Nayanika is a Bengali Brahmin.
Career
Modeling
Nayanika's career started when a fashion choreographer, Jeannie Naoroji spotted her in the midst of hundreds of college students and offered her a show, that is how her career started.  Till now there are numerous famous brands and designers that she has modelled for her. There are even some designers who refuse to do a show without her! She was a part of this indusrty for almost 3 decades.
I was hesitant but I took up the job and really enjoyed it because not only was I honing my skills I was also helping others girls. When I started modelling, there was no formal training and I learnt the hard way so when girls have someone telling them what they are doing right and wrong it is so much easier and really helpful… which we didn't have and I wanted to give that to the girls specially those from smaller towns who have big dreams but don't know how to take them forward. I have been training now for over twenty years and I still enjoy it. It's extremely satisfying to see a student make it in the industry."
She quoted to [3]EXPLOSIVEFASHION.IN
Her first show was at Oberoi Shopping Arcade after the show Jeanni got her an interview with Tarun Tahiliani and he really liked her work and started calling her for in-house jobs. In about three months, Pierre Cardin offered her a job in Paris but she refused.
Entrepreneur
Grooming by Nayanika
Nayanika started her career as an enterpeneur when she was asked to groom the Miss India finalists. She instantly knew that it was her calling and started a grooming company called 'Grooming by Nayanika' in 2012, where she teaches styling, posing, table manners/etiquettes etc. Although, in 2021 she did a shoot for a then recetly launched digital fashion platform called 'ZAARII', she did the shoot with Bibi Russel and it was wrapped up in just 2 hours.
Indiya by Nayanika
Indiya is a company started by Nayanika that curates handmade products like bamboo flask, bamboo brushes, handpainted bags, soaps etc.
Achievement
Nayaika changed the Indian fashion industry by breaking down the barriers for a dusky and curly haired model and achieved the unthinkable at the time by becoming a supermodel.
Favourites
Photographer: Atul Kasbekar
Facts/Trivia
Nayanika does not believe in diets, she said in an inteview,
Neither do I overeat nor do I skip any meal. Before a show I generally go slow and cut down on carbohydrates, sweets, chocolates and junk food. Otherwise, I don't deprive myself of good food"
She has taken up gardening as a hobby, seh said during an interview when asked about her favourite hobby,
Gardening — I can spend hours in my garden; I love looking after my plants.'