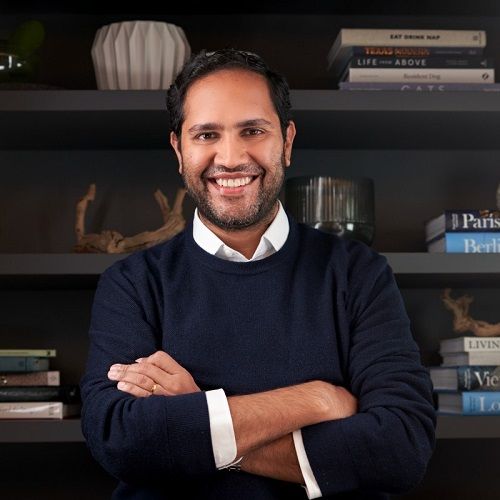 Vishal Garg is an Indo-American entrepreneur. He is the founder of the mortgage company Better.com, New York, US. He came into the news for laying off over 900 of his employees over a single Zoom call in December 2021.
Wiki/Biography
Vishal Garg was born in 1979 (age 42 years; as of 2021) in India. From 1991 to 1995, he attended Stuyvesant High School, New York, US. He then pursued BS in Finance and International Business from NYU Stern School of Business, New York City, New York, from 1995 to 1998. [1]LinkedIn- Vishal Garg At the age of seven, Vishal along with his family moved to Queens, Boroughs of New York City, US from India.
Physical Appearance
Height (approx.): 5′ 8″
Hair Colour: Black
Eye Colour: Black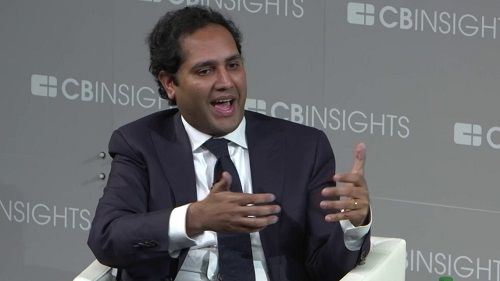 Family
Parents & Siblings
There is not much information available about his parents & siblings.
Wife & Children
Vishal is married to Sarita James who is the CEO of Embark (Admissions Software Company), UK. The couple has three children, and one of their daughters' names is Uma Garg.
Career
In 1998, he joined the financial services company 'Morgan Stanley' in New York and worked there for a year. In January 2000, he co-founded the online student loan provider company MyRichUncle (parents company MRU Holdings) along with his high school classmate Raza Khan. The initial capital investment was made by Raza's brother. In March 1999, he co-founded the New York-based investment holding company 'One Zero Capital' and was associated with the firm till January 2014. In March 2011, he became one of the founding partners in the insurance company 'Phoenix Holdings.' In January 2014, he founded the mortgage company Better.com in Greater New York City, US. The firm is backed by various financial institutions like SoftBank, L Catterton, Kleiner Perkins, Goldman Sachs, Ally Bank, American Express, Citi, and other investors.
Controversies
Tiff With His Business Partner Raza Khan
In 2009, his company MyRichUncle faced the consequences of the subprime mortgage crisis and was declared Chapter 7 bankruptcy. In 2013, his partner in the company Raza Khan sued him and claimed that Vishal drained off the money and technical assets from EIFC (their subsequent company). In 2012, Raza sued Vishal's company 'Embark' for making improper use of funds which was owed to various universities and accused Vishal of making fraudulent financial statements. Later, Khan accused him of misappropriating the funds and proprietory software to start his company Better.com. Khan further shared that many investors in Vishal's company backed off from the company and some of them filed a case against him for fraudulent activities. In December 2019, the documents presented by the local court in the "Khan and Garg case" stated that Garg gave a statement against Khan that he would staple him against a fucking wall and burn him alive. [2]Forbes
Laying Off Employees Over Zoom Call
In December 2021, he was brutally criticised for firing around 900 of his employees on a Zoom conference call. In the Zoom call, he said,
Hi everyone, thank you for joining. I come to you with not great news. The market has changed, as you know, and we have to move with it in order to survive so that hopefully we can continue to thrive and deliver on our mission. This isn't news that you're going to want to hear but ultimately it was my decision and I wanted you to hear it from me. It's been a really, really challenging decision to make. This is the second time in my career that I'm doing this and I do not want to do this. The last time I did it I cried. This time I hope to be stronger. But we are laying off about 15% of the company for [a number of] reasons: the market, efficiency and performances and productivity. If you're on this call you are part of the unlucky group that is being laid off. Your employment here is terminated. Effective immediately."
After being brutally criticised for his act, he apologised to his employees. [3]BBC In the apology mail, he wrote,
I want to apologize for the way I handled the layoffs last week. I failed to show the appropriate amount of respect and appreciation for the individuals who were affected and for their contributions to Better. I own the decision to do the layoffs, but in communicating it I blundered the execution. In doing so, I embarrassed you. I realize that the way I communicated this news made a difficult situation worse. I am deeply sorry and am committed to learning from this situation and doing more to be the leader that you expect me to be. At Better, your dedication, focus and expertise are essential in the vital work we are doing to unlock the value, joy and opportunity of homeownership for our customers across the country. I couldn't be more grateful for all you are accomplishing for the customers we serve. We will talk more at our upcoming All Hands meeting about what to expect for the year ahead. I hope you'll join me for the discussion. We are also taking fast steps to make sure we are very transparent and aligned as a company on the goals for 2022, the metrics that matter most, and how we can all work together even better to serve our customers and achieve our mission. I believe in you, I believe in Better, and I believe that working together we can make homeownership better together.-Thank you, Vishal."
Later, his ex-employees, shared that he used to send rude emails to the employees. One of such mails was,
HELLO — WAKE UP BETTER TEAM. You are TOO DAMN SLOW. You are a bunch of DUMB DOLPHINS and…DUMB DOLPHINS get caught in nets and eaten by sharks. SO STOP IT. STOP IT. STOP IT RIGHT NOW. YOU ARE EMBARRASSING ME."
Net Worth
As of August 2021, his net worth is $1 billion approximately. [4]The Daily Beast
Facts/Trivia
While he was studying at Stuyvesant High School in Manhattan, he used to resell the CliffsNotes study guides and books, and second-hand clothes at a huge profit.
In 2021, he donated around 2 million US dollars (in partnership with the NGO Fund for Public Schools in NYC) for buying Chromebooks, iPads, wifi hotspots, books, and uniforms for more than 20,000 public school students in New York City.
During an interview, he shared the fact that how he thought of starting a mortgage company. He said,


My wife was pregnant with our second child and we were still renting. We ended up losing a place that we wanted to buy to an all-cash buyer because our mortgage process was so long and inefficient."