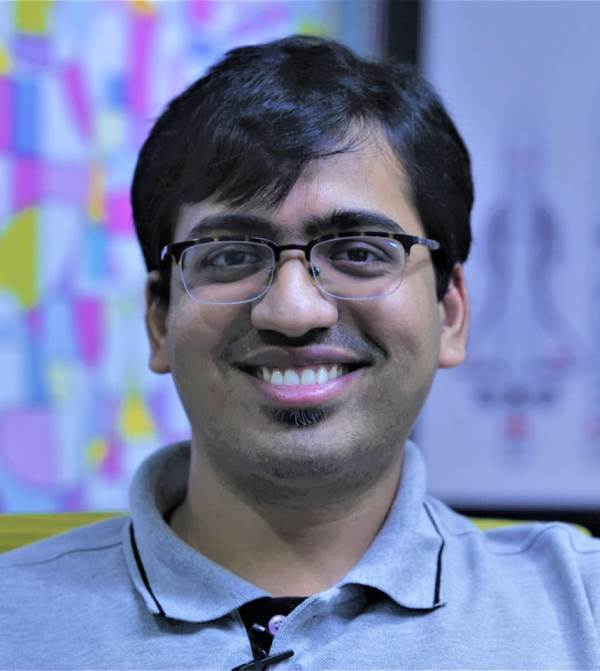 Pawan Kumar Chandana is an Indian scientist and Space Entrepreneur. He is the co-founder of Skyroot Aerospace, which is a private aerospace manufacturing company founded in 2018; he is also the CEO and CTO (chief technology officer) of the company. He worked as a scientist at ISRO for more than five years. In 2020, he was listed on the Forbes 30 Under 30 list, issued by Forbes Asia. Skyroot Aerospace is the first Indian private company to test-fire multiple rocket propulsion systems.
Wiki/Biography
Pawan Kumar Chandana was born in 1991 (age 31 years; as of 2022) in Hyderabad, Telangana, India. He holds a B.Tech degree in mechanical engineering from IIT, Kharagpur. Later, he did M.Tech in thermal science and Engineering at IIT, Kharagpur. [1]Linkedin – Pawan Kumar Chandana
Physical Appearance
Height (approx.): 5′ 9″
Hair Colour: Black
Eye Colour: Black
Family
Wife
Pawan Kumar Chandana got married to Nirupama Chandana on 10 October 2019.
Career
ISRO
In September 2012, he started working as a scientist at the rocket design centre (VSSC) at ISRO in Thiruvananthapuram, Kerala, India. While working at ISRO, he worked for five years on the GSLV Mk-II rocket, which is one of the largest and heaviest launch vehicles made in India. He worked as a system engineer for the booster rocket for GSLV Mk-3, S200. Before leaving ISRO, he was designated as the Deputy Project Manager of the Small Satellite Launch Vehicle (SSLV). After working for more than five years, he quit ISRO in June 2018.
Skyroot Aerospace
In July 2018, he co-founded Skyroot Aerospace with another ISRO scientist named Naga Bharath Daka in Hyderabad, India. Their company creates launch vehicles. Indian rocket scientist Vasudevan Gnana Gandhi, founders of CureFit Mukesh Bansal and Ankit Nagor, and some other businessmen helped Pawan and Naga in forming Skyroot Aerospace. On 20 November 2020, they signed a memorandum with another aerospace manufacturer in India named Dhruva Space. Skyroot Aerospace is the first Indian startup to sign the first-ever agreement with the Department of Space under which facilities and expertise of ISRO are accessible by the company, and the company can test its systems and sub-systems of carrier rockets. On 20 May 2021, Skyroot Aerospace raised funds costing $11 million in Series A funding round with the contribution of Greenko Group, Solar Industries, the chief business officer of Whatsapp Neeraj Arora, founder of Myntra and Cult.fit Mukesh Bansal, Sutton Capital, Vedanshu Investments, and more. On 27 January 2022, they raised $4.5 million in Series B funding with the participation of Sherpalo Ventures of Ram Shriram, who is Google's founding board member, ex-Google executive Amit Singhal, Wami Capital, and others.
Raman-1
On 30 July 2020, Skyroot Aerospace successfully test-fired a hypergolic-fuel upper-stage engine named Raman-1. This engine was named after C. V. Raman, an Indian physicist. Skyroot was the first private company to test this kind of engine.
Kalam-5
On 22 December 2020, Skyroot tested Kalam-5, which is a solid-fuel rocket engine. The test took place in a private testing area in Nagpur. 5 in the name Kalam-5 denotes the peak sea level thrust of 5.3 kN. This rocket engine was named after A. P. J. Abdul Kalam.
Kalam-100
On 19 May 2022, Skyroot declared that Vikram-1's rocket stage, Kalam-100, has successfully completed a full-duration test-firing. The third stage of Vikram-1, Kalam-100, produces a peak vacuum thrust of 100 kN (or ~10 Tons) and has a burn time of 108 sec. High-strength carbon fibre structure, solid fuel, novel thermal protection system, and carbon ablative nozzle were used to build the Kalam-100 rocket stage. In November 2022, the media reported it to be the largest rocket stage to be designed, manufactured, and tested by a private firm and the best rocket stage of this size.
Dhawan-1
On 25 September 2020, an upper-stage cryogenic engine named Dhawan-1 was unveiled, which was manufactured to power heavier-lift systems including Vikram-II, which is a small-lift launch vehicle. It was named after Satish Dhawan, an Indian mathematician and aerospace engineer. It is the first cryogenic engine in India, which used liquefied natural gas (LNG) as fuel as this fuel is clean, reusable, and suits well for long-duration space missions. Dhawan-1 is completely made with 3D printing with regenerative cooling using superalloys. On 25 November 2021, Dhawan-1 was test-fired successfully, using liquefied natural gas (LNG) and liquid oxygen (LOX). It was tested on the test site provided by Solar Industries, which has also invested in Skyroot Aerospace.
We're thrilled to announce, in a major milestone, we successfully test fired India's first privately built fully Cryogenic Engine 'Dhawan-1'

100% 3D-Printed
100% Made in India
Fuel of the future- LNG

Checkout the footage: https://t.co/zffy4ti2Lj#Methalox pic.twitter.com/ktKGAs9o7n

— Skyroot Aerospace (@SkyrootA) November 25, 2021
Vikram
Vikram is a series of small-lift launch vehicles. This series was named after Vikram Sarabhai, an Indian physicist and astronomer, who founded ISRO. In February 2021, Skyroot Aerospace collaborated with Bellatrix Aerospace to use Bellatrix's Orbital Transfer Vehicle with carrier rockets of the Vikram series. In an interview, on being asked about what sets the Vikram series apart from other small satellite launch vehicles, he said,
It is the simplicity of the rocket. It is a simple rocket that can be manufactured, assembled, and launched very fast. Then there is the cost. It will be much cheaper than other rockets in similar segments in the international market." [2]Instagram – Skyroot Aerospace
Vikram-S was the first carrier rocket of this series, which was expected to be launched between 15 and 19 November 2022. It was a single-stage sub-orbital launch vehicle, which was expected to carry three customer payloads and help in testing and validating the majority of the technologies in the Vikram series of space launch vehicles. [3]The Hindu
While India's first private rocket, the Vikram-S, is bracing for launch from Sriharikota with a revised window between 15 and 19 November 2022, get to know its propulsion system – the Kalam 80, successfully test fired on 15 March 2022. Stay tuned.#Prarambh #OpeningSpaceForAll pic.twitter.com/N2auqfx18W

— Skyroot Aerospace (@SkyrootA) November 13, 2022
On 18 November 2022, Skyroot Aerospace launched Vikram-S, the first private rocket to be launched in India.
Team Skyroot dedicates today's historic success of India's first private rocket launch to the space reforms brought in by the vision of Hon' Prime Minister @narendramodi ji.

We thank @isro and @INSPACeIND for their invaluable support towards this landmark milestone.#Prarambh pic.twitter.com/sbpbcI1s0T

— Skyroot Aerospace (@SkyrootA) November 18, 2022
Vikram I is the second rocket in the series with an SSPO (Sun Synchronous Polar Orbit) of 290 kg and LEO (Low Earth Orbit) of 480 kg. The third launch vehicle in the series is Vikram II with an SSPO of 400 kg and LEO of 595 kg. Vikram III is the fourth carrier to be launched with an SSPO of 560 kg and LEO of 815 kg.
Awards
Won Best Innovative Product Award by ISRO in 2016 for inventing a modern torque limiting tool for secure fastening of Space Launch Vehicle hardware
Won Best Innovative Idea Award by ISRO in 2016 for a high-performance solution to vibration isolation of rocket hardware
Won the Aerospace Engineering Division Prize from The Institution of Engineers in 2018
Skyroot Aerospace won National Startup Award from the Government of India in 2020
Skyroot Aerospace won the Pride of Telangana- Startup Achiever Award in 2021
Skyroot Aerospace team won Aegis Graham Bell Award for Jury choice award under the innovation category for the year 2020 in 2021
Won Best Innovator Award at Telangana State Industry Awards in 2021
Skyroot Aerospace won National Award for Technology Startups for Cryogenic, Liquid, and Solid Propulsion Technologies by the Department of Science and Technology, Government of India in 2022
Facts/Trivia
In 2022, Pawan Kumar Chandana was featured on the cover of India Today magazine. He was listed among India Today's top 100 Young Achievers.
In September 2021, Skyroot Aerospace was placed in 7th position on Linkedin's 2021 Top Startups List in India, among the top 25 emerging companies.
In an interview, Pawan talked about how he chose ISRO over going abroad for studies and said,


Without any thought, I attended the interview and luckily got selected. I was fortunate to get in despite a comparatively low academic performance—the three others chosen were among the batch toppers." [4]India Today
According to sources, Pawan Kumar Chandana is considered Elon Musk of India. [5]

Brahmastra Space
Skyroot Aerospace's mission statement is –


Affordable, On-demand and reliable ride to space. At Skyroot, we are on a mission to open Space for all, by pushing the boundaries of today's technology. We are working towards a future where Space becomes part of our lives, and such a transition will transform humankind like never before." [6]Skyroot Aerospace
He is skilled in multiple technologies including Abaqus, AutoCAD, Modeling, ANSYS, Matlab, Catia, and more.
In July 2019, he gave a TEDx speech about "Space Colonization – The future of humanity." In December 2019, he gave another TEDx speech in which he talked about "Not Passion, Obsession is the key."
In an interview, on being asked about the plan and ultimate goal of Skyroot Aerospace, he said,


The toughest problem to be solved in the next decade is to reduce the cost of launching satellites or humans to space. This is where we are focusing. once cost drops drastically, it will open new frontiers for space-based services. [7]The Times of India The goal is to create space based economy. Today, we have an earth based economy. We feel that resources are only available on earth, and that is because we cannot go to space at a very low cost. In the long run, we want space flight to be as cheap as an air flight so that anybody can go to space. Either for space tourism or to utilise the resources there. Space has plenty of planets, comets, asteroids, and a lot of metals and resources readily available. Going to space becomes easier, when it becomes existensial. We can create a space-based economy where human beings can travel and live. Expanding humanity out into space is the ultimate goal." [8]Instagram – Skyroot Aerospace