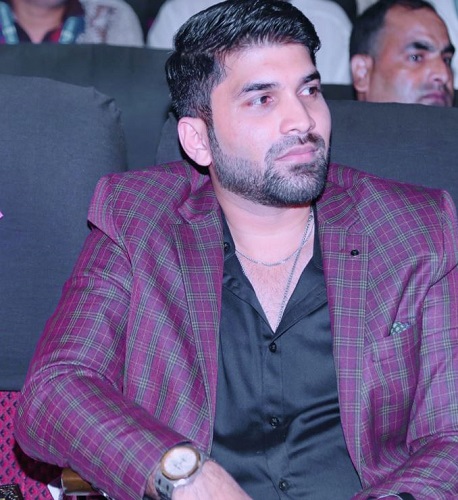 Dr. Ahmed Haque is an Indian social, political, and peace activist. He is an outspoken advocate for the rights of minorities and serves as a peace ambassador for the United Nations World Human Rights Council. Dr. Haque is the founder of Just World Order Federation, an independent nonprofit organisation that aims to work on spreading peace, standing for justice for everyone, becoming the voice of the voiceless, empowering the powerless, and supporting those in need.
Wiki/Biography
Dr. Ahmed Haque is an award-winning philanthropist, entrepreneur, peace leader, and human rights defender. He has been a thought leader, author, and editor, specialising in the areas of interfaith, religious studies, peace studies, philosophy, and social theory. Dr. Haque has been a vocal advocate for human rights and religious harmony and has worked to promote interfaith dialogue and understanding.
Dr. Ahmed Haque was born on 5 June 1987 in Mumbai, India. He received his early education at O.L.H.S. school in Mumbai. After completing his schooling, he pursued a bachelor's degree in commerce (B.Com.) and later obtained a postgraduate degree in human rights from Mumbai University. Dr. Haque's academic pursuits did not end there, and he went on to obtain a Master's in Business Administration (MBA) in Export Management.
He also completed a master's-level advanced certificate program in international relations theory and politics. His educational background has equipped him with the knowledge and skills necessary to excel in his professional pursuits and make a positive impact on society.
Physical Appearance
Height: 5′ 7″
Weight: 76 kg
Hair Colour: Black
Eye Colour: Black
Family
There is not much information about Ahmed Haque's family.
Relationships/Affairs
Dr. Ahmed Haque is not married and he is currently single.
Religion/Religious Views
The opinions of Dr. Ahmed Haque regarding religion are quite unique and liberated. His liberal and multicultural upbringing has instilled in him the values of harmony and peace for all people. When Dr. Ahmed was very young, he was captivated by the notion that there are more parallels between great religions than differences. He stated, "I've always been fascinated by the idea that we share the same God." In addition, Dr. Ahmed is a strong proponent of fostering respect and understanding among Islam, Christianity, Judaism, and Hinduism. He is an expert in Islamic eschatology and a theologian.
Signature/Autograph
Mission
Dr. Ahmed Haque had only a mission to bring peace and harmony. To build a civilization where everyone practises peace, peace living and peace-loving.
Peace Activism
Founder/President of Just World Order Federation
Dr. Ahmed Haque is renowned for establishing the Just World Order Federation.
An independent nonprofit organisation that is truly committed to promoting peace, advocating for justice, amplifying the voices of the marginalised, empowering the vulnerable, and providing support to those in need.
General Secretary of World Peace Harmony
Dr. Haque is the general secretary of World Peace and Harmony. A grass-roots initiative that works to build peace through youth mobilisation, peace-building education, and civic activism.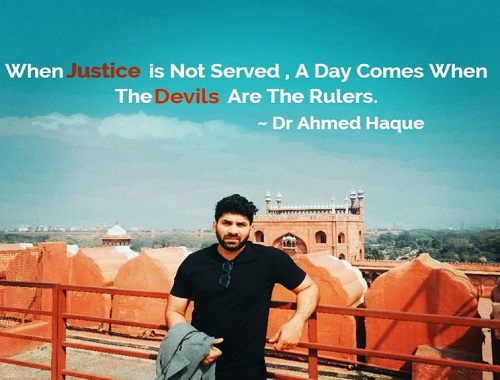 President of Islamic Defence Cyber Cell Council
A lot of things, both positive and negative, like racism, nationalism, hate speech directed at individuals, and many other things, happen online rather than in person. The cyber cell has also received several reports of individuals being radicalised by violent propaganda, which is a serious problem in India's rural areas and contributes to the development of violent extremism. where the lack of civil society and opportunity for youth exacerbates geographic and economic marginalisation. which is getting much riskier on the internet. It must be put an end to. Speaking about it, Ahmed Haque stated, "I would say that most of the radicalised thought is expressed online, where youngsters express anti-Islamophobic, xenophobic, and racist views. The internet is still perceived as a free space where no one is held accountable for the things they say." 
The terror group uses social media platforms to sway young men, while the Islamic Cyber Cell Council acts as a counter to those platforms. To combat bias against Islam. These Days, social media networks are in great use to spread the word about Islam. The Organisation shall uphold the correct message and teachings for the benefit of people and the globe.
Director of Jewish-Islamic International Peace Society
The Jewish Islamic International Peace Society is associated with the peace initiative with the aim of constructing a more refined and courteous global community that embodies harmony, compassion, and brotherhood. The Jewish Islamic International Peace Society is an Israeli-Palestinian joint organisation that advocates for political change, information sharing, and grassroots activism in order to end the occupation and advance equality, justice, and peace for both Israelis and Palestinians.
Other Humanitarian Work
From a young age, Dr. Ahmed Haque has been passionate about helping others in need. He has been actively involved in uplifting socially backward individuals and providing them with basic necessities such as food, housing and educational support. Dr. Haque's dedication to promoting global peace and religious tolerance especially for minorities today he has been recognized as the peace building leader.
Dr. Ahmed Haque's idea to create a better and more peaceful world for everyone he is actively working to implement game-changing strategies. He is working to bring high-tech medical vans and top-notch e-learning facilities. Furthering his mission to create a better, more harmonious world.
Bringing the changes in rural areas Dr. Haque is profoundly committed to improving the health and educational sectors of the rural communities. His involvement in conflict resolution, peace-building, and empowerment of women and children further exemplifies his dedication to bringing positive societal change. Dr. Haque's work has had a significant impact globally from India to the Middle East, South Africa, and the USA, he is fostering valuable connections with civil society, media, governments, and local communities.
Author
Dr. Ahmed Haque's debut upcoming Novel on World Peace and Justice
Political Vision
In order to promote a more equitable and peaceful society, Dr. Haque's vision centres on developing a national framework that smoothly incorporates national and human rights into people's daily lives. To improve society's well-being, he actively promotes political advancement and constructive change.
Awards, Honours, Achievements
Dr. Ahmed Haque has received widespread recognition for his numerous contributions to society. In appreciation of his contributions to social, political, human rights, and literary services Dr. Ahmed Haque has won multiple awards, honours and merit certificates from both national and international organisations. Among his many honours are the Bharat Ratna Dr. APJ Kalam Award, the Global Icon Award, the Human Rights Excellence Award, the Peace Buddha Award, the Nelson Mandela Nobel Peace Award, and the DMC (Government of the National Capital Territory of Delhi Award).
Facts/Trivia
Dr. Ahmed Haque is a passionate football player and has played football for many renowned clubs in Mumbai.
In his leisure time, Dr. Ahmed likes reading books and doing meditation
Dr. Ahmed Haque loves going on long drives with his family, and friends and sometimes alone.
Dr. Ahmed Haque is a globetrotter who has widely travelled across the world, particularly the Middle East and Africa. He believes that travelling to new places and meeting new people helps him to understand human psychology even better and inspires him to know and address their concerns.
26/11 Mumbai Attack Hero, NSG Commando Surender Singh, praised Dr Ahmed Haque for his efforts on anti-terrorism.
Dr. Ahmed Haque was honoured with the Bharat Ratna Dr. APJ Abdul Kalam Award for his outstanding contributions to society in various fields, including world peace, religious harmony, anti-terrorism, the arts, literature, and social service.