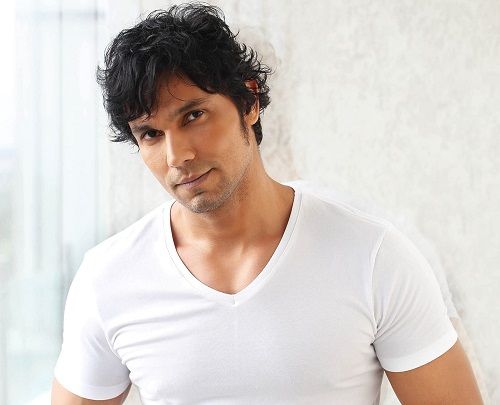 Randeep Hooda is an Indian film actor, theatre artist, equestrian, and social worker. He came into the limelight with the 2010 Hindi film 'Once Upon a Time in Mumbaai' in which he played the role of ACP Agnel Wilso.
Wiki/Biography
Randeep Hooda was born on Friday, 20 August 1976 (age 47 years; as of 2022) in Jassia village, Rohtak, Haryana. His zodiac sign is Leo.
He did his schooling at Motilal Nehru School of Sports, Haryana, and in the middle of his junior school, he changed his school to Delhi Public School, R. K. Puram, New Delhi. He pursued his graduation from Delhi University. Thereafter, he pursued Master's in Business Management and Human Resource Development in Melbourne, Australia. [1]Rediff.com
Physical Appearance
Height (approx.): 5′ 11″
Hair Colour: Black
Eye Colour: Dark Brown
Body Measurement (approx.): Chest: 40 Inches, Waist: 32 Inches, Biceps: 16 Inches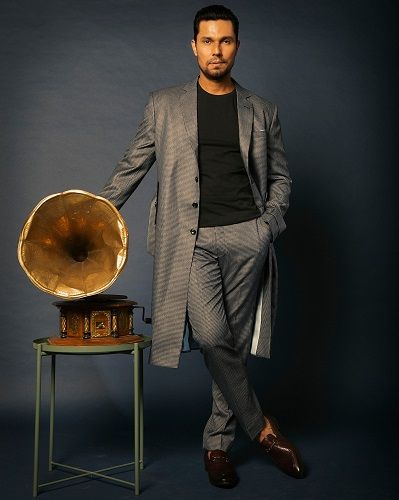 Family
Randeep Hooda was born in a Haryanvi Jat family. [2]The Economic Times
Parents & Siblings
His father, Dr Ranbir Hooda, is a medical surgeon and professor. His mother, Asha Hooda, is a social worker and politician. His elder sister, Anjali Hooda Sangwan, is an Indian doctor practising in the USA. His younger brother, Sandeep Hooda, works as a software engineer.
Wife
His wife, Lin Laishram, is a model, actress, and businesswoman. The couple tied the knot on 29 November 2023 in a traditional Meitei marriage ceremony in Imphal. The age difference between Randeep and Lin is 10 years. [3]The Hindu
Relationships/Affairs
Sushmita Sen
From 2006 to 2009, Randeep was in a relationship with the Indian actress Sushmita Sen. After dating for almost three years, the couple parted ways. In an interview, when Randeep was asked about his break-up with Sushmita, he said,
The biggest part of my relationship with her for over three years was my relationship with her daughter, Renee. I missed only one theatre rehearsal in my life as Sushmita wanted me to not go and that is the worst thing I did in terms of my value system. I was exposed to fame although I was on the sidelines as I was not a star. The break-up was the best thing that happened to me and I realised that I gave it too much time in my life."
He further said,
It's not good to be in a relationship if you can't contribute. Being just a taker can never work out. Unless I have the time and mental space to enjoy togetherness, I don't want to be in a relationship. I've had some wonderful people in my life. And I'm trying to keep that equation healthy. But I'm not in the frame of mind to have a spouse right now. I am honest about it."
Neetu Chandra
After his break-up with Sushmita Sen, he was rumoured to be in a relationship with the Indian actress Neetu Chandra. Reportedly, the couple started dating in 2010. It was said that Randeep introduced Neetu to his parents while they both were dating. However, Randeep never confessed his relationship with Neetu in the media. After dating for almost 6 years, the couple parted ways. Post their break-up, Neetu talked openly about his relationship with Randeep. In an interview, she said,
See, when you're in a relationship, you cannot just talk about the whole relationship because there's another person involved. Also, I don't feel comfortable enough to discuss my personal life. I feel that my work will not be spoken about. As it is, I choose to do quality work which comes lesser. But, I would always say that even in my relationship in the past, I have learnt a lot.  Also, I have to say this on record that a lot of seriousness for my profession as an actor has come from him. It's been a chapter of my life. I'm thankful and happy also at the same time that I'm out of it and doing other things. But, I have high respect for him and it won't go which is fine."
When reporters asked Randeep about his relationship with Neetu. [4]The Times of India He said,
Sometimes you have to make sacrifices for a bigger goal. It is not the end of the road for me and I may find solace again in my personal relationships. Right now my life consists of only my make-up, sets and characters."
Lin Laishram
In 2021, he started dating the Manipuri actress Lin Laishram. [5]The Indian Express In November 2023, he was reported to be planning to get married to Lin in the same month. [6]The Times of India
Address
Versova Sea Side CHS, J P Road, Jeet Nagar, Versova, Andheri (West), Mumbai
Autograph
Career
Actor
In 2001, Randeep made his acting debut with the Hindi film 'Monsoon Wedding' in which he played the role of Rahul Chadha.
It took almost four years for him to get another film offer, and in 2005, he acted in the Hindi film 'D.'
He then appeared in a few Hindi films like 'Darna Zaroori Hai' (2006), 'Risk' (2007), 'Ru Ba Ru' (2008), and 'Karma Aur Holi' (2009) which failed to do well at the box office.
He came into the limelight with the Hindi film 'Once Upon a Time in Mumbaai' (2010) in which he played the character of ACP Agnel Wilson.
He then appeared in popular Hindi films like 'Saheb Biwi Aur Gangster' (2011), 'Jannat 2' (2012), 'Highway' (2014), 'Kick' (2014), and 'Main Aur Charles' (2015).
In 2020, he made his Hollywood debut with the film 'Extraction' (2020) starring the famous Hollywood actor Chris Hemsworth. Randeep played the role of Saju Rav in the film.
On 28 March 2022, he announced that he would play the role of the Indian freedom fighter Vinayak Damodar Savarkar in the Hindi film 'SwatantraVeer Savarkar.'
Theatre Artist
Since the beginning of his acting career, he has been associated with the Indian theatre group 'Motley Theatre Troupe' which was started by the veteran Indian actor Naseeruddin Shah. He has performed in many popular Hindi plays like 'Kali Shalwar Aur Kuchchh Kahaniyan' and 'Arms and The Man.' In an interview, while talking about his first theatre play, Randeep said,
My first stint with theatre was in school, where I was asked to wear a lion mask and roar for several minutes. My parents came to see me with a lot of expectations and sadly, they couldn't even recognise me on stage because of the mask."
He further said,
Juggling between the two [theatre and films] does get difficult, but I don't see myself ever give up Theatre. It's got a deeper connect with who I really am. So, if films give you the wings to fly, Theatre is a reality check, it keeps you grounded. Films can give you the satisfaction of feeling like a hero, but theatre gives you the real satisfaction of being an actor."
Equestrian Sport
While in school, he started participating in equestrian competitions. However, he left the sport in school, and after almost 17 years, on the advice of the veteran Indian actor Naseeruddin Shah, Randeep restarted the sport. In an interview, while talking about it, Randeep said,
After I did a few movies in Mumbai, I had some money. Naseer bhai (Naseeruddin Shah) goes riding and he told me about an amateur riding club. Naseer bhai and Milan Luthria (filmmaker) seconded my application. I began riding once again. I bought a handsome horse but despite my best efforts, he died in my arms two months later. Being the Jat that I am, I bought three more horses out of vengeance."
He further said,
My first stint with horses happened when I was in class eight at the Motilal Nehru School of Sports in Haryana, but thereafter I didn't ride horses for 17 years. A couple of years ago, I was at a stage when I had done movies in quick succession but they were not releasing on time. As an actor, I had given my best to every performance, but I felt I was not getting my due. I wanted a breather. I turned to horses and it was great leveller; they are addictive for sure."
He participated for the first time in equestrian in one of the competitions at the Chandigarh Horse Show. In an interview, while talking about competing at various events, he said,
I started at the Chandigarh Horse Show, and then competed at Bangalaru, Kolkata, Delhi and Mumbai. These are not race horses, but show horses. At my first competition, I rode Ranji, who had developed a bad habit of running away when he had to jump. I wanted to keep a low profile at the competition but I was given an elaborate introduction as the actor from D etc. After all this build-up, when Ranji was approaching the jump, he turned 180 degrees and ran away. I was disqualified. I hid behind a tree for hours together."
Randeep owns more than eight horses including Ranji, Dreamgirl, and Johnny Walker. During an interview, while talking about his horses, he said,
I forget the world when I'm on horseback. Each of my horses is as good as a human being. Ranji is like a brother. If I whistle, Ranji will pick up his ears and find me. Raja, who is 20 years old, can teach me a thing or two about racing. With Simply Supreme and Johnny Walker, I'm the master. If I had to go through fire or water then Johnny Walker would just do it for me."
In 2014, he started a Polo team named "Royal Rooster." As of 2022, Randeep is the only Indian actor who participates in the equestrian sport including polo and show jumping. His coaches are Colonel SS Ahalawat (show jumping) and Brigadier Bishnoi (dressage).
Journalism
Apart from acting and sports, he has also worked as a journalist. In 2009, he worked as a guest contributor for a column in Asian Correspondent named "In The Script." He then published an article titled "Racism against Indians in Australia" in which he talked about the violence faced by the Indians in Australia. In 2011, Hooda wrote a blog for the leading Indian news portal The Times of India.
Social Activist
Randeep is actively involved in various social services. In September 2010, he appeared in a charity fashion show to raise funds for the poor communities in India. In 2012, he participated in an anti-suicide initiative along with other Indian celebrities like Imtiaz Ali, Rahul Bose, Mahesh Bhupathi, and Nishikant Kamat. In 2018, he teamed with the Indian NGO Khalsa Aid group to provide food for the people affected by the floods. Amid the coronavirus pandemic in 2020 and 2021, he helped needy people in getting rations and other basic necessities. He has also supported various NGOs in clean Indian campaigns.
Other Work
In 2017, he hosted the second season of the MTV anthology series 'MTV Big F.'
Controversies
Criticised for Mocking a Girl on Twitter
In 2017, he landed into controversy for mocking the Indian student activist Gurmehar Kaur. [7]The Indian Express On 25 April 2017, Gurmehar (daughter of an Indian Army martyr) posted a photo of her on her Twitter account, and in the photo, she was holding a placard with the statement "Pakistan didn't kill my father, war did." Later, the former Indian cricketer Virender Sehwag mocked her and shared an image of him holding a placard saying, "I did not score two triple centuries. My bat did." Randeep Hooda liked the video posted by Sehwag for which he was slammed by the netizens and various Indian celebrities. He even said that Gurmehar was a political pawn, which invited further criticism. Later, he gave a clarification in the media on his 'political pawn' statement. He said,
It wasn't gender-specific. I was and am against the politicisation of personal opinions. There was an axe to grind and considering the environment in the country vis-a-vis women, in hindsight, I do believe I should have been more careful. As an actor, I have faced this (trolling) before and will have to face it in future too but for a young individual, to face this would be very traumatic and she shouldn't have gone through this."
Gurmehar then tweeted on Randeep's statement. She wrote,
I didn't tweet my hands did"
Virender Sehwag and Randeep were criticised more because Gurmehar was already receiving rape threats for tweeting something against ABVP. In an interview, while talking about it, Randeep said,
I was not aware of any threats to her. When I did become aware of it, I issued a statement clarifying my stand. And violence is wrong. If it is against a woman, it's a heinous crime and perpetrators should be brought to justice and severe punishment should be given so that it sets an example. I don't think that has happened. I don't know what the authorities are doing. But by that time the narrative was set. I was labelled, put in a box. So, it seems to me we are not having a conversation."
Criticised for Casteist and Sexist Comment
On 25 May 2021, a Twitter user shared an old video of Randeep Hooda from a chat show in which he was seen passing sexist jokes on the Indian politician Mayawati. He received a huge backlash from the netizens for his casteist and sexist comment. Later, Randeep apologised for the same. As a result of the controversy, the Secretariat of the Convention for the Conservation of Migratory Species of Wild Animals (CMS), the environmental treaty of the United Nations removed Randeep as its brand ambassador. [8]The Print The statement reads,
The CMS Secretariat finds the comments made in the video to be offensive, and they do not reflect the values of the CMS Secretariat or the United Nations."
Awards & Achievements
Awards
2006: Annual Central European Bollywood Award for Breakthrough Role in the Hindi film Darna Zaroori Hai
2011: Lions Gold Award for Favorite Supporting Actor in Once Upon a Time in Mumbaai
2014: Stardust Award for Best Actor (Searchlight Award) for Highway
2015: Stardust Awards for Best Actor in a Negative Role for Main Aur Charles
2016: FOI Online Awards for Special Mention for Sarbjit
2016: Jagran Film Festival for Best Actor (Jury Award) for Sarbjit (2016)
Achievements
2010: 21st in The Times of India's annual list of the 50 most desirable men
2011: Seventh on the list of the "20 sexiest men in the world" by Internet Movie Database (IMDb)
Medals
2009: Silver Medal at the Delhi Horse Show
2011: Silver Medal at the Bombay Horse Show
2014: Three gold, two silver, and two bronze medals at the National Equestrian Championship (dressage and show-jumping events)
2019: Silver Medal at the National Equestrian Championship
Bike Collection
Car Collection
Salary/Income
According to an article published in December 2023, his fee per film was estimated to be around Rs. 20 crore. He earns a significant portion of his income, i.e., around Rs. 50 lakh, from brand endorsements. [12]The Financial Express
Net Worth
Randeep Hooda's net worth was estimated to be around Rs. 80 crores in December 2023. [13]The Financial Express
Favourites
Food: Sushi, Tandoori Roti and Tadke Waali Dal, Aloo-Gobi, Gajar-Methi
Facts/Trivia
He spent most of his childhood with his maternal grandmother. In an interview, while remembering his childhood days with his grandmother, he said,


I am a Jat born in Jassia village and brought up in Rohtak, where I lived with my nani. My parents lived in different countries where my father worked as a surgeon. I would visit my parents during holidays and would travel alone.. As a child, I used to run from my school in Rohtak to my village to just hang out with animals as I found solace in them. I was most attached to my nani, who died two years ago. She was so omnipresent in my life and yet, towards her end when she was sick, I could not be with her as I had no work and did not have the luxury to travel whenever I wanted to."
In school, he participated in various sports like swimming and polo.
While he was studying in Australia, he did a few odd jobs. He worked as a waiter, dishwasher, and taxi driver for almost two years. After returning to India from Australia, he joined a marketing department at an airline. [15]

The Times of India Simultaneously, he started working as a model in Delhi. In an interview, while talking about his modelling days, he said,


When I returned to Delhi, I started modelling with Suneet Verma and started doing a play with Suneet Tandon. But I had an altercation, a bad drink and drive case, had almost killed myself and was laid up in bed for five months, so the play never happened. There was a phone that rang during that time from Mira Nair to audition for Monsoon Wedding as she had heard about me from Suneet Tandon. I was selected."
He then shifted to Mumbai to make his career in acting. He got Rs 1500 for his first TV commercial. [16]

The Times of India In an interview, while remembering those days, he said,


Out of that `1500, I drank alcohol worth `750 that very night, because as soon as I landed in Mumbai, I got my first commercial. I went to celebrate in a bar and got really drunk. But after that there was no work and I spent my days living behind people's couches – getting out of the house before they woke up, and getting in after they had slept to avoid embarrassment. But gradually things started happening, I started getting movies and life became a little stable."
After his debut Hindi film, the Indian filmmaker Ram Gopal Varma offered him a Hindi film 'Ek' and paid Randeep Rs 35000 per month for three years, but the film got shelved.
Once, Randeep wanted to have a child from surrogacy, but on his father's advice, he quit the idea. His father told him that a child needs a mother for a better upbringing. Randeep then decided that he would have a child of his own. [17]

Bollywood Shaadis
Randeep loves doing nature photography and travelling. In an interview, while talking about his love for travelling, he said,


Travelling I do enjoy travelling, but mostly it's for work. Now I will be going to the jungles. I have never really been on a holiday in my life because its pointless. You are with you. No matter where you go its just a change of scenery. And after a while it's you. You are sitting on the beach, you in the snow, you over there, its got nothing but you. So I never went on holiday. But when I work, I tend to travel, when I do that, I like to take pictures behind in the scenes. I like to go to local villages, wherever we are."
Randeep is an avid animal lover, and he has adopted a stray dog named Bambi.