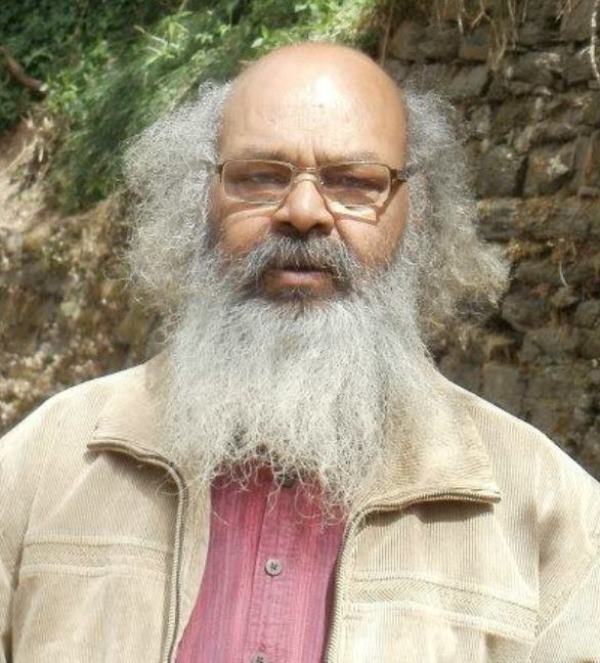 Surya Mohan Kulshreshtha is a veteran Indian theatre and film actor and director. He has written and directed many theatre plays. He is the former director of Bhartendu Natya Academi in Lucknow.
Wiki/Biography
Surya Mohan Kulshreshtha was born on Friday, 8 May 1953 (age 70 years; as of 2023) in Agra, Uttar Pradesh, India. His zodiac sign is Taurus. He holds a Bachelor of Science and a Bachelor of Law degree. He did a course in specialisation in direction at the Bhartendu Academy of Dramatic Arts (1976-1977) in Lucknow, Uttar Pradesh. He was one of the students from the first batch of students at Bhartendu Natya Academi (B.N.A.). [1]Hindustan Times
Physical Appearance
Height (approx.): 5′ 8″
Hair Colour: Salt & Pepper (Semi-bald)
Eye Colour: Light Brown
Family
Parents & Siblings
His father's name is Kameshwar Nath Kulshreshtha, and his mother's name is Girija Devi.
Wife & Children
His wife, Neelam Kulshreshtha, is a homemaker.
The couple has two sons named Tuhin Kulshreshtha, vice president at Barclays Capital, and Nitin Kulshreshtha, assistant brand manager at Sunfeast Biscuits, ITC.
Address
C-11, Sector- I, Aliganj, Lucknow-226024
Career
Theatre
Actor
Surya Mohan Kulshreshtha began his acting career as a child artist in a theatrical production in which he played the role of a deity on the occasion of Janmashtami. He has worked in many theatrical productions, directed by Indian and foreign directors, including 'Kolage,' 'Tambe Ke Keerey,' Mahanagar – Teen Samwad,' 'Ek Aur Dronacharya,' 'Burning Path,' and 'Barefoot in Athens.'
Director
He debuted as a theatre director with the Greek play 'King Oedipus.' He has directed around 100 plays in various languages with many theatre groups and at many drama institutes. He directed a play titled 'Andhere Mein,' which was based on Gajanan Madhav Muktibodh's book of the same name. Some Hindi language plays directed by him are 'Ram Leela,' 'Vasansi Jirnani,' 'Andha Yug,' 'Bhagwajjukeeyam,' 'Mrichchakatikam – Mitti Ki Gadi,' 'Adhe Adhure,' and 'Hulhuliya.'
Some other language plays directed by him include 'Mid-Summer Night's Dream,' 'The Exception and the Rule,' 'Lower Depths,' and 'Men Without Shadows.' He also directed 'Puho Mies,' a Finnish play.
Playwriter
Apart from being a theatre actor and director, he is a playwriter. He has written many plays including 'Natak Ganesh – Marka,' 'Tukare,' 'Insaf Ka Ghera,' which was a Hindi version of 'Caucasian Chalk Circle' by Bertolt Brecht, 'Veer Lorik,' based on Indian tribal folklore, 'Mrig Trishna,' a modern play based on the principles and life of Buddha, 'Parivartan Ki Gatha,' based on Dalit movements. He has written many articles and writeups about several aspects of theatre, which were published in many newspapers and periodicals including Rang Prasang and Chhayanat.
Designer
He has designed sets and costumes for most of the plays directed by him.
Other Works in Theatre
He has conducted many theatre workshops and delivered lectures in many countries including India, Germany, Sweden, Finland, Denmark, Norway, and more. In 1993, Arhus University in Denmark invited him to conduct a workshop and deliver a lecture. He teaches theatre direction, as a visiting faculty member, at Bhartendu Natya Academi. He takes acting classes, as a visiting faculty member, at Lucknow University. He had conducted workshops, which were organised by the National School of Drama in New Delhi. He has taken theatre classes and delivered lectures as a visiting faculty at Drama School in Mandi, Himachal Pradesh and IIT Kanpur. He was once invited as an external examiner for students of M. A. in Theatre by Mithila University and Kashi Vidhyapeeth University in Varanasi. In 2006, he was appointed as a member of the selection committee for admission at the National School of Drama in New Delhi. 
Television
Mini Series
In 2020, he played the role of Ramjap Baba in Netflix's English drama romance TV mini-series 'A Suitable Boy,' which is based on Vikram Seth's 1993 novel of the same name.
Other Works
In 1988, he worked as an assistant director and wrote screenplay and dialogues for Doordarshan's TV serial 'Amir Khusrau.' In the 1980s, he wrote the script for Doordarshan's TV show 'Theatre Quiz.' He wrote the screenplay and dialogue for the TV serials 'Tagore Stories,' Kinara Door Nahin,' and 'Pathrile Raaste.'
Film
In 1993, he was cast in a lead role in the Sanskrit drama film 'Bhagvad Gita: Song of the Lord' directed by G. V. Iyer.
The film won Golden Lotus Award at the  National Film Awards in India. In 2013, he played the supporting role of Tiwari in the Hindi crime drama film 'Monsoon Shootout.' In 2018, he appeared as Badri Kaka in the thriller drama film 'Daas Dev.' In 2023, he portrayed Asaram Bapu in the Hindi courtroom drama film 'Sirf Ek Bandaa Kaafi Hai' (previously known as 'Bandaa').
Other Works
In 1986, he worked as an assistant director and production controller of the National Award-winning Hindi drama film 'Yeh Woh Manzil To Nahin.'
Short Film
In 2003, he appeared as a Dhabewala in the Indian silent crime drama short film 'The Bypass' starring Irrfan Khan and Nawazuddin Siddiqui. The short film won Staff Award at the Milan Film Festival.
Other Works
From 1974 to 1985, he worked as vice president, general secretary, and treasurer of the Meghdoot Theatre group. From 1985 to 1991, he worked as president, vice president, and LKO at Indian Peoples Theatre Association (IPTA). He was also a National executive member of IPTA. In 1991, he was appointed as the director and president of the National Institute of Progressive Arts (NIPA) Rangmandali. He is the former director of the Uttar Pradesh government's theatre training institute Bhartendu Academy of Dramatic Arts.
Awards, Honours, Achievements
Won Rang Yatra Samman in 1993
Won U.P. Sangeet Natak Akademi Award in 1995
Won the Bhartiya Fankar Society Award in 1996
Won Best Costume Designing Award for the play 'Love For Ever' at the International Theatre Festival in the USA in 1998
Received Sangeet Natak Academy Award in 2015 for his contribution to the field of theatre direction
Won 'Honourary Diploma' awarded by International Amateur Theatre Association in Norway
Felicitated by Navonmesh NGO in 2020 for completing 10 years with the NGO
Facts/Trivia
He has worked at a radio show titled 'Hawa Mahal.'
In 1972, he began to work at Life India Corporation (LIC) and resigned in 2006. In an interview, while talking about how his job helped him in following his passion as working in theatre was not sufficient, he said,


My job has helped me feed my passion. They gave me a lot of freedom for theatre. The fact is, without a job, theatre could not have sustained me. Then, the only option would have been to do TV or films for survival. In the Hindi belt, to live with just theatre is still not possible. Then it was even tougher. All theatre legends have done something or either. Rajji (Bisaria) was teaching, Anil Rastogi was in CDRI, and Urmil Kumar Thapliyal was in radio. So were others. For plays, there are grants but that has opened up 'shops'. There are people who run multiple societies within the group and commit fraud for grants. Today, after so many years, I can say that theatre can sustain me but it's not the same for everyone. Also, my lectures and workshops give me returns."
In 1985, the play 'Ram Leela' directed by Surya Mohan Kulshreshtha received appreciation at the National Festival of Sangeet Natak Academy in Delhi.
In 1991, the play 'Bhagwadjjukeeyam' directed by him received the honour of being the best production at the World Theatre Festival held in Norway.
In 1993, he represented India at World Theatre Project in Germany.
He directed the play 'Kundmala,' which was performed at Kalidas Samaroh in Ujjain in 1999.
In an interview, while talking about his vision of theatre and what he learnt through the years working in the theatre industry, he said,


Everyone has their own vision for theatre and with time it keeps evolving. The first thing I learnt is that visuals should speak louder than words. By radio show Hawa Mahal, I learnt the importance of audio which can create visuals while the value of simplicity I learnt from Ram Leela. My real training happened under the influence of stalwarts and learning from BNA. My vision broadened with various theatre forms — realistic, international (western), folk and classical. My canvas widened with reading various philosophies, literature, culture and history."
He consumes alcohol occasionally.