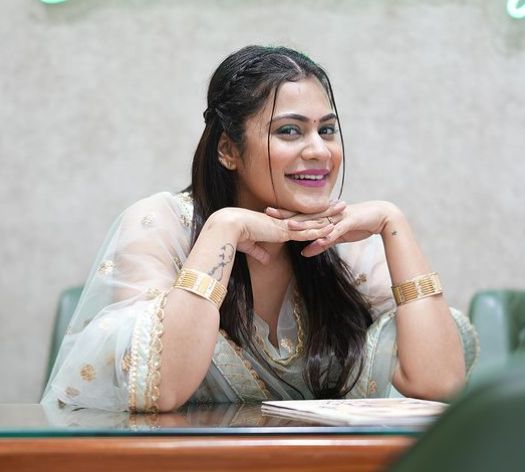 Kritika Malik is an Indian YouTuber and actor known for being the second wife of the famous YouTuber Armaan Malik.
Wiki/Biography
Kritika Malik, also known by the nickname Golu, was born on Sunday, 20 March 1994 (age 30 years; as of 2023) in New Delhi, India. Her zodiac sign is Pisces. She completed her schooling at Kamal Public Senior Secondary School, Vikaspuri, New Delhi, and is a graduate.
Physical Appearance
Height (approx.): 5′ 6″
Weight (approx.): 65 kg
Hair Colour: Black
Eye Colour: Black
Body Measurements (approx.): 36-32-36
Family & Caste
Parents & Siblings
Her father's name is Tarun Basra and her mother's name is Lalita Basra (YouTuber.)
She also has a younger brother named Kushal Basra and a younger sister named Swati Basra (YouTuber).
Husband & Children
Kritika got married to Armaan Malik on Saturday, 13th October 2018. She is Armaan's second wife after his first wife, Payal Malik (YouTuber and actor.)
Kritika gave birth to a baby boy on April 6, 2023 named Zaid Malik.
She lives with her husband, Payal, and their son Chirayu Cheeku Malik.
Kritika is also the mother of the twins Ayaan Malik and Tuba Malik (b. 26 April 2023; biological mother- Payal Malik)
Relationships/Affairs
She was in a relationship with Armaan Malik before they tied the knot together.
Religion/Religious Views
Kritika Malik follows Hinduism.
Career
Social Media Influencer
Kritika started her career by making Tik Tok videos with her husband for fun. After the banning of the social media app, the duo along with Payal Malik started their YouTube channel. She has more than 5 Million followers on Instagram.
As an Actor
Kritika along with her husband and his first wife is often seen in Punjabi and Haryanvi music videos. Her debut video was in 2021 with Maachis.
Since then, she has worked in other music videos like Mera Ni Hoya (2021), Kamaal Hojya Ga (2022), Kami (2022), and Pagal (2022) among others.
Controversies
Armaan Malik's Name Controversy
There was a controversy involving Armaan Malik and his wives, sparked by a tweet in which the singer criticized a YouTuber for using his name for publicity. During an interview, Armaan Malik's wives were asked about his reaction and the accusation that their husband had used the singer's name. They refuted the claim, stating that they had never mentioned Armaan Malik's name in their content from the start. Kritika pointed out that the accusations against her husband were unfounded, as he was born before the singer. [1]Bollywood Shaadis
New Girlfriend Prank Sparks Controversy
Armaan staged a prank in which he brought home a new girlfriend, leading to a fight between Kritika and Payal. While the video was intended as a joke, it generated controversy online. Armaan had previously pulled a similar stunt by introducing a new "wife." [2]India TV News
Simultaneous Pregnancies Make Headlines
Kritika and Payal made headlines when they both became pregnant within a month of each other. [3]NDTV News
Trio's Sleeping Arrangements Draw Mixed Reactions
The trio made a video revealing that they share a larger-than-usual bed. While some fans found their behavior cringe-worthy, others had a different response. [4]Bollywood Shaadis
Assets/Properties
A three-bedroom apartment in Zirakpur             
Car Collection
Jeep Wrangler                                                 
BMW X5                                                                                                                           
BMW M6                                                                                                                   
Mahindra XUV 500                                                                   
Mini Cooper                                                                                                                                                     
Tattoos
Kritika has a small star tattoo on her left hand done with black ink.
On her right arm, she also has an infinity symbol with doves along with the words 'Mom' and 'Dad'.
Kritika has a small-sized tribal symbol on the ankle.
She has the name of her husband, Sandeep, inked on her left arm.
Kritika has inked a beautiful tattoo on her waist that says 'Don't forget to love yourself' which is added with doves.
Favourites
Food: Chole Bhature, Momos
Facts/Trivia
In an interview, Kritika revealed that she is a huge dog lover, and if given a chance to transform herself into an animal, she would be a dog. Kritika can also mimic the sound of a pup which he considers her hidden talent.
While Kritika doesn't forget things, she once forgot her purse in a public washroom.
Payal and Kritika also have a talk show channel on YouTube.
Kritika became pregnant with her first child in 2019 but she suffered from a miscarriage just after 4 months of conception. She then got pregnant in 2021 and 2022 which were also miscarriages. She then went forward with an IVF procedure. [7]

Family Fitness – YouTube
She has also been featured in a music video with the Indian Model, Prince Narula.
The entire family has a fondness for animals and they own several pets, including a toy pomeranian named Jimmy, two huskies named Raja and Rani, a pitbull named Chippy, a cat named Gabbar/Gabru, and a chameleon named Chipkan.
Kritika in an interview said that she watches a lot of Crime Patrol (an Indian Crime TV Show) during her pregnancy after she learned that Payal did the same during her pregnancy with Chirayu.
Kritika is fluent in Hindi and English but can also speak Punjabi.
Hair Garden Salon is the name of the beauty salon owned by Payal and Kritika in Zirakpur.
Kritika and Payal are fitness enthusiasts and often go to the gym together.