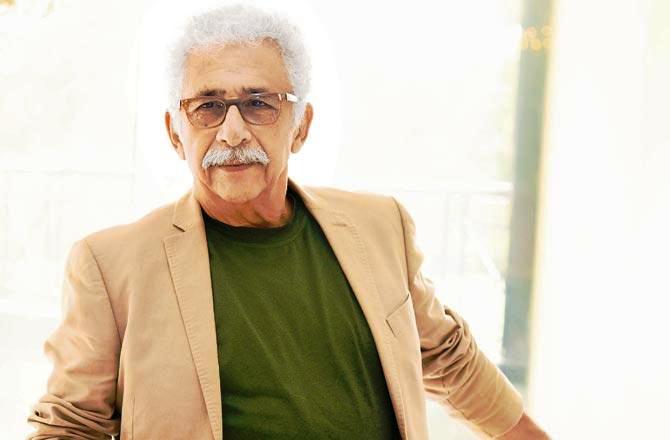 Naseeruddin Shah is an Indian actor and director. He predominantly works in Hindi Cinema. Apart from being an actor, he is also an environmentalist. He is a recipient of several awards including National Film Awards and Filmfare Awards. For his contribution to cinema, the government of India has honoured him the Padma Shri and Padma Bhushan.
Wiki/Biography
Naseeruddin Shah was born in a Muslim family on 20 July 1949 (age 74 years, as of 2023) in Barabanki, Uttar Pradesh, India. He received his primary education from St. Anselm's Ajmer, Ajmer, Rajasthan and St Joseph's College, Nainital. When he was only 14 years old, he started acting in theatres. Shakespeare's 'Merchant of Venice' was his first theatrical show. For higher education, he enrolled at Aligarh Muslim University, Aligarh, Uttar Pradesh and received his bachelor degree in arts. Later, he attended the National School of Drama in New Delhi. 
Physical Appearance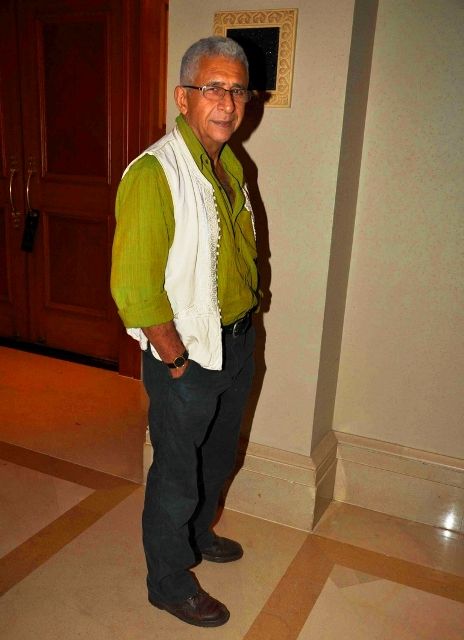 Family
Naseeruddin Shah was born to Aley Mohammed Shah and Farrukh Sultan.
According to Naseeruddin Shah, he had a restrained relationship with his father which he regretted throughout his life. He explained that his father had a bad temper, which made it hard for them to connect. There was a time when he saw his father as a bad person and decided not to be like him when he became a father. Naseeruddin Shah also mentioned that his father's anger made him forget the good side. He admitted that sometimes he unintentionally acted like his dad, like not spending enough time with his kids and getting angry. [1]Hindustan Times In the interview, Naseeruddin Shah said,
I never wanted to be like my father with my kids. I wanted my kids to hug me and be free around me. It has happened to a certain point only because somewhere, unintentionally, the habits which were ingrained in you, not because of genetics but memetics. It sound waves and attitude around you tend to reside in you. Unwillingly, I have hardly spoken to my kids. I have never thrashed them, this is what I have learned from my father. I don't want my kids to be scared of me. I don't know how much I have succeeded but ideally, I want this. I haven't been an ideal father because at times my anger took charge of me."
Naseeruddin Shah has three brothers; Retd. Lt. General Zameerud-din Shah (elder) and two others. His brother, Zameerud-din Shah has served as a Lieutenant General in the Indian Army and has also served as the Vice-chancellor of Aligarh Muslim University.
He got married late Parveen Murada aka Manara Sikri first on 1 November 1969. At that time, Shah was only 19 years old and Parveen was 34 years old. She was a Pakistani and was studying at Aligarh Muslim University (AMU).
However, in the 1970s and 80s, he fell in love with actress Ratna Pathak. Shah divorced his first wife, Manara Sikri and on 1 April 1982, he got married to Ratna Pathak.
With his first wife, Shah has a daughter, Heeba Shah who is an actress. With his second wife, he has two sons; Imaad Shah, Vivaan Shah. Both his sons are actors.
Abraham and Iliana are his grandchildren.
Career
He made his acting debut with the film, Nishant (1975). After that, he has been starred in several movies; Aakrosh,  Mirch Masala, Sparsh, Trikal, Albert Pinto Ko Gussa Kyon Ata Hai, Bhavni Bhavai, Mohan Joshi Hazir Ho!, Junoon, Mandi, Ardh Satya, Katha, etc. In 1977, he along with Tom Alter and Benjamin Gilani formed a theatre group, called 'Motley Production.' Their first play was Samuel Beckett's 'Waiting for Godot' which was later staged in Prithvi Theatre in 1979. However, he got involved in mainstream Bollywood cinema with the film, 'Hum Paanch.'
In 1983, his important film, 'Masoom' was released which was shot at St. Joseph College, Nainital from where he received his education. During the 1980s, he also worked in many films; Ghulami (1985), Karma (1986), Ijaazat (1987), Jalwa (1988) and Hero Hiralal (1989), etc. In 1988, he worked in a TV series based on the life of Mirza Ghalib, directed by Gulzar. In 1994, he acted in his 100th film, 'Mohra.' In 1999, he was praised for his role in the film, 'Sarfarosh.' In 2000, he portrayed the role of Mahatma Gandhi in Kamal Hassan's critically acclaimed film, 'Hey Ram.' In 2003, he worked in a Hollywood film, 'The League of Extraordinary Gentlemen' with the famous Hollywood actor, Sean Connery. In 2008, Neeraj Pandey's 'A Wednesday' was released in which he played the role of a common man. The film was critically acclaimed and he was nominated for the Filmfare Best Actor Award. In 2011, he starred in 'The Dirty Picture.' He played a cameo role in a Pakistani film, 'Khuda Ke Liye.' His second Pakistani film, 'Zinda Bhaag' was selected as country's official entry to the 86th Academy Award for the Best Foreign Language Film Award. In 2006, he made his directorial debut with the film, 'Yun Hota To Kya Hota.'
Controversies
In an interview in 2016, he made a derogatory comment on an actor, late Rajesh Khanna that he was a mediocre actor. He further said that a poor actor like Rajesh Khanna was responsible for the mediocrity in the 1970s films. However, he was heavily criticized by Rajesh Khanna's fan.
In 2015, Shah went to Pakistan to promote his memoir, "And Then One Day" in Lahore University. When he was addressing the fans in the University, suddenly, he started talking about the animosity between India and Pakistan and said, "Indians are being brainwashed into believing that Pakistan is an enemy country without being aware of the historical background. Politicians will change colours whenever it suits them. But artists from both countries must look beyond the political animosity." This statement affected Indian's sentiments and criticised by many right-wing politicians.
In 2016, When Anupam Kher shared a collage photo of Kashmiri Pandits on Twitter, who were killed in the exodus in 1990. Shah did not like the tweet of Kher and said, "A person who has never lived in Kashmir has started a fight for Kashmiri Pandits. Suddenly, he has become a displaced person." Kher got angry by his statement and replied, "Shah Saab ki Jai Ho. By that logic, NRIs should not think about India at all."
He hit out at Indian Cricketer, Virat Kohli and called him, "World's Worst Behaved Player." However, this did not go well down with Virat fan's and was criticised for it.
In 2018, he made a communal statement, "I feel anxious for my children because tomorrow if a mob surrounds them and asks, 'Are you a Hindu or a Muslim?' they will have no answer. It worries me that I don't see the situation improving anytime soon." For this, he was trolled in social media and for his statement, he was heavily denounced by the politicians. [2]

IndiaToday
Awards/Achievements
National Awards
National Film Awards
Best Actor Award for the film, 'Sparsh' (1979)
Best Actor Award for the film, 'Paar' (1984)
Best Supporting Actor Award for the film, 'Iqbal' (2006)
Filmfare Awards
Best Actor Award for the film, 'Aakrosh' (1981)
Best Actor Award for the film, 'Chakra' (1982)
Best Actor Award for the film, 'Masoom' (1984)
The Volpi Cup in the Venice Film Festival for the film 'Paar' (1984)
Note: In June 2023, he expressed his views on the pointlessness of competitive accolades bestowed upon actors in India, stating that he uses Filmfare Awards as handles on the bathroom doors at his farmhouse. [3]India Today He said,
Any actor who has put their life and effort into portraying a role is a good actor. If you just pick one person from the lot and say that 'this is the best actor of the year', how's it fair? I am not proud of those awards. I did not even go collect the last two awards I received. So, when I built a farmhouse I decided to put these awards there. Whoever goes to the washroom will get two awards each as the handles are made of the Filmfare awards."
Favourites
Director(s): Neeraj Pandey, Rajkumar Hirani, Neeraj Ghaywan
Actor(s): Mohanlal, Nedumudi Venu, Shammi Kapoor, Dara Singh, Boman Irani
Film(s): Masaan (2015), Dil Chahta Hai (2001)
Facts/Trivia
Shah is a descendant of a 19th century Sayyid Afghan warlord Jan-Fishan Khan (Sayyid Muhammad Shah) who participated in the first Anglo-Afghan War and helped the English people in the Indian Rebellion of 1857.
His family actually belongs to Meerut, Uttar Pradesh, India.
According to Shah, his father wanted him to become a doctor; however, Shah later opted to become an actor. While talking about this in an interview, he disclosed that his father was disappointed upon observing his lack of focus on his studies, which later led him to fail his ninth-grade examinations. Shah recalled that when he expressed his desire to become an actor to his father, he was met with skepticism; His father asked about his prospects for survival if he were to pursue an acting career. [4]

Hindustan Times
Actually, he first acted in the film 'Aman' which was released in 1967 in which he played a very short role of a boy behind the dead doctor. However, the film is not considered his first film because he was not among the mainstream roles.
His first film, Nishant was later nominated to Oscar.
A fellow actor and his classmate, Rajendra Jaspal, once stabbed Shah in FTII (Film and Television Institute of India). Jaspal was envious of his success in the field of acting. However, Shah was saved by actor Om Puri.
The role of Mahatma Gandhi was to be given to Shah for the film 'Gandhi' directed by English filmmaker,  Richard Attenborough in 1982, but it was later grabbed by Ben Kingsley.
On the sets of Masoom Gawah in 1990, Shah began to argue with the director, M.M Baig and it got so intense that the two got involved in a fistfight.
After his first marriage, he realised that his marriage and fatherhood are becoming obstacles in his life. So, he left his wife and daughter and went to London. He did not meet his daughter for the next 12 years. The incident was reiterated in the reel life; in the film, 'Zindagi Na Milegi Dobara,' he left Farhan Akhtar and his mother in India and settled in Spain. The concept was taken from his real-life incident and that worked finally as the film was hit at the box-office.
It is said that he was asked to auction for the role of Albus Dumbledore for the film, Harry Potter, but he refused.
His hobbies are playing Tennis, reading, etc.
In March 2022, he talked about an ailment called onomatomania due to which he used to repeat words and phrases in his mind constantly. The actor revealed this during an interview with a YouTube channel called Chalchitra. [5]

The Print While explaining the ailment, he said,


Onomatomania is an ailment in which you keep repeating a word or a phrase, a sentence or a verse or an entire speech for no reason at all. Except that you like to hear it. I do it all the time so I am never quite at rest. Even when I am sleeping, I am going over some passage I love."