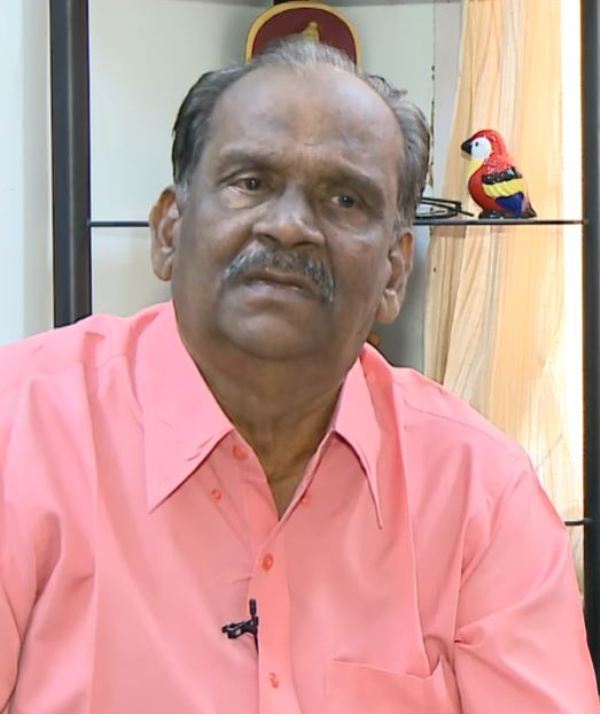 D Sasikumaran is an Indian aerospace engineer who worked at the Indian Space Research Organisation (ISRO). In 1994, he was arrested after being accused of alleged espionage.
Wiki/Biography
D Sasikumaran was born in 1942 (age 80 years; as of 2022), and he hails from Thiruvananthapuram, Kerala.
Family
Parents & Siblings
Not much is known about his parents and siblings.
Wife & Children
D Sasikumaran's wife is a physician. In 1994, she served as an assistant professor at the Medical College Thiruvananthapuram
Relationships/Affairs
He was rumoured to have an affair with a Maldivian woman, Mariam Rasheeda, who was suspected to be a spy. Reportedly, Sasikumaran had visited her in her hotel room at least twice. Kerala Police alerted IB about the same on 15 October 1994. [1]Google Books- Classified: Hidden Truths in the ISRO Spy Story
Career
Before his arrest in 1994, Sasikumaran was serving as the Deputy Director of the cryogenic technology division of the ISRO and was in charge of the cryogenic technology transfer from Russia. After the rumours of his ties with a spy woman surfaced in the media, he was transferred to Space Applications Centre, Ahmedabad. After the dismissal of charges against them in 1996, Sasikumar and Narayanan were transferred out of Thiruvananthapuram and were given desk jobs. Later, Sasikumaran started working as an engineering consultant in Thiruvananthapuram.
Controversies
Flagged by the ISRO for Doubtful Integrity
D Sasikumaran and Nambi Narayanan were accused of violating the 1964 code of conduct for government employees as they were working to further their private interests while still at the ISRO. While Narayanan was privately counselling a contractor with a lot of foreign-exchange dealings, Sasikumaran was planning to set up a private firm. Consequently, the scientists were flagged by the ISRO for having doubtful integrity, running private businesses, and possessing unaccounted wealth, a decade before the 1994 espionage case broke out. [2]SCRIBD
Arrested in a false espionage case in 1994
In November 1994,  D. Sasikumaran, his colleague Nambi Narayanan, Sudhir Kumar Sharma (a Bangalore-based businessman), K. Chandrasekhar (the Indian representative of the Russian Space Agency Glavkosmos), and Maldivian women Mariam Rasheeda and Fousiya Hasan, were arrested after being accused of alleged espionage by a team of Kerala police and Intelligence Bureau officials.
The arrest was based on videographed statements by a colleague who alleged that he and Narayanan had received money for transferring drawings and documents of rocket engines to two Maldivian women, Mariam Rasheeda and Fauziyya Hassan, who were suspected to be spies. [3]Hindustan Times
Corruption Charges
When intelligence agencies raided Sasikumaran's house, they found that besides a couple of houses in Thiruvananthapuram, Sasikumaran had 1.5 acres of land in an industrial estate in Tamil Nadu. The CBI estimated his assets to be worth over Rs 55 lakh and detained him under the Prevention of Corruption Act. [4]India Today
Facts/Trivia
In 2022, the biographical drama film 'Rocketry: The Nambi Effect' based on the lives of Nambi Narayanan and D Sasikumaran was released.
While refusing compensation granted by the Supreme Court in 2018, D Sasikumaran said,


The tax payers' money should not be used for paying compensation for the misadventures of officials and the conspiracy hatched by some big bosses. The compensation should be recovered from the erring officials."

He also claimed that there were "invisible villains who hatched the conspiracy" and that he was determined to expose them.
Sasikumaran was taken into custody by the police after they found the telephone numbers of Sasikumaran's residence and office in Mariam's diary. It later turned out that Sasikumaran did know Mariam through their common friend Chandrasekhar.  ISRO had a business in connection with the cryogenic project with Chandrasekhar. Apparently, Chandrasekhar and Mariam had made acquaintance at the Thiruvananthapuram airport, after which he had put her on to Sasikumaran for a consultation with his wife who was a doctor.
Initially, Kerala Police dismissed Sasikumaran's link with Mariam as "a sex scandal of no consequence." However, after intelligence agencies arrested Mariam's accomplice Fauzia Hassan and interrogated both of them that they concluded that Sasikumaran and Mariam might be involved in a major spy network operating in the ISRO.