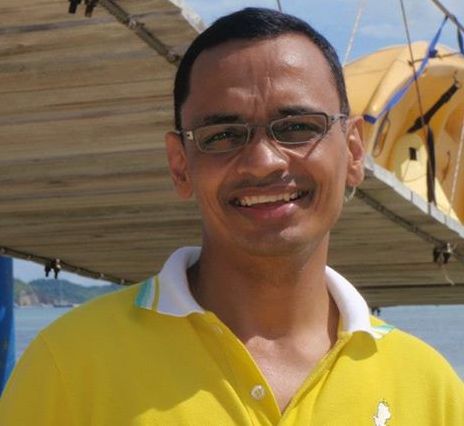 Major Deependra Singh Sengar is a retired Indian Army officer and a successful management professional who is known for his sheer grit and valour. Despite being debilitated by severe injuries and near-death experiences in combat, the previously wheelchair-bound Kargil war hero strongly fought back his physical disabilities and created a career for himself which most people in his situation would not have even dreamt.
Wiki/Biography
Major Deependra Singh Sengar was born on Monday, 28 September 1970 (age 50 years; as of 2020) in a small town of Madhya Pradesh. Sengar dreamt of joining the armed forces since his childhood. He completed his schooling from Sainik School, Rewa, followed by graduation from Jawaharlal Nehru University (JNU) in 1990. Thereafter, he joined the National Defence Academy and was inducted as an officer in the Indian army in 1991. He quit the armed forces in 2001 owing to physical disability sustained in combat and earned a Master of Management degree from IIM (Ahmedabad) to enter the corporate world. To further incline his knowledge base, Sengar completed a one-year Master of Management program from The University of British Columbia (UBC) in 2012. He moved to Seattle, a city in the USA, in 2013 and has been residing there since then.
Physical Appearance
Height (approx): 5′ 6″
Hair Colour: Black
Eye Colour: Black
Family & Caste
Parents & Siblings
His mother's name is Mayarani Sengar.
Wife & Children
Sengar is married to Jaya, the daughter of an Indian tiger conservationist Thakur Fateh Singh Rathore, who was widely hailed as the 'tiger guru.'
The couple has two sons, Gyanendra Sengar and Hanut Sengar.
Career
In the Armed Forces
Sengar got commissioned as an officer in the Indian Army in 1991.
While serving in the military, safeguarding high altitude frontiers like Siachen and getting involved in gun battles with infiltrators was a part of his job.
After the end of Kargil war in July 1999, the Indian Army was recapturing posts held by Pakistan soldiers at the Indian side of the Line of Control (LoC). In August 2019, Deependra led a unit of soldiers to Neelam Valley and successfully captured the Neelam post. He took part in several military operations in different parts of India. An outstanding combat soldier, Deependra Singh Sengar was conferred with the gallantry award in 1999 for intercepting escaping militants in Assam. Apart from this, he received 11 other awards for his outstanding military service. Sengar's career in the armed forces was cut short of severe injuries that he sustained during a gun-battle with militants in the Kargil sector. He quit the armed forces as a major in 2001 and transitioned into the corporate world.
In the Corporate Sector
A person who had not even worked on a computer till he was in his 30s' cracked the CAT' – the Common Admission Test, attained a Management degree from one of the top management colleges in India (IIMA), and kick-started his corporate career as an intern at Laymen brothers in 2001. He was an associate director at Dr. Reddy's Laboratories, an Indian multinational pharmaceutical company, from 2003 to 2005. In the next few years, he worked at top MNC's around the world, including Genpact (previously GE Capital International Services), TMI, and IBN. In 2013, he acquired a job at Microsoft and has been working for the company since then. As of 2021, he is a Project Manager of Business Strategy of Programs at Microsoft.
Overcoming The Setbacks
Sengar sustained life-threatening injuries on two occasions during his military career. The first time was in 1998 when he was leading an escort team of soldiers in Guwahati to neutralise some Naxalites armed with automatic weapons. While performing the operation, Sengar killed two militants, but he got hit by two bullets that went past his abdominal and intestines and exited from the back. This injury kept him out of action for nearly one year, quite less than what the doctors had expected (18-24 months).
After recovering from the injuries, he even led a few operations in the 1999 Kargil War and afterwards. The next tragic incident took place in September 1999, which ended his career in the armed forces. This time the injuries he sustained were way more serious than the previous one. While conducting an anti-terrorist operation Kashmir, Sengar was hit by a burst of fire from an AK-47 that shattered his hip bone. He was evacuated to the army hospital in Delhi. There were multiple wounds all over the body that were being tended for recovery. The doctors were not sure if he would survive, but he did. Even after being severely injured, the deeply embedded patriotism in Major Sengar's soul did not let his spirit down as the first thing that he did after gaining consciousness was to call his commanding officer and ask him not to appoint any other team commander because he would be back in action. Little did he know that he would be staying in the hospital for longer than he expected. He was taken aback after the doctor announced,
You will never walk again"
This meant that he would be in a wheelchair or at best on crutches for the rest of his life. Considering this, he decided to quit the armed forces and join the corporate world. Although he successfully established a prosperous career in the corporate sector, he had to walk with the support of crutches for the next ten years.
Web-series Adaptation
On 21 January 2020, a web series inspired by the life of Devendra Singh Sengar, "Jeet Ki Zidd," was released on ZEE 5. The web series covers the highlights of Deependra's life, how he fought against all the odds in different walks of life, be it on the battlefield or his personal life. His character in the web series is played by Amit Sadh, an Indian film actor known for playing the supporting actor roles in Bollywood films such as Sushant Singh Rajput-starrer Kai Po Che (2013).
Fact/Trivia
It is not known to many that Sengar, who was given the sobriquet "Rocket" by his juniors in the army, had failed in his first attempt at the physical test for army induction. He was rejected because of his timid physique and was put on probation. Later, Sengar put on some healthy weight and got through.  [1]

SSBCrack
Sengar did not know how to swim until he had joined the National Defence Academy in 1987. Moreover, he used to be scared of going into the water.

During his training at NDA, not only did Sengar win over his fear of water but he also won a gold medal in platform diving competition. He went from being a rookie to becoming a professional swimmer within a time period of 3 months.