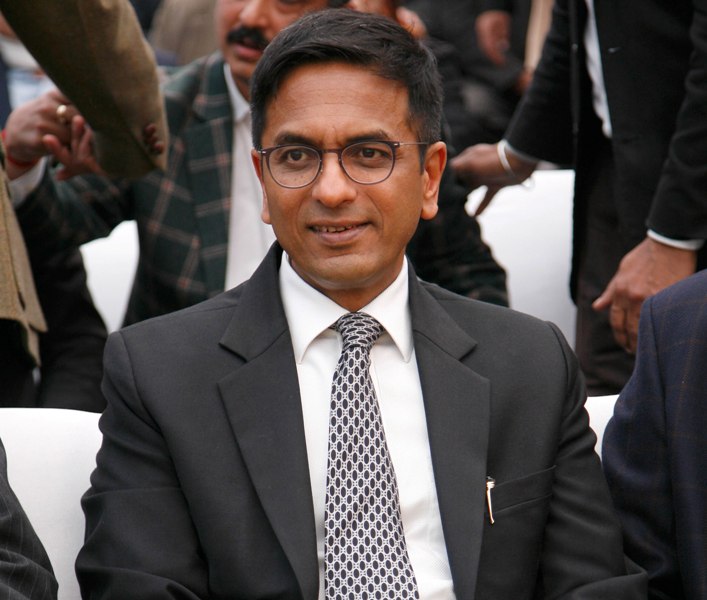 DY Chandrachud is an Indian lawyer who became a Judge of the Supreme Court of India on 13 May 2016. He has served as the 45th Chief Justice of the Allahabad High Court (31 October 2013 – 12 May 2016) and Judge of the Bombay High Court (29 March 2000 – 30 October 2013). In October 2022, U. U. Lalit nominated Justice D.Y. Chandrachud as his successor. On 9 November 2022, he assumed the office of the 50th Chief Justice of India.
Wiki

/Biography

Dhananjaya Yeshwant Chandrachud [1]Live Law was born on Wednesday, 11 November 1959 (age 63 years; as of 2022) in Bombay, Bombay State, India (now Mumbai, Maharashtra, India). His zodiac sign is Scorpio. He did his schooling at Cathedral and John Connon School, Mumbai, and St. Columba's School, Delhi. He pursued a BA (Hons.) in Economics from St Stephen's College, New Delhi; he graduated from there in 1979. In 1982, he completed his Bachelor of Laws degree from the Faculty of Law at the University of Delhi. He obtained a Master of Laws degree in 1983 and a Doctorate in Juridical Sciences (SJD) in 1986 from Harvard Law School, USA. He studied at Harvard on the prestigious Inlaks Scholarship and was awarded the Joseph H Beale prize. His PhD doctoral thesis was on Affirmative Action. [2]NALSA He has received 3 honorary degrees.
Family
Parents & Siblings
DY Chandrachud's father, Justice Yeshwant Vishnu Chandrachud, was the 16th Chief Justice of India, who served from 1978 to 1985. Y. V. Chandrachud is the longest-serving Chief Justice in India, who served for a tenure of 2696 days. His mother, Prabha Chandrachud, was a classical musician. He is an only child.
Wife & Children
He is married to Kalpana Das. Together, they have two children, Chintan Chandrachud and Abhinav Chandrachud, both advocates.
He has two foster daughters; both are differently-abled.
Caste
He belongs to the Deshastha Rigvedi Brahmin family. [3]Law Insider
Career
Law Practice
Following his LLB in 1982, he served as a junior prosecutor assisting various lawyers and judges, including drafting some briefs for advocate Fali Sam Nariman. In the US, Chandrachud worked at the law firm Sullivan and Cromwell LLP after graduating from Harvard. Upon returning to India, he practised law at the Supreme Court of India and the Bombay High Court. He specialised in Company, Constitutional, Administrative, Environmental, and Election law. He was designated as a Senior Advocate by the Bombay High Court in June 1998. As a senior advocate, he appeared in several important cases involving Public Interest Litigation, the Rights of Bonded Women Workers, the Rights of HIV-positive workers in the workplace etc. He was appointed by Supreme Court to submit a report on the state of Bombay Benches. He also appeared on behalf of several public bodies including the Reserve Bank of India, Port Trusts, Municipal Corporations, and Universities.
Additional Solicitor General
From 1998 to 2000, he served as the Additional Solicitor General, till his appointment as a judge.
Judge of the Bombay High Court
On 29 March 2000, he was elevated to Judge of the Bombay High Court; he served in this capacity for 13 years.
Chief Justice of the Allahabad High Court
On 31 October 2013, he took oath as the 45th Chief Justice of the Allahabad High Court and served there till 12 May 2016.
Judge of the Supreme Court of India
On 13 May 2016, he was elevated to the Judge of the Supreme Court of India. From 24 April 2021 onwards, he became a part of the Collegium of the Supreme Court of India which appoint judges to the nation's constitutional courts.
Notable Judgements
Right to Privacy verdict
In the Justice K. S. Puttaswamy (Retd.) & Anr. vs Union Of India & Ors. (2017) case, a nine-judge bench, including Justice DY Chandrachud, unanimously affirmed that the right to privacy is a constitutionally guaranteed right. The judgment authored by him came down heavily on Justice Singhvi's judgment in Suresh Kumar Koushal v. Naz Foundation (2014) case, thereby upholding the spirit of LGBT rights. The judgment based on his observations on sexual autonomy and privacy quoted,
The right to privacy and the protection of sexual orientation lie at the core of the fundamental rights guaranteed by Articles 14, 15 and 21 of the constitution… [LGBT] rights are not so-called but are real rights founded on sound constitutional doctrine. They inhere in the right to life. They dwell in privacy and dignity. They constitute the essence of liberty and freedom. Sexual orientation is an essential component of identity. Equal protection demands protection of the identity of every individual without discrimination."
In his historic judgment declaring privacy as a fundamental right, Justice Chandrachud termed the 1976 verdict in the famous ADM Jabalpur case "seriously flawed." His father, in which his father was part of the majority judgment by a five-judge constitution bench
Decriminalising Section 377
DY Chandrachud was a part of a five-judge bench that decriminalised gay sex between consenting adults while partly striking down the 158-year-old colonial law under Section 377 of the IPC. Justice Chandrachud, while delivering the judgment for Navtej Singh Johar v. Union of India (2018), stressed that this case is much more than just decriminalising a provision saying,
It is about an aspiration to realise constitutional rights and equal existence of LGBT community as other citizens."
Expanding the Concept of Family
A bench comprising Justice D.Y. Chandrachud and Justice A.S. Bopanna observed that "familial relationships may take the form of domestic, unmarried partnerships or queer relationships" in Deepika Singh v. Central Administrative Tribunal and Ors. (2022) case. The SC also noted that an "atypical" manifestation of a family unit is as real as its traditional counterpart and deserves protection under the law. The Court was hearing an appeal filed by Deepika who sought maternity leave after the birth of her first biological child despite the fact that she had availed the leave to take care of her husband's two children from his previous marriage. In Deepika's appeal to avail maternity leave at the Post Graduate Institute of Medical Education and Research (PGIMER), the court held that childcare leave is independent of maternity leave and a woman is entitled to both.
Freedom of Speech
In the Indibility Creative Pvt Ltd v State of West Bengal (2019) case, the Scdeclared an unofficial ban imposed by the West Bengal Government on the political satire film Bhobishyoter Bhoot to be unconstitutional. Justice Chandrachud authored a judgment which imposed a fine on the State of West Bengal and granted remedial compensation for disallowing the screening of the film holding that the State has violated the Petitioners' right to freedom of expression under Article 19(1)(a) of the Constitution.
UPSC Jihad case
A three-judge Bench headed by Justice Chandrachud, while hearing a plea for a pre-telecast ban on a programme partially aired by Sudarshan TV on "UPSC Jihad," observed that Sudarshan TV was free to exercise its journalistic privilege to investigate an organisation's funding in the public interest, but the channel had no right to make sweeping comments about the entire Muslim community. Apparently, the show, anchored by Suresh Chavhanke, claimed that members of the Muslim community had been attempting to infiltrate the civil services. The SC restrained Sudarshan News from broadcasting the remaining episodes of a show. While Senior Advocate Shyam Divan, who represented the channel, argued that he would strongly oppose any stay on the programme as it was a question of freedom of speech, Justice Chandrachud said,
Your client is doing a disservice to the nation and is not accepting India is a melting point of diverse cultures. Your client needs to exercise his freedom with caution."
Sabarimala Verdict
In the Indian Young Lawyers Association vs State of Kerala and Ors." popularly known as the "Sabarimala Case,"  he held that the practice prohibiting women of menstruating age from entering the Sabarimala temple violated multiple articles of the Indian Constitution. He quoted,
The Court must lean against granting constitutional protection to a claim which derogates from the dignity of women as equal holders of rights and protections. Does the Constitution permit this as basis to exclude women from worship? Does the fact that a woman has a physiological feature – of being in a menstruating age – entitle anybody or a group to subject her to exclusion from religious worship?  To exclude women is derogatory to an equal citizenship."
Quashing the Adultery Law
In the Joseph Shine v Union of India (2017) case, a five-judge bench including Justice DY Chandrachud declared the adultery law unconstitutional. The SC held,
Adultery cannot and should not be a crime. It can be a ground for a civil offence, a ground for divorce."
Previously, adultery was an offence for which a convict was fined or sentenced to a five-year jail term. However, since the law defined women as an abettor, the law punished only men for the same.
Recognition of Marital Rape as Crime
In a landmark decision, Justice DY Chandrachud held that "sexual assault by a man of his wife can take the form of rape." Justice Chandrachud, who authored the judgment, said the Medical Termination of Pregnancy Act recognises a husband's act of sexual assault or forced intercourse committed on his wife as 'rape'.
Equal Roles for Women in Army
In February 2003, advocate Babita Puniya filed a PIL at Delhi High Court, seeking permanent commission for female officers recruited through SSC in the army, at par with their male counterparts. In 2020, Justice Chandrachud directed the government to consider all woman officers in the Army appointed on Short Service Commissions for the grant of Permanent Commissions, including command postings. The judgment received international attention for broadening the horizons of Indian jurisprudence. Consequently, the SC also struck down the army's gender-discriminatory promotion practices saying that the manner of granting women officers Permanent Commissions in the army reflected indirect and systemic discrimination. A short time after Babita Puniya, he authored the judgment in Union of India v Ld. Cdr. Annie Nagaraja wherein the Court directed a similar relief to be granted to women sailors in the Indian Navy.
Love-Jihad Case
A three-judge Supreme Court bench including Justice Chandrachud restored Hadiya's marriage with Shafin Jahan in infamous Kerala 'love-jihad' case. Justice Chandrachud's concurring opinion in the case upheld that an adult's right to make decisions in marriage or religion falls within his or her zone of privacy.
Notable Dissents
Aadhaar – The biometric project
In the judgment dated 28 September 2018, the Indian Supreme Court upheld the constitutional validity of the Aadhaar Act by a 4-1 majority as Justice Chandrachud penned his dissent and declared Aadhaar was not valid.
 Bhima Koregaon Case
In Romila Thapar & Ors. v. Union of India & Ors, Justice Chandrachud dissented with the majority which refused to constitute a Special Investigation Team to probe the case concerning the arrest of five activists in connection with the 2018 Bhima Koregaon violence.
Gender Justice
In Kantaru Rajeevaru v. Indian Young Lawyers Association, popularly known as the Sabarimala Review Petition, Justice Chandrachud, along with Justice Rohinton Fali Nariman, delivered a dissent.
Election Speech
In Abhiram Singh v. C.D Commachen, Justice Chandrachud penned a dissent for himself and two other judges.The case dealt with the question of whether 'religion, race, caste, community or language' mentioned in section 123(3) of the Representation of People's Act is that of the candidate or both the candidate and the voter.
50th Chief Justice of India (CJI)
On 11 October 2022, CJI UU Lalit named DY Chandrachud as his successor. As the 50th Chief Justice of India, DY Chandrachud assumed the office of the 50th CJI on 9 November 2022 for a period of two years.
Others
While serving as a Judge of the Bombay High Court, he became the Director of the Maharashtra Judicial Academy. While practising law at the SC and Bombay High Court, he was a visiting professor of Comparative Constitutional Law at the University of Mumbai. He was also visiting faculty member who taught International Law at Oklahoma University School of Law, USA. He has also been a Paper setter and Chairman of the Board of Examiners for the LLM examination. He has delivered lectures at the Australian National University, Harvard Law School, Yale Law School, and the University of Witwatersrand, South Africa. In 2022, he was appointed as the executive chairman of the National Legal Services Authority. He has served as the Chairperson of the e-Committee of the Supreme Court of India.
Controversy
Alleged Misuse of Office
In October 2022, a complaint alleging misuse of official position was moved against Justice D. Y. Chandrachud by Rashid Khan Pathan and two other persons. The complainants alleged that Justice Chandrachud had passed certain directions in a case which was purportedly connected with proceedings in which his son had appeared before the Bombay High Court. R K Pathan, who claimed to be the chief of the so-called 'Supreme Court and High Court Litigant Association', had lodged the complaint with the President of India and others. The BCI backed Chandrachud over the alleged complaint and condemned the letter as a "deliberate attempt to malign Indian judiciary." [4]The India Express
Awards
In January 2023, it was announced that DY Chandrachud would be conferred the "Award for Global Leadership" by the Harvard Law School Center, recognizing his lifetime service to the legal profession in India and around the world. [5]The Hindu
Favourites
Cricketer(s): Virat Kohli, Sunil Gavaskar, Sachin Tendulkar, Garfield Sobers, Viv Richards, Clive Lloyd, Clive Lloyd, Andy Roberts, Michael Holding, Joel Garner, Malcolm Marshall, Dennis Lillee, Jeff Thomson
Song(s): Fly On by Coldplay, Despacito by Luis Fonsi
Facts/Trivia
On numerous occasions, DY Chandrachud overruled his father's judgement. In 1985, some law panel members, including India's first woman judge Anna Chandi, sought the deletion of Section 497, citing it was not in tune with the societal situation. At that time, CJI Y V Chandrachud upheld the validity of the section saying,


We cannot strike down that section on the ground that it is desirable to delete it."

However, when DY Chandrachud crossed swords with his father's judgement, he believed that it was important to "take note of the 'transformation' which society has undergone." Overruling the 1985 judgement, DY Chandrachud said,

We must make our judgments relevant to the present day. It is common to find instances of working women, who take care of the home, get beaten up by their husbands, who don't earn. She wants divorce. But the matter remains pending in court for years. If she looks for love, affection and solace in another man, can she be deprived of it. It is sadly the true picture of many places in India."

Previously, DY Chandrachud overruled the infamous Emergency-era ADM Jabalpur judgment, to which Y V Chandrachud was a partner.
With the appointment of DY Chandrachud as the 50th CJI, history was created in the Indian judiciary as he and his father became the father-son duo to have served as CJIs.
In an interview, he revealed that he was an avid music lover and also DJ'ed during his college days.
In the aftermath of the Sabarimala Temple judgement, Chandrachud received vile threats on social media.
He brought his two foster daughters to his courtroom (first court) at the Supreme Court on 6 January 2023; he told them, "See, this is where I sit." He also showed them the place where judges sit and where lawyers argue their cases and told them about his workplace. According to sources, his daughters wanted to see his workplace. [6]

The Hindu