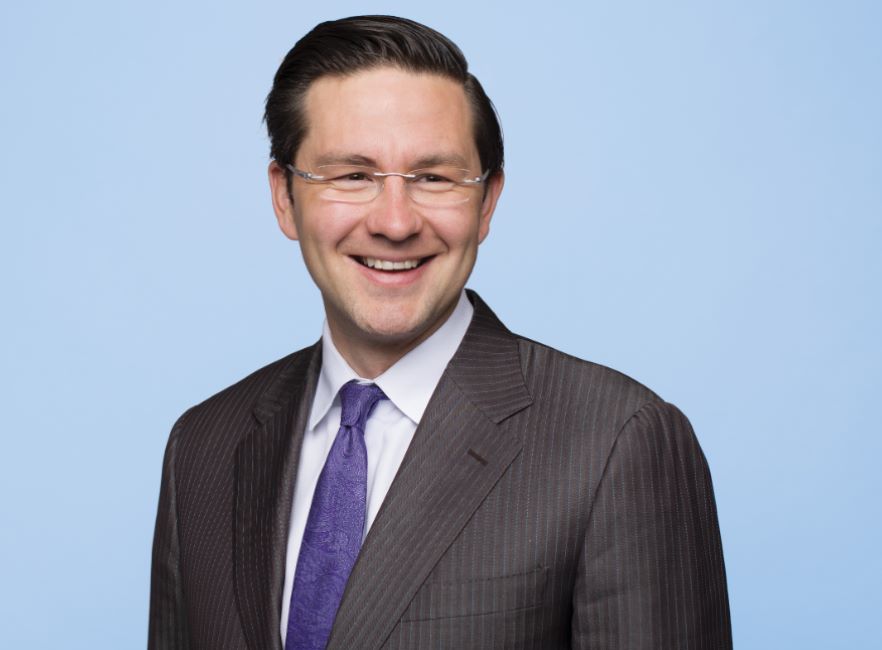 Pierre Poilievre is a Canadian politician. He is a Canadian Member of Parliament who served as the leader of the Conservative Party of Canada.
Wiki/Biography
Pierre Marcel Poilievre was born on Sunday, 3 June 2023 (age 44 years; as of 2023) in Calgary, Alberta. Pierre went to school at Henry Wise Wood High School. He used to work for the Calgary Sun as a paperboy and was on his school's wrestling team. When he was in his late teens, Pierre held a job at Telus where he did corporate collections by calling businesses. He then had a job as a journalist for the conservative magazine named Alberta Report. He graduated from the University of Calgary with a Bachelor of Arts in International Relations. He quit college in 2002 to work for the politician Stockwell Day and completed his degree only in 2008.
Physical Appearance
Height (approx.): 5′ 9″
Weight (approx.): 100kg
Hair Colour: Black
Eye Colour: Black
Family
Parents & Siblings
Pierre Poilievre's birth mother was a 16-year-old Irish-Canadian, whom he met for the first time in his early twenties. Shortly after his birth, Poilievre was adopted by Marlene Poilievre and Donald Poilievre who are schoolteachers. Pierre also has a younger brother Patrick who has the same birth mother as Pierre and who was also adopted by Marlene and Donald Poilievre.
Wife & Children
Pierre's wife Anaida Poilievre, is a Candian staffer and online magazine publisher. They have two children together, a daughter named Valentina Alejandra Poilievre Galindo, and a son named Cruz Alejandro Poilievre.
Relationships
Pierre Poilievre used to be in a relationship with Jenni Byrne who is a political advisor and a member of the Conservative Party of Canada. Jenni helped direct Pierre's campaign for leader of the Conservative Party of Canada. [1]Macleans.ca Their relationship ended in 2011.
Religion/ Religious Beliefs
Pierre Poilievre follows Christianity. Pierre, as a Catholic, is very open about his belief in the importance of faith in his life and his political career. He posts about Christianity on important holidays (for example, Easter) and his visits to church on his social media handles such as Twitter, Facebook and LinkedIn. [2]LinkedIn
Address
Constituency Office: Hon. Pierre Poilievre, P.C., M.P. House of Commons Ottawa, Ontario K1A 0A6 Telephone: (613) 992-2772. [3]Canada – House of Commons
Signature/Autograph
Career
Early Work
In the year 2000, Pierre Poilievre played a role in organizing a website known as the "Organization to Draft Stockwell Day." This initiative aimed to recruit Alberta Treasurer Stockwell Day (politician) to lead the Canadian Alliance party. Poilievre and his colleagues referred to themselves as the "Fight Club" and actively campaigned and raised funds through phone calls in support of Day's leadership bid during the party's election. After Stockwell Day became the Leader of the Official Opposition, Poilievre quit his studies in Calgary and began working as an advisor for Day in 2002. During the 2002 Calgary Southwest by-election, Poilievre served as the campaign spokesperson for Ezra Levant. In 2003, Poilievre co-founded a company named 3D Contact Inc. alongside his partner Jonathan Denis. The company specialized in providing political communication, polling, and research services and was dissolved in 2013. [4]OpenCorporates
Politics
In 2003, Poilievre ventured into politics by himself and ran for the Member of Parliament (MP) position as a part of the newly formed Conservative Party of Canada, which resulted from the merger of the Canadian Alliance and Progressive Conservatives.
Early Politics
In the lead-up to the 2004 Canadian federal election, Pierre Poilievre, then a 24-year-old resident of Manordale, secured the Conservative Party nomination for the Nepean—Carleton riding. Poilievre emerged victorious, and his Conservative Party became the Official Opposition in a Liberal Party minority government. He was a member of the Conservative Caucus during the 38th Canadian Parliament at 25 years old. Poilievre introduced private members, aimed at preventing the government from charging rent to non-profit hospitals. Although the bill did not pass, Poilievre and local MPP John Baird worked towards reducing the hospital's rent to a symbolic $1 per year. In the 2008 federal election, Poilievre was reelected with a majority of the vote share, as the Conservative Party formed a minority government. He assumed the role of Parliamentary Secretary to the President of the Treasury Board, overseeing the development and adoption of the Federal Accountability Act. Throughout his tenure, Poilievre faced controversies, including remarks on compensation for survivors of the Canadian Indian residential school system that he later apologized for.
Cabinet Minister
In 2013, Pierre Poilievre was made the Minister of the State for Democratic Reform. [5]The Globe and Mail On 4 February 2014, as Minister of State, Poilievre introduced the Fair Elections Act, which expanded accepted voter identification and eliminated vouching. During a minor cabinet reshuffle on 9 February 2015, Pierre Poilievre was elevated to a ministerial role. In this adjustment, he assumed the position of Minister of Employment and Social Development. Additionally, Poilievre assumed the responsibilities for the National Capital Commission, while retaining his role as the minister overseeing democratic reform. [6]CBC
Opposition MP and Shadow Minister
In the 2012 Canadian federal electoral redistribution, Nepean was excluded from his riding, leading Poilievre to relocate from Barrhaven to Greely in pursuit of election in the more rural Carleton riding. Interim party leader Rona Ambrose assigned Poilievre as the Conservative Party critic for the Treasury Board, which transitioned to issues concerning Employment, Labour, and Work Opportunities in October 2016. In August 2017, Poilievre assumed the role of critic for the Minister of Finance. During a leadership shuffle, Poilievre served as finance critic until replaced by Ed Fast, later regaining the position. He secured re-election in the 2021 federal election. On 5 February 2022 Poilievre publicly stated his goal to run in the leadership election, by stating "I'm running for Prime Minister".
I'm running for Prime Minister to give you back control of your life.

Sign up now to help me replace Trudeau & restore freedom:https://t.co/NWfP7cCPiM pic.twitter.com/ox5WzZmMkj

— Pierre Poilievre (@PierrePoilievre) February 6, 2022
Controversies
Racism Allegations
Pierre Poilievre faced criticism for sharing a tweet honouring the life of two Edmonton officers who were killed in a shocking incident (two officers, Constables Travis Jordan and Brett Ryan were shot by a 16-year-old before the latter took his own life). In the tweet, Poilievre attached an image of the Edmonton police crest with a thin blue line on top, which is the centre of the controversy. The thin blue line symbolises solidarity towards the police and is often used to honour fallen officers; however, it has come to be associated with white supremacy and promotes an "us vs them" mentality that has come around since the Black Lives Matter movement. The thin blue line has thus been the subject of controversy over the past few years. The Vancouver Police Board stated that officers have been prohibited from wearing 'patches or pins' with the thin blue line in January 2023. Such moves have been made by the Victoria Police, RCMP (Royal Canadian Mounted Police) in Nova Scotia, and the Calgary Police Service. Users of Twitter and the general public accused Pierre of politicising the tragedy and promoting racism through the symbol of the blue line; however, he has not addressed the situation in any manner. [7]Yahoo News Canada
We mourn with the families and colleagues of two police officers killed in the line of duty in Edmonton this morning.

Never take for granted that our law enforcement put their lives on the line every single day to keep our communities safe.https://t.co/E2XvzFT6Q6 pic.twitter.com/DiVkDCdQ9N

— Pierre Poilievre (@PierrePoilievre) March 16, 2023
Child Care Benefit Programme 
In July 2015, Poilievre unveiled an expansion of a childcare benefit programme during which he wore a t-shirt representing the Conservative Party of Canada and declared that the payments came from "our Conservative government." He further cautioned that if the Liberals and NDP (New Democratic Party) were to assume power, the benefits would be revoked and taxes increased. In 2017, the elections commissioner determined that the event resembled a campaign affair for the Conservative Party rather than an official Government of Canada announcement. Due to the government's expenditure of around $4,800 for the event, it amounted to an indirect, non-monetary contribution to the Conservative party. The commissioner stated that this was a violation of campaign finance regulations, as Poilievre was seen to have deliberately evaded the restriction on contributions from ineligible contributors to registered parties. In response, Poilievre was instructed to share a link to the ruling on his social media platform. [8]CTV News
Facts/Trivia
Poilievre gained the nickname "Skippy" early in his political career. [9]

Macleans.ca
Pierre Poilievre is very dedicated to working out and bulking up his body. In an interview, he stated that he uses working out as a distraction from his political battles.
It helps me to take my mind off of all the back and forth on Parliament Hill" [10]CTV News Ottawa