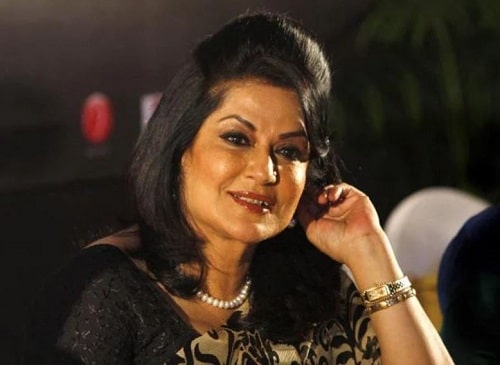 Moushumi Chatterjee is an Indian film actress and politician, who mainly appears in Hindi and Bengali films. In the 1970s, she was among one of the top most-paid actresses. [1]NDTV
Wiki/Biography
Moushumi Chatterjee was born as Indira Mukherjee aka Indira Chattopadhyay [2]My Neta on Monday, 26 April 1948 (age 75 years; as of 2023) in Bikrampur, West Bengal. Her zodiac sign is Taurus. She did her schooling at Sir Nripendra Nath Girls' High School, Calcutta. While she was in class 10, she got married after which she quit her studies. [3]The Times of India
Physical Appearance
Height (approx.): 5′ 3″
Hair Colour: Black
Eye Colour: Dark Brown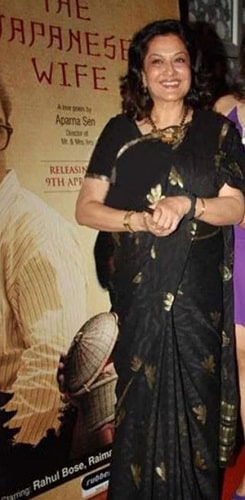 Family
She belongs to a Brahmin Hindu family.
Parents & Siblings
Her father, Prantosh Chattopadhyaya, served in the Indian Army, and later, he worked in the Indian Railways. Her mother's name is Shouvi Chattopadhyay. She has an elder sister and a brother.
Husband & Children
While she was in class 10, she got married to Jayanta Mukherjee, exponent of Rabindra Sangeet and son of music composer and singer Hemant Kumar. At that time, one of her aunts who was battling cancer in its advanced stages, held a fervent wish to witness her marriage. Later, the couple was blessed with two daughters named Payal (who worked for Disney, and Megha (an actress, social worker). Her daughter, Payal, passed away on 13 December 2019 after being in a coma since 2018.
Relationships/Affairs
In her younger days, Moushumi was linked with many popular Indian actors like Rajesh Khanna, Amitabh Bachchan, Shashi Kapoor, Vinod Mehra, and Farooq Shaikh. In an interview, while talking about her link-up rumours, she said that the content written about her didn't affect her since her family remained well-informed about her connections, companions, whereabouts, and activities. Her father-in-law had advised her against responding; reacting would only attract more such stories. [4]Bollywood Shaadis
Address
Nibbana Annexe, 1st Floor, Pali Hill, Bandra (West), Mumbai 400050
Career
Film
Actor
Bengali
In 1967, she made her acting debut with the Bengali film 'Balika Badhu' in which she played the role of Rajani.
She has appeared in many Bengali films like 'Parineeta' (1969), 'Ogu Bodhu Sundari' (1981), 'Goynar Baksho' (2013), and 'Sesh Sangbad' (2016).
Hindi
In 1972, she made her Bollywood debut with 'Anuraag' as Shivani.
She has acted in many popular Hindi films like 'Roti Kapada Aur Makaan' (1974), 'Swarg Narak' (1978), 'Pyaasa Sawan' (1981), 'Ghayal' (1990), and 'Piku' (2015).
She was paired opposite Vinod Mehra in ten films including 'Anuraag' (1972), 'Us Paar' (1974), 'Raftaar' (1975), 'Umar Qaid' (1975), and 'Do Jhoot' (1975).
TV
Actor
She has acted in various Hindi TV serials like 'Katha Sagar' (1986; DD National), 'Talaash' (1992; Doordarshan), 'Albeli' (1993; Zee TV), and 'Jaana Na Dil Se Door' (2016; Star Plus).
Politics
In 2004, Chatterjee contested the Lok Sabha elections for the Congress from Kolkata North East constituency but lost to Communist Party of India-Marxist (CPI-M) candidate Mohammed Salim. Later, she said that joining politics in 2004 had been a mistake.
In an interview, she said that she was once asked to contest against the Indian politician Mamata Banerjee. However, she rejected it. In 2019, she joined the Bharatiya Janata Party.
Awards
1968: Bengal Film Journalists' Association Award for Best Actress for the Hindi film Balika Badhu
1968: Filmfare Award for Best Actress for the Hindi film Balika Badhu
1974: Bengal Film Journalists' Association Award for Best Supporting Actress for the Hindi film Roti Kapda Aur Makaan
2014: Filmfare Award for Best Supporting Actress – Bengali for the film Goynar Baksho
2015: Filmfare Lifetime Achievement Award
2016: Bengal Film Journalists' Association Award for Lifetime Achievement Award
2018: Power Brands Journalist Award
Controversies
Defamation Case
In 2019, during an interview, Dicky Sinha, her daughter Payal's son shared that he would file a defamation lawsuit against Moushumi. Dicky's response was triggered by Chatterjee's allegations that her daughter, Payal, hadn't received proper care from her husband Dicky and his family. In a video shared online, Dicky can be heard asserting that he and his family had genuinely loved and cared for Payal to the best of their abilities. He mentioned having prescriptions and medical documents from various hospitals as evidence that her treatment had been ongoing. Furthermore, he emphasized his deep love for his wife, despite Chatterjee's contrary claims. From pulmonologists to nephrologists, gastroenterologists, neurosurgeons, neurologists, and ophthalmologists due to her eye dryness, the doctors used to visit and provide treatment for her. The video ended with Dicky stating that two trained nurses had taken care of Payal from 8:00 am to 8:00 pm, with all the details documented. In 2018, Moushumi underwent a legal battle for custody of Payal. She had accused Dicky and Payal's in-laws of neglecting her daughter's well-being. She also alleged that they had refused to cover Payal's medical expenses. [5]India Today
Tiff with Rajesh Khanna
In an interview, Moushumi recounted receiving an unpleasant comment from her the Indian actor Rajesh Khanna. He had raised the question of whether Vinod Mehra was the father of her child. Although Rajesh Khanna's hurtful remark affected her, she responded in kind, delivering a similar comment about his own children, which left him taken aback. She said,
Rajesh Khanna behaved unfairly on several occasions. He asked me are you pregnant with Vinod Khanna. I gave him abefitting replyed and asked him and asked is it Rishi Kapoor's child or yours?"
Even though she was subjected to such remarks, Moushumi shared how she moved beyond those experiences and went to see Rajesh Khanna during his last moments in the hospital. During the interview, she remembered Rajesh Khanna praising her in front of her younger daughter. [6]The Indian Express He said,
Your mum might have seemed fierce, but we were all a bit afraid of her. She didn't tolerate any nonsense.'"
Fight with Rekha
In the 1978 Hindi film, 'Bhola Bhala' Moushumi Chatterjee and the Indian actress Rekha shared the parallel lead roles. According to reports, a dispute arose between the two actresses during the film's shoot following the release of its poster. Allegedly, the makers of the film placed Rekha's name before Moushumi Chatterjee's on the poster. This decision upset Moushumi Chatterjee, leading to a heated argument between her and Rekha. It is said that she even pressured the filmmakers to rectify this arrangement, but their stance remained unchanged. Subsequently, Chatterjee expressed her frustration in front of the media. [7]ABP Live Moushumi said,
Why can't my name come before Rekha? I've been through a bit with them."
Car Collection
Assets & Properties
Movable Assets
Bank Deposits: Rs 5,00,502
Bonds, Debentures, and Shares: Rs 1,67,825
NSS, Postal Savings: Rs 1,70,000
Motor Vehicles: Rs 4,578.19
Immovable Assets
Residential Buildings: Rs 2,65,557
Note: The given estimates of movable and immovable assets are according to the year 2004. [11]My Neta
Favourites
Facts/Trivia
Her family and friends call her Indu. [12]YouTube – Lehren Retro
Facts/Trivia
One day, as she was returning home from school, a film director noticed her. He expressed interest in casting her for the Bengali film 'Balika Badhu' and visited her home to obtain her father's consent. Initially, her father declined, but the director's wife, a prominent actress herself, intervened, persuading him to grant permission. At the time, Moushumi was in class 5. In an interview, she shared that she did not enjoy shooting for the film as she had to put on a lot of makeup and did not get enough time for playing. She said that to make her look like a teenager, she was made to wear a tight blouse and sari. She was not comfortable and wore them very reluctantly. She even ran away from the makeup room twice.
Being a minor, her correct birth date remained elusive, differing in her passport, marriage certificate, and school records. Despite possessing evidence that she was older than both her elder sister and husband, the confusion surrounding her birth date persisted. Consequently, her father-in-law Hemant Kumar recommended adjusting her age to ensure the legality of the wedding.
After the release of Balika Badhu, the Indian music director Hemant Kumar took the consent of her father to take her to Mumbai for a Durga Puja. However, a magazine published a story that she had been seen with Hemant Kumar's family, hinting at a potential marriage to his son Jayanta. This news reached her father's aunt, who scolded her father and said,


How could you send your young, unmarried daughter to Hemanta Kumar's house?"

Just at that moment, Hemanta Kumar walked in and said,

Indu will be my daughter-in-law.'"
After her marriage, she took her doll, her pet dog, and her friend to her in-laws' house.
Due to her pregnancy, she could not shoot the Hindi song "Hai Hai Yeh Majboori" from the film 'Roti, Kapda Aur Makaan' (1974) which was later filmed by the Indian actress Zeenat Aman.
In an interview, she said that she would never work with the popular writer and director Aparna Sen. She said that Aparna never gave credit to anyone and that Sen manipulated things. Despite being the actress in the film 'Goynar Baksho,' efforts were made by Sen to promote her daughter Konkona. [14]

The Times of India
She is an avid animal lover since her childhood. As a kid, she used to bring stray dogs to her home. She has another pet dog named Dodo.
She is additionally a social worker and commenced her work with Mother Teresa at a young age. Mother Teresa held a strong bond with her and even composed a poem for her.
She shares a close relationship with Vinod Khanna's family and would babysit his children when her husband and Vinod Khanna attended parties.
In an interview, she shared that she never used glycerine to shed tears while shooting emotional scenes for the films.
She once shared that in her younger days, she used to be flirtatious. She said that the Indian actress Shabana Azmi once told her Moushumi could flirt with everyone from a six-year-old boy to a 60-year-old man. [15]

Hindustan Times
Moushumi once emphasised how her outspoken and straightforward nature often resulted in her being rejected and substituted in numerous films. This was mainly due to her not being on good terms with the film's main hero. She mentioned how her uncompromising attitude occasionally left her without work opportunities. [16]

Bollywood Shaadis
She has been featured on the cover of various magazines like Filmfare and Star & Style.