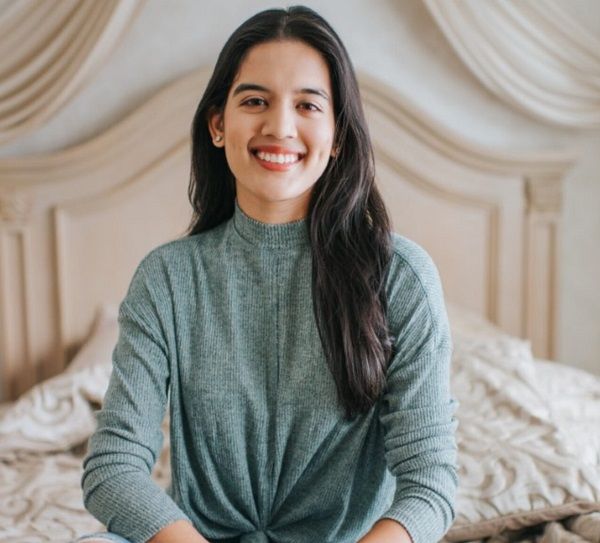 Shivani Bafna is an Indian-American influencer, entrepreneur, and YouTuber. She worked as a TV Host at the Asian Variety Show TV and interviewed everyone from movie stars to big filmmakers. She also founded Behind every dream which is a community where people share and celebrate their success stories with her on her podcast. [1]Behind Every Dream-Spotify She calls herself the second generation of the Indian American Bafna family and has over 1,74,000 subscribers and has reached 3.33 crore views for her YouTube channel. She is also a TEDx speaker and her talk was aired on 21 January 2021. [2]TEdx Talks-YouTube
Wiki/Biography
Shivani Bafna was born on Friday, 5 January 1996 (age 26 years; as of 2022) in Houston, Texas. She lived there only for six months and shifted to another city with her family.
In her childhood, she was obsessed with Bollywood and wanted to become a Bollywood actress or a doctor. She was fond of dancing and learned it. She also worked as a dance teacher at the age of 15. [3]Shivani Bafna – YouTube For education, she went to the Solon High School in Solon, Ohio. After this, she went to the University of Michigan College of Literature, Science and the Arts for her Bachelor's in Arts, Communication, and Media Studies.
Physical Appearance
Height (approx.): 5′ 2″
Hair Colour: Black
Eye Colour: Dark Brown
Family
Parents & Siblings
She is the daughter of Shamik and Shalini Bafna. [4]Shivani Bafna-YouTube Her father was born and bought up in the United States and is into the residency business. She also has a younger brother named Shreyansh. She is the granddaughter of Kailash Bafna who migrated to the United States with just $7.5 from Gopalpur which is a small town in India. He laid the foundation for a fruitful future for Shivani's father who was also born in America.
Husband & Children
Shivani met Shyam in college and they connected when they were made dance partners at their college Diwali show.
This was followed by friendship and after four months of being friends, they finally began dating. Two years later, when she moved to Mumbai and things didn't work out between them. So they broke up which didn't last long. Six months later, they decided to give in to a long-distance relationship and connected once again. A year later, in January 2020, Shyam proposed to Shivani in Paris in a classy Bollywood style.
Their marriage was postponed due to covid and they finally got married on 25 December 2021 in Mumbai. This was a big fat Indian wedding that centered on all the Hindu rituals. After the marriage, they moved to the United States and settled there with Shyam's parents.
Religion/Religious Views
Shivani is from a Jain family and herself follows Jainism as well. In a Q&A video on her channel, she talked about her views and said,
I think my parents did a great job presenting religion in a way that it didn't seem too forced. My dad is an agnostic. As much as he believes in Jainsim, his core philosophy was always to be a good human being every single day. So that value set that I think Jainism provides definitely set at a foundational level.' [5]Shivani Bafna-YouTube
Career
She followed Miss Malini Publishing and in February 2014, she found out that they were hiring interns. She put her resume together and sent it to the company email with a few samples that she wrote. She didn't get any response, so she tweeted to the company and didn't hear back again. She followed the company page and saw that the founder's name is Malini Agarwal. She tried every possible combination that came to her mind for miss Malini Agarwal with the domain name missmalini.com. She tried all these combinations and sent an email to all these combinations till her email went through and finally she got a response. After this, she began her career as a blogger in June 2014 at MissMalini Publishing Pvt. Ltd., Mumbai, and worked here for nine months till February 2015.
As an intern she had a lot of responsibilities which included covering press events, trailer launches, interviewing Bollywood celebrities, and writing content for MissMalini's blog. After being in this internship for several weeks, she covered an event with one of her favourite actor Shah Rukh Khan and took a selfie with him. [6]Shivani Bafna-YouTube
During this time she also did several fashion catalog shoots in Mumbai. In July 2015, she began working as a Social Media Marketing Intern at Everymedia Technologies Pvt. Ltd., Mumbai and completed this internship in November 2015. In June 2016, she began working as a Client Solutions Intern at Kepler Group in New York City and completed this internship in August 2016. In September 2016, she joined FirstPerson in Indianapolis, Indiana Area as Strategy Co-Op and worked here till December 2016. In May 2017, she began as a Brand Marketing Intern at Whirlpool Corporation and worked here till August 2017. In June 2018, she thought of joining AVS which was the only Media company in United States that did anything related to Bollywood. She began emailing the company and didnt get any response. She browsed their website and took a note of all the team members. She emailed them all, tweeted to them but still didn't get any response. In one of her video she talked about how she got in the company and said,

I look up AVS TV's boss on Facebook and I see that he is really good friends with this other guy. I am not going to say the names as it is a matter of privacy. So 19 years old Shivani thinks, Hey if I am not getting into AVS TV, why dont I apply for internship at the friends PR firm. Hopefully do a good job and get a good referral and then may be I like get my way into AVS TV. I contact the friend if he was looking for interns for his PR company and he was for the New York Film Festival, which was just a two week stint in New York.'
She did well on this two week project and got a good referral which finally got her the job at AVS TV. Here she began working at the New Jersy office, did website content creation and more. In next summer she went for an internship at AVS TV Mumbai and here she began working for her summer internship. That time she worked three jobs and from 11 to 8 she worked at the Ad agency and would make excuses to leave the office for the AVS TV interviews. She was also modeling for audition and would go to do them at nights. After this internship she went back to United States. This time she applied for coorporate interships this time in United States. She began working at the Kepler Group, an HR consulting firm at Indianapolis and also did brand management at Whirlpool in Machigan, United States. In 2018, she finally moved to Mumbai and began working as a Bollywood TV Show Host for AVS-Asia Variety Show which came out to be a turing point in her career. [7]Shivani Bafna-YouTube On this show she interviewed over 200 actors, filmmakers, influncers, musicians for the largest South Asian entertainment show for North America. The show has also been syndicated on Sony TV and had an large international audiance base. On this she appeared as the host and interviewed actors including Hrithik Roshan, Shah Rukh Khan, Alia Bhatt, Salman Khan, Shahid Kapoor, Akshay Kumar, Katrina Kaif, Anushka Sharma, Kareena Kapoor, Madhuri Dixit, Varun Dhawan, Prabhas, Ayushmann Khurana, Kartik Aaryan, Sidharth Malhora, Ananya Panday, Kiara Advani, Saif Ali Khan, Arjun Rampal, Sonam Kapoor and many more. On this show she also interviewed filmmakers and musicians including, Zoya Akhtar, Rajkumar Hirani, Nitesh Tiwari, Nikhil Advani, Rajakumari, Badshah, Armaan & Amaal Malik, etc. [8]AVSTV
On 19 April 2018, she commenced her YouTube channel and began sharing her experience of working in Bollywood. On this channel, she shares her journey as a Bollywood TV host, influencer, actress, and model. Here she also shares every aspect of her life including everything from her travel vlogs to relationship videos. She left her job at AVS in March 2020 and went on to begin her own project. In July 2020, she founded BFN Agency which runs end-to-end influencer marketing campaigns and now has a network of over 250+ influencers. In January 2021, she also founded Behind every dream which is a popular podcast available to listen to on Spotify, Apple Podcasts, and iTunes. [9]Pod.link
Favourites
Food: Spicy sevpuri, achar, and rajma chawal with raw onion
Dessert: Chocolate strawberry and cupcakes
City: Mumbai and New York
Movie: Kabhi Khushi Kabhie Gham
Facts/Trivia
She calls herself a person who feels perpetually cold and loves summers.
She is also trained in Kathak and learned it for six years. [10]

Shivani Bafna – YouTube The second she learned was piano and practiced it for seven to eight years. [11]

Shivani Bafna-YouTube
She was in 6th class when she went to Mumbai, India alone and spent the summer living with her Aunt (maasi) and maternal grandmother.
She can speak English in both Indian and American accents.
She calls herself a weirdo, prankster, and loves to sleep for long hours. [12]

Shivani Bafna-YouTube