Dev Anand (1923-2011) was an Indian actor, director, and producer who is popularly known for his work in Indian Cinema. Dev Anand, an actor with a rapid-fire style of dialogue delivery and a penchant for nodding while speaking, is known for his iconic performances in the films like 'Roop Ki Rani Choron Ka Raja' (1993), 'Jewel Thief' (1967), 'Johny Mera Naam' (1970), 'Haré Rama Haré Krishna' (1971), and many more.
Wiki/Biography
Dharamdev Pishorimal Anand [1]The Telegraph was born on Wednesday, 26 September 1923 (age 88 years; at the time of death) in Shakargarh, Punjab, British India (now in Pakistan). He attended Sacred Heart School in Dalhousie, Himachal Pradesh. Dev pursued a Bachelor of Arts degree in English at Lahore Government College in Lahore, which had become a part of Pakistan after the Partition of India.
According to some sources, he wanted to pursue further studies in English, but his father wished that his son works in a bank as he was facing financial problems. Anand left his hometown for Bombay in the early 1940s. Reportedly, he started his career in the military censor's office at Churchgate, for a monthly salary of Rs. 65. Later, he worked as a clerk in an accounting firm at a salary of Rs. 85.
Physical Appearance
Height (approx.): 5′ 8″
Weight (approx.): 70 kg
Hair Colour: Black
Eye Colour: Black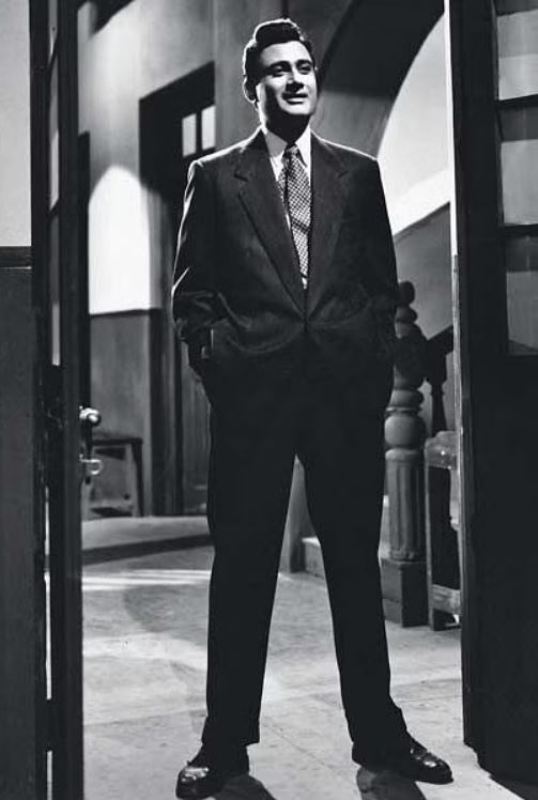 Family
Dev Anand belonged to an upper-middle-class Punjabi Hindu family in Gurdaspur, Punjab.
Parents & Siblings
Dev Anand's father, Pishori Lal Anand, was an advocate in Gurdaspur District Court. He lost his mother at an early age. Dev Anand had six siblings, three brothers – Manmohan Anand, Chetan Anand (director), and Vijay Anand (filmmaker) – and three sisters – Sheel Kanta Kapur (Indian filmmaker Shekhar Kapur's mother), Usha Madhok, and Bonnie Sareen.
Wife & Children
In 1954, Dev Anand got married to Kalpana Kartik, a Bollywood actor, in the most intimate or "secret" way. Reportedly, Dev and Kalpana had decided to get married in secret and throw a reception party after their marriage. It was on the sets of the film 'Taxi Driver' when the couple got married in a room of the art department during the break and while the lighting was being done. The duo was blessed with two children – a son, Suneil Anand, and a daughter, Devina Anand.
Relationships/Affairs
The Dawn of Love – Suraiya
Reportedly, Dev Anand was often romantically linked with Indian playback singer and actor Suraiya by various media outlets. Dev and Suraiya's chemistry could not hide from anyone. Dev Anand, in his autobiography, Romancing with Life, opened up about his love story.
While talking about his book and his story with Suraiya, in an interview, Dev Anand said,
It was destined that way. Had I gone to her, my life would have been different. Had I married her, life at her end would have taken me to a different course. Then may be I would not have been the Dev Anand I am today."
According to some sources, Dev Anand and Suraiya had fallen in love when he saved her from drowning during the shoot of the song 'Kinare Kinare Chale Jayen Ge' for the film 'Vidya' (1948). Suraiya slipped from the boat and Dev jumped into the lake to save her. Suraiya had once said in her interviews that she wouldn't have been alive had he not saved her, and this attracted her to Dev; however, Suraiya's grandmother was against their relationship, but they went on to meet each other despite opposition from Suraiya's grandmother. It is also said that Suraiya was even planning to elope with Dev Anand but her grandmother got to know about it and ruined her plans. She was against their inter-religion love story. Dev Anand accepted his destiny and said,
I fell in love for the first time. We all know what first love does to a human being. Then the agony of not getting it. Suddenly hope was aroused after being encouraged, but again disillusionment crept in when nothing happened."
According to Dev, he even got an engagement ring for Suraiya and gave it to her, but he had no clue what she did with the ring. Some sources claim that her grandmother threw it in a river. After the film 'Do Sitare' (1951) the pair did not share the screen.
Zeenat Aman
Reportedly, Dev Anand in his autobiography, Romancing With Life (2007), wrote about his feelings for Zeenat Aman and how he had decided to confess them to her.
He wrote,
Whenever and wherever she was talked about glowingly, I loved it; and whenever and wherever I was discussed in the same vein, she was jubilant. In the subconscious, we had become emotionally attached to each other. Suddenly, one day I felt I was desperately in love with Zeenat – and wanted to say so to her! To make an honest confession, at a very special, exclusive place meant for romance. I chose the Rendezvous at the Taj, on top of the city, where we had dined together once earlier." [2]Hindustan Times
According to some sources, Dev wrote about how he had called Zeenat and had fixed a meeting with her after a party; however, he witnessed a connection between Zeenat and Raj Kapoor at the party, which changed things for him forever. Dev further wrote,
A drunken Raj Kapoor threw his arms around her exuberantly. This suddenly struck me as a little too familiar. And the way she reciprocated his embrace seemed much more than just polite and courteous." [3]Hindustan Times
Later, during the making of the film 'Satyam Shivam Sundaram' (1978), the rumours regarding Zeenat Aman's close proximity to Raj Kapoor made Dev more suspicious about their relationship. Dev further shared,
The hearsay now started ringing true. My heart was bleeding. In drunken joviality Raj told Zeenat: 'You are breaking your promise that you will always be seen by me only in a white sari." [4]Hindustan Times
These words by Raj Kapoor to Zeenat Aman broke Dev's heart completely. With his shattered heart and unsaid feelings, he wrote,
More embarrassment was written large on her face, and Zeenat was not the same Zeenat for me any more. My heart broke into pieces… The rendezvous had already lost all meaning in my mind. I sneaked out of the place." [5]Hindustan Times
Dev Anand added,
The evening delivered a blow to my personality, and my dominating spirit. I had decided on the spur of the moment to tell Zeenat for the first time how much I loved her. And that there was an idea in my mind of another story that would put her on a pedestal as never before, the highest so far. But that was never to be." [6]Hindustan Times
Dev Anand's Eternal Love – Kalpana Kartik
Dev Anand and Kalpana Kartik dated before getting married. Almost everyone in the film industry was aware of their affair. Their love and chemistry could be seen on and off the camera.
Religion
Dev Anand followed Hinduism.
Address
2nd Iris Park, Juhu, Mumbai
Signature/Autograph
Career
Actor
Dev Anand made his debut with the Prabhat Films' 'Hum Ek Hain' in 1946. He played the role of 'Shankar' in the film.
In 1965, he appeared as Raju in the film 'Guide,' which became one of the most praised films in Indian cinema.
Dev appeared in many other films including 'Kala Pani' (1958), 'Jaali Note' (1960), 'Roop Ki Rani Choron Ka Raja' (1993), 'Jewel Thief' (1967), 'Johny Mera Naam' (1970), and many more.
Producer
In 1950, Dev Anand produced the romantic comedy film 'Afsar,' directed by his brother Chetan Anand. Dev also worked as an actor in this film, co-starring Suraiya.
Dev produced many films and starred in the same including the 1965 romantic drama film 'Guide' in which he appeared as Raju, 'Haré Rama Haré Krishna' (1971), 'Heera Panna' (1973), 'Des Pardes' (1978), 'Hum Dono Rangeen' (2011), and many more. In 2011, he produced his last film 'Chargesheet' in which he appeared as Gambhir Singh.
Director
He made his directorial debut with the espionage drama film 'Prem Pujari' in 1970, which was a flop but has developed a cult following over the years. The film introduced Zaheeda and had Waheeda Rehman as the lead female artiste.
Dev Anand worked as an actor in the films he directed such as 'Haré Rama Haré Krishna' (1971), 'Sau Crore' (1991), 'Main Solah Baras Ki' (1998), and 'Love at Times Square' (2003).
Awards, Honours, Achievements
Civilian Award
In 2001, Dev Anand was conferred with India's third-highest civilian award from the Government of India, Padma Bhushan.
National Film Awards
In 1965, he won National Film Award for Best Feature Film in Hindi for the film Guide.
In 2002, he received Dadasaheb Phalke Award, India's highest award for cinematic excellence, from President Dr A.P. J. Abdul Kalam.
Filmfare Awards 
In 1959, he won Best Actor for the film 'Kala Pani.'
In 1966, he won Best Actor for the film 'Guide.'
In 1992, Dev Anand won Filmfare Lifetime Achievement Award.
National Honours
 Dev Anand was awarded the Star Screen Lifetime Achievement Award, an Indian cinema prize, in 1995. Dev Anand and Indian playback singer Lata Mangeshkar were the first to be given the award.
In 1997, he was given the Mumbai Academy of Moving Images Award for his outstanding services to the Indian film industry.
In 1998, Dev Anand received Lifetime Achievement Award from the Ujala Anandlok Film Awards Committee in Calcutta (now Kolkata).
In 1999, Dev Anand received Sansui Lifetime Achievement Award for his "Immense Contribution to Indian Cinema" in New Delhi.
In 2000, he was awarded the Film Goers' "Mega Movie Maestro of the Millennium Award" in Mumbai.
In 2001, Dev Anand won Special Screen Award for his contribution to Indian cinema.
On 28 April 2001, he won the Evergreen Star of the Millennium Award at the Zee Gold Bollywood Awards at the Nassau Coliseum, New York.
In 2003, Dev received Lifetime Achievement Award for "Outstanding Achievement in Indian Cinema" at IIFA Award in Johannesburg, South Africa.
In 2004, Dev Anand was conferred with the Legend of Indian Cinema Award in Atlantic City, the United States and the Living Legend Award by the Federation of Indian Chamber of Commerce and Industry (FICCI) in recognition of his contribution to the Indian entertainment industry.
In 2005, he won Sony Golden Glory Award.
In 2006, he was awarded the ANR National Award, an award given annually to recognize people for their lifetime achievements and contributions to the Indian film industry, by the Akkineni International Foundation; Dev Anand was the first to be awarded this award. The same year, he was given the Glory of India Award by the International Indian Film Academy Awards (IIAF) in London.
 In 2007, he was conferred the title of Punjab Ratan (Jewel of Punjab) Award by the World Punjabi Organisation (European Division) for his outstanding contribution to the field of art and entertainment.
On 19 January 2008, he was given the Lifetime Achievement Award at an event organised by Ramya Cultural Academy in association with Vinmusiclub, an organisation run by goodwill and the support of vintage music lovers, in Bengaluru. In the same year, he was given the Lifetime Achievement Award by the Rotary Club of Bombay. He was also awarded the 2008 IIJS Solitaire Awards.
Dev Anand was awarded the Max Stardust Award in 2009 for his outstanding contribution to Indian cinema. In the same year, he received 'The Legend Award' from Rajinikanth.
In 2010, Dev Anand received Phalke Ratna Award from Dadasaheb Phalke Academy.
Dev Anand, in 2010, was conferred with the Rashtriya Gaurav Award.
In 2011, he was honoured with the Rashtriya Kishore Kumar Samman by the Government of Madhya Pradesh.
Dev Anand received NDTV Indian of the Year's Lifetime Achievement Award in 2011 along with Rahul Dravid, a former Indian cricketer.
On Dev Anand's first death anniversary, i.e., on 3 December 2012, a brass statue was unveiled by Waheeda Rehman at the Bandra Bandstand Promenade as part of UTV Stars' Walk of the Stars, a walk location in Bandra Bandstand Promenade which has statues, autographs, and handprints of some Bollywood celebrities.
In 2013, he received the Whistling Woods International Institute's Lifetime Achievement Maestro Award; Whistling Woods International Institute is a film, communication, and creative arts institute located in Mumbai, India.
On 3 May 2013, a commemorative postage stamp of Dev Anand was released by the India Post.
International Honours 
In July 2000, Dev Anand was honoured with an award given by the then-First Lady of the United States of America Hillary Clinton in New York for his outstanding contribution to Indian Cinema.
Dev Anand was awarded the Indo-American Association 'Star of the Millennium' Award in Silicon Valley, California in 2000.
On 1 May 2001, he was honoured with a 'New York State Assembly Citation' for his 'Outstanding Contribution to the Cinematic Arts Worthy of the Esteem and Gratitude of the Great State of New York' by the Member New York State Assembly Donna Ferrar.
In 2005, Dev Anand was honoured with a 'Special National Film Award' by the Government of Nepal at Nepal's first National Indian Film Festival in Stockholm, Sweden.
In 2008, Dev Anand was the guest of honour at a dinner hosted by the Provost of Highland Council in Inverness, Scottland to celebrate 10 years since Dev Anand first worked in the Scottish Highlands for many films including 'Main Solah Baras Ki' (1998). As a guest of the Highlands and Islands Film Commission, Dev spent several days in the area, en route to Cannes.
Death
On 3 December 2011, Dev Anand, 88, died of cardiac arrest in his room at The Washington Mayfair Hotel in London. On 10 December 2011, his funeral service was held at a small chapel following which his coffin was taken to the Putney Vale Crematorium in southwest London. Reportedly, his ashes were taken to India for immersion burial in the Godavari River.
Facts/Trivia
He was fondly referred to as D. D. by his schoolmates.
Dev Anand was offered his first break by P. L. Santoshi. In an interview, he talked about this and said that he visited Baburao Pai, an Indian filmmaker, at a studio, but was stopped by the watchman. Baburao Pai noticed Dev waiting outside and asked the watchman to let him come inside. Baburao then asked Dev to visit him the day after tomorrow as a director was supposed to visit the studio. When Dev arrived for the meeting, he realized it was P. L. Santoshi whom Baburao wanted him to meet, and he eventually got selected for the role of 'Shankar' for the film 'Hum Ek Hain' (1946).
Reportedly, in the initial days of his career, Dev would earn 365 rupees a film, which was enough for him to buy his first car, Hillman Minx, after his debut film 'Hum Ek Hain' (1946).
Dev Anand's decision to become an actor was inspired by his admiration for Ashok Kumar's performances in the films 'Achhut Kanya' and 'Kismet'. Coincidentally, Ashok Kumar himself chose Dev Anand to star in the lead role in 'Ziddi', which marked Dev Anand's debut as a leading actor in a film.
Dev Anand and Suraiya had a fruitful collaboration during which they delivered several hits such as Vidya (1948), Jeet (1949), Shair (1949), Afsar (1950), Nili (1950), Do Sitare (1951), and Sanam (1951). Interestingly, during this period, Suraiya was often given top billing in the film credits and was considered to be a bigger star than Dev Anand himself. Despite the success of their partnership, Dev Anand began to seek solo roles in order to establish his own stardom and demonstrate his versatility as an actor.
As his first preference was for solo lead roles, Dev worked mostly in films where he was the only lead actor.
Throughout his entire career, Dev never appeared in a television commercial.
Reportedly, Dev Anand was banned from wearing a black coat as he looked so handsome that a girl, mesmerised by his looks, allegedly ended her life. It was also reported that some young girls jumped off the buildings just to have a glimpse of their matinee idol. [7]

Hindustan Times
According to his son, Suneil Anand, Dev was close to the American actor Kirk Douglas and the Italian – American director Frank Capra.
Dev Anand and his elder brother Chetan Anand joined forces to establish a film production company named 'Navketan Films' in 1949. Initially, Yash Johar, the father of renowned Indian filmmaker Karan Johar, was appointed as the production controller for Navketan Films, but he later rose to fame as a prominent filmmaker in the Hindi cinema industry.
His contributions to the Indian film industry go far beyond creating unforgettable classics. Dev played a significant role in launching the careers of numerous prominent actors. For instance, Shatrughan Sinha received his big break in the film 'Prem Pujari' (1970), while Zeenat Aman shot to fame following her captivating performance in the film 'Haré Rama Haré Krishna' (1971). Jackie Shroff made his debut with the film 'Heera Panna' (1973), and Zarina Wahab rose to prominence through the film 'Ishq Ishq Ishq' (1974). Tina Ambani earned recognition for her role in the film 'Des Pardes' (1978), and Tabu received her initial break in the film 'Hum Naujawan' (1985).
Dev Anand's career reached a distinct milestone with the release of the film 'Guide' in 1965. It stands out as the only film where the protagonist's fate ends with his demise.
Dev had his heart set on casting Mumtaz for his film 'Haré Rama Haré Krishna' in 1971; however, Mumtaz had already signed on for seven films that year, which was the maximum allowed at the time due to industry restrictions. He went to great lengths to get Mumtaz on board, even obtaining police protection and taking her to Nepal to shoot the film. Despite approaching several actresses, none were willing to play the role of Dev Anand's sister in the film. Eventually, Zeenat Aman stepped up to take on the role.
In a remarkable turn of events, a father was able to locate his long-lost child through the movie 'Haré Rama Haré Krishna'. He spotted his daughter in one of the film's songs and immediately reached out to the filmmakers.
Dev Anand was offered the lead roles in the iconic movies 'Junglee' (1961) and 'Teesri Manzil' (1966), but he rejected them for undisclosed reasons. Consequently, the roles went to Shammi Kapoor, who delivered exceptional performances in both films, and they went on to become massive box-office hits. Similarly, Dev Anand declined an offer to star in the cult classic 'Zanjeer' (1973), which eventually landed in the hands of Amitabh Bachchan, and established him as a superstar.
In 1970, he worked in a Hollywood film titled 'The Evil Within.'
Dev Anand's admiration for Charlie Chaplin was immense. He once had the opportunity to meet his idol in Switzerland. During the meeting, he was so overwhelmed with excitement that he repeatedly shouted "Hail Charlie" while raising his arms, similar to the Nazi salute.
Apart from being an actor, Dev Anand had a keen interest in politics. He actively participated in protests against the internal emergency that transpired from 25 June 1975 to 21 March 1977 along with other well-known actors in the Indian film industry. He even established his own political party named the 'National Party of India' (NPI), which he dissolved after a few years.
According to some sources, Dev liked soft lights in his office, which was a penthouse on 42, Pali Hill, Bandra, situated above his dubbing studio, Anand Recording Studio.
Whenever Dev Anand visited the picturesque hill station of Mahabaleshwar in Maharashtra, he would be allocated room number 11 at The Fredrick Hotel. This room was specially reserved for him, and he would stay there every time he visited the town.
Dev Anand had a passion for collecting jackets and amassed a collection of more than 800 of them.
Reportedly, Dev was often compared to Gregory Peck, an American actor, for his looks; however, Dev didn't find hearing it ecstatic. While talking about this in an interview, Dev Anand said,


When you are at an impressionable age you make idols, but when you grow out of the phase, you develop your own persona. I don't want to be known as India's Gregory Peck, I am Dev Anand."
Reportedly, Dev Anand and Guru Dutt had a great bond. According to some sources, they agreed that if one of them were to become successful in the film industry, he would help the other to be successful. They formed a mutual understanding that when Anand produced a film, Dutt would direct it and when Dutt directed a film, Anand would act in it.
He was a part of 'Trinity- The Golden Trio' along with Raj Kapoor and Dilip Kumar.
He earned the title of 'Evergreen Star,' 'Dev Saab,' and many more throughout his career.
In 2007, Dev Anand wrote an autobiography titled 'Romancing with Life' in which he put light on his failures, achievements, and learnings of his life. His memoir is flooded with his life experiences including an unsuccessful story with Suraiya, obsession with Zeenat Aman, and finding the love of his life Kalpana Kartik.
In 2023, Dev Anand's bungalow in Juhu, Mumbai, was sold to a real estate company for approximately Rs. 350-400 crores. The bungalow, which had been constructed in 1950, was sold as there was no one to look after it. After its sale, it was reported that the bungalow would be turned into a 22-floor-long tower. [8]

Hindustan Times