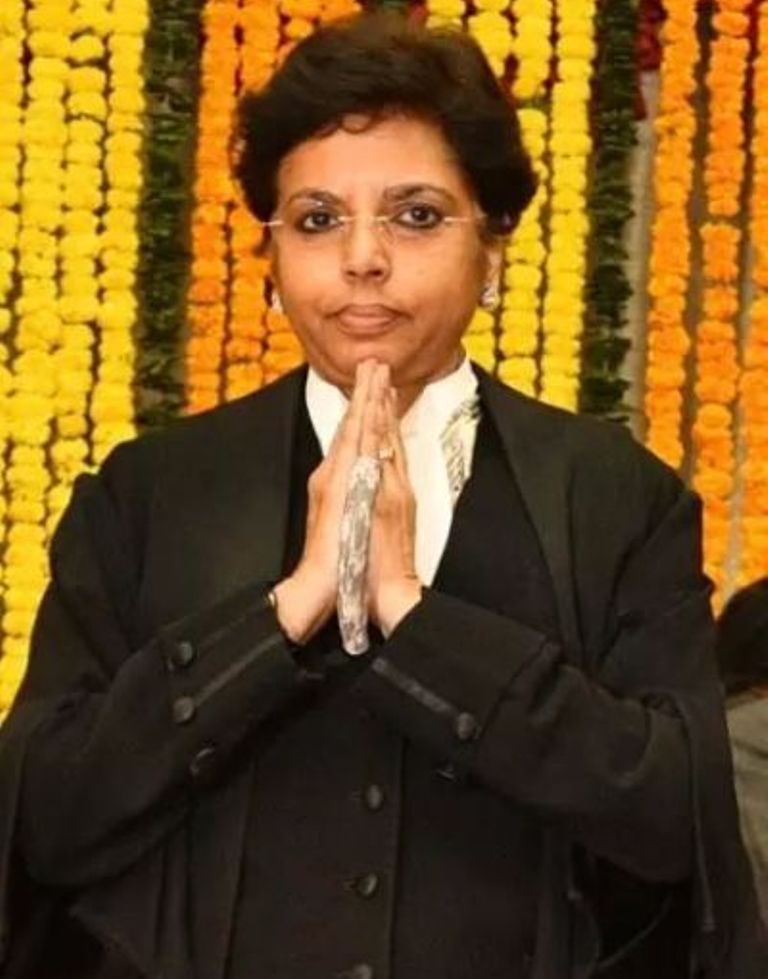 Hima Kohli is an Indian lawyer who was elevated to the position of Judge of the Supreme Court of India on 26 August 2021. She is also known for being the first woman Chief Justice of Telangana High Court.
Wiki

/Biography

Hima Kohli was born on Wednesday, 2 September 1959 (age 62 years; as of 2021) in New Delhi, India. Her zodiac sign is Virgo. She attended St. Thomas' Girls Senior Secondary School, Mandir Marg, New Delhi. Since childhood, Hima was a dedicated student, who invariably topped her classes. While studying at school, she was elected as the head girl in her final year. Following the footsteps of her maternal grandparents, Hima pursued B.A. (Hons.) in History at St. Stephen's College, Delhi. Thereafter, she earned her postgraduate degree in history from the University of Delhi. During her post-graduation days at Delhi University, as a member College History Society, she used to go on educational trips visiting historical sites like Aurangabad, Bhubaneswar, and Konark. After completing her post-graduation, her father suggested her the job of a professor as an ideal choice, but after realizing that Hima's batchmates were preparing for the Civil Services Examination, he encouraged Hima to appear for the entrance exam. Soon after, she secured admission at the Faculty of Law, University of Delhi, where she pursued a Bachelor of Laws. [1]The New Indian Express Primarily, she enrolled herself in LL.B., believing that a library card would be useful for the preparation of the Civil Services Examination. But, Hima's mother, a habitual reader of detective novels and courtroom dramas, supported Hima's decision to pursue a career in the field of Law.
Family
Hima's father belonged to a business class family from Jalandhar, Punjab. Meanwhile, Hima's mother hailed from Gujranwala, British India (now in Pakistan). Hima's maternal family was into academics, who held specialization in history. Her maternal ancestry (great-grandfather, grandfather, and grandfather's siblings) consisted of postgraduates, who worked as professors at Panjab University. Hailing from pre-partition India, Hima's parents witnessed the trauma of partition in their teenage. Leaving their hearth and home behind, her parents migrated to the country's capital, Delhi, to restart their lives from scratch. Continuing the family tradition, Hima's father built up his business in Delhi in the 50s, which thrived over time. Hima's mother was an alumnus of Indraprastha College for Women, Delhi. Hima's mother decided to be a homemaker after her marriage, tending to the needs of her daughters, Hima and Neelu. While sharing her childhood memories in her farewell speech at Delhi High Court, Hima said,
The job of rearing us was neatly divided between my parents. My mother focused on our studies and all the school-related activities and my father organized the fun time activities…Under my mother's strict supervision, the whole week was dedicated to school and homework. But Sunday was a fun-filled family day, starting with breakfast and ending with dinner."
Hima's sister, Neelu, led a sheltered life. On the contrary, when Hima was born, her parents realised they needed to train their daughters to be independent. In her speech, Hima said,
While my sister would be dropped and picked up by car through her school days and on several occasions even in college, for me, the car was withdrawn in High School and I was told to travel in the school bus, which I treated as a hardship!"
Protective of their elder daughter, Hima's parents enrolled Neelu into an all-girls college, Miranda House, Delhi. Meanwhile, Hima was admitted to a co-ed college, St. Stephen's College, Delhi. Hima's father died when she was working as an independent practising lawyer. After his death, Neelu took over the running business for the process of the windup.
Career
In 1984, Hima Kohli enrolled as an advocate with the Bar Council of Delhi. She started her career as a lawyer after joining the chambers of advocate Sunanda Bhandare, who was later elevated to the position of judge. She served as the standing counsel and legal advisor of the New Delhi Municipal Council in the High Court of Delhi in 1999-2004. In December 2004, she served as the additional standing counsel (Civil) for the Government of National Capital Territory of Delhi in the Delhi High Court. She has represented the Government of Delhi in various prominent public interest litigations. Simultaneously, she developed her reputation as a private practising lawyer. She was also the legal advisor to the Public Grievances Commission, Delhi Pollution Control Committee, National Agricultural Co-operative Marketing Federation of India, National Co-operative Development Corporation, and other private organizations and banks. Additionally, she is a former member of the Delhi High Court Legal Services Committee, a statutory body constituted under the Legal Services Authority Act. While Hima was suffering from the traumatic death of her father, the elevation of her senior as a judge left Hima with no chamber from where she could operate in the High Court. Consequently, she set up a mini office in the trunk of her car, where she kept her files and documents, meanwhile meeting the clients in Mr S.P. Gupta's office, who had permitted Hima to operate from his chambers. On 11 August 2017, she became a member of the General Council of the West Bengal National University of Juridical Sciences, Kolkata. She joined the editorial committee of 'Nyaya Deep,' the official journal published by the National Legal Services Authority, on 7 May 2019. On 26 March 2020, she chaired the High Powered Committee, established by the Govt. of NCT of Delhi. The committee was founded in view of the COVID-19 pandemic when the Supreme Court of India passed the order for the decongestion of jails in all States/ UTs in March 2020. In May 2020, she became the Executive Chairperson of the Delhi State Legal Services Authority. She held the position of chairperson at Delhi Judicial Academy, Delhi High Court Middle Income Group Legal Aid Society, Delhi High Court Building & Maintenance Committee, Mediation & Conciliation Committee, and the Family Courts Committee. She was a member of the Governing Council of the National Law University.
Judge of Delhi High Court
On 29 May 2006, she was appointed as an additional judge in the Delhi High Court. She was nominated by Yogesh Kumar Sabharwal and appointed by A. P. J. Abdul Kalam. On 29 August 2007, she was appointed as a permanent judge in the Delhi High Court. She served as Judge of Delhi High Court till 6 January 2021.
Chief Justice of Telangana High Court
On 7 January 2021, she became the first woman to become Chief Justice of Telangana High Court. For the position, she was nominated by Sharad Arvind Bobde and appointed by Ram Nath Kovind. She served as the Chief Justice of Telangana High Court till 30 August 2021.
Judge of Supreme Court of India
In August 2021, a prominent decision was taken by the collegium headed by CJI N. V. Ramana, who recommended the names of three women for the appointment of judges of the Supreme court of India, including Justice Hima Kohli. On 31 August 2021, Justice Hima Kohli, along with eight other judges, took the oath of office to the Supreme Court of India. She was nominated for the position by N. V. Ramana and appointed by Ram Nath Kovind. For the first time in Indian history, nine new Supreme Court judges take oath in one go.
With three women, Justice B. V. Nagarathna, Justice Bela M Trivedi, and Justice Hima Kohli, administering the oath of office, the apex court obtained four sitting women judges, beating the previous high of three sitting women judges.
Notable Judgements
Manoj Kumar vs Union Of India And Ors. (2016): A division bench consisting of Justice Hima Kohli directed Reserved Police Force (RPF) to reappoint the constable, who was fired from RPF on the ground that he had not disclosed the pendency of a criminal case lodged against him when he was 12 years old. The court directed RPF to reinstate him within 12 weeks, along with all the consequential benefits excluding back wages. The Delhi High Court also held that a juvenile's identity must be kept concealed at any stage of life; because otherwise the purpose of juvenile justice law would be defeated.
Sanjay Singh vs The State (Govt. Of Nct) Of Delhi (2020): At Delhi High Court, a bench of Justices Hima Kohli and Subramonium Prasad directed the Director-General of Prisons to conduct an inquiry regarding the illegal detention of a man in Tihar Jail for 10 days despite a favourable bail order. Post the enquiry, Tihar Jail authorities tendered an apology before the court. Thereafter, the authorities hired 14 law officers on a contractual basis to provide legal aid to the jail authorities.
Manisha Priyadarshini vs Sri Aurobindo College – Evening & Ors (2020): The Delhi High Court dismissed the right of Delhi University to terminate the employment of Priyadarshini, an ad-hoc college professor of the university, who had taken maternity leave during her tenure of the contract. Justices Hima Kohli and Asha Menon stated the termination was similar to penalising a woman for choosing motherhood while still being employed. The bench mentioned Article 21 of the Constitution, which protected her reproductive rights as a woman.
National Federation Of The Blind vs Union Of India & Ors: In August 2020, a bench consisting of Justice Hima Kohli, while conducting the hearing via video conference, held that Delhi University must provide scribes to visually handicapped students at common service centres (CSCs) for online Open Book Examinations (OBE) for final year undergraduate courses.
Salary
Rs 2.50 lakh per month [2]Hindustan Times
Assets/Properties
A flat in Cooperative Group Housing Society, Mayur Vihar, New Delhi, measuring 1770.30 sq. feet (Purchased/Allotted in 1990)
Facts/Trivia
Apart from being a judge, she is an active promoter of environmental awareness, and she also highlights the judiciary's role in ecological preservation.
She also highlights the role of family courts in resolving family disputes.