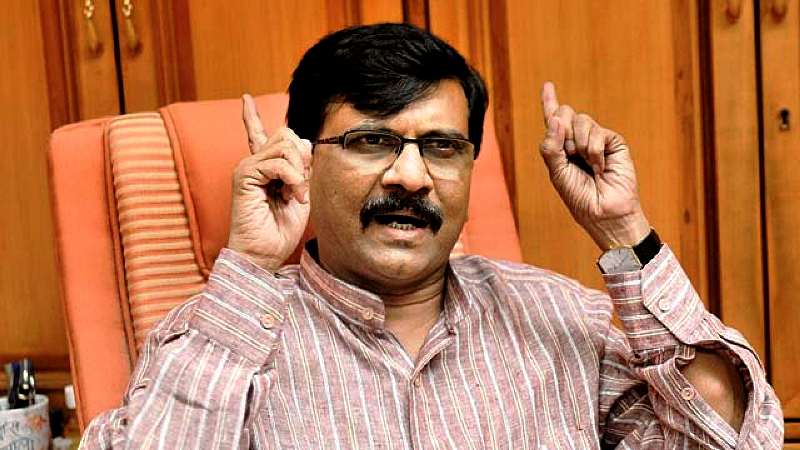 Sanjay Raut is an Indian politician of the Shiv Sena. He is a Rajya Sabha member and the spokesperson of the Shiv Sena.
Wiki/Biography
Sanjay Raut was born on Wednesday, 15 November 1961 (age 61 years; as of 2022) in Alibag, Maharashtra. His zodiac sign is Scorpio. He pursued Bachelor of Commerce (B.Com) from Dr Ambedkar College of Commerce and Economics in Wadala, Mumbai.
Physical Appearance
Height (approx.): 5′ 7″
Eye Colour: Black
Hair Colour: Black
Family, Caste & Wife
Sanjay Raut belongs to the Somvanshi Kshatriya Pathare Caste [1]Wikipedia. His parents are Rajaram Raut and Savita Rajaram Raut. His younger brother, Sunil Raut is a politician from the Shiv Sena as well.
On 16 February 1993, he got married to Varsha Raut (Teacher). They have two daughters together, Purvashi Raut and Vidhita Raut.
Career
Sanjay Raut was first elected to the Rajya Sabha from Maharashtra in 2000. He was appointed as a Leader of the Shiv Sena in 2005. He was a member of the Committee on Home Affairs and the Consultive Committee for the Ministry of Civil Aviation from October 2005 to May 2009. In 2010, Raut was re-elected to the Rajya Sabha from Maharashtra in 2010 for a second term. In 2010, he was appointed as a Member of the Committee on Consumer Affairs, Food, Public Distribution, and the Consultive Committee for the Ministry of Power. In 2016, he was re-elected to the Rajya Sabha from Maharashtra for a third term.
Controversies
On 20 November 2012, following the shutdown of Mumbai after the death of Bal Thackeray, two women were arrested for a Facebook comment against the shutdown. The women were 21 years old, and one of them had commented on a post and the other woman had liked the comment. After the arrest, Raut said that the Shiv Sena supports the arrest of the women as their comment would have led to a law and order situation. He faced a lot of backlash for this statement. [2]

Times of India
On 13 April 2015, several people and political parties accused Raut of trying to stoke communal tension. The accusation came after an article in Saamana (Shiv Sena's mouthpiece) written by Sanjay Raut stated that the voting rights of the Muslims should be revoked to ensure that they were not used for vote bank politics. Many people said that they were disgusted to hear such a thing in a country like India that is a democratic country and not a Talibani state. [3]

LiveMint
On 24 August 2017, Sanjay Raut threatened Naypadmasagarji Maharajsaheb (Jain monk) with filing a complaint against him for violating the poll code of conduct, called him a terrorist, and compared him to the Islamic Preacher Zakir Naik. His statements came after Naypadmasagarji Maharajsaheb urged the Jain community to support the BJP and move towards a meat-free society. The All India Jain Minority Cell criticized Raut's statement and said that they were extremely sad and offended by his remarks. [4]

Hindustan Times
On 15 April 2019, he created a controversy during a Ram Navami function when he said- "There is always a fear of the code of conduct. However, to hell with the law! We are that kind of people who would opt to say whatever is in our heart and mind rather than getting suffocated. Implications of the model code of conduct will be taken care of." [5]

The Asian Age
On 25 October 2019, when the Maharashtra Assembly Election results were announced and it showed a dip in BJP's numbers, Sanjay Raut tweeted a picture of a tiger wearing a clock locket (NCP's party symbol) and smelling a lotus flower (BJP's party symbol). Raut captioned the picture- "Bura Na Mano Diwali Hai." However, members of the BJP said that the picture was in bad taste. [6]

News18
व्यंग चित्रकाराची कमाल!
बुरा न मानो दिवाली है.. pic.twitter.com/krj2QAnGmB

— Sanjay Raut (@rautsanjay61) October 25, 2019
After Sushant Singh Rajput's death, a spat occurred between Sanjay Raut and Bollywood actress Kangana Ranaut. The entire row initiated after Kangana termed Mumbai unsafe following Rajput's death on 14 June 2020. Following her comment, the state's home minister Anil Deshmukh said she had no right to stay in Mumbai. Later, Kangana accused Sanjay Raut of threatening her and remarked "why is Mumbai feeling like Pakistan-occupied- Kashmir." This comment further escalated between the Shiv Sena and Kangana Ranaut. [7]

NDTV Amid the growing row between Kangana Ranaut and the Maharashtra government, the Centre government sanctioned her "Y-plus" security cover. [8]

The Times of India
On 31 July 2022, the ED officials raided his Mumbai residence for nine-long hours in the Patra Chawl case following which they arrested him. According to the agency, they recovered unaccounted cash of Rs 11.5 lakh from his residence. [9]

The Times of India
In August 2022, an FIR was lodged against Raut at the Vakola police station under sections 504,506 and 509 of IPC after an audio went viral in which he hurled abuses at Swapna Patkar who is the wife of Sujit Patkar, a close aide of Sanjay Raut. Reportedly, Swapna is a witness in the Patra Chawl land case. [10]

DNA On 8 August 2022, he was sent to judicial custody till 22 August 2022 by a special court in Mumbai. [11]

The Hindu On 9 November 2022, a court in Mumbai granted him bail, and he was released from jail after over three months. [12]

NDTV
Address
Maitri, Friends Colony, Bhandup, Mumbai
Assets/Properties
Bank Deposits: 8.16 lacs INR
Agricultural Land: 3 lands worth 1.38 crores INR in Alibag, Maharashtra
Residential Building: 1 flat worth 2.32 crores INR in Dadar, Mumbai
Residential Building: 1 flat worth 1.10 crores INR in Goregaon, Mumbai
Net Worth & Salary
Car Collection
Sanjay Raut owns a Hyundai Accent (2004 model)
Facts/Trivia
Sanjay Raut loved doing social service, watching sports, and watching Bollywood movies.
He has been the executive editor of the Shiv Sena's political mouthpiece- "Saamana". He has been writing articles for Saamana for 15 years.
He also gave the story for Bal Thackeray's biopic. The film was titled "Thackeray" and it starred Nawazuddin Siddiqui, who played the role of Bal Thackeray, and Amrita Rao playing the role of Mina Thackeray.
Once, in an interview about Bal Thackeray's biopic, Uddhav Thackeray said-


Sanjay Raut is the most appropriate person to make a film on Balasaheb Thackeray. He has not only seen Balasaheb closely but knew his thoughts and views."
In an interview, when Raut was asked why did he choose Nawazuddin Siddiqui to play the role of Bal Thackeray, he replied-


It did not take me even five minutes to finalize him as no one can portray the role better than him"
Raut is considered to be a close confidante of Uddhav Thackeray.
In November 2019, after the Maharashtra Assembly Elections, the Shiv Sena and the BJP were not able to decide on the formation of the government, the seat-sharing formula, and the appointment of the next Chief Minister of Maharashtra. Sanjay Raut, being the spokesperson of the Shiv Sena, voiced his opinion against the BJP and said that the Chief Minister of Maharashtra will be from the Shiv Sena and if the BJP would not agree, the Shiv Sena had other options to form the government and install a Shiv Sainik as the next Chief Minister of Maharashtra.