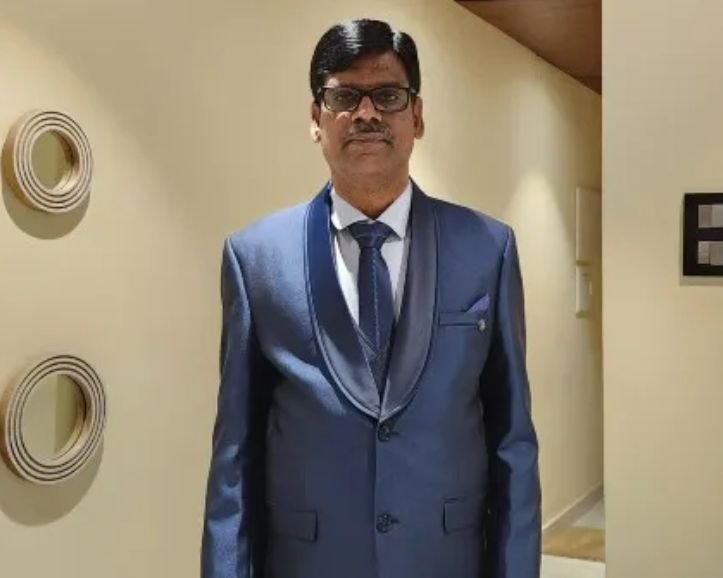 P R Sundar is an Overseas Citizen of India (OCI) [1]P R Sundar- Twitter, who is well known for being a stock market analyst, share trading consultant, and social media financial influencer. He provides consultation and training about futures & options (F&O) trading on various social media platforms
Wiki/Biography
Purisai Rajamani Sundar [2]P R Sundar – Twitter was born on Saturday, 28 March 1964 (age 58 years; as of 2022) in Purisai, Tamil Nadu, India. His zodiac sign is Aries. Sundar completed his schooling at a Tamil-medium corporation school. [3]The Economic Times Due to the poor financial condition of his house, he was sent to a charitable trust hostel in Chennai. He enrolled himself at the University of Cambridge in England, where he earned a Bachelor of Business Administration degree. [4]P R Sundar – LinkedIn Sundar completed a Master of Science degree in Mathematics from Chennai. [5]The Economic Times
Physical Appearance
Height (approx.): 5′ 9″
Hair Colour: Salt & Pepper
Eye Colour: Black
Family
Parents & Siblings
Sundar's father, Rajamani, worked as an unskilled worker in the Gulf countries. There is not much information available about his mother. Sundar has seven siblings.
Wife & Children
On 10 November, Sundar got married to Mangaiyarkarasi Sundar. Together, they have a son, Ashwin Sundar, who is a YouTuber, content creator, and a stock market trader.
Ethnicity
P R Sundar is a Tamilian. [6]P R Sundar – Blogspot
Career
As a teacher
After Sundar completed his post-graduation, he was appointed as a maths teacher at a school in Gujarat. In 1993, he got an opportunity to shift to Singapore to teach mathematics in a school. After spending around 12 years in Singapore, in 2005, he returned to India. Apart from teaching, Sundar decided to start his own business as an alternate income source. One of Sundar's relatives advised him to appear for the NSE Academy Certification in Financial Management (NCFM) exam. While preparing for the exam, he soon developed an interest in the stock market and began investing through stock trading and IPOs (Initial Public Offerings).
As a stock market analyst and trader
In 2007, Sundar started investing in the stock market. In the beginning, he made investments in the companies Aban Offshore (formerly known as Aban Lloyd), Kokuyo Camlin Ltd. (formerly known as Camlin Ltd.), and L&T (Larsen & Toubro). Since May 2016, he has been working as a sales and marketing specialist at CBA Capital in Bengaluru, Karnataka. On 30 June 2017, Sundar was appointed as the director of Mansun Consultancy Private Limited, which is primarily involved in financial intermediary and consultancy services. In June 2020, Sundar was appointed as an account manager at the Cryptrade Network in Warsaw, Mazowieckie, Poland. He served there for 2 years and a month till June 2022. P R Sundar has a self-titled YouTube channel, where he posts videos related to the stock market; the channel has more than 1 million subscribers. As of September 2022, the significant investments in his portfolio were made in S P Apparels Ltd, Kalyani Investment Company Ltd, Twentyfirst Century Management Services Ltd, HCL Technologies Ltd, India Motor Parts & Accessories Ltd, and RPP Infra Projects Ltd.
Controversies
Trolled for making money from training rather than trading
Sundar, who initially earned through stock trading, was advised by his broker to start giving training classes about stock market strategies. The amount he charged for a two-day workshop was around Rs 50000, and for his mentorship programme, he charged around Rs 20 lakh. [7]Forbes Sundar was heavily trolled by netizens for making a huge sum of money from youtube advisory videos regarding stock market training courses rather than actual stock market trading. In an interview, he expressed his resentment over the criticism he received for making more money through training rather than trading and said,
Why does it matter? At the end of the day, all we have to do is to make money. Is there any government rule that says a person should not be making more money in training than in trading? The two are independent businesses. If Virat Kohli is making more money by doing commercials than by playing cricket, does it matter? The money is coming from all legitimate means." [8]The Economic Times
Criticised for offensive comments
In November 2022, P R Sundar was heavily criticized for using foul and offensive language while he argued with a user on his Twitter handle. Sundar's conversation with the user regarding the Mark-to-Market (MTM) concept (Mark-to-market is an accounting method to determine the fair value of an asset or liability based on the current market price) on his trade, turned into a heated argument after Sundar passed a controversial comment on women and their virginity following which he was harshly criticised for his unacceptable and wrong choice of words.
Unfollowing and blocking this @PRSundar64 arrogant person
Enough has been tolerated in past also.
(Nothing personal)
Highly immoral and disgusting
Money and fame has taken over his mind.
I haven't blocked a single troller or critic till now. pic.twitter.com/HZQkTl73yT

— Harish Sharma (@hsvashistha16) November 27, 2022
Later, Sundar posted a video on his YouTube channel in which he apologized for using disrespectful words and said,
I lost my patience. I am sorry. People say I should not have used certain unparliamentary words and I do agree. Of course, no need to say I did not mean it. I tweeted him only for the purpose of argument to make him understand the concept. Otherwise, I did not know whether he had a daughter or not."
Investigation launched by SEBI
In November 2022, the Securities and Exchange Board of India launched an investigation against P R Sundar, his son, and his company Mansun Consultancy Pvt Ltd for allegedly providing consultation services regarding investment measures without registering with SEBI. As per SEBI guidelines, if any person is found to be engaged in providing investment advisory services without getting registered with SEBI, appropriate action can be taken against him/her, under the SEBI Act, 1992. In an interview, Sundar talked about being investigated by SEBI and said,
This is a two-year-old matter when I was associated with a Sebi registered advisory company. Instead of taking payments from the company, my firm had collected payments on their behalf. We received the first show-cause notice in May 2022 and another in this month. We are assisting Sebi with all the details." [9]Business Standard
Car Collection
P R Sundar owns a Mercedes Benz S Class and a Jaguar XF.
Assets/Properties
Sundar owns a four-storeyed penthouse worth Rs 30 crore in Tamil Nadu and an apartment near Burj Khalifa in Dubai.
Facts/Trivia
Sundar primarily deals in options trading and is indulged in option selling rather than the buying and selling of stocks. (An option is a contract drawn by a seller that conveys the right to the buyer to buy or sell a particular asset, at a specific price in future) He believes that an investor with huge capital should invest in options selling. In an interview, he presented the reasons to invest in options rather than stocks and said,


When you are buying and selling stocks, the probability of winning is 50 per cent, but when you are selling options, the probability is 80 per cent. This is a game of probability. For my skills and temperament, the best way to make money is only through options, not futures or the cash market."

As of 2022, Sundar's Twitter account has more than 5 lakh followers.
Sundar is associated with various social works and charitable programs. In 2021, amid Covid-19, he donated over Rs 1 crore to the Prime Minister's National Relief Fund and Tamil Nadu Chief Minister Public Relief Fund. Sundar is the founder of the Mangai Foundation, which provides financial assistance to children, elders and single women parents.