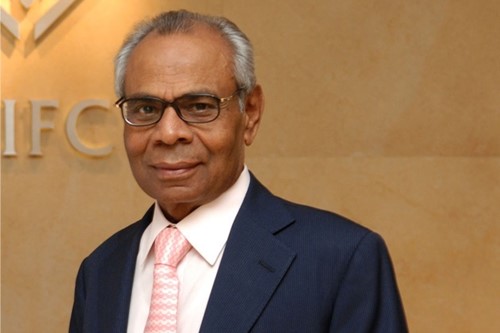 S. P. Hinduja is an India-born British billionaire businessman who is known as the second richest person in the United Kingdom along with his brother Gopichand Hinduja. They are popularly known for their appearance in the top billionaire's lists and for being the neighbors of Queen Elizabeth.
Wiki/Biography
Srichand Paramanand Hinduja was born on Thursday, 28 November 1935 (age 86 years; as of 2021) in Karachi, Sindh, British India (now Pakistan). His zodiac sign is Sagittarius. After completing his education, S. P. Hinduja joined his father in his textile and trading business at the age of eighteen and handled the office in Mumbai, India, and in Tehran, Iran.
Physical Appearance
Height (approx.): 5′ 5″
Hair Colour: Grey (half bald)
Eye Colour: Black
Family
Parents & Siblings
S. P. Hinduja's father's name is Parmanand Deepchand Hinduja, and his mother's name is Jamuna Parmanand Hinduja. He has three brothers- Gopichand Hinduja, Prakash Hinduja, and Ashok Hinduja.
Wife & Children
S. P. Hinduja got married to Madhu Hinduja and together they have two daughters- Shanu and Vinoo Srichand Hinduja. They also had a son, Dharam Hinduja, who committed suicide by setting himself on fire.
Religious/Religious Views
S. P. Hinduja belongs to a Sindhi-Hindu family. He is a religious person and a spiritual person.
Career
S. P. Hinduja was born in a business family in Karachi, British India. In 1914, his father moved to Bombay to learn the tips and tricks of the business, and in 1919, his father set up his first international office in Iran. One of the reasons for the early success of the Hinduja empire was when S. P. Hinduja got the international distribution rights for the Bollywood blockbuster movie 'Sangam' (1964). They distributed this movie throughout the Middle-Eastern markets which helped him earn millions of dollars. In the 1960s, Hindujas were working operating in Iran when Indira Gandhi had a disagreement with the Shah of Iran over the rising price of Iranian oil. In response to this, the Shah of Iran said that India should consider increasing the number of goods being exported to Iran to make up for the lost profits. During this, the Hindujas took advantage of the opportunity and they bagged one of the biggest deals of their business which was the iron ore project of Kudremukh, and received almost $10 million in commission. They also formed two trading companies – Sangam Trading and Ashok Trading that handled the importing of cars of the well-known German brand, American aircraft, several computer businesses, a trading company, an American airline, and many other products. Hindujas also ventured into the field of sales of food commodities such as onion, potatoes, and iron ore from India to Iran. In the 1980s, the Hinduja group made one of the biggest trades of their life by acquiring a huge stake in the Indian truck and bus manufacturer Ashok Leyland. Along with this, they took control of the Gulf Oil International company from Chevron Corporation (energy industry company), to supply oils and lubricants to different parts of the world including India.
In the 1990s, Hindujas moved towards the banking sector by establishing banks in Switzerland and India, which helped them in earning a place with India's best-known business tycoons such as Tata, Birla, Ambani, etc. In 1993, S. P. Hinduja ventured into the field of banking as they laid the foundation of IndusInd Bank, followed by the IndusInd Media and Communications Ltd. in 1994. The then Minister of Finance Manmohan Singh was invited to the inauguration ceremony of the bank.
In 1994, S. P. Hinduja founded the only Indian-owned Swiss bank, S. P. Hinduja Banquee Privee, which has its headquarters in Geneva, Switzerland. In the past few years, the bank has opened its branches in Zurich, London, and Dubai. The bank offers investment advisory and wealth management services to big businessmen and entrepreneurial clients. In 2012, the Hinduja Group partnered with the director of private equity of JP Morgan, Ghouse Mohammed Asif, and the former United States Secretary of the Treasury, Hank Paulson to acquire the US-based firm Houghton International and closed the deal for $1.045 billion. S. P. Hinduja and his daughter, Vinoo Hinduja are responsible for looking after P. D. Hinduja Hospital & Medical Research Centre, Mumbai. While managing so many businesses, Hinduja Group started a non-profit organization called Hinduja Foundation that helps poor people by making quality medical facilities, education, and other services accessible. The funding of the organization is carried out by the Hinduja Group and the family. They have been taking care of the foundation for the last 48 years, and they have opened up more branches in the UK and USA.
Net Worth
According to Forbes magazine, the net worth of the Hinduja brothers is $14.7 billion. [1]Forbes
Facts/Trivia
In May 1992, S. P. Hinduja's son, Dharam Hinduja, and his wife went to a hotel in Mauritius where a part of a pact, they both set themselves on fire and tried committing suicide. The couple was taken to the hospital where Dharam Hinduja died with 70% burns on his body, however, his wife survived the fire. Later, reports said that Dharam had married a Roman Catholic Australian woman named Ninotchka Sargon in January 1992.
In 2006, the Hinduja brothers spent $58 million on a 25-bedroom mansion on London's Carlton House Terrace street which is down the Mall from Buckingham Palace. The family spent five years on the renovation of the house which is now used as a guest house and a party house for the family. In October 2013, Forbes Life magazine valued the house to be worth $500 million making it the third most expensive private home in the world.
S. P. Hinduja is a strict vegetarian and a teetotaler. He prefers traveling with his chef every time he travels overseas. He even brings his vegetarian food whenever he is invited to the banquets at Buckingham Palace. [2]

The Economic Times
During an interview with The Times of India, S. P. Hinduja talked about how they follow certain rules when it comes to their privacy. He talked about how a guest who is not part of the immediate family is sent to their guest house or a fancy hotel once the dinner is done.
The family has a tradition of a family retreat where all the brothers and their families visit India every year. This is practiced by them to keep their bond stronger and bring their families closer. S. P. Hinduja initiates the trip and one time they decided to not visit Mumbai and go on a family trip to Rishikesh.
In 2010, a university in the UK offered S. P. Hinduja an honorary doctorate degree. However, S. P. Hinduja refused the offer by saying that he would only accept the degree if the university offered all the brothers the same degree. He said-


I told them I will consider it only if all the four brothers get it. Everybody has contributed to the business, according to their age. I do not want any conflict in the family."

While the brothers are working for the same company, they live in different parts of the world like S. P. Hinduja and Gopichand Hinduja live in London, Prakash Hinduja lives in Monaco and Ashok Hinduja resides in Mumbai.
All the Hinduja brothers are very spiritual in nature and they believe in the ideology – 'Service with devotion.'
In May 2019, the Hinduja brothers bagged the first position in the Sunday Times Rich People's List with a net worth of $27.7 billion. In 2021, they held the 133rd position in the Forbes' 'The Richest People in the World' list with a net worth of $14.9 billion.
The Hinduja Group operates from 48 different countries in various sectors like automobile, telecommunication, healthcare, defense, financial services, etc, and provides employment to almost 150,000 people.
The Hinduja brothers have been following the ideologies of their father ever since they started working in the business. Parmanand Hinduja used to treat his staff as an extended family, and every time he sat down to eat, he used to ask his staff to sit with him while eating. Over the years, the brothers have worked together to maintain peace and harmony in the business and often they have different opinions on a decision, but there are no disagreements.
Despite living in different countries with different time zones, the Hinduja brothers manage to talk to each other on a daily basis. According to S. P. Hinduja, many of their business dealings and decisions have been made over a phone call.
During an interview, S. P. Hinduja talked about how his father used to bribe him and his brothers to come work with him for some money during their summer holidays. Further, he was asked how he ensures that he keeps learning new things in the business to which he replied-


I often feed the squirrels on my walks in St James Park and I always notice how if you throw two peanuts at them, they will always take only one and save the other. They finish the first, and only then come back for the other."

S. P. Hinduja and his brothers are big believers in philanthropy. In an interview, S. P. Hinduja said-


You work to earn, and earn to give. But I don't believe in donating for charity sake. Always link philanthropy to economic growth."

In an interview with The Economic Times, S. P. Hinduja shared his views on politics and said-


We are not pro or anti any government whether Congress or BJP, Labour or Tory. We don't do anything political, just whatever's in the interest of the mother country. That's our basic principle on which we do good business. Even in the Islamic world we are respected despite our name Hinduja which can be misleading. We're not products of religion. We're products of nature. Still I don't criticise any religion."

S. P. Hinduja follows a strict routine to maintain his work-life balance. In conversation with a magazine, he explained his daily routine and said-


I sleep for four hours between midnight and 4 am. When I wake up I meditate for an hour, then go for a walk for an hour. The morning is the best time for being creative and innovative. I refuse to go for late parties; people are just fighting against what is natural for the body."

When a reporter asked about their government connections, S. P. Hinduja talked about an incident from 1998 when the Principal Secretary of BJP leader Atal Bihari Vajpayee, Brajesh Mishra was visiting London on an official trip to meet the leader of the Labour government. He explained the event further and said-


I got a phone call when he arrived asking me whether I have good relationships with the labour government. I said we have good relationships, whether Labour or Tory and that I'd do my best. Within two hours I took him to meet with Blair who was leaving for Manchester to meet Bill Clinton. But we don't do this for publicity."

The Hinduja family is known for their Diwali parties and they had been hosting these parties since 1980. The guest list of the party consists of the richest of the United Kingdom to the foreign secretary and present Prime Minister of the UK Boris Johnson. The parties are held in their house located on Carlton House Terrace street.
In 2020, the whole world was suffering from the extensive spread of the COVID-19 pandemic, the Hinduja brothers continued the years-long tradition of hosting the Diwali party. However, this time, the whole event was carried out through virtual meetings, and the event was inaugurated by Prince Charles, who started the event by lighting up a candle. On this occasion, many other important people from India like the Vice President of India, Governor of Maharashtra, and the Indian High Commissioner to the UK sent their regards to the Hinduja family. Hinduja brothers also arranged for several entertainment performances by artists like Anup Jalota, Sonu Nigam, Shankar Mahadevan, Rahat Fateh Ali Khan, and many others were invited to perform at the event.