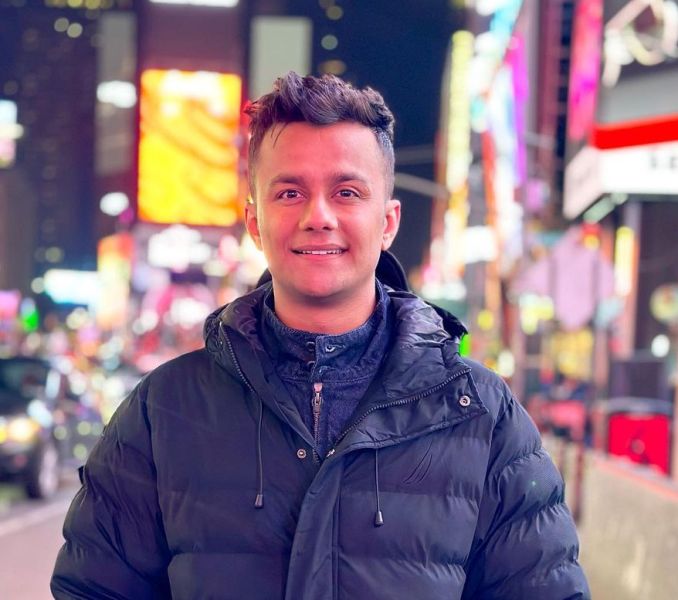 Prafull Billore is an Indian entrepreneur and the visionary founder of MBA Chai Wala, an Indian brand that serves a variety of tea and snacks. He has transformed his business into a thriving enterprise with his exceptional vision and unwavering passion for chai.
Wiki/Biography
Prafull Billore, popularly known as MBA Chai Wala, was born on Sunday, 14 January 1996 (age 27 years; as of 2023) in Dhar, Madhya Pradesh. His zodiac sign is Capricorn. Prafull grew up in Dhar.
He pursued a Bachelor of Commerce at Devi Ahilya Vishwavidyalaya in Indore, Madhya Pradesh in 2016. In the same year, he started preparing for both Common Admission Test (CAT) and Graduate Management Admission Test (GMAT) but failed the examination. He prepared for the examinations for two years; however, he could not clear them.
Physical Appearance
Height (approx.): 5′ 9″
Weight (approx.): 75 kg
Hair Colour: Black
Eye Colour: Black
Family
Prafull Billore belongs to a Hindu middle-class farmer's family belonging to the Brahmin community in Dhar, Madhya Pradesh.
Parents & Siblings
His father, Pandit Sohan Billore, is a businessman, farmer, and the vice president of Akhil Bharatiya Naramdiya Brahmin Sangathan.
Prafull has a younger brother named Vivek Billore, who is the co-founder of the MBA Chai Wala franchise.
Wife & Children
Prafull Billore got married to Shreya, a lawyer, on 12 December 2020; Shreya serves as the Chief Executive Officer (CEO) at MBA Chai Wala company.
The couple has a son named Miransh Billore.
Religion
Prafull Billore follows Hinduism.
Career
Chasing the Perfect Cup: From a Humble Beginning to a Beloved Tea Empire
Prafull's journey to becoming the mastermind behind the highly successful MBA Chai Wala franchise was far from easy. Despite his best efforts and countless sleepless nights, he was unable to crack the MBA exam; however, he refused to let this setback define him and instead took up a job at McDonald's as a housekeeper in 2017. It wasn't long before he was promoted to the position of cashier, but Prafull knew deep down that he was destined for something greater than working for someone else. Driven by his passion for tea, which had served as a comforting companion during his CAT preparation days, Prafull decided to quit his job at McDonald's and start his own tea business. He borrowed Rs. 8,000 from his father under the guise of enrolling in a short-term course, fearing that his parents would disapprove of his decision to sell tea, and opened a tea stall in Ahmedabad, Gujarat in 2017.
Things did not go as planned on the first day of his temporary tea stall when not a single customer turned up, but Prafull refused to give up and came up with a new strategy. He started conversing with his customers in English, and this piqued their interest in the English-speaking Chai Wala and his unique blends of tea. While juggling his father's expectation of pursuing an MBA and his own passion for tea, Prafull found himself at a crossroads. Eventually, he chose to follow his heart and leave his MBA classes to pursue his dream of creating the best tea in India. Prafull experimented tirelessly with different chai mixes and flavours until he achieved the perfect blend that made him the celebrated founder of the Mr. Billore Ahmedabad Chai Wala franchise, popularly known as MBA Chai Wala.
Tea, Toast, and Tissue: The Recipe for Prafull's Marketing Success
Prafull's tea business success can be attributed to his smart marketing techniques. He started serving tea in earthen cups with a side of toast and tissue. He placed his tea shop at political rallies, weddings, and other events to increase brand recognition and attract more customers. Additionally, social media played a crucial role in boosting his business. Prafull maintained an active social media presence to connect with customers, and his Valentine's Day marketing strategy of giving free tea to singles went viral and attracted numerous clients. To engage customers further, he initiated book drives and open mic nights at his store. These innovative tactics helped turn his tea business into a well-known brand in the country and open its branches in different cities including Bangalore, Lucknow, Mumbai, Chandigarh, Delhi, Kolkata, Pune, Dehradun, Kanpur, and Gurugram.
MBA Chai Wala Academy: Education for Entrepreneurs
On 18 October 2021, Prafull Billore launched 'MBA Chai Wala Academy' with the primary goal of assisting individuals who aspire to become entrepreneurs by providing them with guidance. He promotes his vision of "Har-Har Startup, Ghar-Ghar Startup."
Awards
Prafull has received both gold and silver YouTube Plaques.
In 2023, he received the Pride of India Award at GSA India @ 75 Expo Washington, D. C. Sequel at Capitol Hill in Washington, D.C., United States.
Car Collection
Prafull Billore owns a Mercedes-Benz GLE 300d.
Prafull Billore prefers Tata Motors over other automobile brands. He owns a Tata Nexon, Tata Harrier, and Tata Safari.
Facts/Trivia
As a child, Prafull assisted his father in managing their small grocery store. The family later started selling 'pooja samagri' under the brand Riddhi Dev.
He is an individual of deep religious conviction who can often be observed travelling to various holy sites throughout India.
Prafull receives numerous invitations from educational institutions to deliver motivational speeches to inspire the youth.
He has been invited to various events as a judge including TATVA 2023 – A Business Case Study Competition.
Prafull Billore's rapid rise to stardom on social media has not been without repercussions. He became the target of many jokes, mainly in the form of memes, which label him as a "panoti," or a bringer of bad luck in March 2023, when several well-known figures who had posed for photos with Billore became embroiled in scandals. Social media was soon awash with images of Billore's "victims," and the jokes about his supposed curse showed no sign of slowing down. Interestingly, some events seemed to support the "panoti" meme, such as Arvind Arora's difficult time on the reality show Shark Tank India in March 2023, and Gautam Adani's involvement in a corruption scandal in 2023, after posing for a picture with Billore in April 2022. While Billore's social media presence has helped him become famous, some people question whether being associated with him could become a liability for well-known personalities.