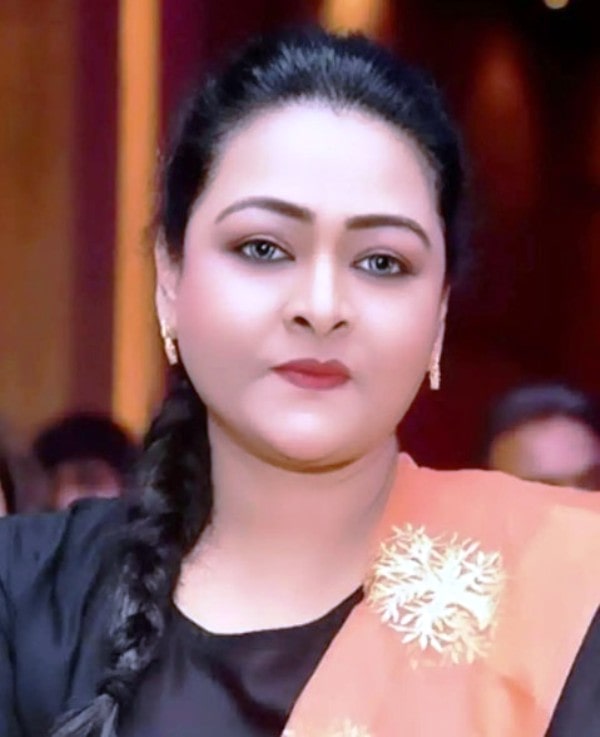 Shakeela is an Indian politician, former adult film actress, social worker, model, and actor, who has predominately worked in Malayali, Kannada, Tamil, and Telugu films. She hit the headlines in September 2023 after she was chosen to participate in Season 7 of the reality TV show Bigg Boss Telugu.
Wiki/Biography
According to some sources, C. Shakeela Begum was born on Tuesday, 20 November 1973, while some other sources claim that she was born on Monday, 19 November 1973 (age 49 years; as of 2022). As per some reports, she was born in Nellore, Andhra Pradesh, India. [1]Mathrubhumi [2]Deccan Chronicle However, some other sources claim that she was born in Madras (now Chennai), Tamil Nadu, India. Her zodiac sign is Scorpio. Shakeela attended six different schools in Chennai; however, she dropped out in Class 10 as she failed to complete her school leaving certificate examination. [3]Mirror TV – YouTube As per Shakeela, she received an offer to appear in a sex education film when she was in Class 8. In an interview, she revealed that she was forced by her mother to become a sex worker to earn money to assist the family. [4]Open She talked about it and said,
One day, she appreciated my beauty. This was soon after my sixteenth birthday. Then she informed me that a person would come to pick me up. She asked me to go with him to a place where I have to 'please' a rich man who would help rid us of our financial constraints. She asked me to obey him, and do whatever he wanted me to do. I was shocked. I was grown up enough to understand what she was asking for. A stranger came to pick me up, I had no choice. I accompanied him. We reached a hotel room. That 'rich man', who was in his forties, was waiting there. I was frozen with fear and sorrow."
Physical Appearance
Height (approx.): 5′ 6″
Weight (approx.): 80 kg
Hair Colour: Black
Eye Colour: Dark Brown
Figure Measurements (approx.): 38-36-38
Family
Shakeela was born into a poor conservative Muslim family. She traces her roots back to Afghanistan from where her grandfather migrated to India during the British Raj.
Parents & Siblings
Her father's name is Chan Basha (also spelt as Chanbasha); he passed away when Shakeela was 23 years old. He was an INC worker. Her mother, Chand Begum (also spelt as Chand Beegam), belongs to Nellore, Andhra Pradesh. She is a homemaker. Shakeela had a total of seven siblings, including a brother named Salim, a sister named Noorjahan, and another sister named Sheethal, who was an actor. Sheethal passed away at the age of 23. According to sources, five out of her seven siblings have passed away.
Husband & Children
She is unmarried and has two daughters, Sasha, and Milla Babygal, who are transgenders. [5]Shakila – Instagram Shakeela adopted Milla in 2021. According to sources, Milla acted in numerous TV shows as a male before changing gender. She is also an activist, vlogger, and costume designer.
Relationships/Affairs
According to sources, she was in a committed relationship with the brother of an established actress. However, following their breakup, she needed a lot of time to heal and move on. In 2002, she was reported to be in a relationship with the son of a police officer.
Career
Films
Hindi
Shakeela made her acting debut in Bollywood in 1989 with the film Aakhri Ghulam in which she starred along with popular actors like Mithun Chakraborty, Shakti Kapoor, and Anupam Kher. In 1990, she played a small role in the film Machalti Kaliyaan.
Punjabi
In 1991, she made her debut in the Punjabi film industry with the film Taakre Jattan De, which was released in the Hindi language with the title Karmon Kee Sazaa in 1995.
Tamil, Telugu, Malayalam, and Kannada
She made her debut in the Malayalam film industry with the 1990 film Beauty Palace.
She made her debut in the Tamil film industry with the film Playgirls, which was released in 1994/1995. In the film, she played the role of the younger sister of the character played by the popular South Indian actress Silk Smitha. According to Shakeela, she received a paycheck of Rs. 20,000 for acting in the film. She talked about getting to work with Silk Smitha, in an interview, and said,
I was told by Umashankar that the role that I had to do was that of Silk Smitha's sister. I could not believe it. I could not sleep that night. I was deeply confused. Do I really deserve this? Am I eligible to act with an actress of her heights?"
In 1994, she appeared in another Tamil film titled Jallikattu Kaalai. In the 1997 Malayalam film Sobhanam (also spelt as Shobhanam), she played the role of a character named Mercy. She gained prominence with the 2000 Malayalam B-grade film Kinnara Thumbikal in which she appeared as a character named Dakshyani.
In 2002, she made her debut in the Kannada film industry with the film Prem Chakori in which she played the role of a character named Seema.
In the same year, she made her debut in the Telugu film industry with the film Nayeem And Shakeela. Afterwards, she starred in an adult film that had its release delayed for four years. It was during this period that she received an opportunity to act in the 2002 Telugu film Jayam. According to Shakeela, this marked the beginning of her career in mainstream cinema. In Jayam, she played the character Bala Saraswathi. She began receiving roles in mainstream family and comedy films in 2003. She appeared in the 2003 Tamil film Dhool as herself and gained recognition.
In 2012, she announced that she would stop appearing in adult films. She made her directorial debut in the Malayalam film industry with the film Neelakurinji Poothu in 2013.
Thereafter, she acted in numerous South Indian films like Ragalaipuram (2013), Adhu Vera Idhu Vera (2014), Vasuvum Saravananum Onna Padichavanga (2015), Romantic Target (2015), Luv U Alia (2015), Kobbari Matta (2019), and Engada Iruthinga Ivvalavu Naala (2021). As of 2023, she has appeared in more than 250 films. Her films have been dubbed in Nepalese, Hindi, Chinese, and Sinhalese languages.
Television Shows
Bigg Boss
In 2014, she participated in the second season of the reality TV show Bigg Boss Kannada. She, however, was evicted from the show on the 27th day. In September 2023, Shakeela took part in Bigg Boss Telugu Season 7 as a contestant.
Other Reality Shows
Shakeela took part as a contestant in the 2018 Tamil show Adhu Idhu Yedhu. In 2021, she appeared in the Second Season of the Tamil music show Start Music, which was aired on Star Vijay; she won the show. In 2020, she appeared in the Tamil cookery show Cooku With Comali's second season in which she came as a second runner-up. In 2023, she bagged the role of Urmila in the Malayalam-language show Flowers Oru Kodi.
Politics
Shakeela became a member of the Indian National Congress (INC) in March 2021. She took the oath of membership in Kerala. Thereafter, she became the Tamil Nadu Congress Human Rights Department's secretary. She talked about joining the INC, in an interview, and said,
My father was a Congress worker. He used to tell us about Jawaharlal Nehru and his contributions to the country. That way, I had a place for Congress in my heart even as a child. I like Congress because it never bothers to inject politics into religion. I had made up my mind that I would work only in a national party. When Congress invited me in, I accepted it."
Car Collection
Favourites
Facts/Trivia
She also goes by the name Shakeela Amma, Shakima, Shakila, Shakeela Begum, and Shakeela Khan. However, she stopped using the surname Khan a long time ago.
She used to sell jewellery to support her family as a child.
While giving an interview, Shakeela said that Mammootty, the famous Malayali actor, made efforts to get her films banned. She further alleged that numerous actors in the Malayalam film industry hindered her from acting in their films due to their opposition to her. [7]

CNN-News18
During a media interaction, Shakeela claimed that her sister Noorjahan stole money from her as Shakeela had given control of her finances to Noorjahan. [8]

Open She talked about it and said,


It is my elder sister Noorjahan. She is the person responsible for my going bankrupt. There was a period when I was the highest paid actress in the South Indian film industry, but all my money has been stolen by my sister. She was managing my accounts, and I trusted her completely. I did not expect her to cheat me because she had looked after me since my early childhood. It was too late by the time I realised that I had been cheated."
According to Shakeela, after she expressed her desire to quit acting in adult films and settle down, her sister Noorjahan advised her not to take such a step as it would have adversely affected her career.
She has often received criticism for acting in adult films from the conservative elements of society.
According to reports, Shakeela demanded a fee between Rs. 2 to Rs. 2.5 lakhs from producers for a 15-day film shoot.
In an interview, Shakeela disclosed that while shooting a scene for Playgirls, Silk Smitha slapped her following which she stopped speaking to her. Later, when Smitha asked her about the reason for speaking to her, Shakeela explained that she thought Smitha slapped her knowingly because she was a junior artist. However, Smitha later apologized, clarifying that the slap was meant to make the scene look more realistic.
According to a 2002 report, Shakeela used to smoke four packs of cigarettes every day.
Shakeela is multi-lingual and is fluent in many languages including English, Hindi, Tamil, Malayalam, and Urdu.
She passionately follows her hobbies of watching Hollywood films, listening to music, and playing games on mobile phones.
In 2013, she released an autobiography titled Shakeela: Aatmakatha. According to her, she initially hesitated to write about her life; however, she wrote the book after a book publisher convinced her to write it.
In the same year, she sang a song for the South Indian film Shanmugipuram.
Shakeela was offered the role of Deepika Padukone's mother in the 2013 Hindi film Chennai Express, directed by Rohit Shetty. As per some sources, she declined the offer due to payment disagreements. According to her, she was offered only Rs. 25,000 to act in the film.
Shakeela once claimed that she was diagnosed with insomnia, a psychological disorder in which a person doesn't sleep.
She did not share a good relationship with her mother. In an interview, Shakeela said that her mother had harboured negative feelings towards her since childhood. She spoke about it and said,


I have no good memories of my mother. I never experienced love and care from her. It was my mother who spoiled my life. I think my mother did not like me since my childhood. She often ignored me and cursed me."
She once rebuked the reports that she lived a very lavish lifestyle and said that she lived in a rented apartment in Chennai and paid Rs. 3000 as rent. During a media interaction, she talked about it, and said,


There is a lot of misinformation about me. My Wikipedia page claims that I own a luxurious flat and a BMW car, but this couldn't be further from the truth. I still live in a rented house."
In 2015, she presided over the National Transgender Cultural Fest in Madurai.
Reportedly, Shakeela fell in love with the producer Maniyanpilla Raju and wrote a love letter to him in 2007 after he handed her entire payment in advance for acting in the Malayalam film Chotta Mumbai for her mother's treatment. However, Raju refuted the claims of receiving any love letter from her. [10]

IndiaGlitz
In 2017, photos of her standing with a young man went viral on social media following which rumours arose that he was her husband. However, Shakeela clarified later that the man in the photo was a 28-year-old actor with whom she was working in a Tamil film. [11]

The Times of India
In 2020, a Bollywood film titled Shakeela was released. The film was based on the life and struggle of Shakeela. Her role was portrayed by the actress Richa Chadha.
In May 2021, she started a YouTube channel named The Shakeela on which she regularly uploads interview videos with famous South Indian actors, vlogs, as well as cooking videos. Her channel had more than 171k subscribers in September 2023.
She once revealed that to avoid the Income Tax department's raid on her house during her early acting years, she used to keep a lot of money hidden in her house.
Shakeela became so popular by working in adult films that the films made under this genre gained recognition as "Shakeela Films."
She became so famous in the Malayalam film industry that when her film release dates clashed with those of mainstream cinema producers, they had to reschedule their release dates.
Apart from acting, Shakeela is also involved in social activism. She is a member of several NGOs aimed at helping the poor and the needy. She has also advocated for equal rights for the transgender community.
As per Shakeela, she recites verses from the Bible before going to bed and visits Sri Aurobindo Ashram in Pondicherry (aka Puducherry) every weekend.