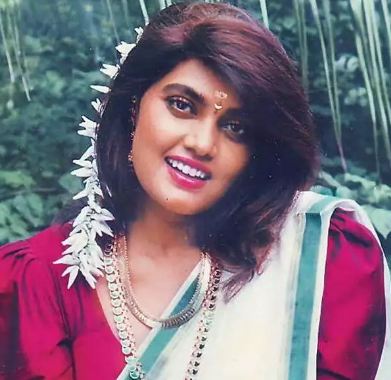 Vijayalakshmi Vadlapatla, [1]E Times popularly known by her stage name Silk Smitha, was an Indian actress who mainly worked in South Indian films. She came into the limelight after playing the role of 'Silk' in the Tamil film "Vandichakkaram" (1979). She was popular for her bold and glamorous roles in South Indian films.
Wiki/Biography
Smitha was born on Friday, 2 December 1960 (age 36 years at the time of death) in Kovvali village, Denduluru Mandal, Eluru, Andhra Pradesh, India. Her zodiac sign is Sagittarius. She did her schooling till class 4 and then quit her studies due to her family's financial constraints. [2]The Free Press Journal Her parents got her married at a tender age. However, she received ill-treatment from her husband and in-laws and walked out of the marriage at the age of 14. Smitha wanted to become an actress since childhood. Soon after she left her husband's house, Smitha moved to Madras (now, Chennai) and got the job of a make-up artist.
Physical Appearance
Height (approx.): 5′ 5″
Hair Colour: Black
Eye Colour: Black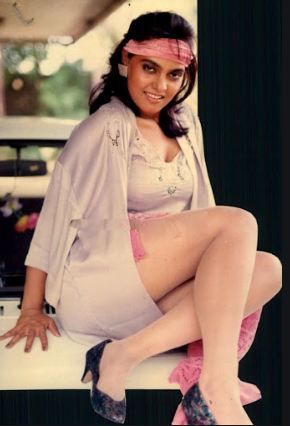 Family & Caste
Silk Smitha was born in an economically weak Telugu family. [3]India Today
Parents & Siblings
Silk Smitha was the daughter of Ramallu and Sarasamma. She had a younger brother named V. Naga Vara Prasad.
Relationships & Husband
Smitha's parents married her off at a very young age. However, she was unhappy with the treatment that her husband and in-laws gave her, so, she ran away from their home. Not much is known about her husband. Later, there were rumours about an affair between Rajinikanth and Silk Smitha. [4]India Today
She was also rumoured to be in a relationship with the Tamil actor, writer, and director Vinu Chakravarthy. [5]E Times
Career
Silk Smitha started her career as a touch-up artist for actresses. Soon, she landed a small role in a film. Silk started her acting career by doing small character roles in Malayalam films like "Pushyaraagam" (1979), "Saraswatheeyaamam" (1980), "Ivar" (1980), and "Angadi" (1980). She made her Malayalam film debut as a lead actress with the film "Inaye Thedi" (1981). The movie was filmed in 1979, but it got released much later. The director of the film Anthony Eastman was very much impressed with her looks and gave her the name Smitha. [6]Sify.com
Next, she made her Tamil debut with Vinu Chakravarthy's film "Vandichakkaram" (1980) in which she played the role of 'Silk.' The film was a huge hit and brought her laurels. After the release of the film, Smitha added the name 'Silk' to her screen name and became 'Silk Smitha.' [7]Cinema Express
Soon, she started getting roles of cabaret dancers and vamps. She went on to work in many popular Tamil, Malyalam, Kannada, and Hindi films. Her dance numbers and bold performances in films like "Moondru Mugam" (1982) made her the ultimate symbol of sensuality in South Indian cinema.
Some of her popular films include "Sakalakala Vallavan" (1982)," "Moondram Pirai" (1982), "Paayum Puli" (1983), and "Thanga Magan" (1983).
Smitha was also a part of many popular Hindi films like "Pataal Bhairavi" (1985), "Lady Tarzan" (1990), "Drohi" (1992), and "Reshma Ki Jawani" (1996).
Death
On 23 September 1996, Smitha called her friend Anuradha to discuss something which was disturbing her. Anuradha told her that she would visit her after dropping her (Anuradha) child at school. On visiting Smitha, Anuradha found her dead by hanging at her home in Kodampakkam, Chennai. Later, it was revealed in her postmortem report that Smitha had committed suicide. High amounts of alcohol were present in her body at the time of her death. While the exact reason for her suicide was not known, it was reported that Smitha was going through several problems, including severe depression, disillusionment in love, and a financial crunch. [8]Metro Saga
In one of his interviews, the veteran Kannada actor Ravichandran revealed that Smitha called him up hours before committing suicide (perhaps to talk about something that was disturbing her), but he could not take her call. He said,
I was busy shooting that day (September 23, 1996) and was surprised to see Smitha trying frantically to reach me a few times. I tried to speak to her, but the call never got through due to poor connectivity. I thought it was a routine call. However the next day, to my horror, I realised that Smitha had killed herself. I shudder to think what could have been the reason for her call. This haunts even me now."
Favourite Things
Film Director(s): Bharathi Rajaa, Balu Mahendra
Facts/Trivia
Smitha loved doing make-up since childhood.
It was Vinu Chakravarthy's wife, Karna Poo, who taught Smitha English. She even arranged dance, acting, and etiquette classes for Smitha.
According to her family members, she had a small circle of friends. Silk was introvert and found it difficult to make new friends.
Smitha was known in the film industry for her short temper, willpower, and straightforwardness.
Most of her co-stars believed that she was punctual (arriving on the movie sets on time), responsible, and ambitious.
Her friends often described her as a "soft" and "child-like" personality.
Smitha was popular for her doe-like eyes, golden complexion, and well-built physique.
When Smitha was at the peak of her career, she had amazing audience-drawing power. In the words of the Tamil film historian Randor Guy,


Films that had lain in cans for years were sold by the simple addition of a Silk Smitha song."
In 2011, a film titled "The Dirty Picture" (2011) was produced by Ekta Kapoor which was inspired by the life of Silk Smitha. The film was released on Smitha's birthday and it was also dubbed in Telugu and Tamil. Later, Smitha's brother, V. Naga Vara Prasad, objected to it and said that the film was made without the consent of his family.

In 2013, a Kannada film titled "Dirty Picture: Silk Sakkath Hot" based on the life of Smitha and Veena Malik was released. The film starred Veena Malik. The film was a huge hit in Karnataka.
In a career spanning 17 years, Smitha had worked in around 450 films.
Smitha was popularly known as Marilyn Monroe of Indian cinema due to her strange similarities with her.