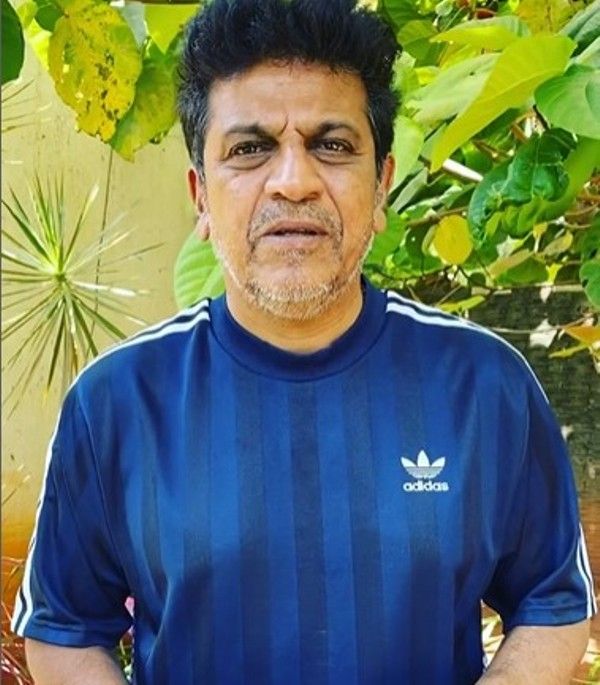 Shiva Rajkumar is an Indian actor, producer, and playback singer who predominantly appears in the Kannada entertainment industry. He is known for playing the role of Shiva in the Kannada film Shivalinga.
Wiki

/Biography

Nagaraju Shiva Puttaswamy was born on 12 July 1962 (age 61 years; as of 2023) in Madras (now Chennai). His zodiac sign is Cancer. He did his schooling at a school in T. Nagar, Chennai. Soon after completing his schooling, he pursued a Bachelor of Science in Chemistry at New College, Chennai. Later, he attended M.G.R. Government Film and Television Training Institute, Chennai. Fond of acting since childhood, Shiva started his career in acting at the age of twelve.
Physical Appearance
Height (approx.): 5′ 8″
Hair Colour: Black
Eye Colour: Black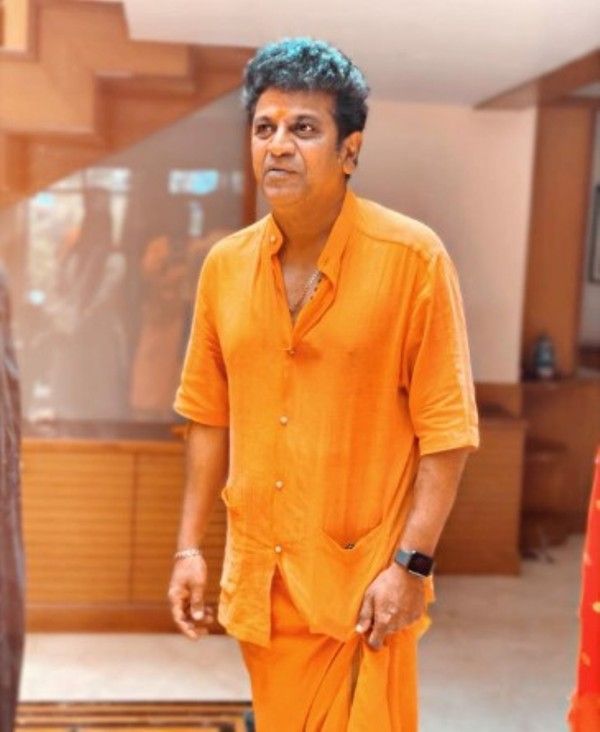 Family
Parents & Siblings
Shiva Rajkumar's father, Dr. Rajkumar, a recipient of Padma Bhushan and Dada Saheb Phalke Awards, was a famous actor and playback singer in the Kannada cinemas. On 12 April 2006, Dr Rajkumar passed away after a cardiac arrest. Shiva's mother, Parvathamma, was a film distributor and producer in the Kannada cinemas. On 31 May 2017, she died after suffering from multiple organ failure.
Shiva is the eldest among his four siblings, Raghavendra Rajkumar, Puneeth Rajkumar, Lakshmi, and Poornima.
Puneeth Rajkumar was a famous actor. On 29 October 2021, Puneeth died after a cardiac arrest. Shiva's youngest brother, Raghavendra Rajkumar, is also an actor in Kannada cinemas. Shiva, during an interview, talked about his younger brother Puneeth Rajkumar's demise and said,
It goes without saying that I'm still in denial, just like the other family members. There are moments when I feel life is so uncertain and try to accept the truth; then there are moments where I refuse to believe that this has happened and feel like he's still around, calling me 'Shivanna.' Frankly, I don't know how I'm even going through the days.But again, what do I do when, at every corner, there is an image of my Appu with a garland staring down at me? I just turn my head and refuse to look at those pictures. I know that death is inevitable and one day, all our images will be similarly placed. But somewhere, the heart refuses to accept that it's my little brother's image that is placed there."
Wife & Children
On 19 May 1986, Shiva Rajkumar got married to Geetha, the daughter of the former chief minister of Karnataka Sarekoppa Bangarappa.
The couple has two daughters, Nirupama, who is a doctor and Niveditha, a film producer.
Relationships/Affairs
Reportedly, in an interview in 2011, Kannada actor Darshan alleged Shiva Rajkumar of having multiple affairs. Darshan said,
Everyone in the film industry, including Shivaraj Kumar, has multiple affairs." [1]Mid-Day
Religion
Shiva Rajkumar follows Hinduism. [2]Shiva Rajkumar- Facebook
Community
Shiva Rajkumar belongs to the Ediga community.
Career
Actor
In 1974, Shiva Rajkumar made his acting debut as a child actor with the Kannada language Hindu-mythological film Sri Srinivasa Kalyana (1974) in which he played the role of Master Puttaswamy.
In 1986, after completing a course in acting at M.G.R. Government Film and Television Training Institute, Chennai, Shiva made his film debut as an actor with the Kannada film Anand in which he played the titular role; the film was produced by his mother, Dr.Parvathamma Rajkumar.
Subsequently, in the late 1980s, Shiva was featured in many Kannada films like Manamecchida Hudugi (1987), Shiva Mecchida Kannappa (1988), and Ade Raaga Ade Haadu (1989). Between 1990-2000, Shiva appeared in more than 50 Kannada films. He was featured in a lead role in films like Aralida Hoovugalu (1991), Mavanige Thakka Aliya (1992), Gandhada Gudi Part 2 (1994), Nammoora Mandara Hoove (1996), Bhoomi Thayiya Chochchala Maga (1998), and Yare Nee Abhimani (2000).
In 2010, Shiva appeared in a self-titled role in the Kannada film Sugreeva which was directed by ten directors and was shot in 18 hours. In 2022, he worked as a producer and actor for the film Vedha, wherein he played the titular role. Subsequently, in 2023, Shiva appeared in the Kannada film Kabzaa in which he played the role of Siddhantha.
Playback Singer
Besides being an actor, Shiva Rajkumar is also a playback singer. In 1988, he made his playback debut with the Kannada song 'O Meghave' from the film Ranaranga.
He has lent his voice to many Kannada-language songs like 'Thandana Thandana' and 'Bombato Bombato' from the film Aasegobba Meesegobba (1990), 'Andaman Andaman' from the film Andaman (1998), 'Hayya Hayya' from the film Killing Veerappan (2016), and 'Pushpa Pushpa' from the film Vedha (2022).
Controversy
Protested against dubbed films
In 2014, Shiva Rajkumar, along with Darshan, Sudeep, Puneeth Rajkumar, Ravichandran, Duniya Vijaya, and Jaggesh, opposed the proposal of introducing voice-dubbed films in Kannada theatres. In an interview, Rajkumar discussed the matter and asked Madras to stop releasing dubbed films in the Kannada film industry to allow the industry to grow. During the same session, Shiva said,
I have a very positive attitude in life. It's very important to know what we can do for society not vice versa. I was born and brought up in Chennai. We were supposed to learn Tamil in school. I still speak in Tamil with my close friends there. We were there because all the film industries depended upon Chennai for post production. There was no language bias. Kannada films were screened for the local Kannadigas. Even during the Ooty incident things were sorted out with the help of MGR and Ramakrishna Hegde. We should be friendly with everyone. But mother tongue comes first. When all language films are being released here why do you want dubbed films? That's my grouse. I watch all language films and am the first to call and praise a director or actor. Dubbing should be avoided because we can remake anything here. The best example is Kannadadha Kotiyadhipathi . Puneeth's version is extremely popular. My point is, if you remake instead of dub, a lot of localites will get jobs."
However, in 2018, when the Supreme Court gave its final verdict against the ban on dubbed movies in Karnataka, he said that he would no longer oppose dubbing.
Awards, Honours, Achievements
Karnataka State Awards
1995-96: Best Actor Award for the film Om (1995)
1999-2000: Best Actor Award for the film Hrudaya Hrudaya (1999)
2003-04: Best Actor Award for the film Chigurida Kanasu (2003)
2005–06: Best Actor Award for the film Jogi (2005)
Filmfare Awards
1995: Best Actor Award for the film Om (1995)
1996: Best Actor Award for the film Nammoora Mandara Hoove (1996)
1999: Best Actor Award for the film A. K.47 (1999)
2010: Best Actor Award for the film Thamassu (2010)
NTR National Awards
2011: For his lifetime achievements and contributions to the Indian cinema
Honorary Awards
2012: SIIMA Award for Social Responsibility
2014: Honorary doctorate from Vijayanagara Sri Krishnadevaraya University of Bellary
Salary
According to sources, Shiva Rajkumar charges Rs 3-4 crores for each film. [3]The Times of India
Facts/Trivia
In 2016, Shiva Rajkumar suffered a mild heart attack while working out in a gym. Cardiologist Dr V.K. Srinivas, who was responsible for Shiva's treatment at Vittal Mallya Hospital, Karnataka, talked about this and said,


An angiogram was conducted as there were fluctuations in his heart beat. It was a ten-minute surgery and he is stable and fine. He will be under observation at the hospital for another three days and then he will be discharged."

In an interview, Shiva Rajkumar said that actor and politician Rajinikanth knew him since he was a child and he shares a good bond with him. Shiva said,


It's a great opportunity for anybody to act along with Rajinikanth, and I'm glad that this project has made it possible for me. He has known me since my childhood, and I share a special bond with him."

He follows a non-vegetarian diet. [4]

YouTube – Namma KFI
Shiva Rajkumar's 100th film is Joggaya (2011), written and directed by Prem. Shiva was nominated for the Best Actor Award at SIIMA for the film Joggaya (2011).
According to sources, in 2021, Rajkumar and four other Karnataka residents, including BT Lalitha Naik, a journalist, and a politician, received a death threat; Lalitha said that she received the threat letter during a Bengaluru event.
Rajkumar is fondly called 'Shivanna' by his fans and family.
Shiva Rajkumar, during an interview, talked about his favourite actor Kamal Hassan and said that had he been a girl, he would have married him.
An animal lover, Shiva Rajkumar often posts pictures of different animals on his social media handle. In October 2020, Shiva adopted a female elephant named Parvathi.
A cricket enthusiast since childhood, in 2018, Shiva Rajkumar was the official ambassador for the broadcast of Vivo IPL season 11 in Kannada on the Star Suvarna Plus channel. In an interview, Shiva Rajkumar talked about this and said,


I have always been a cricket enthusiast and enjoyed playing and watching cricket, right from my childhood. IPL has been one of the tournaments I look forward to every year. I am looking forward to enjoying the best of cricketing action for the first time in my mother tongue."