Shanthi Arvind is an Indian dancer, choreographer, and actor, who is popularly known as "Metti Oli Shanthi" for her appearance in a Tamil language show 'Metti Oli.'
Wiki/Biography
Shanthi Arvind was born on Sunday, 17 February 1980 (age 42 years; as of 2022) in Chennai, Tamil Nadu. In the 1990s, she obtained a membership card for a dance union to work at an early age, keeping her family's indigent circumstances in mind. [1]Cinema Vikatan
Physical Appearance
Height (approx.): 5′ 7″
Hair Colour: Black
Eye Colour: Black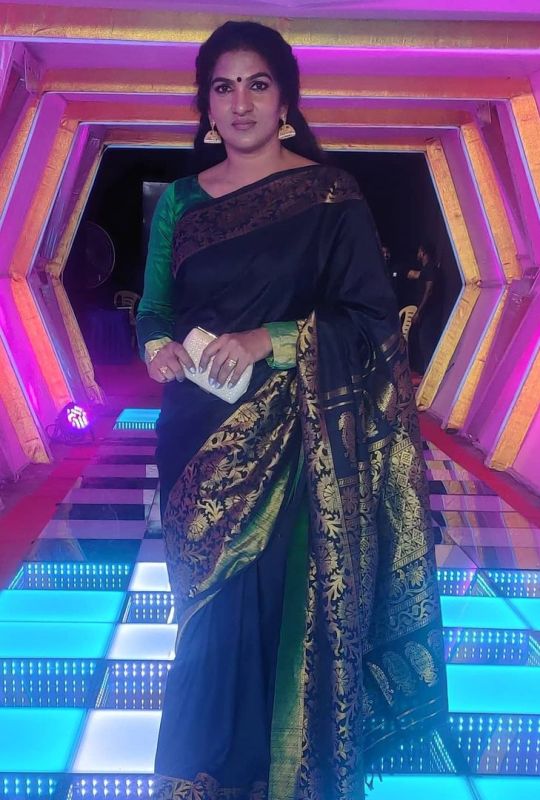 Family
Shanthi Arvind belongs to an impoverished family in Chennai, Tamil Nadu.
Parents 
There is not much information about her parents. Her mother has been a single parent since Shanthi was a child. [2]Cinema Vikatan
Husband & Children
In 2007, [3]Cinema Vikatan Shanthi got married to Arvind. She has two children – a son and a daughter.
Religion
Shanthi Arvind follows Hinduism.
Career
Dancer
Film
According to Shanthi, she made her debut as a group dancer at the age of 13 with the Tamil song 'Tadukhi Dethki' in the film "Kizhakku Vaasal" (1990). [4]Cinema Vikatan She has danced to various songs in different languages including Tamil, Telugu, Malayalam, Kannada, and Hindi. [5]Cinema Vikatan
Television
In 2002, Shanthi Arvind appeared on television for the first time in a Tamil language daily soap opera titled 'Metti Oli' broadcasted on Sun TV Tamil. She made her debut with this television serial as a dancer of the title song. [6]Cinema Vikatan In 2022, she appeared in an Indian reality show 'Bigg Boss Tamil Season 6' as a contestant.
Assistant Dance Master
At the age of 15, Shanthi became an assistant dance master. According to Shanthi, she worked for many choreographers and choreographed songs in many languages including Hindi, Telugu, and Tamil; however, she was never credited for her work. [7]Cinema Vikatan
Choreographer
The first song choreographed by her was the Hindi version of the song 'Jana Gana Mana' of Mani Ratnam's 'Ayutha Ezhuthu.' [8]Cinema Vikatan Later, she choreographed songs for many films including 'Aakkam' (2017), 'Mundrikkadu' (2018), and many more.
Actor
In 2015, she appeared in a Tamil daily soap opera titled 'Kula Deivam' (2015-2018) as Mangalasundari Karunakaran. Later, she got opportunities to work in many other television series including 'Kalyana Parisu' (2018-2020) and 'Kannana Kanne' (2021).
Awards
In 2022, Shanthi won an Ajantha TV award. [9]Shanthi Arvind – Instagram
Favourites
Film: Thulladha Manamum Thullum (1999)
Place(s): Chennai, Malaysia
Facts/Trivia
According to Shanthi Arvind, she faced many rejections because of being skinny and having a dark complexion.  [10]

Cinema Vikatan
In an interview, Shanthi revealed that she used to wear multi-layer of clothes and eat a lot to hide her skinny look to some extent. [11]

Cinema Vikatan
In an interview, she recalled an instance from a song shoot when the song master slapped her for taking too many takes to complete the song. [12]

Cinema Vikatan Shanthi said,


A shot like powder falling on the faces of the dancers during a song shoot. I was sitting down, not knowing if it would fall into my eyes, when the powder fell on me. I'm going to have to take a second tag. So, in anger, that song master slapped me on the cheek in front of everyone. It took me a long time to control my crying. "I got stung by the ring…" my fellow dancers calmed me down." [13]Cinema Vikatan
In an interview, Shanthi revealed that she wished to abort her second pregnancy as she was looking for more opportunities in her career after the break that she took after her first child was born; however, her family didn't support her decision at that time. [14]

Cinema Vikatan She said,


I got married and took a break from cinema to take care of my first child. Then, when I was looking for an opportunity, I got pregnant for the second time. For the sake of cinema, I thought of dissolving that embryo. But, the family did not agree." [15]Cinema Vikatan

Her work in the Tamil serial 'Metti Oli' brought her fame following which she started being recognised by the name 'Metti Oli Shanthi.' While talking about the choreography and recording of the title track of 'Metti Oli' in an interview, Shanthi said,


In 2002, we shot the title intro song just a few days before the 'Meddi Oli' serial aired. When the dance master was busy in the cinema. Then my friend Kandas forced me to sing the song that he had mastered. 'It's a serial song.. OK. But I agreed to dance by saying that I will not wear any accessories. First, three people were dancing as the main dancer. Thirumurugan, the director of that serial, said, 'I am your fan. So, only you should dance as the main dancer'. Only one night, The shooting of the song 'Ammi Ammi Ammi Mithitu… Arundhati Mogham Bhetu' took place." [16]Cinema Vikatan
Shanthi admires Thirumurugan, a Tamil film and television series director. While talking about him in an interview, Shanthi said,


The double horse of acting and dance master is going very well. No matter how high I go, I will always be grateful to director Thirumurugan sir." [17]Cinema Vikatan