Natasha Noel is an Indian social media Dance – Yoga instructor (yogini), a dancer, a health enthusiast and a lifestyle blogger. She is popular on YouTube, Facebook, and Instagram.
Wiki/Biography
Natasha Noel was born on Tuesday, 14 September 1993 (age 28 years; as of 2021) in Kerala. Her zodiac sign is Virgo. She earned her graduate degree in English Literature at Sophia College, Mumbai, Maharashtra. [1]Josh Talks She received a Training Certificate from The Yoga Institute, Santacruz East, and earned a teacher training course in Ashtanga Vinyasa Yoga from Mysore and an Osho Rose Meditation Teacher Training course. [2]Bindu Gopal Rao Blog
Physical Appearance
Height (approx.): 5′ 4″
Hair Colour: Black
Eye Colour: Brown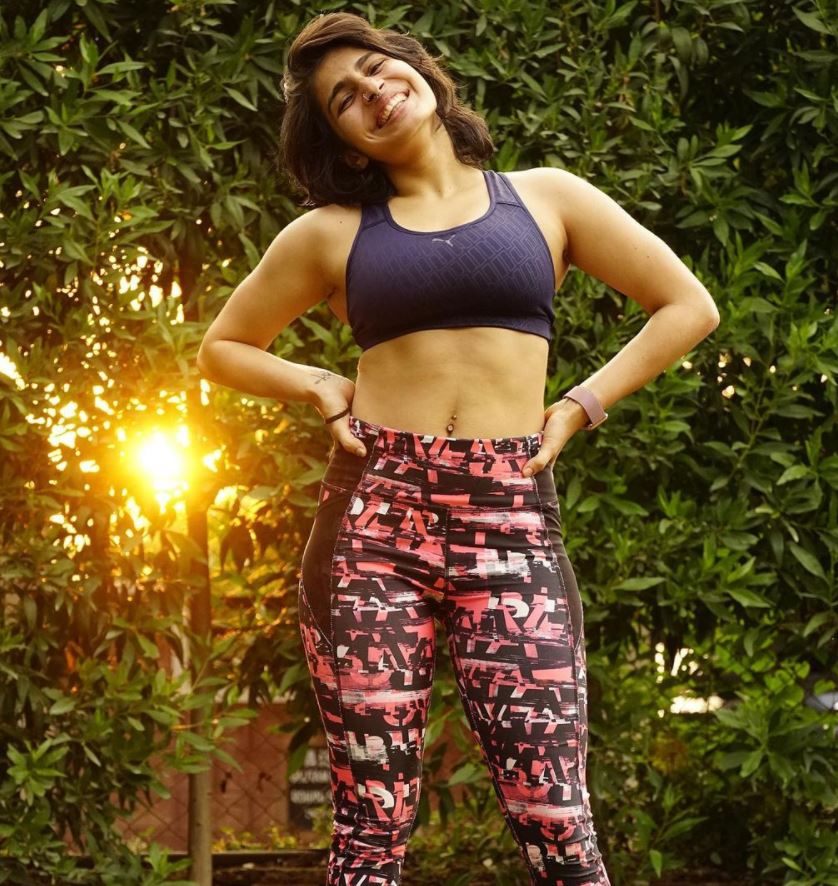 Family
Parents & Siblings
There is no information available about her family members on the internet.
Relationships/Affairs
She is in a relationship.
Career
At the age of 16, she started working as a professional dancer. She learnt jazz, ballet, and contemporary forms of dancing before a huge knee injury at the age of seventeen. When she was in the second year of her college, she had a major fall and was advised by the doctor to quit dancing. In an interview with Educational World media, she narrated her journey towards yoga when she never wanted to become a yoga teacher. She narrated,
I had a really bad knee injury and I had to stop my professional dance. Yoga came at a time when I needed it the most. Honestly, I never wanted to be a yoga teacher. I just wanted to learn because yoga is so vast you can't do one Teacher's Training Course and you're done. You keep learning and you keep growing. But all my teachers persuaded me to start teaching and I did. I'm still learning and teaching now."
After completing her graduation at the age of seventeen, she quit dancing and chose photography as a profession. She used to click pictures of famous dancers. In a conversation with Verve magazine, she narrated how she slipped into depression after quitting the dance and opted for yoga. She elaborated,
Around this time, I failed a year in college and that just compounded my misery. Eventually, I was diagnosed with depression and it got to a point where I just wanted to be able to stop hating and begin accepting myself. And this is when I discovered yoga. On Instagram, I saw these women doing incredible handstands and I was so amazed by that strength, beauty and grace. That was when I got into yoga…through Instagram. Initially, I learned through social media and books and by watching YouTube videos."
At the age of 21, she started watching YouTube videos of yoga, and soon, joined three months course of yoga at the Yoga Institute, Santa Cruz East, Mumbai. After completing her yoga course, she started teaching Yoga – Dance at the Yoga Institute in Santa Cruz (East) and Future School of Performing Arts at Kalina, Mumbai. She also began posting her yoga videos on her Facebook and Instagram account. In an interview with Verve magazine, she was asked about her favourite yoga position. She then replied,
My favourite yoga pose is lying down and hugging my legs. It's called Pawanmuktasana and anyone can do this. You can even do it with one leg — what you do in this case is you hug one leg and extend the other on the floor."
She has over 304k followers on her Instagram account and 277k followers on Facebook. On YouTube, she is followed by over 697k subscribers.
Facts/Trivia
When Natasha Noel was three and a half years old, her mother committed suicide by burning herself in front of Natasha. At that time, Natasha's father was suffering from Schizophrenia. She was brought up by her godparents i.e. Natasha's father's elder sister and her family. [3]

Josh Talks
At the age of seven, she was raped by her male domestic servant, and the mother of the male servant told Natasha Noel to ran away with the servant saying that no one would accept a raped girl in the future. Till the age of fifteen, she was abused and molested by her male cousins, sisters, and uncles. [4]

Josh Talks In a conversation with a media house, she said,


When we go through something very difficult, we feel the world is against us. I was so disgusted that I didn't even want to look in the mirror. It became difficult for me to accept the love from people who mean it in the real sense."
At the age of seventeen, she was in a serious relationship with her boyfriend, and her godmother told her to focus on her studies; however, she denied it and expressed that she wanted to become a dancer and travel all around the world. Later, she failed her college examinations. [6]

Josh Talks
At the age of 21, her five-year relationship ended, and it put her into depression. [7]

Josh Talks
She has a tattoo inked on her back.

She has a tattoo engraved on her waist.
She is often invited by various online motivational speaking platforms including Josh Talks & TEDx.
YouTube has awarded her the "Silver Button" on passing one lakh subscribers on her Yoga YouTube channel.
Several Indian magazines and tabloids often feature her on their cover pages.
In a conversation with a media house, Natasha Noel was asked her opinion on feminism. She replied,


Feminism to me is allowing every human to reach their fullest potential. Feminism is empowering every child and woman to own her mind, body, intellect without second-guessing. It's allowing women to take control of their lives and be the woman they are supposed to be and be whatever definition of feminine is for them."

Natasha Noel is often invited by various clothing brands to instruct yoga sessions.
According to Natasha, her favourite place to practice yoga is a beach. In a conversation with a  media house, she said,


My favourite place is the beach. I love the feeling of sand between my toes and the sound of the ocean. So, Goa is my favourite place to practise yoga. And I like the challenge that comes with doing yoga on a sandy surface because it works my core even more."

Natasha also endorses several beauty products on her social media account.
In 2018, Natasha Noel said in a conversation with Verve magazine that she attended the International Yoga Festival every year. She stated,


For the last two or three years, I've been going for the International Yoga Festival, which takes place in Rishikesh.

Natasha is a dog lover, and she often posts pictures of her pet dog on her social media account.
In an interview with Asian Age media, she was asked about her yogic positions in leotard clothes. She then answered,


I don't understand why one cannot go beyond the physical body. This one time, someone commented on one of my posts asking me why I practise in a leotard. I decided then and there that I wasn't going to get into this conversation and didn't respond to that. But, another girl responded to it saying if several male yogis do it in chaddis, what's wrong with a leotard?"