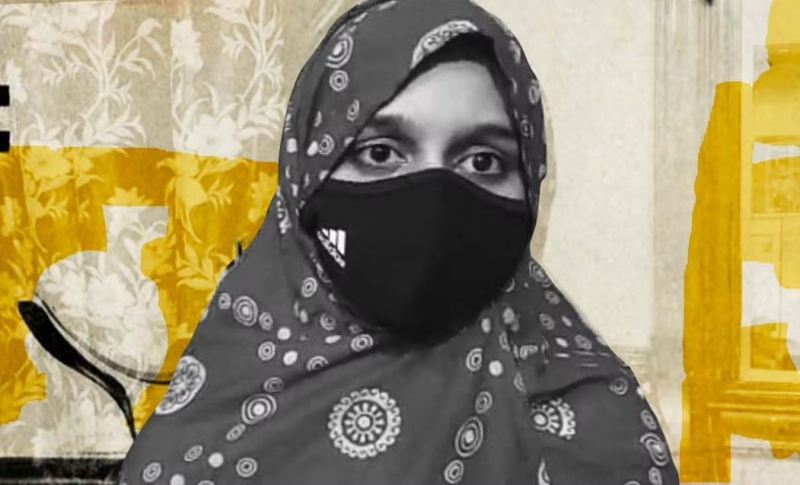 Muskan Khan is an Indian Muslim girl who belongs to Mandya, Karnataka. On 8 February 2022, she made headlines by chanting "Allah Hu Akbar" while confronting a mob of males, with saffron clothes in their hands and started shouting Jai Shree Ram when Muskan Khan tried to enter her college while wearing Hijab. [1]The Print
Wiki/Biography
Muskan Khan was born in 2003 (age 19 years; as of 2022) in Mandya, Karnataka. In 2021, she was a second-year student of Bachelor of Commerce at PES College of Arts, Science, and Commerce in Mandya. [2]The Wire
Physical Appearance
Height (approx.): 5′ 2″
Hair Colour: Black
Eye Colour: Black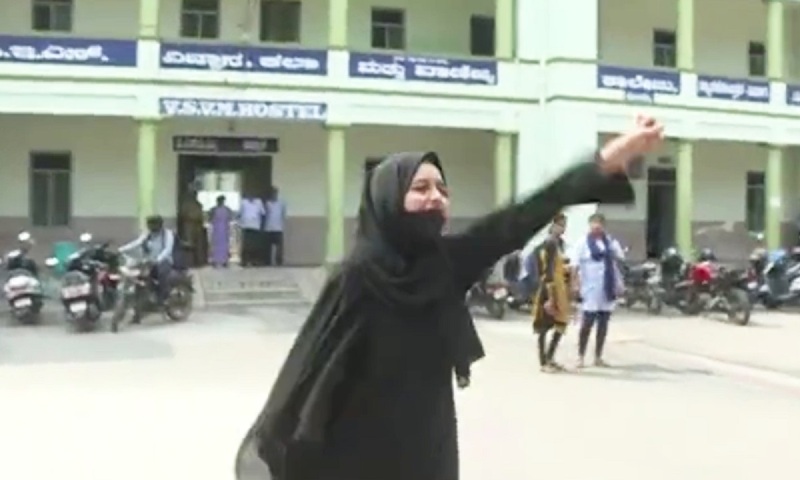 Family
Parents & Siblings
Her father's name is Hussain Khan, and he is an owner of a gym in Mandya, Karnataka.
Husband
Muskan Khan is not married.
Incident
In Karnataka, the wearing of religious attire in educational institutions was barred at the end of December 2021 following which some of the Muslim female students were not enrolled in the colleges who refused to quit wearing Hijab. In January 2022, the six girls of the government college of Udupi, Karnataka, who were in a Hijab, were forced to sit outside the classroom. [3]Aljazeera Soon, various Hindu male groups were formed, with saffron clothes, in a protest against the wearing of Hijab in the educational premises in Karnataka.
Standoff continues at #Udupi girls college over the #HijabisOurRight issue. 4 Students still not being allowed to enter class.Principal Rudre Gowda has called for parents meet next week. Says rules need to be followed. No exception.@CampusFrontInd has supported these students. pic.twitter.com/VnxgMjBw1h

— Imran Khan (@KeypadGuerilla) January 15, 2022
On 8 February 2022, a group of males were protesting against the wearing of a Hijab outside the PES College of Arts, Science, and Commerce in Mandya. Muskan Khan entered the college without listening to them. Consequently, the mob gathered around her and started shouting Jai Shree Ram in front of her. In response, Muskan Khan also started chanting "Allah Hu Akbar." Her video while chanting Allah Hu Akbar went viral on various social media sites soon after the incident.
A lone Muslim girl on the way to her college in Karnataka, India is being heckled and harassed by a Hindu right-wing mob for wearing a hijab! pic.twitter.com/DiVjCbqpdW

— Ashok Swain (@ashoswai) February 8, 2022
Media Coverage
Soon after her Hijab video went viral on social media, she stated in an interview with a media house that she did not want to spread communalism by chanting 'Allah Hu Akbar' in response to Jai Shree Ram, but she was scared at that time when she was surrounded by the mob and shouted 'Allah Hu Akbar' to get courage from Allah to confront the mob. She said in the same conversation that it was her right, dignity, and respect to wear Hijab, and she feel protected in it. According to Muskan Khan, she was wearing Hijab since she was 7 or 8 years old. She narrated the incident, [4]The Wire
I'm not doing any communalism, nor did I say 'Allahu Akbar' to offend those who were saying 'Jai Shri Ram.' "I was so scared at that time. I was trembling and took Allah's name, so that he would help me out. When I said 'Allahu Akbar', I got the strength and courage to face the situation. I call his name during times of difficulty, and that's why I've been honoured with so much respect in the whole world. I'm so thankful for it."
While talking about the incident she said that on 8 February 2022, when she tried to enter her college, a group of boys, with saffron clothes in hand, stopped her from entering the college with Hijab. She was also threatened by the mob to go home if she did not want to put off her Hijab.
Support
Muskan Khan was supported by various renowned political party leaders and websites on social media. Asaduddin Owaisi, the president of AIMIM, spoke to the family members of Muskan Khan on 8 February 2022 over the phone and extended his support to them. [5]DNA He said,
Spoke to Muskan and her family on call. Prayed for her to remain steadfast in her commitment to education while also exercising her freedom of religion and choice."
On 10 February 2022, Anil Singh, the Avadh Prant Sanchalak of the RSS wing of Muslim Rashtriya Manch, came forward in support of Muskan Khan, and he said in a media conversation that the covering of the face with a headscarf was a tradition followed by not only Muslim women but also by Hindu ladies. [6]ABP Live He said,
She is a daughter and sister of our community. We stand by her in her hour of crisis. Hijab or purdah is also part of Indian culture and Hindu women too sport purdah as per choice. And the same condition applies to Bibi Muskan.'
Zeeshan Siddique, the Maharashtra Congress MLA from the Bandra constituency, presented an iPhone and a smartwatch to Muskan Khan on 11 February 2022 for her courageous act. He met the family members of Muskan Khan at their home. In an interview with a media house, he stated that Muskan Khan showed the real power of women. He said,
I came from so far to meet the girl from our community who showed exemplary courage. I am happy for her courageous act. Today whole of Karnataka, entire country is taking pride of her act."
Jamiat Ulama-i-Hind, an Islamic organisation in India, bestowed rupees five lakh to Muskan Khan on 12 February 2022 for her fearless act. [7]OP India
Facts/Trivia
When Muskan Khan's video went viral on different social media platforms on 8 February 2022, she was nineteen years old and was a second-year student of Bachelors of Commerce at PES College of Arts, Science, and Commerce in Mandya.
On 8 February 2022, soon after the Hijab incident, Muskan Khan was evacuated by her teachers and college authorities. The following day, her parents were called by the college principal who assured them of the safety of Muskan Khan. The principal also stated that the mob with saffron clothes came to the college from outside. [9]

The Wire
A website named 'Kreately' that supports the Bharatiya Janata Party made fun of Muskan Khan by drafting her picture in Hijab and compared it with a picture of a Muslim girl in jeans with a statement that Muskan Khan should not wear normally wear Hijab.
A video on Tik Tok went viral on 12 February 2022, which presented the picture and name of Muskan Khan displayed on the tower of Burj Khalifa. This video of thirty seconds was a rumoured and fake video.
 The famous Bollywood actors Salman Khan and Aamir Khan were presenting an amount of rupees five crores to Muskan Khan was another rumour that was spreading on various social media sites on 13 February 2022. [10]

OP India