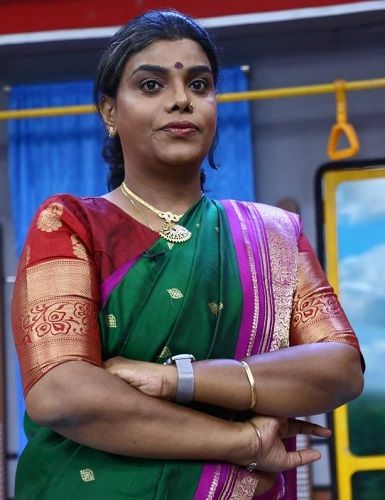 Shreegauri Sawant is an Indian transgender activist. She is known for being the director of Sakhi Charchowghi Trust which works for the welfare of transgender people and people affected with HIV/AIDS.
Wiki/Biography
Shreegauri Sawant aka Gauri Sawant [1]Hindustan Times was born as Ganesh Suresh Sawant [2]Mumbai Mirror on Tuesday, 22 July 1980 (age 42 years; as of 2022) in Bhavani Peth, Pune, Maharashtra. Her zodiac sign is Cancer.
Physical Appearance
Height (approx.): 5′ 9″
Hair Colour: Black
Eye Colour: Brown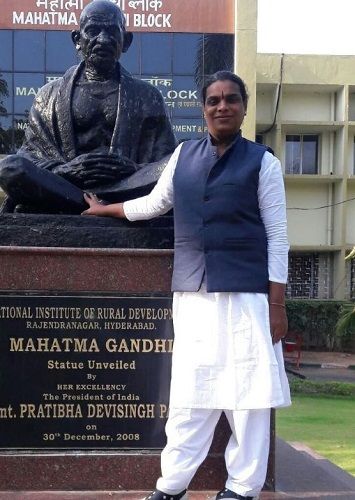 Family
Shreegauri Sawant belongs to a Marathi family. [3]Nav Bharat Times
Parents & Siblings
Her father, Suresh Sawant, worked as a police officer.
Her mother passed away when Gauri was only 7 years old. She has an elder sister, who is 10 years older than him.
Husband & Children
As of 2022, Shreegauri is unmarried. In 2008, Gauri adopted a girl child after the girl's biological mother died of AIDS. Post her mother's demise, her grandmother was selling her to sex trafficking people. Gauri Sawant then paid money to her grandmother and took the girl with her. Gauri kept the girl's name Gayatri. [4]SheThePeople During an interview, while talking about adopting the girl, Gauri said,
I had thought some relative would come and collect the child after a few days. No one came. My guru said I had made a big mistake. I began to wonder why I had let myself into this mess. Then one day the child, while sleeping next to me, stretched to put her arm around me. After that I knew I would never allow her to leave. Gayatri is now studying to be a doctor and lives in a hostel."
She further revealed that even 20 years after she left her home, her family did not accept her. She said,
I used to get a lot of hate but once my story went viral that I had adopted a girl, people's perspective changed towards me. They had never accepted me as a trans person but when I became a mother of a five-year-old they accepted my motherhood. My daughter taught me that you don't need to have a uterus or give birth to a baby, motherhood is all about caring and loving a child. I was happy when people started recognising me for my motherhood."
Early Struggles
While Gauri was in school, her principal called her father to the school and told him that Gauri has some feminine traits. Gauri's father got very angry over this and started ill-treating her. He even stopped talking to Gauri. During an interview, Gauri talked about her father's behaviour. Gauri said,
When he would come home, I would quickly rush to the bedroom. He used to not see my face. It was not his fault. My behaviour was so effeminate that anybody and everybody would make fun of me, calling me names. Dad would fire bullets at work and come home to a son that everyone made fun of. He was not always like this. When I was young, like every other father, he would take me on bike rides and love me equally. But there has never been any discourse in my family about sexuality, gender etc; they were not sensitised at all. Once, my father told me, 'Tu road pe taali bajaate ghoomega'. It hurt me a lot. This other time, when I called him for some work, my 'hello' itself was different, so he told me, 'Kya hijre jaisa baat karta hai' (why do you talk like a eunuch?) So, I never answered the phone when he would call."
At a very young age, Gauri identified her sexuality, but she was not brave enough to confront the same to her father. While she was alone at home, Gauri used to dress up like her grandmother. While she was in school, her classmates used to tease her. In an interview, she shared that once her family members found her wearing a bra under her t-shirt, and after that, she was ill-treated by her family. They used to ask her to open the door while urinating and forced her to dress up like a boy. When Gauri turned 17, he ran from her home with Rs 60 only. During an interview, while talking about leaving her home, she said,
I had 60 bucks, and knew that a train comes from Chinchwaad that passes through Pune and drops us to Dadar in Mumbai. I went to Siddhivinayak as it was Tuesday, and had the two laddoos I got for prasad as lunch, and in the evening, I had ragda pattis at Dadar station. I couldn't eat that, and the boy who served me water brought the glass with his finger inside it, and I couldn't drink that! There was a tap somewhere in a canteen I found, with rice and food stuck to it, which I drank from."
At that time, Gauri had a friend who was a gay-turned-trans sex worker. Gauri then lived with him for 2-3 days. She believed that she was not beautiful enough to become a sex worker nor she was interested in working as a beggar. Her friend then introduced her to the LGBTQ organisation 'Humsafar Trust.' In an interview, while talking about it, she said,
I wasn't pretty or fair enough to get into sex work, so she never offered me a gig there. But she fed me and cared for me, and later, I was introduced to Humsafar Trust (one of the oldest LGBTQ organisations in India). By the grace of god, I never had to beg. I was a pansy, not a gay. I was a hijra. I wanted to do something for the transgender community. I wanted to work with underprivileged kids and open a shelter home for transgenders."
She further shared that even after more than 20 years, her family did not accept her. She said,
Aaj 20 saal ho gaye, mere family ne mujhe apnaya nahi. I worked for a while in a shelter for children, because I like being with children, but they had a problem, when I identified my gender. The Father (who ran the shelter home) sent me away. Insaan chand par pahunch gaye, par hum gender me phase hai (On one hand we send people to the moon. On the other, we are still trapped by our gender) Women haven't got their 33 per cent reservation. What about us? Hamara number kab aayega? (When will our turn come?)"
Sakhi Charchowghi Trust/Aajicha Ghar
While she was working with the Humsafar Trust, she met Indian social activists like Ashok Row Kavi, Laxmi Narayan Tripathi, and Kanchana (Gauri's guru maa). Gauri then decided to transform herself into a 'hijra' or third gender, and with the help of the trust, she changed her identity from Ganesh to Gauri. In 2000, Ashok Row Kavi gave her the idea to start Sakhi Charchowghi Trust aka Aajicha Ghar for the welfare of transgenders and sex workers. Gauri was then appointed as the director of the trust and aligned the trust with the Mumbai District Aids Control Society. The Sakhi Charchowghi Trust helps transgenders and sex workers by providing them with HIV testing camps, free condoms, and organising social awareness campaigns for them.
An Activist
In 2009, Gauri filed a petition in the Supreme Court to get legal recognition for transgenders in India. An Indian NGO named Naz Foundation took forward her appeal. She was also a petitioner in the National Legal Services Authority (NALSA). After hearing the petition, the Supreme Court of India passed the transgender law. In 2014, Gauri became the first transgender in India to file a petition in the Supreme Court of India for giving adoption rights to transgenders. She has also worked for getting basic rights to the LGBTQ community. Later, the NALSA made the third gender eligible for getting Aadhaar cards. In an interview, she shared that she faced many difficulties for not having birth-related documents. She said,
Main ghar se bhaagke aai, kaha se laaun birth certificate, bonafide certificate, PAN card, ration card, Aadhar card (My family has abandoned me, how do I produce certificates?)"
She helps in providing shelter to trans people, who are abandoned by their families. Gauri has been working for providing aid to HIV-infected people for a very long time. She decided to do something for the welfare of HIV patients when the biological mother of her adopted daughter died of the same disease. Gauri has been actively working for the welfare of animals for a very long time.
'Vicks Generations of Care' Short Video
In 2017, Gauri was featured in a YouTube video for Vicks series 'Generations of Care.' In the video, her real-life story of adopting a girl being transgender was portrayed. The video gained millions of views within a few days. Gauri gained immense popularity with the video. In an interview, while talking about it, she said,
Ola drivers who pick me up want to talk to me about the ad, in public places people come up to me and want to shake my hand. My fellow transgender people said you have become too big, now where you have time for us?"
Election Ambassador of Maharashtra
In 2019, Shreegauri Sawant was appointed as one of the 12 election ambassadors of Maharashtra. She became the first transgender to be elected as an election ambassador in India. [5]Me Mumbai In an interview, on being appointed as an election ambassador, Gauri said,
I want to make sure that everyone does not let their precious vote go to waste. He must vote, not only the housewives but also the women who are sex workers and transgenders in this country."
Facts/Trivia
In an interview, Gauri shared that as she was born 10 years after her elder sister as her mother did not want a second child. Her mother even tried to abort her in the seventh month of her pregnancy. While talking about it, she said,


My mother didn't want me to come into this world, and even tried to get an abortion in the seventh month. But the doctor told her that this baby was now so evolved and strong that one couldn't destroy her even if she were slammed against a wall. It was into such yes-and-no back-and-forth circumstances that I was born, so I also turned out with an equally confused gender identity."

She further said that since childhood, she loved to play games with girls like ghar-ghar and teacher-teacher. She said,

I didn't feel like a hijra or girl, but I knew I had some unusual traits. I would always make friends with the girls, and never played with the boys. I loved to play ghar-ghar (House) with the girls—plucking leaves from the ajwain trees and cutting them into little rotis with the cap of a Thumbs Up and so on, collecting sing-dana and pretend boiling them in the cooker—I enjoyed it all so much! I would get yelled at about this a lot at home. But I never changed."
In one of her talk shows, she shared that when she was around 10 years old, her aunt asked her what she wanted to become when she grew up. Gauri replied that she wanted to be a mother. Everyone present there laughed at her and said a boy could never become a mother.
Gauri has walked the ramp in various fashion shows.
In an interview, Gauri shared that since childhood, she loved watching the Indian singer Usha Uthup. She used to love her dressing style, especially her bindi. In 2017, Gauri and Usha were invited as guest contestants in the Hindi TV show 'Kaun Banega Crorepati.'
She has been invited as a guest speaker in the talk show TEDx Talks many times.
She has authored a book titled Manav Sansadhan Vikas. In 2019, a book titled 'Gauri The Urge To Fly' based on the story of Gauri Sawant was published which is authored by Rhythm Wagholikar.
Gauri has worked as a host for one of the seasons of the Marathi talk show 'Gharo Ghari Matichya Chuli,' aired on TV9 Marathi.
She has received various awards and honours for her contribution towards the welfare of transgenders.
In 2022, the Indian actress Sushmita Sen took to her Instagram account to announce that she would portray the role of Shreegauri Sawant in the Hindi web series 'Taali.'