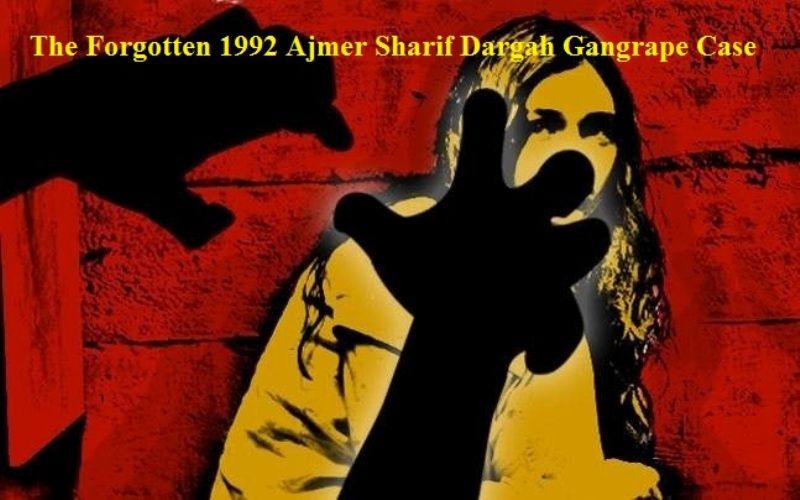 Gita is one of the victims of the Ajmer Rape Case (1992) which is considered one of the most scandalous crimes in India. It took place in the Ajmer city of Rajasthan in which hundreds of young girls (mainly Hindus) were sexually assaulted and blackmailed.
Ajmer Rape Case (1992)
The 1992 Ajmer serial gang rape and blackmailing case is considered one of the most heinous crimes in India. Navajyoti, a local newspaper had break the news of the scandal after publishing some nude images and reporting on school students being blackmailed by local gangs. During the investigation of the case, police gave in to political pressure since the main accused, Farooq Chishti (Chisty or Chistee), was president of the Ajmer Indian Youth Congress and a Khadim of Ajmer Sharif Dargah. The court eventually charged 18 serial offenders; four among the eight were acquitted in 2001 after being convicted for life. Several comparisons have been made between this case and the Rotherham child sexual exploitation scandal that took place in the town of Rotherham, South Yorkshire, Northern England from the late 1980s until the 2010s.
Victim of Ajmer Rape Case
One of the victims of the case was Gita. While Gita was studying in class 12 at Savitri Girls Government Primary School in Ajmer, Rajasthan, she decided to join the Congress party, she also wanted to have a gas connection at her home. Back then, having a gas connection at home was not very common. When Gita shared this with one of her classmates Ajay, he took advantage of her situation. He asked her to meet a man named Farooq Chishtee, who was the President of the Ajmer Youth Congress at that time. Gita unaware of the intentions of Farooq and his brother Nafis Chisti, agreed to meet them. Gradually, Farooq started building trust in Gita.
Since everything appeared to be normal, Gita didn't feel concerned when Nafis and Farooq, whom she knew, intercepted her in their van while she was heading to school and offered her a lift. Without suspecting anything, she accepted their offer. However, instead of taking her to school as promised, the men took her to a farmhouse. She was then brutally raped by Farooq and Nafis and even her objectionable pictures were clicked which Farooq and Nafis used to blackmail her. They used to force her to bring other girls to their farmhouse on Foy Sagar Road. They blackmailed her that if she failed to do so, they would leak her private photos in public.
Gita's Testimony
Gita's testimony in a 2003 Supreme Court judgment provides details about her experience of sexual assault and subsequent blackmail by the Chishty duo and their associates. According to Gita, she met Nafis and Farooq on multiple occasions along with her classmate Ajay. They would approach her in their Maruti van as she walked towards the bus stand, assuring her that they would help her secure a position in the Congress party. Sayed Anwar Chishty, their associate, later handed her forms to fill out and requested a passport-sized photograph from her. During her testimony, Gita mentioned that she believed the detour to the farmhouse was for discussions regarding her potential entry into Congress. However, as soon as she was alone with Nafis, he forcibly assaulted her and threatened her life if she did not comply with his demands. Several days later, Nafis confronted her again, reiterating that she would face severe consequences if she disclosed the assault to anyone. Under coercion, Gita was compelled to introduce the men to other girls, presenting them as her brothers and building trust with the intention of convincing these girls to attend parties at the farmhouse or Farooq's bungalow on Foy Sagar Road.
Later, many of these women became victims of sexual assault by one or multiple men. The perpetrators would often capture photographs of the assaults and blackmail them. Dalbeer Singh, a source in the case, commented on how the media sensationalized the situation by emphasising that the victims were the daughters of IAS-IPS officers. He clarified that while one victim was the daughter of a Rajasthan civil service officer and another was the daughter of an agriculture officer, such details should not overshadow the severity and gravity of the crimes committed. During Gita's testimony, she shared how the criminals pressured her to find other girls for their own sexual benefit. She fell into their trap and ended up befriending a girl named Krishnabala, who also became a victim of Farooq.
In the 1990s, while Gita was studying at Savitri Government Girls Senior Secondary School in Ajmer, Rajasthan, she met Krishnabala, who lived in a rented house in Civil Lines, Ajmer. Over time, they became best friends. Krishnabala had no idea that Farooq and Nafis had manipulated Gita, and Gita's role was to bring more women to their group, or else her nude photos would be made public. [1]The Print During Gita's testimony, she shared a distressing incident from the early stages of the gang-rape incidents. Gita and Krishnabala approached a police constable for help. The constable then introduced them to an officer from the special branch of the Ajmer police. They sought assistance in retrieving the blackmail photos. Soon, they started receiving threatening phone calls, questioning their decision to involve the police. Gita mentioned that the constable once asked her and Krishnabala to go with him to the Dargah area to retrieve the photos. While the constable stayed at a distance, a gang member named Moijullah, also known as Puttan Allahabadi, approached them. He cryptically commented that they had played a similar game before. They were unable to recover the photos. It was observed that people visiting the Dargah would show respect to the Chishty family by kissing their hands. This religious influence was used to gain political power. Journalist Santosh Gupta recalled incidents where various officials, from police superintendents to station house officers, would approach the Chishty family for negotiations regarding filing reports or issuing appeals.
The Chishty family seemed to hold a certain authority that made it difficult for others to refuse their requests. Meanwhile, the worst fears of the women came true as some employees of the photo lab where the assault images were printed circulated the pictures, further perpetuating the abuse. If there was any positive outcome, it was that this led to the case gaining public attention. Later, reporter Santosh Gupta shared that a reel developer named Purshottam had boasted about the sexually explicit photos when he caught his neighbour Devendra Jain looking at a pornographic magazine. Purshottam had sneered,
This is nothing. I'll show you the real stuff."
The mention of the real stuff alarmed Devendra, who made copies of the pictures and sent them to the Dainik Navajyoti newspaper and the local Vishwa Hindu Parishad (VHP) group. The VHP workers then handed the photos over to the police, leading to an investigation. Meanwhile, on 21 April 1992, Gupta wrote his first report about the sexual exploitation of Dainik Navajyoti. However, it didn't create much of a response until the paper published a second report on 15 May 1992, which included blurred pictures of the unclothed survivors. This publication immediately sparked an uproar.
On 18 May 1992, the entire city of Ajmer shut down due to public anger over the case. In her 2005 testimony, Krishnabala recalled that the survivor used to mention having five Muslim brothers who seemed generous. However, things took a dark turn when she received a seemingly normal party invitation. When they arrived at a poultry farm in Hatundi, on the outskirts of Ajmer, Nafis and another important member of the gang, Ishrat Ali, were already present. Krishnabala stated that she was raped by Ali that day. Later, Ishrat dropped her home at 5 pm, warning her and said,
If you tell anyone about this, I will defame you. You must come whenever summoned, or else I can do the same to your sister."
Krishnabala returned home and washed her blood-soaked clothes. Then began the relentless cycle of blackmail. She was repeatedly called and threatened with exposure. She was summoned to Farooq's bungalow on Foy Sagar Road in Ajmer, where she was raped by four men: Nafis Chishti, Anwar Chishti, Salim Chishti, and Ishrat Ali. Over the following eight months, she endured 25 instances of gang rape. [2]The Print
Media Coverage and Investigation
In April 1992, a report was published by Deenbandhu Chaudhary, the editor of Navajyoti, a local newspaper in Ajmer. This report exposed a system of deceit and exploitation. According to Chaudhary, despite knowing about the scandal as long as a year before the story broke, local law enforcement authorities stalled the investigation. He said that local politicians tried to stall legal action stating that the accusers came from influential "khadim" (caretaker) families of the dargah and that legal action would lead to inter-communal tension. He said,
It was difficult to decide whether to publish the photographs or not."
Chaudhary said they finally decided to press forward with the story since that was the only way to spur the local administration into action. He said,
Finally, we decided to go ahead because it was the only way to shake the administration and police out of their slumber."
Soon after Chaudhary's report was published, the news of the incident sent shockwaves throughout the town, and angry citizens staged public demonstrations during a three-day bandh. After being forced to take action due to public pressure, the BJP Government ordered an investigation, but state BJP Secretary Onkar Singh Lakhotia admitted,
The action has come too late."
Following this report, several subsequent stories about widespread blackmail and exploitation started appearing. Ultimately, eight of the accused were charged in an FIR filed by the police. An investigation led to the arrest of 18 men in total, and tensions in the town ran high for several days. As former deputy inspector general of police in Ajmer retired DGP Omendra Bhardwaj said, many more victims were kept from stepping forward because of the social class of the accused. A grim realisation was that many of the victims, who were young and vulnerable, had already taken their lives. Following what happened next was another tale of political influence and incompetence on the part of the administration. What followed next was many victims, who were supposed to testify, turned hostile, and there were only a few victims who came forward.
The Quiet Suffering of the Victims
Several of the victims were daughters of IAS officers or IPS officers, and most of them were from affluent Hindu families. In this horrific case, the victims have suffered silently, which has been the most disturbing part. Many rape victims experienced harassment and threats following the rape, without support from social groups or family members. About six victims are alleged to have committed suicide, according to police investigations. As a result of threats, Ajmer Mahila Samooh withdrew from taking up the victims' cause. In Ajmer, local tabloids created quite a sensation during that period. Many victims were allegedly also blackmailed further by these tabloids and local papers after being exploited, blowing the town's conscience away even more. Having access to explicit photographs of the girls, the owners and publishers sought money from the families of the girls in order to conceal them.
In Popular Media
In 2007, an author named Anuradha Marwah released a book titled 'Dirty Picture' which is based on the incidents of Ajmer Rape Case (1992).
In 2023, a Hindi film titled 'Ajmer 92' was released based on the Ajmer rape case. The role of Geeta Singh in the film was loosely based on the character of Gita, and the role was played by the Indian actress Sumit Singh.