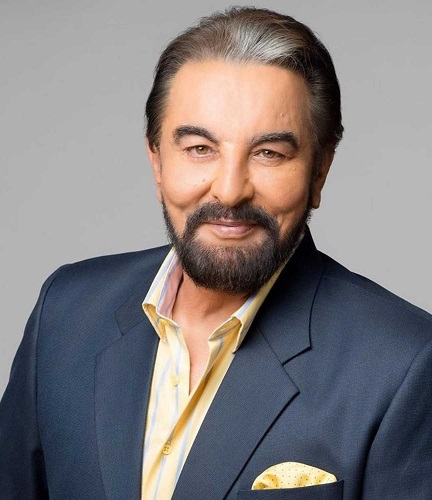 Kabir Bedi is an Indian actor, who has appeared in Hindi, English, and European films and TV series. He has also worked as an RJ and voice-over artist. He is known for playing the role of emperor Shah Jahan in the Hindi film 'Taj Mahal: An Eternal Love Story' (2005).
Wiki/Biography
Kabir Bedi was born on Wednesday, 16 January 1946 (age 77 years; as of 2023) in Lahore, Punjab Province of British India (now Punjab, Pakistan). His zodiac sign is Capricorn.
While he was doing his schooling at The Elisabeth Gauba School, New Delhi, he was friends with the Indian politicians Rajiv Gandhi and Sanjay Gandhi. He attended Delhi Public School, New Delhi, to receive his secondary education. For a year, he attended Shantiniketan School in West Bengal, and later, he studied at Sherwood College in Uttarakhand. From 1963 to 1967, he pursued a BA in History Hons. at St. Stephen's College, Delhi. [1]YouTube – Jashn-e-Rekhta [2]LinkedIn – Kabir Bedi While he was studying at Sherwood College and St. Stephen's College, he participated in various theatre plays.
Physical Appearance
Height (approx.): 6′ 2″
Hair Colour: Salt & Pepper
Eye Colour: Hazel Brown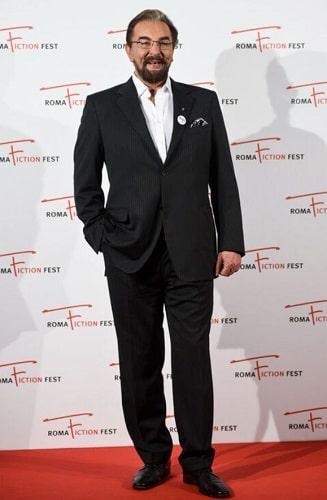 Family
Parents & Siblings
His father, Baba Pyare Lal Singh Bedi, was an author and philosopher. His mother, Freda Bedi, was the first western woman to take ordination in Tibetan Buddhism, and she was British, who was born in Derby, England, and she was an author too. His mother was born into a Christian family, however, later, she adopted Buddhism and became a Buddhist nun. His father was a communist, and his mother was a follower of Mahatma Gandhi. His elder brother, Ranga Bedi, is a tea planter. His younger sister, Guli Bedi (aka Gulhima Bedi), works as a professor.
Wife & Children
Protima Bedi
In the late 1960s, Kabir met Protima, a model and Odissi dancer, for the first time during a modelling project. Initially, they became friends and later, fell in love with each other. In 1969, Kabir Bedi got married to Protima Gauri. In an interview, Kabir shared that he had an open marriage with Protima.
In 1970, the couple had a daughter named Pooja Bedi, who is an Indian actress, television host, and newspaper columnist. In 1971, Kabir and Protima had a son Siddharth Bedi, who was diagnosed with schizophrenia while studying at Carnegie Mellon University, Pittsburgh, Pennsylvania. Siddharth committed suicide in 1997 at the age of 26.
After almost eight years of their marriage, Kabir and Protima got divorced. The reason behind their divorce was Kabir's extramarital affair with the Indian actress Parveen Babi. In an interview, Kabir talked about his failed marriage and said,
Our open marriage may have seemed like a good idea at first. In the end, it only caused me greater anxiety. It had led to a lack of intimacy between us. I didn't feel the love that I wanted, the caring and sharing I needed. Nor was I able to give it. The old magic had gone. I was feeling alone, empty and dejected."
Susan Humphreys
In 1980, he got married to the American model and fashion designer Susan Humphreys. A year later, the couple had a son named Adam Bedi, who works as a model and actor. In 1980, the couple got separated, and in 1990, the couple got divorced.
Nikki Bedi
In 1991, he met the BBC radio presenter Nikki Moolgaoker in London, UK. After dating for a year, Kabir got married to Nikki, who was 20 years younger than him. After being in a long-distance marriage for a few years, the couple got separated in 2004, and a year later, the couple got divorced.
Parveen Dusanj
In 2005, he met the London-based Indian social researcher Parveen Dusanj, who was 26 years younger than Kabir. Initially, the couple moved in a live-in relationship. However, their relationship was not well received by Kabir's daughter Pooja Bedi, who is a few years older than Parveen. In 2011, Kabir proposed Parveen for marriage in Rome, and on the 70th birthday of Kabir, the couple had a Hindu wedding ceremony.
On Kabir's marriage, his daughter Pooja tweeted a cryptic post about Kabir and Parveen's marriage.
Other Relatives
The Indian actress Aalia Furniturewalla aka Alaya F is Kabir Bedi's granddaughter.
Relationships/Affairs
In the late 1970s, Kabir got into an extramarital affair with the Indian actress Parveen Babi. In an interview, Kabir shared that his wife Protima Bedi encouraged his relationship with Parveen. In an interview, while talking about Kabir and Parveen's relationship, Protima once said,
I wanted them to have fun, a great time but on the same time I'd told Parveen not to get too serious about Kabir. And I was unfaithful to Kabir. When he finally left home to shack with Parveen I was relieved! When Parveen came into his life Kabir was trying to escape from me."
The couple dated for a few years, however in 1977, the couple parted ways which was the same year, he got divorced from his first wife Protima.
Religion
Kabir was born into a Sikh Khatri family, and he is a descendant of Guru Nanak Dev Ji. [3]YouTube – Jashn-e-Rekhta In an interview, he revealed that when he was 10 years old, he became a Buddhist monk for some time. He also learnt meditation and Vipassana. [4]The New Indian Express He said,
My mother was a Buddhist nun in Tibet for the last 15 years of her life. I was also ordained a monk in Burma when I was 10. I spent a few months in a monastery as well. My head was shaved, and I was put in a room, had to wear a robe, roam the streets with a bowl to get donations of food from people and meditate for certain hours in the day. I spent the summer that year as a Buddhist monk."
Address
A5, Beach House Park, Gandhigram Road, Juhu, Mumbai, Maharashtra
Autograph
Career
Film and Radio Chief
In 1968, he started working as a film and radio chief at Lintas, Mumbai. After working there for two years, he joined Ogilvy & Mather Private Limited, Mumbai as a film and radio chief.
Theatre
In 1970, he appeared in the popular Indian theatre play Tughlaq. He has appeared in various Hindi, English, and European theatre plays including Shakespeare's Othello, The Vultures, The Far Pavilions, and Taj.
Film
Hindi
In 1971, he made his acting debut with the Hindi film 'Hulchul' in which he played the role of Mahesh Jetley.
He has acted in various Hindi films like 'Kuchhe Dhaage' (1973), 'Nagin' (1976), 'Khoon Bhari Maang' (1988), 'Main Hoon Na' (2004), and 'Mohenjo Daro' (2016).
Italian
In 1976, he played the role of Black Corsair in the Italian film 'The Black Corsair.'
Kabir has acted in a few Italian films such as 'La tigre è ancora viva: Sandokan alla riscossa!' (1977) and 'Mashamal – Ritorno al Deserto' (1998).
English
He made his English film debut with the film 'The Thief of Baghdad' (1978) as Prince Taj.
He has appeared in various English films like 'Forty Days of Musa Dagh' (1982), 'Satan's Mistress' (1982), 'Octopussy' (1983), and 'Beyond Justice' (1992).
Telugu
In 2017, he acted in the Telugu film 'Gautamiputra Satakarni' in which he played the role of Nahapana.
Television
TV Series
Italian
In 1976, he made his Italian TV series debut with 'Sandokan' in which he played the titular role.
He gained immense popularity with the Italian web series 'La tigre è ancora viva: Sandokan alla riscossa!' (1977), 'L'isola dei famosi' (2004), 'Vivere' (2006), and 'Un medico in famiglia 5' (2007).
English
Kabir Bedi made his English TV series debut with the American series 'Dynasty' (1982) in which he played the role of Farouk Ahmed.
Some of his other English TV series are 'General Hospital' (1983), 'Knight Rider' (1985), 'The Bold and the Beautiful' (1994), 'Murder, She Wrote' (1988), and 'Magnum, P.I.' (1988).
Hindi
In 2010, Kabir played the role of Dada Bhai in the Sahara One Hindi TV series 'Ganga Kii Dheej;' it was his debut Hindi TV series.
In 2013, he appeared in another Hindi TV series 'Buddha,' which aired on DD National.
News Series
Kabir Bedi has appeared as a speaker/host in various Hindi news special series such as 'Vande Mataram' (2013; Aaj Tak), 'Guns & Glory: The Indian Soldier' (2013; Headlines Today), and 'Jai Ho' (2014; India TV).
Reality Show
In 2021, he participated in the Italian reality TV show 'Grande Fratello VIP,' (Italian version of Bigg Brother), which aired on Canale 5.
Web Series
In 2019, he made his debut in the Hindi web series with 'Thinkistan' in which he played the role of Danish Azeem. The series was streamed on MX Player.
Radio Jockey
In 2007, he played the role of Sandokan in the Italian radio show 'Ch@t,' which aired on RAI Radio2. He has hosted various RadioOne shows such as 'Women of Gold' (2012), 'Men of Steel' (2012), 'Ten on Ten' – 'Ten Biggest Impacts This Last Decade' (2017), and 'Best of 2017' (2017).
Columnist
Kabir Bedi has been working as a columnist for various Indian media houses like The Times of India and Tehelka.
Voice Over Artist
Kabir Bedi has lent his voice to many TV commercials, sound & light shows, corporate films, documentaries, and audiobooks. Various events where Kabir has worked as a voice-over artist are Aircel Save the Tiger Campaign (2009; Public awareness campaign), Virasat-e-Khalsa – Khalsa Heritage Memorial Complex, Punjab (2011; narrator), Jindal Panther (2014; advertisement), Mount of Excellence (2015; documentary narrator), and Konark Sun Temple, Odisha (2017; sound & light show). He has also worked as a voice-over artist or dubbing artist in a few English films. In 2010, he Hindi dubbed the character of Nizam for the English film 'Prince of Persia: The Sands of Time' which is originally played by Ben Kingsley. In 2015, he Hindi dubbed the character of Dr Franklin Storm (originally played by Reg E. Cathey) for the English film 'Fantastic Four.'
Host & Speaker
He has hosted various national, international, and corporate events. Some of the events hosted by Kabir are Frank Knight Wealth Report Launch (2016), Bennet Coleman's, NRI of the Year Awards – Mumbai (2016), Mauritius Film Festival – Mauritius (2017), Walk Down Memory Lane, 'Rendez-Vous' – Bangalore (2017), and 100 Years Yoga Institute celebrations – Mumbai (2018). He has also appeared as a speaker in various events such as the Budweiser Youth event, motivational talk (2016), Insight Storm – Mumbai (2016), FICCI FLO – Insights To Success – Jaipur (2017), NASSCOM Design Summit – Bangalore (2018), and FICCI FLO 'Life Lessons' Q&A – Ludhiana (2018).
Philanthropist
In September 2017, he was appointed as the brand ambassador of the NGO Sightsavers India which works for the welfare of visually impaired children. In 2018, he was appointed as the brand ambassador of an NGO named Care&Share Italia which works for providing education to slum children in Hyderabad and Vijayawada. He has been supporting the anti-government struggle in Myanmar for a very long time. He has been appointed as a brand ambassador of a few other organisations like Burma Campaign UK, Rotary International South Asia for its Teach Programme, and the Total Literacy Mission in India and South Asia.
Businessman
In 2018, he started a film production company named Bedination. Under his production house, he has worked on various films and web series.
Model
Kabir Bedi has worked as a model in various print advertisements. He has also walked the ramp in various Indian fashion shows. Kabir has been featured in TV commercials for various brands.
Awards, Honours, Achievements
1979: Best Male TV Star by Bravo Otto Germany
2002: Capri Fest Lifetime Achievement Award
2007: Flaiano International Prize
2007: Pegaso D'oro Lifetime Achievement Award by Premi Internazionali Flaiano, Italy
2010: "Cavaliere" (Knight) of the Order of Merit of the Italian Republic by the Italian Government for his outstanding contribution to Italian cinema
2018: Honorary Degree from Kalinga Institute of Industrial Technology (KIIT) University, Bhubaneswar, Odisha, India
2018: Lifetime Achievement Icon Award from the Punjabi Cultural Heritage Board
2018: Guirlande D'honneur (Garland of Honour) by the International Olympic Committee (IOC), by President Ascani in Milan, Italy
2019: Premio Internazionale Basilicata at the Maratea Film Festival
2019: Lifetime Achievement Award at Wolfsburg Cineways International Film Festival in Germany
2022: Lifetime Achievement Award by Venice Film Festival
2022: Diva & Donna Book of the Year Award for his autobiography Stories I Must Tell: The Emotional Life of an Actor
Favourites
Film(s): Dr Zhivago (1965), Gandhi (1982), Octopussy (1983)
Comic Character(s): The Phantom, Batman
Food: Fried Eggs, Marmalade on Buttered Toast, Pizza
Beverage(s): Scotch Whiskey, Brunello Di Montalcino Wine, Dom Pérignon
Travelling Destination(s): London, Rome, Delhi
Facts/Trivia
At the age of 7, he participated in the theatre play 'Bandar Da Vyaah' for the first time.
He has been featured on the cover of various magazines including iHola!, Teletutto Bolero, and Bravo.
Kabir is fluent in various languages including Hindi, Urdu, Punjabi, English, and Italian.
In an interview, he shared that while he was in college his family's financial condition was not good and he had to do a part-time job at All India Radio, Delhi as an English news reader. While he was working there, he got an opportunity to interview the famous English rock band The Beatles. However, after broadcasting the interview, someone at AIR erased the interview by reusing the tape. Kabir got so upset over this that he left the job there and decided to make his career as a film director in Mumbai. Later, with only Rs 700 in his pocket, he shifted from Delhi to Mumbai. [5]

YouTube – Jashn-e-Rekhta
In 2011, he started his YouTube channel 'Kabir Bedi' on which he uploads videos related to his acting projects. As of April 2023, he has around 5.23k subscribers on his YouTube channel.
Since his younger days, he regularly practices yoga to maintain his fitness.
In his leisure time, he loves to cook food and travel to different places.
In 2021, he released his autobiography titled 'Stories I Must Tell- The Emotional Life of An Actor Kabir Bedi.' In his autobiography, Kabir shared that the two most difficult phases of his life were when his son Siddharth committed suicide and when he went bankrupt. [8]

Hindustan Times
He has a voting membership of various organisations like "Oscars Academy" (Academy of Motion Picture Arts and Sciences), The Screen Actors Guild, The American Federation of Television and Radio Artists, and The British Actors' Equity Association.