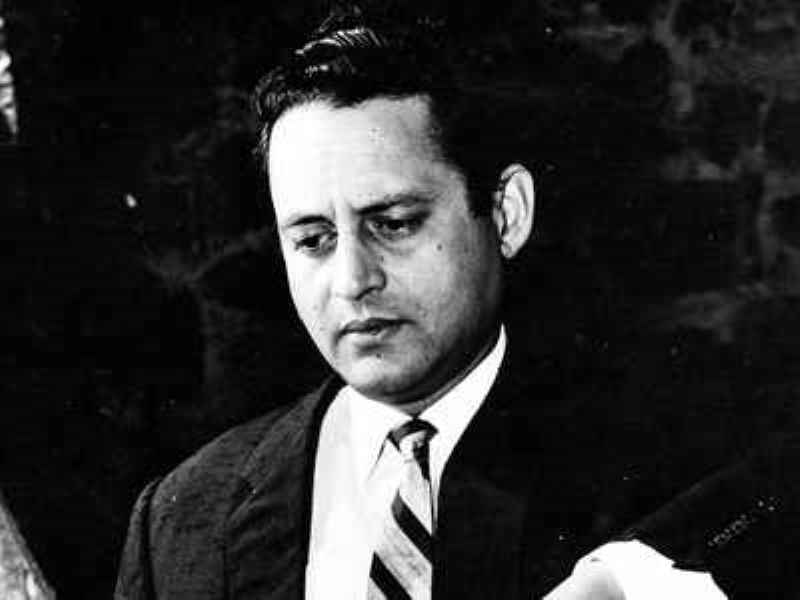 Guru Dutt (1925-1964) was a famous Indian film director, producer, writer, choreographer and actor. He is known for working in films such as 'Baazi' (1951), 'Mr. & Mrs. '55' (1955), 'C.I.D.' (1956), 'Pyaasa' (1957), 'Kaagaz Ke Phool' (1959), and 'Sahib Bibi Aur Ghulam' (1962). Guru Dutt passed away at the age of 39 on 10 October 1964 due to an accidental overdose of alcohol and sleeping pills.
Wiki/Biography
Guru Dutt was born as Vasanth Kumar Shivashankar Padukone on Thursday, 9 July 1925 (age 39 years; at the time of his death) in Bangalore, Kingdom of Mysore, British India (now Bengaluru, Karnataka, India). Guru Dutt's Zodiac sign is cancer. After a childhood accident, his name was changed to Gurudatta Padukone, on the advice of a godman. His younger brother, Devi Dutt, talked about how his brother's name was changed to Guru Dutt, in an interview, and said,
When he was about 18-months-old, Vasanth was about to drown in a nearby well, but he was hoisted and saved by my grandmother. Spiritual godman Swami Ramdas, who studied Vasanth's horoscope, decided to change his name to Gurudutt. In 1950, it was his mentor, director Gyan Mukherjee who made him drop his surname and split up his name."
He studied at Hare School, Kolkata, India. The poor financial stability of the family forced him to quit studying after class X when he was only 16 years old. He then studied dance at Uday Shankar's India Cultural Centre, in Almora from 1942 to 1944.
Physical Appearance
Height (approx.): 5′ 8″
Hair Colour: Black
Eye Colour: Black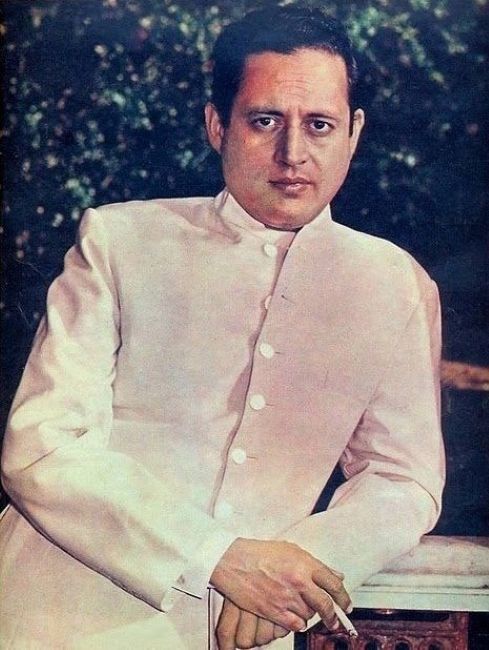 Family & Caste
Guru Dutt belongs to a Hindu Chitrapur Saraswat Brahmin family in Karwar, Karnataka
Parents & Siblings
Guru Dutt's father, Shivashanker Rao Padukone, was a banker and a headmaster. Guru Dutt's mother, Vasanthi Padukone, was a teacher and a writer. She was the only woman in her family to have completed Matriculation (Class X). He had 4 brothers, Atma Ram (director), Devi (producer), Vijay, and Shashidhar, who passed away when he was only 7 months old. He also had a sister, Lalita Lajmi, who is a self-taught painter
Wife & Children
Guru Dutt married Geeta Ghosh Roy Chowdhuri, who became Geeta Dutt after marriage, in 1953, after meeting on the sets of his film, 'Baazi' (1951). She was a famous classical artist and a playback singer. The pain of Guru Dutt's untimely death and the financial misery that was left behind turned her into a heavy alcoholic. [1]Filmfare According to sources, she tried several times to revive her career but couldn't cope with depression and passed away in 1972 due to liver cirrhosis.
They had 2 sons, Tarun Dutt, and Arun Dutt, and a daughter Neena Dutt. Tarun and Arun became film producers and directors. Neena Dutt became a playback singer.
Other Relatives
He has a cousin, Shyam Benegal, who is a renowned Indian film director, documentary maker, and screenwriter.
Relationships/Affairs
Guru Dutt was often rumoured to be in a relationship with Waheeda Rehman which caused a lot of trouble in his marriage. Devi Dutt, the younger brother of Guru Dutt discussed it in an interview where he said that their relationship was that of a teacher and a student. [2]Filmfare.com He further said,
There must have been something emotional between them. When people work together a bond, a friendship develops. But it was a temporary phase. There was nothing serious. My brother hardly went home. He stayed back at the studio to finish his work. Bhabhi suspected it was because of Waheedaji, which wasn't right. There were rumours that he wanted to divorce Bhabhi, become a Muslim and marry Waheedaji. None of it was true. Guru Dutt, no matter what, would never have left the kids. He had no guts to do that."
Religion/Religious Views
He was born into a Hindu family
Signature/Autograph
Career
Early Career
In 1944, Guru Dutt started working at a Lever Brothers factory during his late teen years as a telephone operator in Calcutta (now Kolkata). He soon quit the job and ventured into the world of cinema when his uncle got him a 3-year contract in Pune's Prabhat Film Company as a choreographer.
Films
In 1944, he played a small role in the film 'Chand' as Sri Krishna.
In 1945, he was an assistant director in the film 'Lakhrani' and played the role of Lachman. In 1946, he was a choreographer and an assistant director for 'Hum Ek Hain', produced under 'Prabhat Film Company', starring Dev Anand. In 1951, he debuted as a director with 'Baazi', which was also written by him. It was the first crime noir film in India and starred Dev Anand as the lead.
In 1952, he directed another crime noir 'Jaal', which became 3rd highest-grossing film of the year. In 1953, he wrote and directed 'Baaz', and played the lead role of Prince Ravi. In 1954, he directed, produced, and starred in 'Aar Paar' as Kalu, a noir comedy written by Abrar Alvi, a prominent member of the 'Guru Dutt team'.
In 1955, Guru Dutt produced and directed the romantic comedy 'Mr. & Mrs. '55'. He also starred in the film as Preetam. Its witty writing and thought-provoking realistic dialogues were very appreciated by the critics at the time. In 1956, he produced C.I.D. a super hit film that launched the career of Waheeda Rehman in Hindi cinema.
In 1957, he directed and produced 'Pyaasa'. He also starred in the film as Vijay. It is considered to be one of the most successful films of Indian cinema.
In 1958, he starred in a mystery thriller '12 O'Clock', as Ajay Kumar.
In 1959, he produced and directed 'Kaagaz Ke Phool'. He also played the role of Suresh Sinha in the film. Although the film was not successful with the audience at the time of its release, it has slowly gained admiration from people all over the world and is considered to be the best musical film of 1959 by the British Film Institute.
In 1960, he produced the box-office hit 'Chaudvin Ka Chaand', in which he starred as Aslam. In the same year, he made a cameo in 'Kala Bazar' as himself. In 1962, he produced 'Sahib Bibi Aur Ghulam', and played the lead role of Atulya "Bhoothnath" Chakraborty. It won the National Film Award for Best Feature Film in Hindi.
In 1963, he starred in 'Bharosa' as Bansi. In the same year, he also starred in 'Bahurani' as Raghu. In 1964, he starred in 'Sanjh Aur Savera' as Dr. Shankar Chaudhry. In 1966, he produced 'Baharen Phir Bhi Aayengi', which was released after his death. He was supposed to star in the film but due to his unfortunate death in 1964, he was replaced by Dharmendra as the lead.
Awards & Honours
In 1963, he won the Bengal Film Journalists' Association Awards (BFJA) for Best Actor (Hindi), Filmfare Awards for Best Film and National Film Awards for Best Feature Film in Hindi for the film 'Sahib Bibi Aur Ghulam'. He was also nominated for Filmfare Awards for Best Actor for the same film.
On 11 October 2004, a postage stamp was released by India Post that featured Guru Dutt.
Car Collection
Guru Dutt had a white Jaguar XK 120 which he used in 'Pyasa' (1957). [3]Car&Bike
Death
Guru Dutt died on 10 October 1964 at the age of 39 due to mixing sleeping pills and alcohol. Opinions have been divided ever since as to whether his death was an accident or a suicide. Guru Dutt had already attempted suicide twice which is why many people consider his death as a third and unfortunately final attempt. His brother, Devi Dutt talked about his death in an interview and said,
As scripted by destiny, I was with him, just a day before he passed away and he seemed fit and fine. Regular shooting of his Baharein Phir Bhi Aayegi was on. Flustered by the sudden cancellation by one of the lead cast, Guru Dutt changed plans for next day. We went shopping in his car to Colaba and he bought garments for me and for his two sons Tarun and Arun. We reached his flat at Pedder Road around 6.30 pm where he resided minus his family. It was his ardent wish that his children should be with him every weekend. Adamant, Guru Dutt then had a long telephonic chat with singer-wife Geeta, but she refused to send the kids, as it was late at night. Which disheartened him. That's when dialogue-writer Abrar Alvi joined him for a creative brainstorming over booze and I was asked to leave them alone. Which I did. For me, it was quality time spent with Guru Dutt on October 9, 1964. Because 24 hours later, we were all stunned, watching his mortal remains being consigned to flames."
He further stated that,
I totally deny baseless speculations that Guru Dutt killed himself out of melancholic frustration. It was apparently an accidental overdose of sleeping pills, as he suffered from a sleeping disorder."
Favourites
Facts/Trivia
Guru Dutt's films are frequently ranked in lists that feature some of the greatest films all over the cinema because of their melancholy, unique narrative and picturisation style.
Guru Dutt is known for using close-up shots in his films to display emotions so much that they became known as Guru Dutt Shots.
Many of his projects were left incomplete due to his death.
K. Asif's Love and God which was supposed to star Guru Dutt was completed 20 years after his death with Sanjeev Kumar as the lead.
In 2002, Kaagaz Ke Phool and Pyaasa were ranked by Sight and Sound magazine's list of 'Top Films Survey', with votes from 250 international film critics and directors.
In 2010,  CNN listed him as one of the "Top 25 Asian actors of all time".
He is also known as Orson Welles of India.
He often used German Expressionism, an artistic movement developed in 1920 to emphasize the inner conflicts of a character, in his films.
He was a perfectionist and would often leave projects completely if he wasn't satisfied with them.
When he was 14, he performed a snake dance using fingers on a wall lit up by a candle in front of a gathering of Saraswat Brahmins in Calcutta and won Rs. 5 as an award.
He would often smoke and drink.
In 2010, Pyaasa (1957) entered the list of Time Magazine's All-Time 100 Movies list of the greatest films made since 1923. [4]

Time Magazine
In 2015, 'Pyaasa' (1957), 'Kaagaz Ke Phool' (1959), 'Sahib Bibi Aur Ghulam' (1962), and 'Mr & Mrs '55' (1955) were ranked as the 'The 100 Best Bollywood Movies' by Time-Out.
Although Guru Dutt had seen some good times and was able to buy a house at a posh locality in Pali Hills, Mumbai, he had gone completely broke and had taxes pending for the past two years by the time of his death.