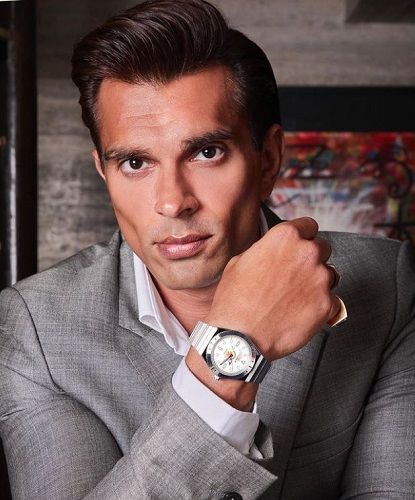 Karan Singh Grover is an Indian model and TV & film actor. He gained immense popularity with the Star One TV serial 'Dill Mill Gayye' (2007) in which he played the role of Dr Armaan Malik.
Wiki/Biography
Karan Singh Grover aka KSG [1]Her Zindagi.com was born on Tuesday, 23 February 1982 (age 41 years; as of 2023) in New Delhi. He hails from Ambala, Haryana. His zodiac sign is Capricorn. He did his schooling at International Indian School, Dammam (IISD), Saudi Arabia. In his childhood, his family shifted to Al Khobar, Saudi Arabia and lived there for almost 12 years.
He then pursued a Bachelor of Science in Hospitality and Hotel Administration from the Institute of Hotel Management Catering Technology & Applied Nutrition, Mumbai. [2]The Times of India [3]Telly Chakkar [4]YouTube- Telly Masala
Physical Appearance
[5]The Times of India Height: 5′ 9″
Weight (approx.): 75 kg
Hair Colour: Brown
Eye Colour: Brown
Body Measurements (approx.): Chest 44″, Waist 30″, Biceps 17″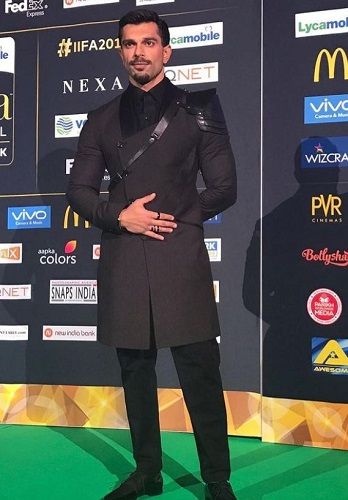 Tattoos
Karan has got many tattoos inked on his body.
On his left shoulder and bicep: Archangel Michael slaying Lucifer and shoving him back down in the fires of hell
On his left arm: Shiv Linga with a trident
On his left wrist: Anything But
On his right wrist: Ordinary
On his right shoulder: A dragon
On his right elbow: Binding seal of the seven Archangels
On his right forearm: Buddhist chant
On his right calf: The word 'Superstar' in Japanese with a star
Family
Karan belongs to a Punjabi Sikh family. [6]Business Standard
Parents & Siblings
His father, Amrit Pal Singh, used to work in a travel agency. His mother's name is Deepa Singh. He has a younger brother named Ishmeet Singh Grover.
Wife & Children
Shraddha Nigam
On 2 December 2008, Karan got married to the Indian TV actress Shraddha Nigam in a Punjabi wedding ceremony. The marriage did not last long, and within 10 months of their marriage, the couple got divorced in 2009. In an interview, while talking about his divorce with Shraddha, Karan said,
First one to Shraddha Nigam, was may be too early. I was just 26 that time. Remembering my father's words at that time that it may be too soon, rings a bell now. It lasted only for six months. We lived together only for two months. We felt that we were bringing out the worst in each other and felt like a jail. You don't want to see that ugly side of yourself. I felt claustrophobic after which I moved out and we divorced in 2009."
Jennifer Winget
In 2005, Karan met the Indian TV actress Jennifer Winget for the first time while shooting for the TV serial 'Kasauti Zindagi Kay.' In the serial, Jennifer played the role of Karan's wife. Soon, they became friends. In 2009, Jennifer replaced the Indian actress Sukirti Kandpal as Dr Riddhima Gupta in the Hindi TV show 'Dill Mill Gayye.' Karan and Jennifer were paired in the show which brought them closer, and they started dating each other. On 9 April 2012, the couple got married in a Christian wedding style. Within a year of their marriage, problems started arising between the two due to their busy schedule, and in 2012, the couple got divorced. In an interview, while talking about the divorce, Jennifer said,
I think both of us were not ready. It's not just him (Karan Singh Grover) or it's not just me, both of us weren't ready to take that step. We had been friends for so long. We were like a house on fire every time we met. But I think it was an unfortunate timing I guess."
However, there were rumours that Karan was cheating on Jennifer, and when Jennifer got to know about it, she slapped Karan on the sets of 'Dill Mill Gayye.' [7]Koimoi
Bipasha Basu
In 2015, Karan was paired opposite the Indian actress Bipasha Basu in Karan's debut Hindi film 'Alone.' Soon, they became friends and fell in love with each other. In an interview, Karan shared how he proposed to Bipasha. He said,
We were in Koh Samui, it was December 31 and the sky was lit with fireworks. I was carrying the ring with me and something told me that this is the right time. So while she was capturing the fireworks on video, I took the opportunity and gave her the ring."
During an interview, Bipasha shared that she had to convince her parents to get married to Karan Singh Grover as it was Bipasha's first marriage while Karan had two failed marriages at that time. She said,
Failed marriage is not the sign that the human being has to be wrong. So, it's not that they should be condemned. Like for me, I explained to my parents that the kind of relationship that I had was longer and it's much bigger than his marriage. It's just that I did not sign a piece of paper. So how does it make me different from him? Relationships don't work out, it's unfortunate but in the longer run when you look back you are always happier. It's always said that things happen in your life for a reason and it's always true."
The couple described their love #MonkeyLove. On 30 April 2016, Bipasha and Karan tied the knot in a Bengali wedding style. In 2022, Karan and Bipasha announced their pregnancy through their Instagram account.
On 12 November 2022, his wife, Bipasha, gave birth to a baby girl; they named her Devi. [8]Hindustan Times
In August 2023, Bipasha disclosed that Devi was born with two holes in her heart, leading to Devi requiring corrective open-heart surgery at the age of three months. Bipasha also shared that Karan initially had reservations about the surgical procedure, but Bipasha managed to persuade him. Ultimately, the surgery turned out to be a success. [9]The Indian Express
Relationships/Affairs
In 2009, while Karan was participating in the celebrity dance reality show 'Jhalak Dikhhla Jaa 3,' his name was linked with his choreographer Nicole Alvares. [10]India Times
In 2012, he appeared in the Hindi TV serial 'Qubool Hai.' While he was acting in the serial, his name was linked with the producer of the TV serial Gul Khan. [11]Telly Chakkar
Religious Views
In an interview, while talking about religion, Karan said,
I am not religious, but I do pray every night before going to sleep. I personally do not believe in any religion. [12]The Times of India
Autograph
Career
Marketing Executive
After completing his graduation from Mumbai, he started working as a marketing executive in the Sheraton Hotel, Muscat, Oman.
Model
In 2004, he participated in the male beauty pageant 'Gladrags Manhunt Contest' and won the award for "Most Popular Model." During an interview, he talked about the contest, he said,
Since I was the shortest at 5'9", I was first. I was selected as the most popular model, but nothing happened for a long time. I would audition and be told that my face is very hard, so I should try modelling. When I met coordinators for modelling, they would tell me you have a very soft face, you should try television. So then I would go to TV auditions, they would tell me your face is very blank and expressionless, you should try something else."
He has walked the ramp in many ace Indian fashion shows.
Karan, along with his wife Bipasha Basu, has appeared in TV commercials for various brands like Oppo, Spring Fit Mattress, and Playgard Condoms.
Actor
TV Serial
In 2004, Karan made his debut with the Hindi MTV serial 'Kitni Mast Hai Zindagi' in which he played the role of Arnav Deol.
He then played cameo roles in a few Hindi TV serials like 'Princess Dollie Aur Uska Magic Bag' (2005), 'Kasautii Zindagii Kay' (2005), 'Solhah Singaarr' (2006), and 'Parrivaar' (2007).
He came into the limelight with his role as Dr Armaan Malik in the Star One TV serial 'Dill Mill Gayye' (2007).
Karan then appeared in various Hindi TV serials like 'Teri Meri Love Stories' (2012), 'Dil Dosti Dance' (2012), and 'Qubool Hai' (2012).
After a gap of almost seven years, he made a comeback in Hindi TV serials with the Star Plus TV serial 'Kasautii Zindagii Kay 2' (2019) as Rishabh Bajaj.
Reality Show
Host
In 2008, Karan hosted the TV show 'Zara Nachke Dikha.' In 2011, he hosted another TV reality show 'Perfect Couple.'
Contestant
In 2009, he participated in the dance TV reality show 'Jhalak Dikhhla Jaa 3' and finished as the 2nd runner-up.
In 2010, Karan participated in the TV stunt-based show 'Fear Factor: Khatron Me Khiladi 3.'
Films
In 2015, Karan Singh Grover made his Bollywood debut with the Hindi film 'Alone' in which he played the role of Kabir.
In the same year, he appeared in another Hindi film 'Hate Story 3.'
Web Series
Karan made his web series debut with the ALTBalaji Hindi web series 'BOSS: Baap of Special Services' (2019) in which he played the role of Sudhir Kohli/Keshav Khatri.
Some of his other Hindi web series are 'Dangerous' (2020) and 'Qubool Hai 2.0' (2021).
Controversy
Fired for His Unprofessional Behaviour
In 2013, he was fired from the Hindi TV serial 'Qubool Hai' for his unprofessional behaviour. [13]Koimoi In an interview, Ajay Bhalwankar the content head of Zee Entertainment Enterprises Limited said,
Unprofessional behaviour will always be accorded with strict disciplinary action. Actors should not take things lightly when they agree to be a part of a show as their erratic behaviour can affect the livelihoods of many others who are working on it. No actor can hold shoots or dictate their terms and conditions to an extent that it hampers the show."
On the other side, when Karan was asked about the same, he said,
Asad is a very heavy character and I needed to break way from playing it every day. When you are being someone like him for more than 12 hours, everyday, you start getting disconnected with the reality. That was my major issue. I think if anyone wants to maintain the standard of creativity, then you cannot stretch it for long. Then it becomes mundane."
Awards
2013: Indian Telly Awards for Best Television Personality of the Year for Qubool Hai
2013: Indian Television Academy Awards for Desh Ka Sitara – Best Actor Popular for Qubool Hai
2013: Zee Gold Awards for Best Onscreen Jodi for Qubool Hai
2013: Zee Gold Awards for Best Actor Popular for Qubool Hai
2017: Zee Gold Awards for Rising Star from Television
2019: Zee Gold Awards for Best Actor Negative (Popular) for Kasautii Zindagii Kay
Car Collection
Assets & Properties
A Porsche flat in Mumbai [16]Amar Ujala
Income/Fees
In 2019, his fees for a TV serial was Rs 75 lakhs per month. [17]International Business Times
Net Worth
As of 2022, his net worth is Rs 219 crores. [18]Amar Ujala
Favourites
Food: Burger, Pizza, Vada Pao
Facts/Trivia
In an interview, Karan shared that his parents used to dress up him as a girl to hide his identity as a Sikh boy. He said,


I am originally a surd who was born in Delhi in 1982, just two years before the Sikh riots, so all my childhood pictures are in baby frocks with ponytails as my parents wanted to hide the fact that I was a Sikh boy, given the riots. My dad worked for a travel agency and we soon moved to Saudi Arabia. There are co-ed schools in Saudi, but those are American or British."
During his college days, he used to be a part of the music band named 'Thousand Decibels.'
In one of his interviews, he shared that in 2012, he faced various financial difficulties. He even borrowed money from his father. He said,


2011-2012 after my first divorce. My show Dill Mill Gayye that I was doing got over and I wasted a year doing a film that did not get released. I had lost my constant income from TV but continued my spending. There came a time when during that time I had to borrow money from my dad again, who had retired by then and that was terrible. I felt like a failure and felt like I had let down my family and everybody who had had faith in me. I had been a rebel all my life and would not even talk to my parents, as I did not want to burden them more. Right from when I have been a kid, I don't like confrontation. Now, I avoid by going to the gym, but when I was a kid, I would go lock myself in my cupboard. Every time I was sad or angry, I would lock myself."

During that phase, he consulted a psychiatrist as he became self-destructive. He further said,

I become self-destructive when I am sad and many times, I have harmed myself physically. As the doctor explained to me, I was undergoing clinical depression and what is medically called dissociation with reality. If something emotionally really bad happens in my life, then I completely physically, emotionally and mentally shut down. I have a name for it too. I call it Alcatraz, a jail in the world from where no one knows how to escape."
Karan is a fitness enthusiast and regularly practices yoga.
View this post on Instagram
He has been friends with the Indian actor Ayaz Khan for a very long time.
He loves painting and often shares pictures of her paintings on her Instagram account. He has uploaded pictures of his work on his website 'Star Infinity Art.com.' During an interview, he shared that his wife Bipasha motivated him to start painting. He said,


I bought acrylic paints, black pens and spray paints – I didn't know where to start at first. But, once I started experimenting, mostly in black pen and ink, a pattern emerged, and I realised I was drawing in sequence."
View this post on Instagram
Karan has been featured on the cover page of various magazines like Farlook and FHM Fit.
Karan and Bipasha have been appointed as the brand ambassador of UM Motorcycles and for the signature Brand of RockyS for a few years.