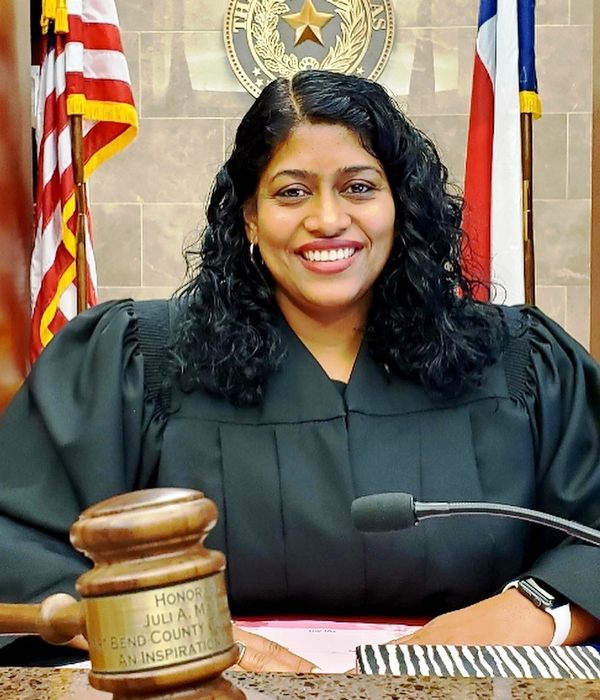 Juli A Mathew is an Indian-American Democrat who was re-elected as a judge of the Fort Bend County Court at Law No 3 in Texas, US in November 2022.
Wiki/Biography
Juli Anna Thomas [1]Facebook – Juli Anna (Thomas) was born on 5 June, and she hails from Vennikulam, Thiruvalla, Kerala. Her zodiac sign is Gemini.
She attended St. Thomas English Medium U.P School in Vennikulam. Her mother, a nurse in India, first moved to Pennsylvania in the 70s, due to a shortage of qualified nurses. Mathew and her father followed in 1986. However, her father, a pharmacist in India, could not afford his further studies in the US due to financial constraints. She grew up in Philadelphia, Pennsylvania, where she completed high school. In the US, her businessman father ran into legal problems and the family had to struggle a lot during their initial days in the U.S. Watching her parents struggle intrigued Juli to pursue a career as an attorney. While talking about the same she said,
My Dad encountered various issues with his business partner, who was of Indian descent and had attended law school in the US. Although he wasn't a licensed attorney, my parents were always fearful of him. He constantly bullied and threatened my parents with one thing or another. Once he pulled all of the funds from the business account with no notice and having done no work. He pulled the money just before the franchise fees were due and I saw my parents scramble to pay the fees and all of the bills. I saw the nightmare that it created for my parents. The desire to become a lawyer was birthed out of that experience."
From 1994 to 1999, she pursued a bachelor's degree in administration of justice/sociology at Penn State University, Pennsylvania, US. Thereafter, she obtained a Juris Doctor (JD) degree from Delaware Law School, Widener University, Delaware, US (1999-2002). During her academic years, she was also president of the Student Government Association at Penn State Abington and received a citation for leadership from the Pennsylvania House of Representatives. She also studied at the University of Leiden in the Netherlands about the Dutch Criminal Justice System. [2]LinkedIn
Physical Appearance
Height (approx.): 5′ 5″
Hair Colour: Black
Eye Colour: Black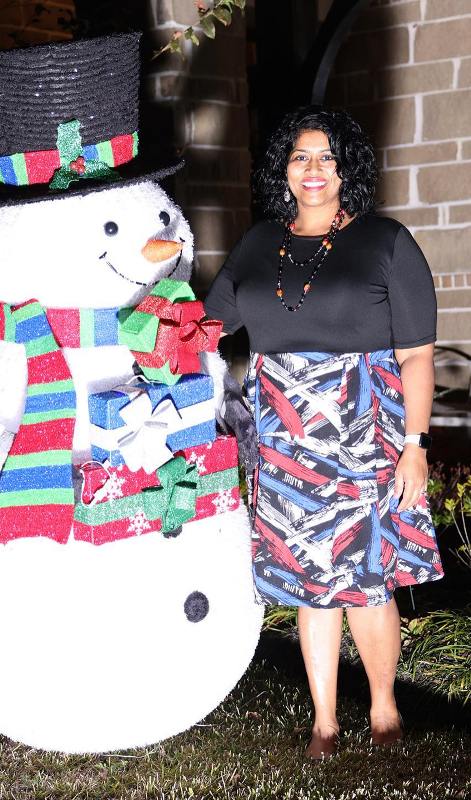 Family
She belongs to a Malayali Christian family hailing from Thiruvalla, Kerala. [3]Facebook – Juli Mathew [4]American Kahani
Parents & Siblings
Juli A Mathew's father, Thomas Daniel, is a pharmacist. Her mother, Susamma John Thomas, is a nurse in the US. She has a younger brother, Johnson Thomas, a Democratic Party candidate who ran for election for Fort Bend County Treasurer in Texas in 2022; he lost the election to the Republican Party candidate Bill Rickert.
Husband & Children
Juli A Mathew is married to Jimmy Mathew, who hails from Bheemanady in Kasaragod, Kerala. Together, Juli and Jimmy have two daughters, Ava and Sofia; one of them has an Autism spectrum disorder. Juli has a daughter named Aleena from her previous marriage. She divorced her first husband when she was 25. Juli is also a stepmother to a half-white daughter who lives in England.
Religion
Juli A Mathew follows Christianity. She is a Saint Thomas Christian and used to visit Mar Thoma Syrian Church during her childhood in Kerala. [5]American Kahani [6]Facebook – Juli Mathew
Career
As a Lawyer
In August 2006, she started her career as a Creditor Rights Litigation Attorney at Hosto Buchan Prater & Lawrence in Houston, Texas. From July 2007 to July 2009, she worked as a Creditor Rights Litigation Associate at Wolpoff & Abramson. In January 2010, she joined Brachfeld Law Group as an In-House Counsel/Compliance Attorney. From 2011 to 2012, she was a Litigation Associate at Regent. For the following two years, she practised as an independent lawyer. For 10 months, from August 2014 to May 2015, she was an Attorney at O'Connor and Associates. In July 2015, she joined Zwicker & Associates, P.C. as an Attorney and worked there till December 2018.
As a Judge 
From September 2017 to December 2018, she served as an Associate Municipal Judge of Arcola, Texas. On 6 November 2018, Juli Mathew, as a Democratic Party candidate, defeated the Republican Party candidate Tricia Krenek in the general election for Fort Bend County Court at Law No. 3 in Texas, becoming the first Asian American woman to be elected to the bench. [7]American Kahani. On 8 November 2022, Juli Mathew was re-elected to the bench, defeating the Republican Party candidate Andrew Dornburg.
Facts/Trivia
Her swearing-in ceremony as a Judge of Fort Bend County Court at Law No 3 for the second consecutive term took place via video-conferencing from the verandah of Naduvilayil house in Kerala's Kasaragod, her husband's Kerala home. She took the oath before the district judge Christian Becerra by placing her left hand on the Bible, which her husband held in his palms. The priest of the local parish performed prayers prior to the ceremony.
In an Instagram post, Juli talked about her first job in the US as an RN was on a drug rehab floor of Kensington Hospital, where her mother worked an exhausting 12-hour-long shift. The post read,


Growing up in the 90's, I remember her coming home reaking of cigarette smoke because all the patients smoked on the floor. It was not an easy job and I'm thankful for everything you have done for me."

She occasionally enjoys alcoholic beverages with her friends and family.
She founded the Juvenile Intervention and Mental Health Court (JIMH) to begin servicing youth with mental health issues in the Fort Bend County Juvenile Justice System in January 2021.
She launched the Kitchen to the Courthouse program for high school girls in conjunction with Chef Roshini Guarani and the India Culture Center. Through this program, she introduced young girls to influential females in various industries who were paving the way for others to follow.
She is also a founding member of the Lone Star Exchange Club.