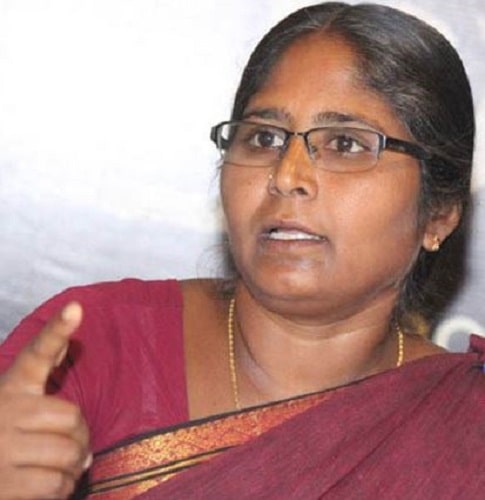 Muthulakshmi is an Indian politician who is the widow of the Indian dacoit and sandalwood smuggler Veerappan, who was killed by Special Task Force police under 'Operation Cocoon' in 2004.
Wiki/Biography
Muthulakshmi Veerappan [1]Open The Magazine was born in 1974 (age 49 years; as of 2023) in Neruppur, Krishnagiri District, Tamil Nadu, India. She studied up to class 8. [2]Business Standard
Physical Appearance
Height (approx.): 5′ 4″
Hair Colour: Black
Eye Colour: Brown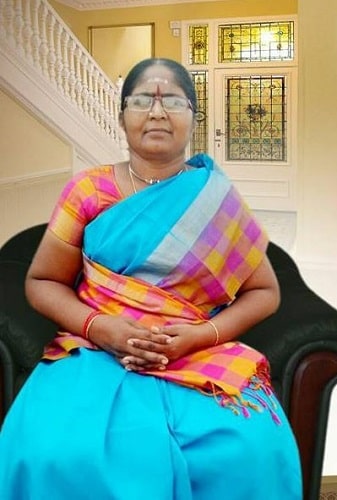 Family
Parents & Siblings
Her parents were farmers. She has an elder sister.
Husband & Children
In January 1990, she got married to the Indian sandalwood smuggler Veerappan. From a tender age, Veerappan had made a committed choice to distance himself from intoxicants and relationships with women, recognizing both as potential hazardous distractions. However, fate had other plans, as he found himself inexplicably drawn to Muthulakshmi. Despite his best intentions, Veerappan couldn't resist becoming a frequent visitor to her village.
Muthulakshmi was quick to observe Veerappan's regular presence, and the striking features he possessed like his bristling moustache, intense gaze, and an air of authority that commanded respect and fear among the villagers made a profound impression on her. His enigmatic presence and the aura he carried had an undeniable impact, and she couldn't help but respond positively to his attention. Muthulakshmi's parents were not supportive of her relationship with Veerappan. In fact, her father informed Veerappan that she was already engaged to one of her cousins. However, Veerappan was determined and did not give up. Despite the rejection from her father, he eloped with Muthulakshmi, and the two got married in a forest temple in January 1990. After a while, Muthulakshmi became pregnant and lived in the forest for the entire eight months of her pregnancy. However, as her delivery approached, she decided to return to her parents' house. Fearing possible arrest, her father took her to Chennai, where she surrendered to the police. Muthulakshmi was placed in a women's hostel, where she eventually gave birth to a baby girl. An STF officer named Sylendra Babu named the child Vidya Rani. While she was allowed to go back to her parents' home in Neruppur, her movements were closely monitored by the authorities. One day, a man pretending to be a relative arrived at Muthulakshmi's house, but he was, in fact, one of Veerappan's men. He conveyed Veerappan's message that she should leave the infant with her parents and return to the jungle because he missed her. However, Muthulakshmi found it extremely difficult to part with her baby. She resisted Veerappan's command for a couple of months. Eventually, she realised that her child would have a better future in the village than in the forest. In a daring move, one night, she secretly left Neruppur and reunited with Veerappan in the jungle.
In 1990, their daughter Vidya Rani or Vijayalakshmi (actor & BJP leader; joined in 2020) was born, and in 1992, their second daughter Prabha was born. In 1993, she had another baby girl. Reportedly, her husband did not consider his third daughter's birth auspicious. Her daughter's cry became a problem for her husband as her cry would help the STF to locate his base. Later, her husband asked a woman in his base in jungle to strangle her third daughter to death. [3]The News Minute
Career
In 2006, she contested in the Tamil Nadu Assembly elections as an independent candidate from the Pennagaram constituency. On 31 March 2019, she joined the political party Tamizhaga Vazhvurimai Katchi.
In January 2018, she established an organization named 'Mann Kaakkum Veerathamizhar Peramaippu' (Federation of Courageous Tamils for Soil Protection) with the purpose of advocating for government support in providing fresh water to aid agriculture and support farmers. Muthulakshmi has also established a self-help group named "Malaival Makkal Urimai Iyakkam" to assist underprivileged villagers residing along the border of Karnataka and Tamil Nadu.
Controversy
Arrested in Various Cases
In 1992, the Karnataka and Tamil Nadu Governments established a Special Task Force to catch Veerappan and his aide. To escape from the STF, she ran into a jungle. After spending two harrowing nights by herself in the jungle, she was caught by police. She was detained in a police camp without being produced in court. She was subjected to torture, enduring starvation, physical beatings, and electric shocks. Every day, she lived in fear of losing her life. After the media, published the incident in a newspaper, a case was filed against the police. Eventually, she was released after being presented in court. On 30 July 2000, she was arrested in connection with the kidnapping case of the Indian actor Rajkumar, who had been abducted from his farmhouse in Thottagajanoor near Thalavadi, Erode district, 400 km away from Chennai. A court in Erode, Western Tamil Nadu, declared Muthulakshmi and others free from the case involving the abduction of Kannada actor Rajkumar in July 2000. The police had accused Muthulakshmi and her 25 relatives of harbouring the offender, Veerappan, and his associates, and receiving illegal gratification. Sections 216 and 412 of the IPC were invoked against them. The police claimed that they had recovered Rs 40 lakh in cash, 30 sovereigns of gold, and three vehicles from them, alleging that they received part of the ransom from Veerappan. However, Rajkumar was released after 108 days in captivity on 15 November 2000 after crores of rupees were allegedly paid as ransom for his release. Muthulakshmi and ten others were acquitted by Judge Krishnan in the III Additional District and Sessions Court, who stated that the charges against them were not proven. However, 13 others were convicted and sentenced to one-year imprisonment along with a fine of Rs 150 each. Although she felt a sense of relief after eight years of her husband's death when 11 out of the 24 accused in the case were acquitted. The remaining accused had secured bail and planned to challenge the verdict in the High Court, as their defence counsel explained. Muthulakshmi had been acquitted by a court in Karnataka in two murder cases, two bomb blast cases, and one involving an attack on a police station. [4]India Today
Life After Veerappan's Death
After Veerappan's death in 2004, Muthulakshmi went through a very tough time. She was so depressed that once she tried to take her own life by drinking phenyl. She was then taken to a nearby hospital on time, and they managed to flush out the harmful substance. Later on, a police officer named Tamilselvan helped her get a job at a textile mill called Vasudeva Textiles in Coimbatore for Rs 25 per day. She worked there for three years, from 1995 to 1998. During this period, nobody knew her true identity. In an interview, she described that phase as one of the most difficult times in her life. She had to work for almost eight hours a day, walking from one end of the room to the other, even though her legs were injured during the police action. She felt isolated, not talking to anyone, having no friends, and struggling to understand others around her.
Facts/Trivia
For a long time, she has been engaged in various social service activities to support people who had faced challenges due to Veerappan's activities.
She took legal action against filmmaker A.M.R. Ramesh for portraying her late husband wrongly in the 2013 Kannada film 'Attahasa.' She succeeded in the case and received a compensation of Rs 25 lakhs even before the film was released.