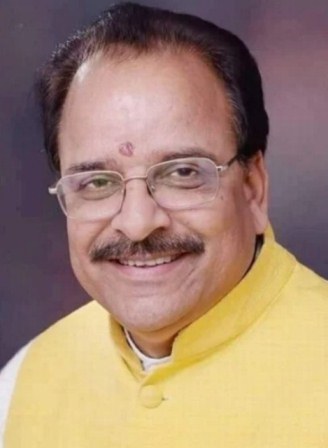 Ajay Bhatt is an Indian politician serving as the Minister of State in the Ministry of Defence and Ministry of Tourism in the Second Modi ministry. He is also a Member of Lok Sabha from Nainital–Udhamsingh Nagar.
Wiki/Biography
Ajay Bhatt was born on Monday, 1 May 1961 (age 60 years; as of 2021), in Ranikhet, Uttar Pradesh (now in Uttarakhand). His zodiac sign is Taurus. At an early age, he lost his father, and because of it, he had to face a lot of struggles growing up. Since childhood, he was associated with the Hindu nationalist organisation Rashtriya Swayamsevak Sangh (RSS). He holds a BA LLB from a constituent college in Almora of Kumaun University (1984). [1]Ministry of Tourism In his college days, he was a part of the Akhil Bharatiya Vidyarthi Parishad, the student wing of RSS.
Physical Appearance
Height (approx.): 5′ 9″
Eye Colour: Black
Hair Colour: Black
Family & Caste
He belongs to a Brahmin family from the Kumaon region of Uttarakhand. [2]NDTV
Parents & Siblings
His father's name is Kamalapati Bhatt, and his mother's name is Tulsi Devi Bhatt.
Wife & Children
He was married on 28 February 1986 to Pushpa Bhatt, a former judge and advocate general for the High Court Of Uttarakhand, Nainital. He has three daughters and a son.
Other relatives
His nephew Liladhar Bhatt is also a politician and member of the Indian National Congress. His other nephew Tarun Bhatt is a member of the Bharatiya Janata Party.
Career
After graduation, he pursued his career as a lawyer. He is a member of the Bharatiya Janata Party (BJP) and has been in active politics since 1980. In 1985, he became the district head of the Bharatiya Janata Yuva Morcha (BJYM) and BJP Executive council in Uttarakhand. He was soon made the state president of BJP Uttarakhand. Regarded as one of the senior BJP leaders in Uttarakhand, he has held several portfolios in the Government of Uttarakhand ministries. In the 1996 Uttar Pradesh Legislative Assembly election, he contested from Ranikhet constituency and won by a margin of 30,241 against Ranjeet Singh of the Indian National Congress (INC). From 1996 to 2000, he was a member of the Public Accounts Committee and CPA in the Uttar Pradesh Legislative Assembly. Simultaneously, he also chaired the Committee of Privileges in the Uttar Pradesh Legislative Assembly. From 2001 to 2002, he worked as the Cabinet Minister, holding the Ministries of Parliamentary Affairs, Health, and Disaster Exercise in the Government of Uttarakhand. As the Minister of Health, he banned the private practice of government doctors. As a state legislator of Uttar Pradesh, he made travels to Canada, Australia, England, Thailand, and the United States. In the 2002 Uttarakhand Legislative Assembly election, which was the 1st Vidhan Sabha (Legislative Assembly) election of the state, Ajay Bhatt was re-elected from Ranikhet by a margin of 10,199 votes against the INC leader Pooran Singh. He then contested the 2007 Uttarakhand Legislative Assembly election from Ranikhet and lost to the INC leader Karan Mahara. From 2009 to 2011, he was the Chairperson of the National Rural Health Mission in the Uttarakhand Government. In the 2012 Uttarakhand Legislative Assembly Election, Ajay Bhatt contested from the Ranikhet constituency against Karan Mahara and won by a margin of 14,089 votes. For his election campaign, his slogan was,
Sabki ek hi ratt..Ajay Bhatt..Ajay Bhatt"
In the 3rd Uttarakhand Assembly (from 2012 to 2017), he served as the Leader of the Opposition. While he was the leader of the opposition, in 2015, he was again appointed as the president of BJP Uttarakhand.
In the 2019 Indian general election in Uttarakhand, he contested from Nainital–Udhamsingh Nagar against the INC leader and former Chief Minister of Uttarakhand Harish Rawat and won by the margin of 3,39,096 votes.
He assumed his office as a Lok Sabha member on 23 May 2019. From September 2019 to July 2021, he was a member of the Standing Committee on Defence and Consultative Committee for the Ministry of Health and Family Welfare in the Parliament of India. He was a member of the Committee on Subordinate Legislation in October 2019, the Joint Committee on the Personal Data Protection Bill, 2019 in December 2019, and the Estimate committee in May 2020 in the Parliament of India. During the cabinet reshuffle in 2021, he was appointed as the Minister of State for Tourism and Minister of State for Defence.
On 22 July 2021, Ajay Bhatt introduced the Essential Defence Services Bill, 2021 to the Lok Sabha. [3]The New Indian Express The bill allows the central government to prohibit strikes, lockouts, and layoffs in units engaged in essential defence services. On 3 August 2021, the bill was passed in Lok Sabha, and on 5 August 2021, the bill was passed in Rajya Sabha, amid the opposition protest and sloganeering over the Pegasus snooping controversy and the issues of farm laws and price rise.
Controversies
In June 2020, Ajay Bhatt gave a statement saying that the Uttarakhand Char Dham Devasthanam Management Board should be dissolved. After his statement, the opposition leader criticised him for deceiving the public as the decision about the board should either be taken in the high court or the legislative assembly. [4]

Hindustan
In July 2019, Ajay Bhatt claimed that women could avoid caesarean delivery if they drank the water from Garur Ganga, a river in Bageshwar, Uttarakhand. He even claimed that rubbing stones from the river on snakebites or bites of other poisonous animals could cure and save lives. In his speech during a Lok Sabha session, he said,


Someone from Kakdighat, where Swami Vivekananda meditated, told me that he was scared to enter his house because a snake was stuck in the rat trap. The family was afraid of being bitten by a snake. I told them that a saint from their village has stone from the banks of the Garur Ganga river and they should bring it to their house. Within minutes, the snake that was trapped in their house for over a week crawled out."

He added,

Rub the stone of Garur Ganga, mix it with water and make the patient drink it. There will be no need for caesarean deliveries."

His statement was criticised by several doctors and opposition leaders, who pointed out that if such things were possible, there would be no need for doctors in the country. [5]The Times of India After receiving backlash over his statements, in Lok Sabha, Bhatt called for a scientific study to verify his claims. [6]OrissaPost
In November 2018, after the Uttarakhand state concluded its local civic body elections, the then Uttarakhand CM Trivendra Singh Rawat and BJP state president Ajay Bhatt engaged in a verbal war over hosting the winter assembly sessions at Gairsain. While Bhatt insisted that the sessions be held after the required infrastructure was constructed, Rawat asserted that it was the job of the Uttarakhand Government to decide when and where the sessions would be held. Ajay said,


There is no controversy. Even last time I had to struggle till midnight to get accommodation at Gairsain. It is my personnel opinion that till all required infrastructure is created at Gairsain, we should not host assembly session there."

According to Rawat,

It is the work of the government to decide where to host assembly session."

After the BJP high command showed displeasure over their bickering, several claims were made that the senior BJP leaders were summoned to Delhi by the party. [7]The Statesman
In August 2016, the then BJP Uttarakhand president Ajay Bhatt made remarks on the Congress saying that priests in the Himalayas could not recite mantras without taking drinks. In response to his remarks, the then Congress Uttarakhand chief Kishore Upadhyaya issued a media release, accusing Bhatt of hurting the sentiments of people. Upadhyay wrote,


From times immemorial, people of the region have shared a bond of brotherhood without any discrimination, but such comments not only hurt a particular caste but also creates differences among people. This was not for which we had fought for a separate state. Bhatt does not deserve to remain in the key position after this controversial statement, which reflects his mindset."

Another senior Congress leader of the state, Mathura Dutt, slammed Bhatt and said, [8]The Times of India

It is not about the vote bank, our election campaign will be on the work done by our party. BJP has a reputation of creating differences among people for political gains, which has been yet again proved by Bhatt's statement."
Address
Permanent: 784, Gandhi Chowk Sadar Bazar, Ranikhet, Almora-263645, (Uttarakhand)
Current: 301, Kaveri Apartment, Dr B.D. Marg, New Delhi-110001
Signature
Salary
His salary for the financial year 2017-18, according to his 2019 Lok Sabha election affidavit, is Rs. 5.53 lakh (approx.). [9]MyNeta
Assets & Net Worth
Ajay Bhatt's movable assets (as of 2019) is approximately Rs. 1.56 crore. His immovable assets (as of 2019), including agricultural and non-agricultural lands, is approximate Rs. 40.44 lakh. His net worth (as of 2019) amounts to Rs. 1.97 crore (approx.). [10]MyNeta
Facts/Trivia
He has an interest in reading, writing, and engaging in debates. He likes reading literature, newspapers, history books, and spiritual books like Ramayana and Vedas.
Ajay is a member of the Nagrik Surakshya Parishad, Rashtriya Gramothan Parishad, and Uttranchal Harijan Shilp Kala Uttan. He is also the Co-Operative Drug Factory Ranikhet president.
He is a part of the Ranikhet Club in Ranikhet and the Constitution Club of India in New Delhi.
Whenever there was a switch in Uttarakhand's Chief Ministerial post, Ajay's name was on the top of the list for CM candidates. First, when Tirath Singh Rawat replaced Trivendra Singh Rawat, and later, when Pushkar Singh Dhami replaced Tirath.
Ajay Bhatt drew inspiration to be in the politics from the senior BJP leader and former member of the Lok Sabha Murli Manohar Joshi.
He showed active participation in the Uttarakhand's struggle for statehood and the Ram Janmabhoomi movement. He was a member of the Uttaranchal Samyukt Sangharsh Samiti. He has once been arrested during the Uttarakhand's struggle for statehood and twice during the Ram Janmabhoomi movement.
In November 2019, he adopted a village named Jangalia Gaon near Bhimtal, Uttarakhand, under the Sansad Adarsh Gram Yojana. The scheme was initiated for the members of Parliament to choose a village from their constituencies and turn them into a model village. Almost after a year, a media report was made, which stated that Jangalia Gaon was still suffering from the lack of basic needs like roads, health, education, and drinking water. [11]

Amar Ujala
In December 2020, he was tested positive for Covid-19 and admitted to the All India Institute of Medical Sciences (AIIMS), New Delhi.
According to his election affidavit for the 2019 Lok Sabha election, he owns a Swift Dezire.