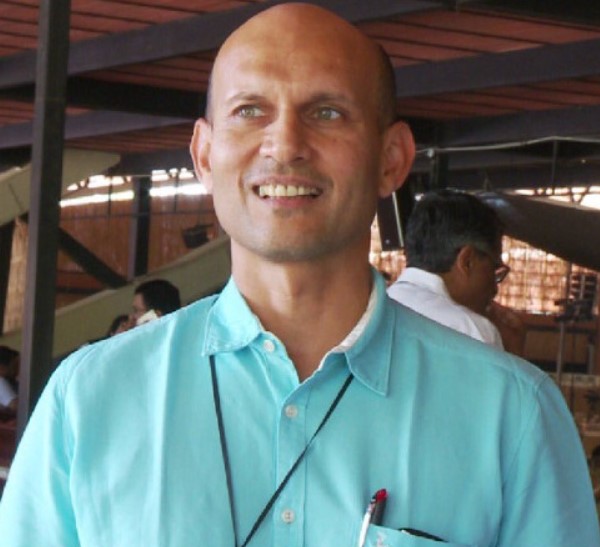 Ashish Kacholia is a famous Indian entrepreneur and stock market investor. In 1999, Ashish Kacholia and Rakesh Jhunjhunwala started Hungama Digital together. He founded his own business, Lucky Securities, in 2003. Ashish Kacholia is renowned for investing in a wide range of industries in India, including hotels, education, infrastructure, and industrial sectors.
Wiki/Biography
Ashish Ramesh Kacholia was born in Mumbai, India. [1]The Economic Times He is in his 50s; as of 2023. [2]The Economic Times After completing his school education, he attended Jamnalal Bajaj Institute of Business Studies (JBIMS), Mumbai to pursue a bachelor of science degree in Production Engineering. Later, he earned a master of business administration degree from JBIMS. [3]Zee News
Physical Appearance
Height (approx.): 5′ 10″
Hair Colour: Bald
Eye Colour: Black
Family
Parents & Siblings
His father, Ramesh Kacholia, is a well-known businessman, philanthropist, and social worker based in Mumbai.
His mother's name is not known.
Wife & Children
On 27 April 2009, Ashish Kacholia got married to Sushmita Ashish Kacholia. She is a stock market investor and social worker.
The couple has three children.
Caste
He belongs to the Marwari community. [4]Vinayak Lohani
Career
Stock Marketing
Ashish Kacholia began his career at Prime Securities and had a short stint at Edelweiss Capital before establishing Lucky Securities in 2003. Initially, Kacholia was a small investor who primarily invested in stocks. However, with time, he developed a strong ability to identify promising companies in the stock market with significant growth potential.
Kacholia is an investment expert and serves as an inspiration for many newcomers looking to succeed in the stock market. It is said that he has a talent for identifying stocks with great potential for growth. Two notable companies he discovered in 2012 and 2016 are Ajanta Pharma and Mastek Limited, respectively. Whenever Kacholia adjusts his ownership or adds shares to his portfolio, it attracts significant attention from market participants. He has investments in well-known companies such as Atul Auto, Majesco, KPIT Technologies, Polycab India, and others.
Kacholia is a successful Indian investor who achieved a remarkable return on investment of over 2000% in Bodal Chemicals Ltd. from 2013 to 2018. Once, Ashish Kacholia experienced a 400% return on his investment in Majesco, an Insurance Technology Company, within nine months. In the same year, his portfolio grew by 150%, making him the wealthiest investor in India for that year. In November 2020, he reportedly owned 1.4% of shares of Paushak Limited. When the price of this stock increased to Rs. 8,067 per share in December 2020, he received a 100% return on his shares in one month.
During the third quarter of 2021, Ashish Kacholia invested in Igarashi Motors and obtained a 1.27% ownership stake in the company. As reported by the media, he purchased 3,99,550 shares of the company, which were valued at Rs. 14 crores. In December 2021, he invested in Genesys International Corporation. The shares of this company provided returns ranging from 170% to 500% in 2021.
In Finotax Chemicals, Ashish Kacholia owns 2.82% shares. In 2013, Finotax stock was trading at Rs 2.35; and in May 2023, it is over Rs 300. By 2023, Ashish Kacholia has invested in more than 40 well-known companies with high valuations. In 2023, he invested 3.75% in Acrysil Ltd. and 2.24% in NIIT Ltd., both of which are major companies. During the same year, his shares in Acrysil Ltd. were valued at around Rs. 71 crores, while his shares in NIIT Ltd. were valued at approximately Rs. 141 crores. According to his portfolio, Ashish Kacholia focuses on finding promising investment opportunities in small and mid-capital companies. He holds stable financial stakes in Poly Medicure Ltd., Shaily Engineering Plastic Ltd., Safari Industries (India) Ltd., and several other reputable publicly traded companies.
Philanthropist and Social Worker
In addition to being a private investor, Ashish Kacholia is well-known for his philanthropic activities. He is involved as an individual donor with Caring Friends, a non-profit organization based in Mumbai. Caring Friends was established by his father, Ramesh Kacholia, in 2002. Ramesh Kacholia is a respected philanthropist in India and provides support to over 40 NGOs, including Snehalaya.
Portfolio
As of 30 June 2023, it has been revealed that Ashish Kacholia holds 40 publicly owned securities valued at more than Rs. 2,009.7 crores. [5]Trendlyne
Net Worth
As of 23 June 2023, according to Indian corporate shareholding reports and Ashish Kacholia has a net worth of approximately Rs. 2,036 crores. [6]Zee News
Facts/Trivia
As per media reports, Ashish Kacholia is a big admirer of Warren Buffett. According to Kacholia, when it comes to investing, one of the most important aspects to consider is the management of a company. He believes that their ability to execute plans plays a vital role in determining the success of the organization. Kacholia also argues that companies that can adapt to changing market trends and customer preferences are more likely to achieve long-term success.
Ashish Kacholia chooses to live a simple life and does not seek attention from the public. In a media interview, once, he mentioned that he is a private person. He stated,


I am a private person. Bull markets create heroes and bear markets create zeroes. So, I'd rather stay anonymous."