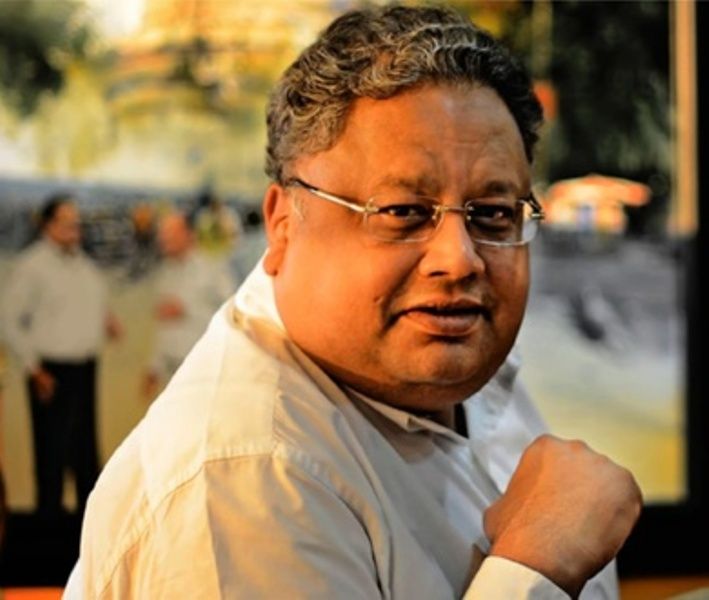 Rakesh Jhunjhunwala was one of the greatest stock market investors in India. He is considered as 'the Indian Warren Buffet' or 'the King of Dalal Street' with a Midas touch. On 14 August 2022, he died of a heart attack in Breach Candy Hospital, Mumbai.
Wiki/Biography
Rakesh Jhunjhunwala was born on Tuesday, 5 July 1960 (age 62 years; as of 2022) in Hyderabad, Telangana. He was two years old when his family shifted to Mumbai. Rakesh did a Bachelor of Commerce from Sydenham College of Commerce & Economics, Mumbai. He became a Chartered Accountant in 1985. [1]Forbes
Physical Appearance
Hair Colour: Salt and Pepper
Eye Colour: Black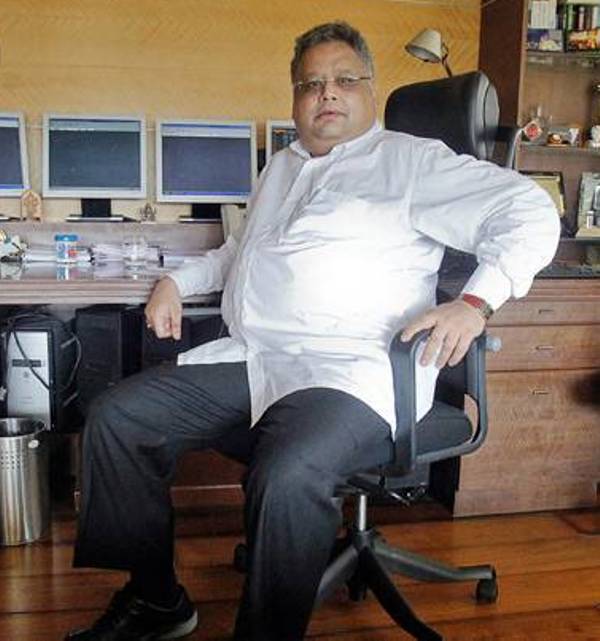 Family & Caste
Rakesh was born into a middle-class Marwari family. [2]YouTube
Parents & Siblings
Rakesh's father, Radheshyamji Jhunjhunwala, was an Income Tax Officer. His mother, Urmila Jhunjhunwala, was a housewife. Rakesh's elder brother, Rajesh, is a Chartered Accountant. He had two sisters, Sudha Gupta and Neena Sanganeria.
Relationships, Wife & Children
Rakesh got married to Rekha Jhunjhunwala on Sunday, 22 February 1987. The couple went through a complicated pregnancy. His wife gave birth to their daughter Nishtha on 30 June 2004 after six cycles of IVF. His twin sons, Aryaman and Aryaveer were born on 2 March 2009.
Address
Il Palazzo, Little Gibbs Rd, Malabar Hill, Mumbai.
Career
As an Investor
Rakesh was a bright student and started dabbling in stocks from a very young age. In an interview, when he was asked who had introduced him to the stock market, he said,
My father was also interested in stocks. When I was a young child, he and his friends would drink in the evening and discuss the stock market. I would listen to them and one day I asked him why do these prices fluctuate. He told me to check if there is a news item on Gwalior Rayon in the newspaper, and if there was Gwalior Rayon's price would fluctuate the next day."
Soon, Rakesh made up his mind of becoming a stockbroker. He was advised by his father to first complete his formal education so that he could have a backup plan in case he failed as a stockbroker. Rakesh completed the Chartered Accountancy course in 1985 and began working as a stock trader. Rakesh was strictly advised by his father to not ask any of his friends for investment. Mr. Jhunjhunwala entered the stock market with just Rs. 5000 when SENSEX was hovering at around 150 points. As of 2020, SENSEX has crossed 45000 points.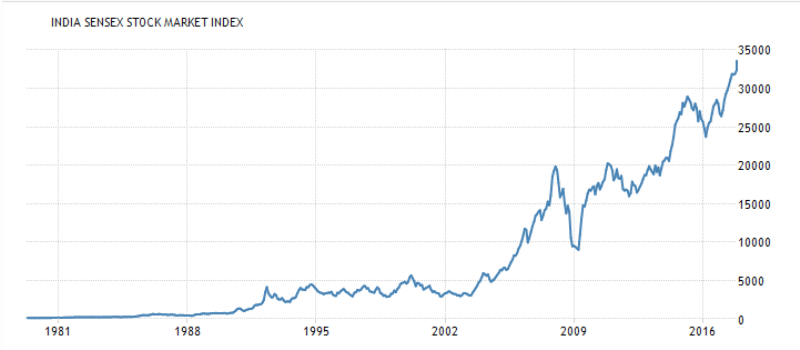 He met his first client, Mr. Mendonca, through his brother, who was then working as a chartered accountant. Rakesh convinced him to invest Rs. 1.5 lakh and promised him a return of 18%. His second client gave him a capital of Rs. 10 lakh. Rakesh's first big profit was buying 5000 shares of Tata Tea at Rs. 43 and selling it at Rs. 143. His initial investments also included buying shares of Sesa Goa, Bata, Apollo Hospitals, and Bharat Electronics. The market honcho (derived from the Japanese word hanchō, meaning group leader) made a profit of Rs 25 lakh in his initial years of trading.
Mr. Jhunjhunwala's multibagger shares include 8 crore shares of Titan Ltd. that he bought for Rs. 5 per share in 2002, and the share price rose to Rs. 1500 by the year 2020. His other major investment was buying shares of Lupin Ltd. that he bought at Rs. 150, and soon, the share price skyrocketed from Rs. 150 to Rs. 975. Such investments made him the King of Dalal Street. Rakesh went through a rough phase after the 2008 worldwide recession. His stocks fell by 30%, but they recovered by the year 2012.
Rakesh managed his private equity firm 'Rare Enterprises,' which was co-owned by him and his wife. The firm is named after the couple, 'Ra' for Rakesh and 'Re' for Rekha. Mr. Jhunjhunwala deems Radhakishan Damani, the owner of DMart as his mentor. During the Harshad Mehta phase (1990-92), Rakesh and Damani were pushing forward the bearish trend in the stock market, and they made a lot of money by shorting the stocks. In an interview, when he was asked about Harshad Mehta, who was also referred to as Bigg Bull, he said,
No, I made lot of money by short selling. Harshad Mehta was a dream. I made one of the biggest fortune of my life by short selling in '92. In fact, I will tell you about an incident. We started short selling from 4200. So BSE CEO Mr Mayya would call me and say you are short selling, I will take your badge. Again he called me at 3,500, at 3,000 and then he called me when the index was 2,200. I told him Mr Mayya, wouldn't you have been happy if you had joined me, instead of firing me at every stage?"
As a Film Producer
Mr. Jhunjhunwala was the chairman of Hungama Digital Media Entertainment Pvt. Ltd. He co-produced movies like 'English Vinglish' (2012) and Shamitabh (2015) with his mentor and friend, Radhakishan Damani.
Akasa Air
On 7 July 2022, an Air Operator Certificate (AOC) allowed Akasa Air, an Indian airline backed by billionaire and ace investor Rakesh Jhunjhunwala, to carry out commercial air transport operations.
We are pleased to announce the receipt of our Air Operator Certificate (AOC). This is a significant milestone, enabling us to open our flights for sale and leading to the start of commercial operations.

— Akasa Air (@AkasaAir) July 7, 2022
Controversy
In 2020, Rakesh was under heavy scrutiny from the SEBI for allegedly doing insider trading of the shares of his IT education and training firm, Aptech, during the time frame between February 2016 and September 2016, as reported by an informant. He was sent a show-cause notice by the SEBI stating that the board was going to freeze his bank accounts. The board also investigated his wife, mother-in-law, and some other board members, such as Ramesh S Damani and Madhu Jayakumar. [3]The Economic Times
Favourites
Car Collection
Rakesh owns a Mercedes Benz S-Class.
Net Worth
Mr. Jhunjhunwala's net worth was valued at around $3.1 billion as of 2020. [4]Forbes His physical assets were listed as follows.
 A 4,500 sq ft duplex in South Mumbai's Malabar Hill that Mr Rakesh bought for Rs 25.25 crore.
 An 18,000 sq ft holiday home with seven bedrooms, a pool, jacuzzi, gym, and a disco in Lonavala. [5]

Open Magazine
Death
On 14 August 2022, he died of a sudden cardiac attack, and he took his last breath in Breach Candy Hospital, Mumbai. According to the hospital authorities, he was not well and was being treated at the hospital for a few days. [6]The Times of India
Facts/Trivia
In 2017, he reportedly earned more than Rs. 875 crores in a single day because of the hike in the share price of Titan.
The business mogul was listed as the 54th richest Indian (Mukesh Ambani being the richest) as of 2020.
Actor Kavin Dave played a role based on Rakesh Jhunjhunwala in SonyLIV's hit web series Scam 1992: The Harshad Mehta Story.
The market wizard guided the young traders to learn from the mistakes they make. He believed that the stock market is the one true king. In an interview, describing the market, he said,


Markets are like women – always commanding, mysterious, unpredictable and volatile."
There is a blog titled 'Secret Journal of Rakesh Jhunjhunwala' that satirically describes his life. It was written by author Aditya Magal who also published a parody novel titled 'How to become a billionaire by selling Nothing' in 2014.
Mr. Jhunjhunwala was a supporter of the Bharatiya Janata Party (BJP). In a media interaction with The Economic Times, he said,


I would like Modi to be PM again. I am BJP supporter and I will remain one. If some other government comes, it is not going to be the end of  India because India is a responsible democracy. But I desire, wish, hope that we have a BJP government."
Rakesh Jhunjhunwala contributed significantly to philanthropic causes. He was the main backer of the Agastya International Foundation based in Bengaluru. In an interview with The Economic Times, he said,


Ultimate giver is God and it casts a duty on us that this wealth be used for good social purposes. So it is the aim and ambition of my life that a good portion of the wealth that I earn would be used for good social purposes. The only sure income that I have is dividend income and I spend one-third of my dividend income in charity and I hope to do that in future and also with time I would like to endow at least Rs. 500 crores."
Rakesh loved to gamble, especially on horses. He owned many horses and loved to see them race. He said,


I regularly visit the Mahalaxmi Race Course [in Mumbai] during the racing season. I just enjoy seeing those races."
His favourite pastimes included reading and watching food shows.