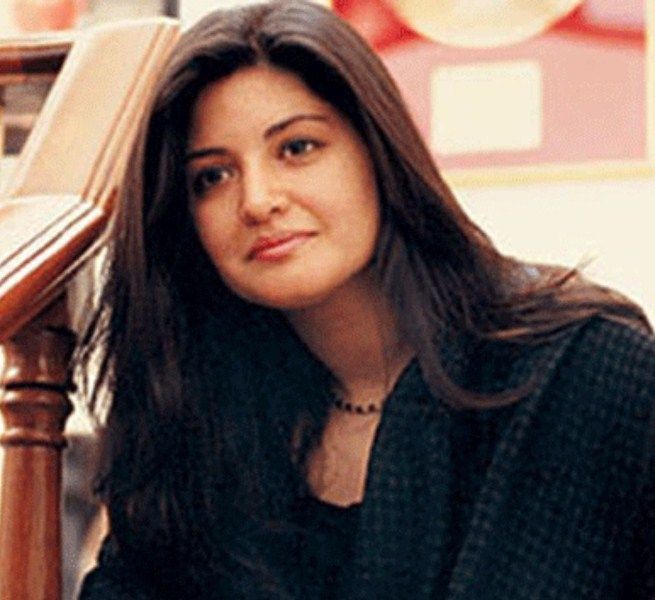 Nazia Hassan (1965-2000) was a Pakistani singer, songwriter, lawyer, and social activist. She is known for singing the Hindi song 'Aap Jaisa Koi' for the Bollywood film "Qurbani" (1980). She has received various awards including the Filmfare Award for Best Female Playback Singer, making her the first Pakistani to receive the award. She is known for introducing pop and disco music in Pakistan. She is popularly known as the 'Queen of South Asian Pop' and 'Sweetheart of Pakistan.'
Wiki/Biography
Nazia Hassan was born on Saturday, 3 April 1965 (age 35 years; at the time of death) in Karachi, Pakistan. She later moved to London with her family, where she pursued a bachelor's degree in Business Administration and Economics at Richmond American University. She received an LLB from London University. In 2014, her son Arez received the posthumous honorary degree of a doctorate from Richmond American University, London, in her honour.
Physical Appearance
Height (approx.): 5′ 6 "
Weight (approx.): 55 kg
Hair Colour: Black
Eye Colour: Black
Family
She belongs to a Pakistani Muslim family.
Parents & Siblings
Her father, Basir Hassan, was a businessman. Her mother, Muniza Basir, was an active social worker. She had a brother named Zoheb Hassan and a sister Zara Hassan.
Husband & Children
Nazia Hassan got married to a Karachi-based businessman, Mirza Ishtiaq Baig, on 30 March 1995 and divorced in 2000 (three months before her death). However, Ishtiaq claimed in an interview, that the divorce did not occur between them. The couple together has a son named Arez Hassan, born on 7 April 1997. After her death in 2000, her son was raised by Nazia's parents.
In an interview with Daily Jang, an acclaimed newspaper in Pakistan, Nazia Hassan talked about the difficulties she faced during her marriage with Ishtiaq and revealed that he cheated on her with a Pakistani actress. She revealed that while battling cancer, her former husband refused to bear the expenses of her treatment and she was looked after by her parents. Further in the interview, she revealed that her former husband used to force her to give false statements about their married life.
Career
Bollywood
Nazia Hassan started her official singing career at the age of fifteen. During her stay in London, she met the Bollywood film director Feroz Khan at a party. He heard her voice at the party and got impressed; he later requested her to give an audition to the London-based Indian music composer, Biddu Appaiah, for the Bollywood film "Qurbani" (1980). Later, she got selected and sang the song 'Aap Jaisa Koi' for the Bollywood film "Qurbani" (1980), which proved to be a breakthrough in her career.
In 1982, some of the soundtracks of her album "Boom Boom" were featured in the Bollywood film "Star." However, the film didn't run at the box office, but the songs of the film received huge accolades from the audience.
She later sang songs for various Bollywood films including 'Dilwaala' (1986), 'Main Balwaan' (1986), 'Ilzaam' (1986), 'Adhikar' (1987), and 'Saaya' (1989).
Music Album
Nazia and her brother, Zoheb, formed a pop duo named "Nazia and Zoheb" in 1981 and released their debut album "Disco Deewane." The album became a super hit for the sibling duo and broke sales records with 65 million sales worldwide. The album also became one of the top-selling albums in the West Indies, Latin America, and Russia, at that time. It got popular with the title "Dreamer Deewane" in Western countries.
In 1982, the duo released another album titled "Boom Boom" for which she was nominated for the Filmfare Award for Best Female Playback Singer.
In 1983, they released her third album titled "Young Tarang," which was the first album in Pakistan to feature video songs. In 1984, the album was released worldwide and became one of the most popular video albums in Asia.  The album consists of ten songs among which the most famous was "Ankien Milane Wale."
The duo released their fourth album "Hotline" in 1987, consisting of 13 songs among which the song 'Aan Haan' is most famous.
Nazia and Zoheb recorded their fifth album "Camera Camera" in 1991, and made an announcement before its release in 1992, that it would be their last album together. Later, Nazia quit her singing career to focus on her personal life.
Television
Nazaia made her first television appearance at the age of ten, in the TV program 'Kaliyon Ke Mala' (1975), aired on Pakistan Television Network (PTV). In the show, she appeared as a child artist and sang the song 'Dosti Aisa Naata.' [1]Dawn In 1988, Nazia Hassan and Zoheb Hassan appeared as guests on the television show "Sung Sung" with the music maestro Sohail Rana. In 1989, the siblings hosted the TV show "Music '89" which aired on Pakistan TV. It was the first pop-music stage show to be aired on television in Pakistan. In the same year, Nazia Hassan hosted another show "Dhanak" which aired on PTV.
Philanthropic Activities
Member of various charitable organisations
Nazia was a member of several charitable organisations that especially work to help the children, youth, and women who live in the underprivileged areas of Karachi. She was a member of the women's organisation 'Inner Wheel Club of India.' She has formed the organisation 'BAN (Battle Against Narcotics)' in Pakistan. She is also known for her participation in introducing mobile clinics in Lyari Town that made the health facilities more accessible in the area. She used to actively participate in various funding programs and was a member of several funding organisations including Voice of Women. In 1991, the singer became a member of the United Nations Security Council at the United Nations Headquarters in New York City and worked there for two years. Later, she offered her services at UNICEF. She has also won a scholarship for Leadership Program at Columbia University; however, she couldn't accept the offer because, by that time, she was diagnosed with cancer.
Charity for the education of poor children
The singer has worked with the former Pakistani Information minister Javed Jabbar to raise funds for the children in Tharparkar and Rajasthan. She often used to visit schools to deliver lectures on social awareness and distribute toys to poor children. After her death, Nazia's parents formed the charitable organisation "Nazia Hassan Foundation" in 2003 to help needy people without any discrimination based on caste, creed, and religion. In 2016, Nazia's parents decided to open a school to provide education to the children who work on the streets. Earlier the school was named "Nazia Hassan Foundation," but was later changed to "Nazia Hassan's Schools for Studying."
[2]
Khaleej Times
Controversy
Testimony against her former husband
In an interview, her brother Zoheb revealed that Nazia Hassan gave testimony against her husband Ishtiaq Baig, in the UK High Court, before her death in which she alleged that her husband used to physically harass her and once fed her something harmful. She also alleged that he hid his previous marriages from Nazia's family. In the testimony, she mentioned that Ishtiaq first married Hazel who was a Filipina dancer, with whom he has a son named Imran Baig (born in 1984). Later, he married Shazia who was a Pakistani actress. Nazia claimed that her family was unaware of this before his marriage to her.
Awards, Honours, Achievements
In 1981, she received the Filmfare Award for Best Female Playback Singer for the song "Aap Jaisa Koi." She became the first Pakistani to win the award.
She was honoured with the Pride of Performance award posthumously; the award was received by her mother in 2002.
She was a recipient of the Golden Disc Award.
She was also a recipient of the Double Platinum Award.
She has been voted as one of the top 50 influential people by Indian Today magazine.
On 31 October 2014, Global Voices Online (an international community of writers, bloggers, and digital activists) named Nazia Hassan in "Young, Independent women who made a Space for Themselves in Pakistan Music Industry."
The ARY News listed Nazia Hassan in the list of "11 Female Pioneers of Pakistan" in 2014.
Death
Nazia Hassan died on 13 August 2000 in London, at the age of 35. She had been suffering from lung cancer for a long time and was admitted to North London Hospice for three days. She was buried as per Islamic rites at Hendon Cemetery, London (Muslim Section) on 5 September 2000, following the Namaz-e-Janaza at the Golders Green Crematorium.
Facts/Trivia
Nazia was called 'Lady Diana of Southeast Asia' by her fans because of her beauty, intelligence, and kind-heartedness.
After the success of their debut album "Disco Deewane," Nazia and Zoheb were signed by the EMI Group, becoming the first Pakistani singers to be signed by an international music company.
In an interview, Nazia Hassan talked about bringing a cultural revolution in Pakistan by introducing pop music in the country and said,


Yes some people don't even consider it music; well it's the kind of the music we dig, take it or leave it. They say classical music is the only real music. Whenever I'm attending a classical music recital, I feel like I'm attending a funeral. You have to sit grim and still — no coughing, no talking lest people think you are being impolite."
In 1982, the duo of Nazia and Zoheb were offered to act in the Bollywood film "Star;" however, they rejected the offer.
Her songwriter, Biddu, composed a song "Made in India" (1995) and offered Nazia to sing it; however, the singer rejected the offer because she thought that it might offend Pakistan. The song was later sung by the Indian singer Alisha Chinai.
The singer has also worked as a political analyst for the UN in New York.
In 1991, she enrolled in an internship in the Women's International Leadership program at the United Nations and later, she worked for the United Nations Security Council.
In the same year, Nazia was appointed as a cultural ambassador for Pakistan.
A tribute concert for Nazia Hassan was held on 9 March 2002 in Karachi, where the acclaimed Pakistani rock bands 'Vital Signs' and 'Jupiters' performed together on stage.
In 2007, Pakistani director and producer, Ahmad Haseeb, made a biographical documentary film "A Music  Fairy" as a tribute to Nazia Hassan. The film was later screened at the Kara Film Festival and the University of Ankara. Haseeb won the Best Documentary award at the Kara Film Festival in the same year for this film.
In 2012, her song 'Dum dum de de' from the album "Young Tarang" (1984) was featured in the Bollywood film "Miss Lovely" starring Nawazuddin Siddiqui.
In the same year, the remake of her song 'Disco Deewane' was featured in the Bollywood film 'Student of the Year." The remake song was sung by Sunidhi Chauhan.
On 16 November 2014, Zoheb Hassan and Zoe Viccaji (Pakistani singer) sang Nazia's song 'Jaana' at the music show 'Coke Studio Pakistan' to pay a tribute to her.
In 2022, the remake of the song 'Aap Jaisa Koi' was featured in the Bollywood film "An Action Hero." In the film, the song was presented as an item song featuring Malaika Arora and Ayushmann Khurrana to which Pakistani actor Adnan Siddiqui reacted and slammed the actors for ruining the song, through a tweet.
Is there something in the air that the world has suddenly developed a penchant for ruining perfect classics? Even re-creation requires talent. Nazia Hassan must be turning in her grave. #AapJaisaKoi nahi..

— Adnan Siddiqui (@adnanactor) November 28, 2022