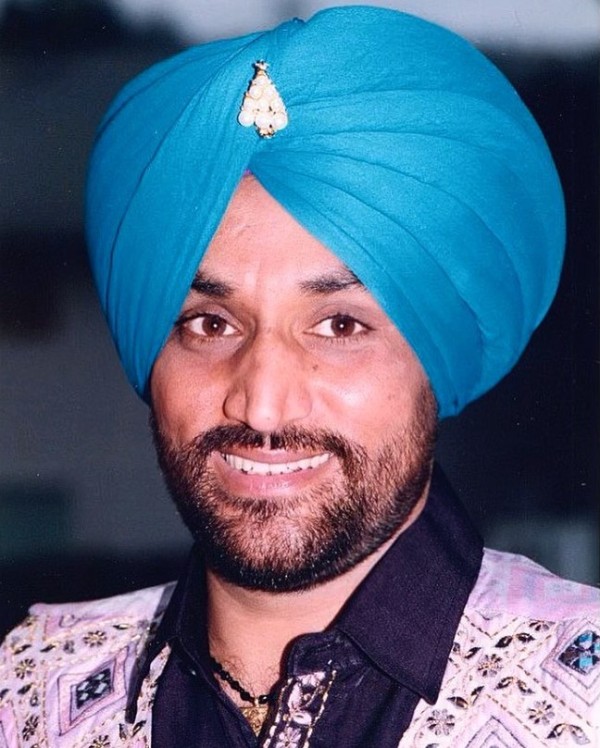 Surjit Bains (1962-2003), popularly known as 'Surjit Bindrakhia,' was an Indian singer who was prominent in the Punjabi industry, and best known for his superhit songs like 'Dupatta Tera Satrang da,' Tera Yaar Bolda,' 'Sanu Tedi Tedi Takdi tu,' 'Meri Nath Dig Pai.' Giving his audience some of the best dancing tunes, Surjit Bindrakhia passed away in November 2003 after he suffered from a silent heart attack at the age of 41.
Wiki/Biography
Surjit Bains, known by his stage name, Surjit Bindrakhia, was born on 15 April 1962 (age 41 years; at the time of death) in the village Bindrakh, district Rupnagar, Punjab, India, where he grew up. His zodiac sign is Aries.
Physical Appearance
Height (approx.): 5′ 6″
Hair Colour: Natural Black
Eye Colour: Dark Brown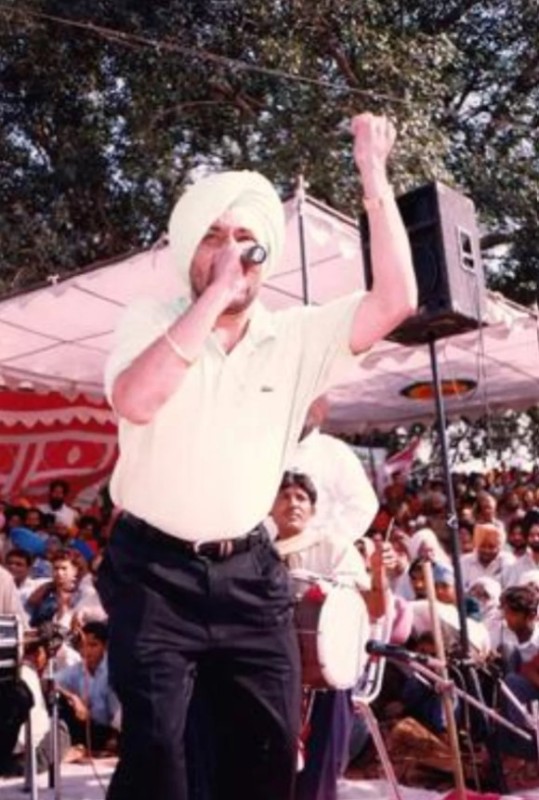 Family & Caste
Surjit Bindrakhia belonged to a Jatt Sikh family in Punjab.
Parents & Siblings
Surjit Bindrakhia's father, Sucha Singh, was a renowned wrestler of the Bindrakh village, who was not just known in his own village but also in the nearby areas for his remarkable skills in kabaddi and wrestling. Surjit's mother, Gurcharan Kaur, was a homemaker. Surjit's father wanted him to become a wrestler, but Surjit was always inclined towards singing, and wrestling was not something he wanted to pursue. Surjit Bindrakhia has a sister; however, there is not much information about his sister.
Wife & Children
Surjit Bindrakhia got married to Preet Kamal in 1990; it was a love marriage. The couple was later blessed with 2 children.
Surjit Bindrakhia's son, Gitaz Bindrakhia is a famous Punjabi singer and actor, and his daughter, Minaz Bindrakhia, lives in Canada.
Religion/Religious Views
Surjit Bindrakhia followed Sikhism and was a dedicated Gurbani follower. He was a religious person who sang many religious songs.
Career
Singer
Surjit Bindrakhia started his career in 1991 with his first music album, 'Munda Ki Mangda,' which was composed by his guru (mentor), Atul Sharma, and written by Shamsher Sandhu. The first album was a huge success and was loved worldwide.
This trio released a new song in 1992, 'Bas Kar Bas Kar,' under the T-Series label. The song was yet another super hit on the charts and was one of the best dancing songs.
The song that gave Surjit Bindrakhia international recognition was 'Dupatta Tera Satrang Da,' which was released in 1994. This song to date is one of the most played songs during celebrations. Not only Surjit but Atul Sharma and Shamsher Sandhu were equally praised for their music and lyrics of this masterpiece.
Surjit Bindrakhia released another highly successful music track in 2000, 'Lakk Tunoo Tunoo,' which made the audience dance to it. It is to date counted as one of the most enjoyed tracks during the wedding seasons.
In 2002, Surjit Bindrakhia created history by releasing his album 'Phulkari' which had the most successful song of his career, 'Tera Yaar Bolda.' This song was a massive hit in the Punjabi music industry and has around 215 million views on YouTube.
Surjit Bindrakhia sang many religious songs and released various religious albums like 'Kamban Dil Gaddaran De,' 'Janam Diharra Khalse Da,' and 'Singho Sewadar Bano.'
Actor
Surjit Bindrakhia appeared in a few Punjabi films, and his debut film was 'Anakh Jattan Dee' in which the song 'Baniye Ne Jatt' was sung and filmed on Surjit himself. The film was released in 1990, and it also starred Surinder Shinda, Yograj Singh, Guggu Gill and many more.
Surjit was also a part of the successful Punjabi film 'Badla Jatti Da,' which was released in 1991. Surjit enacted his own song 'Boliyan' in the film alongside Surinder Shinda. The movie also featured Guggu Gill, Amar Noorie, Upasana Singh, Sunita Dhir and many more.
Awards, Honours, Achievements
Surjit Bindrakhia was awarded the Best Bhangra Album at the UK Asian Music Awards in 2005.
Surjit Bindrakhia was awarded the Filmfare Award for his contribution to Punjabi music in 2004.
Death
Surjit Bindrakhia passed away in his sleep on 17 November 2003, suffering from a silent heart attack. His wife noticed no movement when waking him up, and a family doctor later confirmed his death. The singer was 41 years old at the time of his death. Many famous personalities like Sardool Sikander, Hans Raj Hans, and Gurdas Maan from the industry came to Surjit's village, Bindrakh, to pay their final respect to the singer.
Facts/Trivia
In 1992, Surjit Bindrakhia held The Guinness World Record for 'longest hekk' (a singing note held for a longer period of time), which lasted for 28 seconds.
Surjit Bindrakhia has done many live shows across the globe.
Surjit Bindrakhia performed in the Asian Games in 1982.
Surjit Bindrakhia's song 'Dupatta Tera Satrang Da' was ranked number one on BBC's Top 10 Songs of 1994.
Surjit Bindrakhia used to mention his wife's name in his songs.
Surjit Bindrakhia loved farming in his village.
Shamsher Sandhu, the famous Punjabi lyricist was amongst the first people to spot Surjit Bindrakhia's talent, and he introduced Surjit to the Punjabi Music Industry.
Shamsher Sandhu wrote most of Surjit Bindrakhia's songs.
Surjit Bindrakhia was a trained wrestler.
Surjit Bindrakhia was a gold medalist in inter-university wrestling competition.
Famous actor Sonu Sood's debut music video was Surjit Bindrakhia's famous song 'Ghungroo' from the album 'Billian Akhiyaan,' which was released in 2001.
Before getting into professional singing, Surjit Bindrakhia used to sing Punjabi Boliyan (folk songs) for his Bhangra Team during his university days.
Surjit Bindrakhia released over 32 cassettes in his entire 12 years long career.
Surjit Bindrakhia's song 'Dupatta Tera Satrang Da' was one of the first Punjabi songs to sell out more than one million copies in The United Kingdom.
Surjit Bindrakhia was known as the perfect blend of Punjabi folk and pop.
Surjit Bindrakhia's longest hekk, which went up to 32 seconds, was recorded in one of his live shows.
Popular Punjabi singer Babbu Maan paid tribute to Surjit Bindrakhia in one of his songs from the album 'Pyaas,' which was released in 2005. The song 'Pind Diyan Juhaan' is solely a tribute song to the late singer as well as the bereaved family.