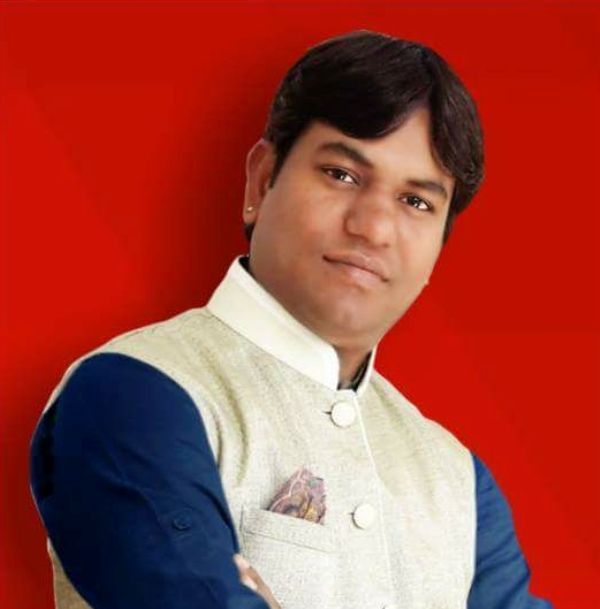 Mukesh Sahani is an Indian politician and former set designer of Bollywood. He is the founder-president of the Vikassheel Insaan Party (VIP) which works mainly for the betterment of Nishad Samaj of Bihar. He has also served as Minister in the Bihar Cabinet. He is the founder of several set-designing companies which work in Bollywood.
Wiki/Biography
Mukesh Sahani aka Mukesh Soni [1]The Company Check was born on Tuesday, 31 March 1981 (age 42 years; as of 2023) in Afjala village in Biraul tehsil of the Darbhanga district of Bihar, India. His zodiac sign is Aries. He studied till 8th standard at the local school in his village and later dropped out of school due to poor financial background. [2]MyNeta At the age of eighteen, he left his home and went to Mumbai in search of work.
Physical Appearance
Height (approx.): 5′ 10″
Weight (approx.): 75 kg
Hair Colour: Black
Eye Colour: Black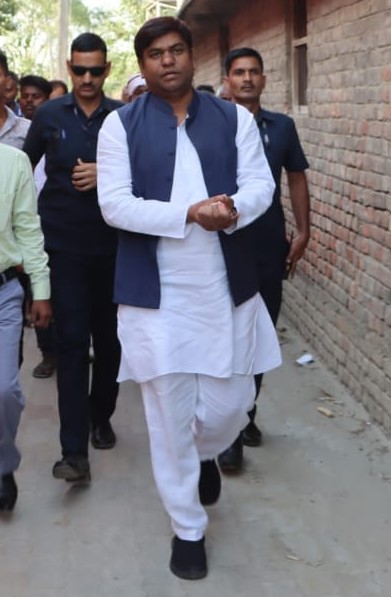 Family & Caste
He belongs to a Nishad (Mallah) family which comes in the Extremely Backward Class (EBC) category. [3]ECI
Parents & Siblings
His father's name is Jeetan/Jitan Sahani, and his mother's name is Meena Devi who passed away on 25 July 2010. He has a younger brother named Santosh Kumar Sahani and a sister named Rinku Sahani, whose husband's name is Jagannath Sahani. His brother also worked with him in Mumbai and later came back to Bihar and became a politician associated with the VIP party.
Wife & Children
His wife's name is Kavita/Kabita Soni; their marriage anniversary falls on 28 April. The couple has a daughter named Muskan Sahani and a son named Ranveer Sahani.
Religion
He follows Hinduism.
Address
Village + Post Office – Afjala, Biraul, Darbhanga, Bihar
Signature
Career
Job & Business
After coming to Mumbai in 1999, he started working as a salesman for a cosmetic brand. After working there for a few months, he started working as a set designer in Bollywood. He got his big break when he was tasked with designing the set for Shah Rukh Khan starrer Devdas, alongside famous production designer Nitin Chandrakant Desai. He later designed sets for many films and TV shows including Salman Khan starrer Bajrangi Bhaijaan and Bigg Boss. He later served as director for three companies named RM Films Private Limited, Mukesh Cine Art Enterprise Private Limited, and Mukesh Cine World Private Limited. [4]Zaubacorp He decided to venture into social work in 2008.
Politics & Social Work
Early Days
When he came to his village from Mumbai in 2008, he was disturbed upon seeing the poverty in his community, Nishad also known as Mallah (Fisherman), hence he formed a group named Sahani Samaj Kalyan Sanstha in 2010 and opened two offices in Darbhanga and Patna.
Through his organisation, he spread awareness in the Nishad community about education, reservation, and their rights. On 16 February 2014, he organised a Nishad Society Rights Conference at Raj Maidan in Darbhanga which was termed as Nishad Revolution of Bihar.
His efforts were recognised by the Indian Prime Minister Narendra Modi who included him as a star campaigner for Bharatiya Janata Party (BJP) before the 2014 general elections and 2015 Bihar Legislative Assembly elections; however, he later distanced himself from BJP citing that they did not deliver on their promise of including Nishad community in Scheduled Caste (SC) category. In 2015, he formed another organisation named Nishad Vikas Sangh which started working district-wise in Bihar.
Forming own party
On 26 July 2018, his political party Vikassheel Insaan Party (VIP) was approved by the Election Commission of India (ECI) following which he undertook a 2-month Nishad Arakshan Samvad Bus Yatra [5]The Telegraph and formally launched his party on 4 November 2018. In the 2019 general elections, he fielded candidates from Madhubani, Muzaffarpur and Khagaria; however, none of them won.
In the 2020 Bihar Assembly elections, he initially sided with Mahagathbandhan; however, he later became a coalition partner of NDA.
He himself contested elections from Simri Bakthiarpur constituency; however, he came second and lost to Rashtriya Janata Dal's (RJD) candidate, Yusuf Salahuddin. [6]Elections He later left the NDA, and on 16 November 2020, he took oath as Minister for Animal Husbandry and Fisheries and served till 27 March 2022. [7]NDTV
In January 2021, he was elected as an MLC on the BJP quota for Bihar Legislative Council and served till July 2022. [8]Aaj Tak In February 2023, he was granted Y+ security by the Indian government which was termed as a soft attempt to woo him to NDA. In March 2023, he projected himself as Bihar Chief Minister in an interview and said,
Sapna dekhenge tabhi na sapna pura karenge (only if we have dreams, we can fulfil them). If Jitan Ram Manjhi, Mulayam Singh Yadav, Lalu Prasad and Miss Mayawati can become the CM, why can't the 'son of Mallah'? Nishad-Mallah (fishermen) community accounts for more than 15% of the population in and UP. So, I deserve this post." [9]The Times of India
He has often said in his political rallies that he abides by the principle of Phoolan Devi, a dacoit turned MP, who belonged to the Nishad community. In July 2023, he ventured on a 101-day trip named Nishad Aarakshan Sankalp Yatra, starting on Phoolan's assassination day on 25 July and said that he would distribute statues to be installed in the houses of VIP Party members and lockets to people of Nishad. [10]Navbharat Times
Controversies
Criminal Cases
As of October 2020, there are five court cases registered against Mukesh Sahani. In the first case, registered under ACJM Ist in Darbhanga, the case number is 69/2014, and it involves sections 153A and 171G. The second case, recorded at Nagar Police Station Muzaffarpur, has case number 709/2015 and falls under the jurisdiction of Miss Romi JM Muzaffarpur. It is related to Section 136 of the RP Act. The third case, filed at Gandhi Maidan Police Station Patna, has case number 135/2015 and is being dealt with by ACJM 17th Patna. It includes sections 287 and 336 of the law, pertaining to the Aircraft Act and Section 66(B) of the IT Act. The fourth case, filed at Salkhua Saharsa, is registered under ACJM IV Salkhua with case number 43/2019, and it involves Section 188 of the Defacement Act. The fifth case, registered at Bithan Samastipur, has case number 27/2019 and falls under the jurisdiction of ACJM 6th. This case includes sections 147, 188, and 171H, related to the RP Act's Section 127A. [11]MyNeta
Sending his brother for Inauguration
In March 2021, he was invited as the Chief Guest for inaugurating a government scheme in Hajipur involving distributing four-wheelers, two-wheeler and ice boxes to the underprivileged people; however, Sahani instead sent his brother, Santosh Sahani, to inaugurate the scheme, which caused a roar in Bihar Legislative Assembly. Mukesh later said that he made a mistake by sending his brother and apologised to Bihar citizens. He said that he was busy with the Budget session, hence he sent his brother. [12]Dainik Jagran [13]Times Now
Detained at Varanasi Airport
On 25 July 2021, he went to Varanasi to inaugurate statues of dacoit turned MP, Phoolan Devi, in the Ramnagar area of Varanasi on the occasion of her Martyrdom day (Shahadat Diwas); however, he and his supporters were detained at the airport and later sent back to Bihar by flight. Police also confiscated the Phoolan Devi statues on July 2022 and removed the posters from the streets of Varanasi. Mukesh said that he would not be bullied by anyone and would struggle to achieve his rights. [14]The Times of India [15]Hindustan
Calling Bihar BJP Head 'Roadside Goon'
During the campaigning for Kurhni by-elections in November 2022, then- Bihar BJP Head Sanjay Jaiswal called Mukesh Sahani a stooge of Nitish Kumar after Sahani fielded a candidate from his VIP party. Sahani retaliated by calling Jaiswal a roadside goon (Sadak Chhap Gunda) and said that BJP is trying to harass him and its chief is acting like a rowdy. [16]Aaj Tak
Income
His income for the financial year 2018-19 was Rs. 11 lakhs. [17]MyNeta
Assets & Properties
Movable Assets
Bank Deposits: Rs. 98,609
Bonds, Debentures, and Shares: Rs. 78,80,060
NSS, Postal Savings: Rs. 14,06,842
Motor Vehicles: Rs. 5,00,000
Immovable Assets
Non-Agricultural Land: Rs. 20,00,000
Commercial Buildings: Rs. 7,47,00,000
Residential Buildings: Rs. 1,93,00,000
Note: The given estimates of movable and immovable assets are according to the year 2020. It excludes the assets owned by his wife and dependents (minor). [18]MyNeta
Net Worth
Sahani's net worth for the financial year 2018-19 was estimated to be Rs. 9.5 crores. [19]MyNeta It excludes the net worth of his wife and dependents (minors).
Piercings
He has got a piercing on his left ear.
Facts/Trivia
He is considered one of the most influential leaders of the backward castes of Bihar and is popularly referred to as the Son of Mallah.
The rath (vehicle) made for his 101 days trip in 2023 was made with Rs 3-4 crores. A Mercedes Benz bus was converted in two months and included all amenities including a TV, sofa, meeting room, and AC. [20]

Prabhat Khabar
He is known for using unconventional techniques during his campaigns and rallies. In a rally in July 2023, he told the gathering to recognise their power of voting by citing the example of Lord Hanuman. He then made them pledge to never sell their vote by holding water of the Ganges river (Gangajal). [21]

ABP News
He was allotted Bungalow number 6 after becoming the Minister in the Bihar cabinet. When he was ousted in March 2022, people said that there is a bad omen(Vastudosh) associated with that bungalow. Reportedly, three ministers have lived in that bungalow before him, and none of them was able to complete his term. [22]

Prabhat Khabar