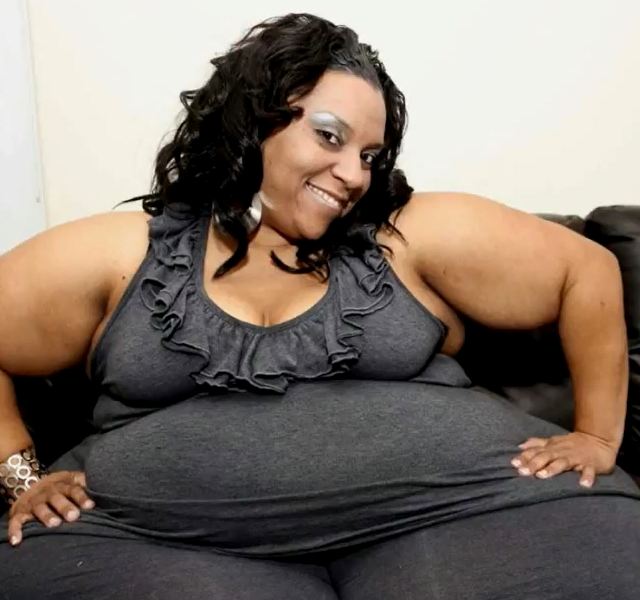 Mikel Ruffinelli is an American plus-size model who made headlines in 2013 for setting the record for the widest hip in the world. Her hips measure an unusual 8 feet i.e. 2.4 m in circumference.
Wiki/Biography
Mikel Ruffinelli was born on Wednesday, January 31, 1973 (age 50 years; as of 2023), and she hails from Los Angeles, US. Her zodiac sign is Aquarius.
She pursued a degree in psychology. [1]DailyMail Mikel wasn't always plus-sized, as a teenager she was quite athletic and weighed 140 pounds. She began gaining weight when she was 22 and had her first child, Andrew. From 182 pounds and a size 14, she gained weight until she was 238 pounds and a size 18.
Eventually, she had three daughters. Her weight and hips ballooned further every time she bore a child. In an interview, she shared that genes for big hips ran in her family; her mother too had wide hips. She has a medical condition called Lipoedema.
Physical Appearance
[2]DailyMail Height: 5′ 4″ (1.63 m)
[3]DailyMail Weight: 190 kg (420 pounds)
Hair Colour: Black
Eye Colour: Black
[4]DailyMail Waist: 3′ 4″ (40 inches)
[5]truly – YouTube Hips: 8′ (100 inches)
Family
Parents & Siblings
Not much is known about her parents and siblings.
Husband & Children
In 2002, she got married to Reggie Brooks, a computer technician.
Together, they have three children, three daughters Autumn Brooks, Destynee Brooks, and Justyce Brooks. She had her first child, a son named Andrew Brooks, from a previous relationship.
Religion/Religious Views
Mikel Ruffinelli follows Christianity. [6]Facebook – Leteshia Drisdom
Career
Modeling
A plus-size model, she earns $1,000 per shoot modeling for a Big Beautiful Women website. [7]DailyMail She is also a BBW Fashion Consultant. In 2013, she came into the limelight for setting the record for the widest hip in the world
Television
In 2013, she was featured on the American syndicated talk show The Doctors in which medical professionals examine a patient and give medical advice.
She was also featured in TLC's documentary World's Biggest Hips. She appeared in a short documentary on TLC which showed her struggle to find a traditional wedding dress to wear that would fit her hips.
Facts/Trivia
Mikel drives a truck because she can't fit into a car. She uses a reinforced chair at home and books two tickets on the airplane to accommodate her unusual frame. She usually struggles to fit through door entrances and gets through them sideways. At home, she sleeps in a 7-foot-wide bed.
People often make fun of her due to her extremely wide hips. In an interview, she said that people whipped out their cell phones and took pictures of her wherever she went. However, over the years she grew accustomed to people staring and making sarcastic comments. She says that she learned to just ignore them and claims that she loves being unique. In an interview, she said,


I don't want to get bigger, but I don't want to lose my curves. I look great. I hope I inspire women to think, "She's happy with her body and I can be too!"

She is a non-vegetarian. She typically consumes 3,000 calories a day. [9]

DailyMail While talking about her diet in an interview, she said,


It sounds like a lot to have 3,000 calories, but for someone my size, it's not really. I have a breakfast of two eggs with sausage and bacon and a handful of potatoes. Lunch is fried fish and French fries, but dinner's my big meal. I like to make barbecue chicken with rice or mash. I have a big portion – but I'm not greedy. I snack on peanuts, granola bars and crisps."
She enjoys consuming alcoholic beverages.