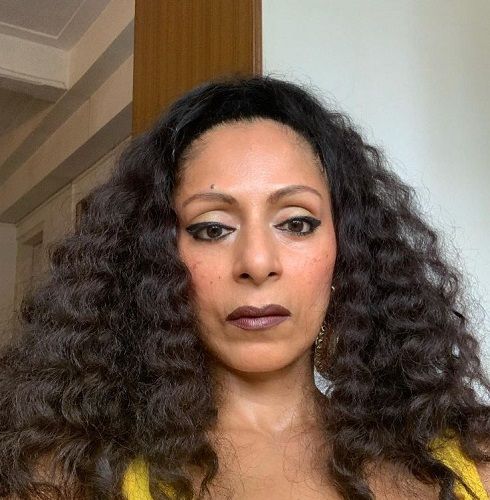 Shweta Shetty is a German [1]Instagram – Shweta Shetty pop singer, playback singer, songwriter, and yoga instructor of Indian descent. She is known for singing the Hindi songs "Rukmani Rukmani" from the film 'Roja' (1992), "Deewane To Deewane Hain" from the music album 'Johnny Jokers' (1993), and "Dil Tote Tote Ho Gaya" from the film 'Bichhoo' (2000).

Wiki/Biography
Shweta Shetty was born on Friday, 20 June 1969 (age 53 years; as of 2022) in Mumbai. Her zodiac sign is Gemini. At the age of 14, she started her training in Indian classical music. Later, she also trained in other music genres like pop and soul. While she was studying in college, she performed in various theatre plays along with her classmates including Raell Padamsee (theatre actor), Pearl Padamsee (theatre actor), and Shiamak Davar (choreographer).
Physical Appearance
Height (approx.): 5′ 8″
Hair Colour: Black
Eye Colour: Brown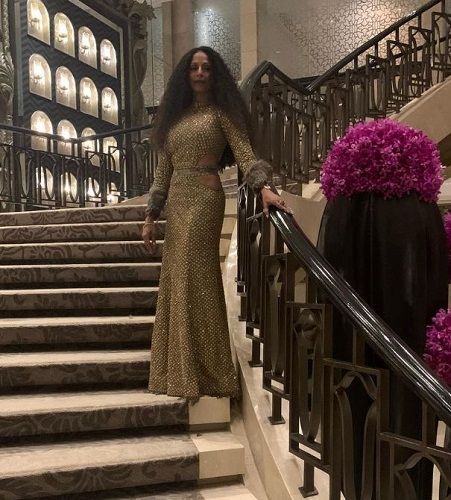 Family
Shweta belongs to a South Indian family. [2]Haussite
Parents & Siblings
Her father, Mahalaba Rampa Shetty, was a yogi. Her parents got separated when she was in her teens. In an interview, she talked about her upbringing. She said,
I was very spoilt from my family and also experienced a very warm family life. My parents gave us daughters enough freedom, as you see I hadn't had an arranged marriage, my three sisters though were all married by 23 and have their set families. And though my parents were separated, not divorced, they stayed together for the sake of the children, to grant us a functioning family, a warm home. I think this is also one of the reasons why I have a strong family sense and was willing to give my career up for an own family. When I decided to come to Germany everyone around me warned me and said that it could become difficult for me, to stay without everything one is used to in India, servants etc. and to do all the housework. By now I got used to it and I enjoy it, I even enjoy to take the trains and busses as well as learning the language."
Shweta has three sisters named Renuka Shetty, Vinata Shetty, and Jyoti Shetty.
Husband & Children
In 1996, while she was at an event of Cannes Advertising Film Festival, she met a German boy named Clemens Brandt. Initially, they became friends and soon, fell in love with each other. After dating for a few months, the couple got married in April 1997. After her marriage, she shifted from India to Germany and took a break from the Hindi music industry. However, within five years of their marriage, the couple got divorced.
Other Relatives
The Indian actresses Shilpa Shetty and Shamita Shetty are her cousins from her father's side.
Religion
Shweta Shetty follows Hinduism. [3]Shaadi Times
Signature
Career
Playback Singing
At the beginning of her career, she used to sing for TV ad jingles and fashion shows. Shweta made her Bollywood debut as a playback singer with the song "Rukmani Rukmani" from the film 'Roja' (1992).
She has worked as a playback singer in many Hindi films such as 'Rangeela' (1995), 'Udaan' (1997), 'Bandhan' (1998), and 'Ragini MMS' (2011). In 2000, Shweta lent her voice to the song "Dil Tote Tote Ho Gaya" from the Hindi film 'Bichhoo,' which became very popular.
Music Album
In 1990, Shweta made her debut as a singer with the Hindi music album 'Shweta – The Album.' In 1991, her music album 'Lambada' was released. However, she came into the limelight with her 1993 Hindi music album 'Johnny Joker.' The album includes songs like "Aaja Naye," "Mr. Gentleman," "Pyaar Hai," and "Main Khoi Jaane."
Shweta's 1995 Hindi music album 'Shweta – The New Album and Other Hits' was released in three countries. The tracks in the album were composed by the Indian music directors Salim–Sulaiman, A. R. Rahman, Biddu, and Jawahar Wattal. In 2003, her Hindi music album 'Saajna' was released in more than 10 countries.
Singles
Shweta has lent her voice to many Hindi singles such as 'Deewane To Deewane Hain' (1997), 'Main Teri Good Luck Mundeya' (2000), 'Daro Na' (2020), and 'Jalne Mein Hain Mazaa' (2021).
Other Work
In 2011, she worked as a co-director in the English short film 'Psyche.'
After her divorce, she started a yoga and meditation studio named 'Shwetasana.'
Shweta has also worked as a model. She has performed live at various stage shows and events in India and other countries.
She once did a music tour with the renowned American classical singer Sarah Brightman. She has also worked with the German electronic music duo Jam & Spoon.
Awards
1998: Screen Award for Best Female Pop Artist for her song "Deewane To Deewane Hain"
2019: Women's Achievers Award
Controversy
Accused of Torturing Her Father for Property
In 2015, she shifted to India from Germany and moved to her parents' house, where her father was living alone after her mother's demise. According to her father, Shweta began ill-treating him within a few months of moving into his house and also insulted the two maids, who were taking care of him for more than 26 years. She also demanded a share in her father's property. After the Welfare Tribunal and Deputy Collector of Mumbai evicted her from her father's flat, she filed a petition in the Bombay High Court challenging the Welfare Tribunal and Deputy Collector's order and asking for a share in her. [4]The Tribune After a few hearings, the Bombay High Court released an order, which reads,
Till the father is alive, the singer has no right to claim share in his property. Shweta demands her share. What is her 'share' while he is alive? She has none. He (father) may indeed give his flat and all wealth away inter vivos. That is his choice. She cannot prevent him from doing so. So long as he is alive, Shweta has no 'share' in his property. In case after case, we have complaints from senior citizens that their own sons and daughters are harassing them. In every case, the harassment is an attempt to somehow grab the senior citizen's property in his or her lifetime without a thought spared to the mental or physical health, well-being or happiness of these seniors."
Facts/Trivia
In 1997, after her marriage, she met with a major car accident and was bedridden for a few months. In an interview, she shared that after the accident, she went into depression. [5]

Hindustan Times She said,


Back in India I was at the top of my game and suddenly I found myself stuck in the bed in a foreign country where no one knew me and I knew no one. I didn't know the language, Germans are not known to be very friendly, and I didn't have my music, which was my life till that point. I plunged into a serious depression and it lasted for almost a year."
In an interview, she shared that her best experience as a singer was working with the Indian musician A. R. Rahman.
 In an interview, Shweta revealed that she was once banned from the Hindi music industry for stating her point of view. [6]

The Times of India She said,


I maybe not be man, but because I am a woman you cannot treat me like that. I will not accept it. It was something that I stood for and I got punished. I didn't kill or hurt anyone I didn't take someone's money or wealth, nor did I bad-mouthed anyone. I had just stated my point of view. Imposing a lifelong ban on an artiste for something so inconsequential and so small? I just call it being unfair. I have never spoken about how I was banned from Bollywood in the last 20 years."
She follows a non-vegetarian diet.
Shweta is often spotted consuming alcohol at parties and events.
She has been featured on the cover of a few magazines like Cuisine.
She is an avid animal lover, and she has shared a few pictures of her with a horse on her Instagram account.