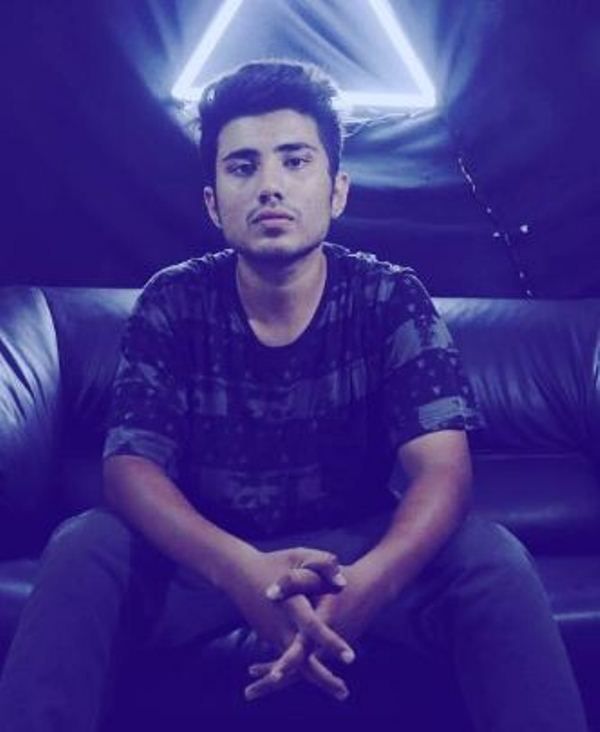 Abhijay Negi is an Indian rapper known by his stage name 'Encore ABJ.' He is known for his hip-hop duet 'Seedhe Maut' with his partner Siddhant Sharma (Calm).
Wiki/Biography
Abhijay Negi (Encore ABJ) was born on Saturday, 15 July 1995 (age 27 years; as of 2022). He did his schooling at St. Mary's Senior Secondary School, Delhi. He later attended the Delhi Technical Campus, Noida, Uttar Pradesh.
Physical Appearance
Height (approx.): 5′ 8″
Hair Colour: Black
Eye Colour: Black

Family
Parents & Siblings
He has a sister named Apoorva Negi.
Wife
He is unmarried.
Career
Abhijay Negi (Encore ABJ) started rapping while pursuing graduation. In 2014, he created his own YouTube channel and uploaded his first song 'Teen Baat.' In 2015, he released his second song 'Painting a Picture: Bhed Ya Bhediya.' Some more songs on his YouTube channel include 'Dilli Darshan' (2015), 'HI RAM' (2018), and 'Ghar Pe Raho' (2020). Through his song 'Ghar Pe Raho,' which he made during the pandemic of Coronavirus, he asked his listener to stay at home. In June 2016, he released the first song titled 'SUNNO' of his mixtape 'REHEARSAL.'
In October 2017, his track 'Drifting' was released, which was a collaborative work with Yungsta and Frappe Ash.
Seedhe Maut 
The Delhi-based hip-hop stars Abhijay Negi (Encore) and Siddhant Sharma (Calm) formed their duo "Seedhe Maut" in 2016. The duo touched on issues like politics, Indian society, romance, and the education system in their hip-hop tracks.
In September 2016, the duo made a YouTube channel and released their debut mixtape "2 Ka Pahada," which includes seven tracks including 'Seedhe Maut Anthem,' 'Royalty,' 'Classsikh Maut,' and 'Hanging On.'
After the release of their debut mixtape, the duo signed with an independent record label, Azadi Records, in 2018, and released many hit singles such as 'Kranti' (2018), '101' (2019), 'Dum Pishaach' (2020), and 'Do Guna' (2020).
Seedhe Maut released their debut album, "Bayaan," produced by 'Sez on the Beat' (music producer) in 2018, which includes twelve tracks, and the most notable of them include 'Shaktimaan,' 'Meri Baggi,' 'Pankh,' and 'Kyn.' The album was based on the life journey of the rappers.
In 2021, the duo released another album "न," consisting of ten tracks including 'Namastute,' 'Naamcheen,' 'Nadaan,' and 'Natkhat.' In 2022, the crew released their album "Nayaab" in collaboration with 'Sez On The Beat,' comprising 17 tracks. Some of the album's most notable tracks include 'Toh Kya,' 'Anaadi,' 'Maina,' 'GODKODE,' 'Batti,' and 'Teen Dost.' According to the rappers, the album "Nayaab" is all about their life after the release of their debut album "Bayaan."
The duo made their guest appearance in the show "Hustle 2.0" on MTV India in 2022. They also hosted the show "Red Bull Spotlight" in the same year. In 2023, Seedhe Maut was seen performing in the show Bigg Boss 16 at a live concert along with popular rappers MC Stan and Ikka.
Favourites
Facts/Trivia
He used to participate in sports in his college days and also won various prizes for his college.
His favourite songs from his debut album, "Bayaan," are 'Pankh' and 'Kyu.'
He met his duo partner Siddhant Sharma (Calm) in an underground rap battle in Delhi.
He loves to watch anime and often mentions the names of various anime characters in his song.
In an interview, Encore ABJ revealed that for rapping, he got inspiration from the rappers like Eminem and Jay-Z. He said,


Somewhere we got into this genre of music because of rappers like Eminem and Jay-Z who are majorly into lyrical hip-hop." [1]The Tribune
In an interview, he explained the meaning of the name of their duo 'Seedhe Maut,' which is a slang that was used by his partner's elder brother to convey 'rock it' or 'nail it.' Explaining the meaning of the slang and the reason behind using it as the name of their duo, Encore ABJ said,


No half measures. Give your everything towards that any one thing that you want to do in life. That's what we stand for. That's what the name Seedhe Maut stands for, That's what our music stands for."