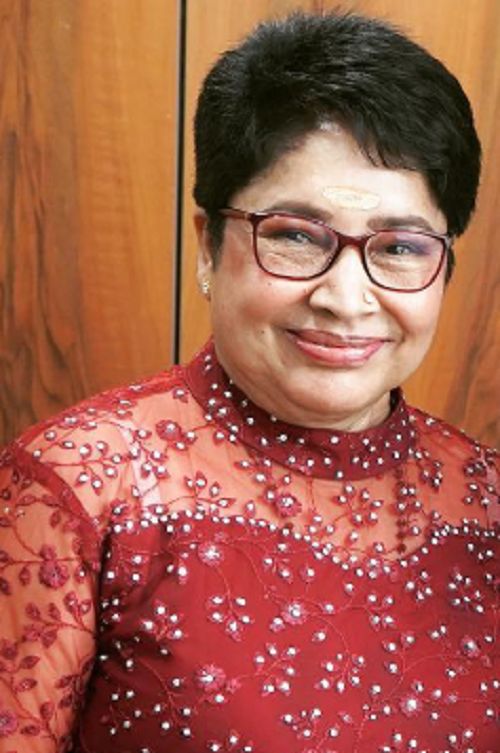 Kovai Sarala is an Indian actress, who is mainly known for her supporting roles in Tamil and Telugu films. She is a comedian and has won the Tamil Nadu State Film Award for Best Comedian, Best Female Comedian, and the Vijay Award for Best Comedian for her amazing performances in various films. She is best known for her roles in the films Sathi Leelavathi (1995), Kanchana (2011), and Muand Mersal (2017). She is also known for popular comedy tracks with Vadivelu (Kumaravadivel Natarajan). She is a member of Kamal Haasan's Makkal Needhi Maiam (MNM) political party.
Wiki/Biography
Kovai Sarala was born Sarala Kumari [1]Natkatti on Saturday, 7 April 1962 (age 61 years; as of 2023) in Coimbatore, Tamil Nadu. Her zodiac sign is Aries. She entered the world of acting when she was in school with the support of her sister and father.
Physical Appearance
Height (approx.):  5′ 4″
Hair Colour: Black
Eye Colour: Dark Brown

Family
She belongs to a Malayali family.
Parents & Siblings
Her mother's name is Shakthi Illam. [2]Natkatti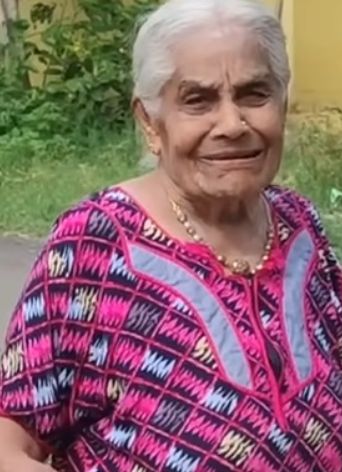 Her father was an army officer.
She has four sisters and one brother. She is the last-born daughter of her parents. [3]Tamil Asianet News She takes good care of her sisters' children.
Husband & Children
She is unmarried and looks after the children of her relatives. She considers them to be her own children. [4]Behindwoods In one of her interviews, she shared her marriage plans. She said,
No, I am not married, I've never thought about it, no time. I'm married to films, my life revolves around movies and I want to work here till I die. I do get a break sometimes but soon I am back in action. I believe in healthy competition, not jealousy."
In another interview, she shared her views related to marriage. She said,
I plan to remain single. Did she ever have a change of heart? "See, I've stuck to my word, haven't I? After a hard day's work on the sets, I can't imagine allotting time to pander to the whims of a husband. I prefer being the queen and the minister of my home. Marriage is not for me."
Career
Film
Tamil
She made a debut in the Tamil film industry by acting in the film Velli Ratham in 1979. Kovai was in Class 9 when she got the opportunity to work with Vijayakumar and K.R. Vijaya in the film Velli Ratham.
She discovered her passion for acting after watching MGR (Maruthur GopalaMenon Ramachandran) films. Her second film was Mundhanai Mudichu which she did when she was 15 years old. In the film, she played the role of Arukkani, a 32 years old pregnant woman. The film was released in 1983.
Her other most famous Tamil films include Nooravathu Naal (1984), Japanil Kalyanaraman (1985), Udaya Geetham (1985), Naan Sigappu Manithan (1985), Vasantha Raagam (1986), Lakshmi Vandhachu (1986), Kadhal Parisu (1987), Solvathellam Unmai (1987), Uzhavan Magan (1987), Soora Samhaaram (1988), Paandi Nattu Thangam (1989), Solaikuyil (1989), Adhisaya Manithan (1990), My Dear Marthandan (1990), Pudhiya Raagam (1991), Chinnavar (1992), Chinnavar (1994), Sathi Leelavathi (1995), Kaalam Maari Pochu (1996), Aval Varuvala (1998), Thirupathi Ezhumalai Venkatesa (1999), Viswanathan Ramamoorthy (2001), Sigaram Thodu (2014), Kanchana 3 (2019), and many more.
In the film Chinna Veedu (1985), she played a role of a 65-year-old mother of Madanagopal (played by K. Bhagyaraj).
In an interview in 2017, she explained her journey of entering the cinema. She said,
Cinema has always fascinated me since childhood. I wanted to make it big in the industry some day. So far, I have done more than 500 films in all South Indian languages, mostly Tamil. In Telugu, I have acted in about 100 films, in addition to around six films each in Malayalam and Kannada."
In 2022, Kovai Sarala appeared in a lead role in the film "Sembi" where she played the role of Veerathayi, the grandmother of a ten-year-old Sembi who was gang-raped by three influential miscreants. The story revolves around Veerathayi that how she managed to get justice for her granddaughter Sembi. The film was written and directed by Prabhu Solomon and released worldwide in theatres on 30 December 2022. The film was also released on the OTT platform in February 2023. In an interview, she shared her experience of playing a serious role in the film Sembi. She said,
Even when I do comedy, I'm usually serious, perhaps thrashing someone so you can get a good laugh from it. Sirika vekkurathu oru periya bakkiyam. I consider it god's gift to me. Though I have always wanted to play a serious role that would be integral to a film, I never got it. So, when Prabu Solomon sir came to me with an interesting role, I agreed even though the character is an elderly woman (laughs). I wasn't sure whether I could pull off this role though. In fact, the story didn't allow me to sleep for two months. Though I'm used to enjoying freedom in performance, here, I told sir that I would be a doll who would replicate his actions. It's as different as kindergarten and college. For this film, I felt like a PhD student (smiles). When the director explained the role to me, it felt like I had wasted a lot of time in the industry. In my comedy films, I had to come up with 10 types of laughter and 15 types of crying. Here, I had to do just what the director wanted."
Telugu
She made a debut in the Telugu film industry by acting in the film Veera Prathap released in 1987.
Her other Telugu films include Bhairava Dweepam (1994), Lingababu Love Story (1995), Family (1996), Akkada Ammayi Ikkada Abbayi (1996), Mama Bagunnava (1997), Rayalaseema Ramanna Chowdary (2000), Hanuman Junction (2001), O Chinadana (2002), Sriramachandrulu (2003), Iddaru Attala Muddula Alludu (2006), Neninthe (2008), Devasthanam (2012), Kick 2 (2015), Abhinetri 2 (2019), and many more.
Malayalam
She made a debut in the Malayalam film industry with the film Thaliritta Kinakkal released in 1980. Thaliritta Kinakkal is the only Malayalam film to feature the legendary Mohammed Rafi in its soundtrack.
Some of her other Malayalam films include Niram (1999), Kerala House Udan Vilpanakku (2004), Maad Dad (2012), Girls (2016), and many more.
Kannada
In the Kannada film industry, she made a debut with the film Africadalli Sheela (1986).
Her other Kannada films include Hendthi Helidare Kelabeku (1993), Alimayya (1993), Naanu Naane (2002), and Arjun (2008).
Television
Reality Shows
She appeared as a regular guest judge on Asatha Povathu Yaaru? (2007). She also appeared as a judge on Comedyil Kalakkuvathu Eppadi (2013), a Tamil comedy show aired on Vijay TV and on Varuthapadatha Valibar Sangam aired on Zee Tamil.
She has also hosted the reality show Paasa Paravaigal. Apart from this, she was a host of a kids' game show Chellame Chellam aired on Sun TV.
Singing
She has sung Marugo Marugo (Sathi Leelavathi), Thekkathi Mappillai (Magalirkaaga), and Rama Rama (Villu).
Politics
On 8 March 2018, Kovai Sarala joined Kamal Haasan's political party Makkal Needhi Maiam (MNM) by taking part in MNM's Women's Day celebrations which were held at the party headquarters in Chennai.
She believes in bringing equal society and equal rights for both men and women and she thinks that the party is capable of bringing such change in the society [5]The News Minute. She said,
Women of Tamil Nadu are repressed, and this must be changed. We must ensure that the men in our homes vote for a party that will work for the development of women (MNM). I heard a lot of criticism of actors who enter politics. But I believe actors who play different roles are able to empathise with the plight of the common man. They (actors) are the ones who will be able to eradicate the problems of the common man. That is why I have an emotional connect with this party."
Awards, Honours, Achievements
She won Tamil Nadu State Film Award for Best Comedian three times for the films Sathi Leelavathi (1995), Poovellam Un Vasam (2001), and Uliyin Osai (2008)
Nandi Awards for Best Female Comedian two times for the films Rayalaseema Ramanna Chowdary (2000) and Ori Nee Prema Bangaram Kaanu (2003)
Vijay Award for Best Comedian for the film Kanchana (2011)
Life Time Achievement Award, The Galatta Crown 2022
JFW Achievers Award (2022)
Favourites
Comedy Artist(s): Venniradai Moorthy, Manorama, Sachu
Tamil Film(s): Karakattakkaran (1989), Varavu Ettana Selavu Pathana (1994), Sathi Leelavathi (1995), Viralukketha Veekkam (1999), Viswanathan Ramamoorthy (2001)
Facts/Trivia
She entered into the world of the film industry with the support of her father and sister.
Out of respect, she addresses the actors younger than her with the word "Garu."
In one of her interviews, she shared about the times when she faltered while speaking Telugu. She said that she has high regard and respect for all the Tamil directors and assistant directors for being cooperative and excusing her several times when she lost confidence while speaking Tamil. It was only by their support she was able to speak Tamil fluently.
She wears saris only on screen and she loves to wear salwars, trousers, and comfortable clothes while at home.
In an interview, she explained her experiences as a comedian. She said,
Women comedians are not really scarce, it is just that they do not get continuous work. It was the lack of work that prompted me to work in other language films. There are not good comedy writers now. Male comedians, for all these years, have had their own team or writers. But women like us couldn't do that. We couldn't afford to employ four-five writers. We made do with whatever we got and tried to pull off something unique. Films like Shah Jahan happened like that."
For the film Sembi, Kovai Sarala dyed her hair grey and underwent a de-glam transformation to give a realistic look to her character of a grandmother in the film. [7]

The New Indian Express
In an interview, she revealed that for the film Sembi, she didn't use VFX to climb trees. She said,
I wasn't prepared for the tree scene at all. I had to sit on a tree branch for four hours overlooking a 1,500 ft drop. There was no point in having safety precautions because if someone falls down from such height, you can't even find the body. I believe that my acting instructions come from the Almighty, and I don't have the right to question that. Despite all my efforts, some even asked me whether it was VFX and that hurt me a bit. Right from this scene to carrying Raghava Lawrence master on my hip in the Kanchana films, everything I do is real."
Kovai's name was Sarala and it was a journalist who added the city name "Coimbatore" and made Coimbatore Sarala or Kovai Sarala. [8]

Tamil Hindustan Times
Kovai shifted to Chennai along with her parents after completing her class 12. They all were living in a rented house with Rs. 300 as the rent. It was then she started looking for opportunities in the entertainment industry. [9]

Tamil Asianet News